Wisconsin Basketball: Power Ranking the Top 10 Wins in Badger History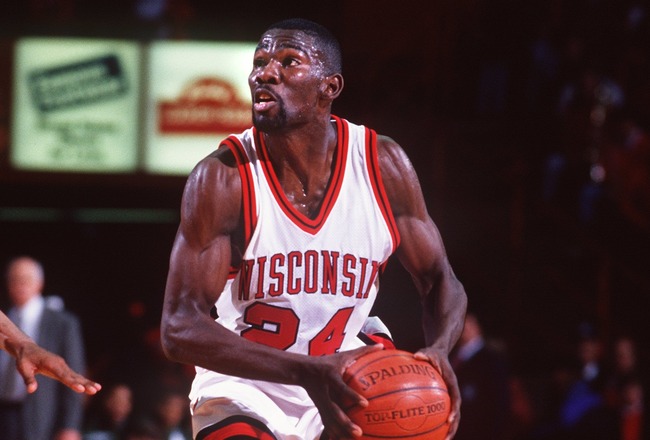 Todd Rosenberg/Getty Images
The Wisconsin Badgers have become a fixture in the national polls, but this season's 21st-ranked squad will need to put on quite a show to match the teams that built (and rebuilt) the UW program. After shining in the early days of the NCAA Tournament, the Badgers virtually dropped off the basketball map for decades, only to bounce back with a vengeance in the last 20 years.
The spark that first ignited Wisconsin's return to national prominence was electrifying swingman Michael Finley, who played one of his biggest games as a junior against Purdue. The high-scoring Finley outdueled Boilermaker star Glenn Robinson, giving the Badgers the signature win they needed to earn an at-large bid to March Madness.
Read on for more on that Big Ten clash and the rest of the most important victories in the rich history of Badger basketball.
10. Wisconsin 72, Purdue 60 (1947)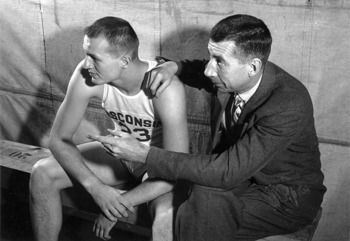 Image of Bud Foster from archives.library.wisc.edu
The theme of the Badgers' 1946-47 season was comebacks, starting with their recovery from a 4-17 finish the previous year.
Locked in a three-way battle for the Big Ten crown, coach Bud Foster's team got its key victory by way of the strangest second-half comeback in school history.
Wisconsin was trailing Purdue on the road, 34-33 at halftime, when tragedy struck: a new set of wooden bleachers collapsed, killing three and injuring hundreds more.
The game was eventually resumed two weeks later in Evanston, where a dominant second half gave the Badgers a 12-point win and helped send them to their second NCAA Tournament in six years.
9. Wisconsin 72, Ohio State 69 (2007)
Jonathan Daniel/Getty Images
The 2006-07 roster of the Badgers achieved national recognition on a scale Madison had never seen.
In a season that saw Wisconsin earn its first-ever No. 1 ranking in the AP poll and a school-record No. 2 seed in the NCAA Tournament, the most impressive win on the Badgers' resume came in a home showdown with national runner-up Ohio State.
The Buckeyes were led by towering center Greg Oden and his freshman classmates (including future pros Mike Conley and Daequan Cook), but Wisconsin's vaunted defense held the big man to just 10 points.
Kammron Taylor torched OSU for 25, and Marcus Landry keyed a 14-0 second-half run that put the Badgers ahead to stay.
8. Wisconsin 42, Minnesota 32 (1941)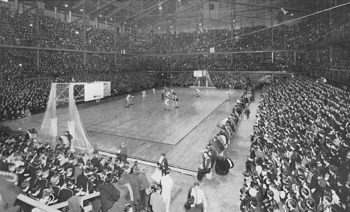 Image from archives.library.wisc.edu
Wisconsin won the first-ever Big Ten title in 1918, then spent the next two decades trying to earn a second.
The Badgers needed a win in the 1940-41 regular-season finale to secure another conference crown, along with a spot in the recently-created NCAA Tournament.
To earn those laurels, though, the Badgers needed to get past a Minnesota team that had handed them their only Big Ten loss—by a decisive 44-27 margin—when the two teams met in Minneapolis.
With the season on the line, the Badgers hung tough on their home floor (pictured) and decked the Golden Gophers by 10 to earn their first NCAA Tournament berth.
7. Wisconsin 75, Purdue 69 (1994)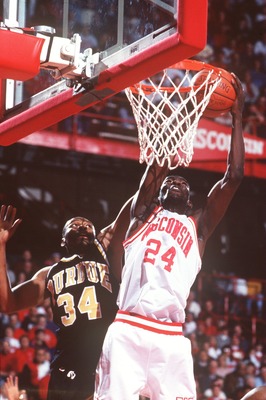 Todd Rosenberg/Getty Images
Entering the 1993-94 season, Wisconsin hadn't made the NCAA Tournament since the Truman administration.
Under the circumstances, the selection committee was hardly likely to hand the Badgers a spot in the Big Dance, but Wisconsin earned its way in with performances such as a home win over the Purdue Boilermakers.
Gene Keady's Purdue squad was undefeated entering the game—and on its way to a No. 1 seed—behind the peerless Glenn Robinson, but even the Big Dog wasn't enough to win in Madison.
The Badgers, led by a future NBA standout of their own in shooting guard Michael Finley, held Robinson to 5-of-26 shooting, making Finley's 25 points more than enough to sew up a signature win for Wisconsin.
6. Wisconsin 70, Illinois 53 (2004)
Elsa/Getty Images
Two years into Bo Ryan's tenure in Madison, Wisconsin was clearly a program on the rise. The Badgers cemented that status with their first-ever Big Ten Tournament championship—in surprisingly easy fashion.
Facing an Illinois squad that was a year away from playing for the national title, the Badgers locked down an offense led by Dee Brown and Deron Williams in the conference tournament final.
Devin Harris led the way for the Badgers, who shot an absurd 53.3 percent from the field as a team in slaughtering the Illini to wrap up a rare automatic bid to the Big Dance.
5. Wisconsin 80, Cincinnati 72 (1994)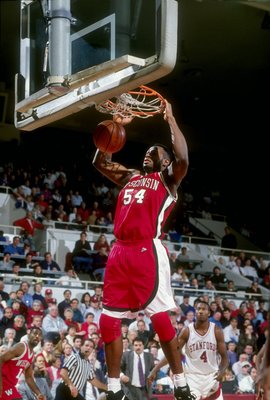 Otto Greule Jr/Getty Images
Back in the NCAA Tournament for the first time in half a century, Wisconsin made its opportunity count. The ninth-seeded Badgers proved they had returned to relevance outside the Big Ten when they squared off with No. 8 seed Cincinnati.
The Bearcats were led by athletic swingman Dontonio Wingfield, whose 20 points led four Cincy players in double figures.
The Badgers, however, had a pair of stars to counter Wingfield, with SG Michael Finley and center Rashard Griffith each scoring 22 (and Griffith adding 15 rebounds) to earn Wisconsin a long-awaited win on college hoops' biggest stage.
4. Wisconsin 94, Ohio State 92 (2002)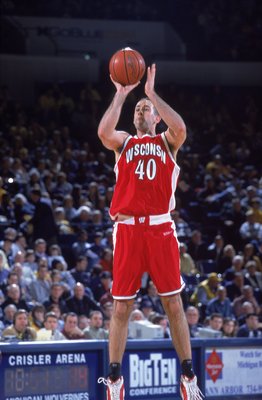 Danny Moloshok/Getty Images
Bo Ryan's Wisconsin debut saw the Badgers capture their first Big Ten championship in 55 years.
The defining game of that tightly contested race (which also saw Illinois, Indiana and Ohio State earn shares of the title) was a home-court thriller against the Buckeyes.
Two balanced offenses traded punches all night, with the Buckeyes shooting an even 50 percent from the floor and Wisconsin not far behind.
The key man for the Badgers proved to be unheralded forward Charlie Wills, who doubled his season average to pour in 21 points (tied for the team high with Kirk Penney) in an overtime win.
3. Wisconsin 51, Dartmouth 50 (1941)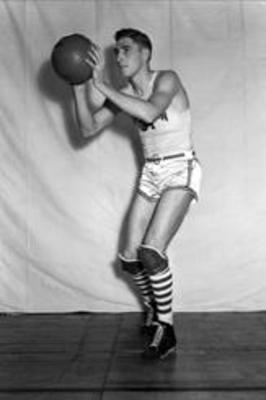 Image of Gene Englund from uwathletics.com
The Badgers had little choice but to hit the ground running in their first-ever March Madness appearance.
There were no easy wins in the eight-team field of the early NCAA Tournament, and Wisconsin's opener pitted them against a tough Dartmouth squad in an era when the Ivy League was still a major sports powerhouse.
The Badgers got all they could handle from a physical front line, but a pair of foul-outs by Dartmouth early in the second half swung the momentum back to Wisconsin.
All-American Gene Englund poured in 18 points, and Wisconsin hit its free throws to cling to a one-point win.
2. Wisconsin 66, Arizona 59 (2000)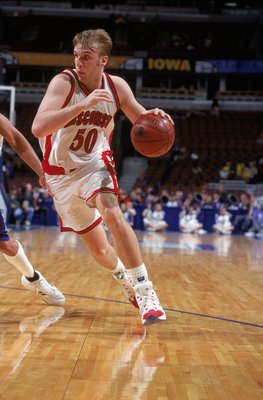 Jonathan Daniel/Getty Images
Wisconsin scored plenty of upsets on the way to its only Final Four appearance of the modern era, but none was bigger than a second-round win over Arizona.
The top-seeded Wildcats had star power in abundance—highlighted by Richard Jefferson and Gilbert Arenas—but the Badgers held the frontcourt trio of Jefferson, Michael Wright and Luke Walton to a total of 10 points on the day.
The Badger offense got its usual scoring-by-committee, led by Mark Vershaw's 15 points and Maurice Linton's 14, which proved to be enough to outdo a valiant effort from Arenas (21 points and five assists).
The real glory, as it so often did under Dick Bennett, went to the defense, with Vershaw registering three blocks and Mike Kelley grabbing five steals.
1. Wisconsin 39, Washington State 34 (1941)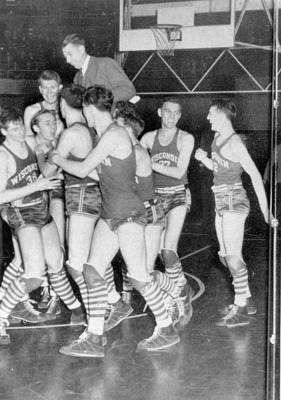 Image from archives.library.wisc.edu
When it comes to big wins, it's tough to beat the only national title in school history. Playing in their first-ever NCAA Tournament, the Badgers had already taken down Dartmouth and Pitt on their way to a title-game showdown with Washington State.
Cougars star Kirk Gebert poured in 21 points, but Wisconsin clamped down on the rest of the WSU roster to keep the game close.
Thirteen points from Gene Englund, plus a dozen more from Most Outstanding Player winner John Kotz, proved to be just enough offense to win the lowest-scoring title game in March Madness history.
Keep Reading

Wisconsin Badgers Basketball: Like this team?