Kentucky Basketball: Can Wildcats Rely on Kyle Wiltjer Early in the Season?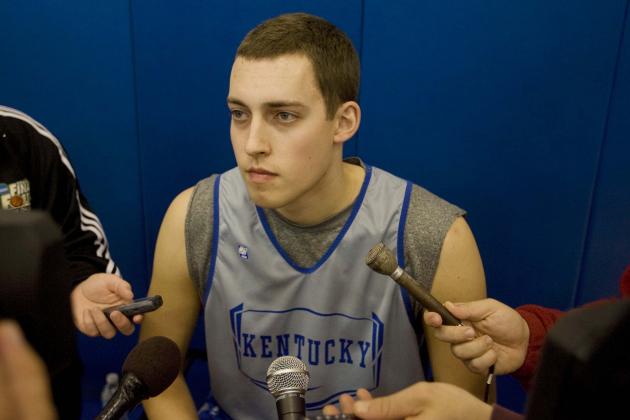 Mark Zerof-US PRESSWIRE

Week one of the college basketball season is upon us. The Kentucky Wildcats finished their two exhibition matchups against Northwood and Transylvania and won by a combined 167-89.
The final score sure is dominant, but John Calipari has work to do with this young team. Turnovers were rampant and the team started slow in each game.
But those problems can be remedied with a bit of experience and more coaching. Some struggles, however, run deeper.
In this article, you'll find quotes from Paul Ables, Nick Nafpliotis and myself regarding Kyle Wiltjer's reliability, Willie Cauley-Stein's emergence and more.
We'll also discuss Kentucky's first game against Maryland.
Each week, your Kentucky Basketball Featured Columnists will be having a discussion regarding the state of the basketball team. We'll discuss and predict each game in detail, along with any other major storylines for the week.
Begin Slideshow

»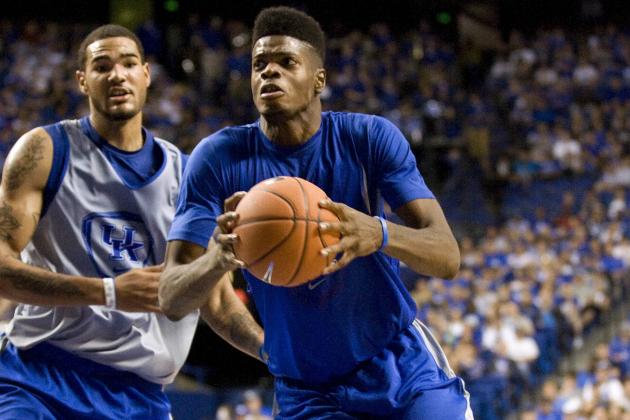 Mark Zerof-US PRESSWIRE

First impressions are dangerous. Archie Goodwin looked like a lethal scorer against Northwood, and against Transylvania, he looked like a freshman.
That said, there are plenty of positives—and they certainly outweigh the negatives. John Calipari has another talented team that is great defensively.
"I like what Calipari said, this team doesn't look as scattered," Nick Nafpliotis said. "When they got beat on defense, they recovered really well," he added.
Defense will clearly be the strong suit (again) for the Wildcats. Calipari has a robust amount of length on this team, evident in one lineup in particular.
"The biggest takeaway for me was the Twin Tower lineup," Paul Ables said. "I think that's the wild card for this year."
The "Twin Tower" lineup, featuring Nerlens Noel and Willie Cauley-Stein, boasts more length than nearly every other team in the country simply cannot match down low. Ables likes the look of five-star recruit Noel early on.
"For one, Noel, he took a back seat to Cauley-Stein in early reports, but he was a beast," he said.
Noel finished the two exhibition games with, dare I say, Anthony Davis-like statistics. He went 15-of-17 from the field (32 points) and added 15 rebounds and five blocks.
Defense is the anchor for this team, but for one player, work on that side of the ball remains.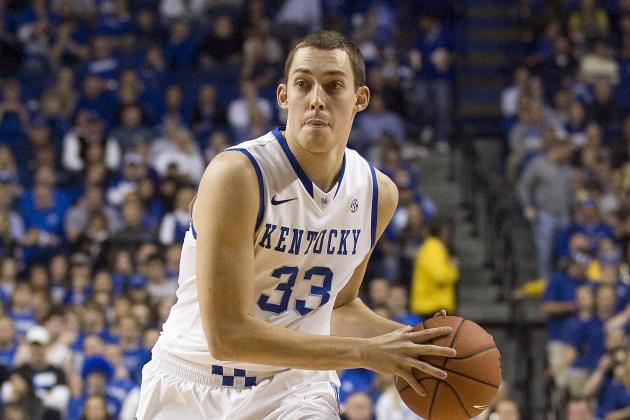 Mark Zerof-US PRESSWIRE

Kyle Wiltjer is a major talking point early in the season, but not for good reasons.
He was one of the worst rebounders in the nation last season for his height. Most of his supporters credited that to a combination of freshman struggles, playing with Anthony Davis and Terrence Jones, a perimeter-oriented playstyle and more.
All three Kentucky Featured Columnists are concerned.
"To me, watching him, he (still) looked slow. Maybe it was just a bad night for him, but that's what concerned me," Nafpliotis said.
All summer, reports of Wiltjer beefing up and getting quicker surfaced on the Internet. He was pegged as a breakout candidate—and for good reason. But there's one part of his game that needs to improve.
"He'll never be a great defender," Ables said. "And that's OK. Look at Kevin Love in the NBA: He will never be a great defender. But he rebounds the ball."
Wiltjer will likely never rebound like Love, but he's got to improve. His starting job is on the line.
"Cauley-Stein impressed the heck out of me, and when it comes to the season, how do you keep Cauley-Stein on the bench?" Ables said.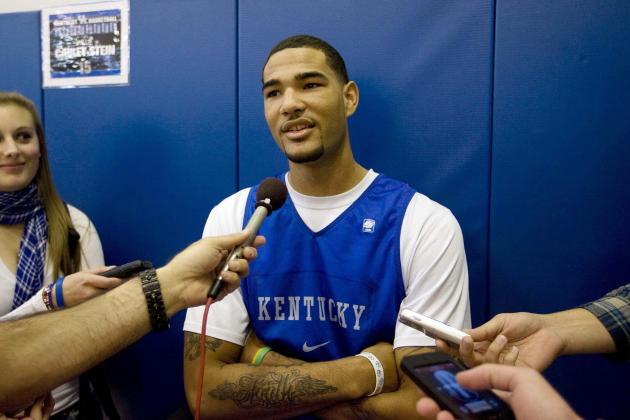 Mark Zerof-US PRESSWIRE

The man that may take Kyle Wiltjer's starting spot is Willie Cauley-Stein.
Just one look at the statistics. WCS went 7-of-8 from the floor in two exhibition games with 13 rebounds. Wiltjer went 7-of-16 and had four rebounds in as many minutes.
Wiltjer might have started in each exhibition, but he didn't exactly take the job and run with it.
WCS, once considered a "project," might be improving at such a rate that he doesn't need another year in Lexington.
"Next year's draft is really weak, and Daniel Orton was a first round pick," Ables said.
"If you just play for UK, scouts will be on you. Him coming back will be key for the 2013 class. If he comes back, he's the guy at center."
Nafpliotis is hoping for the same result.
"I think if he stays, he could really improve his draft stock," Nafpliotis said. "He'll have another year of tutelage under Cal, with the strides he's made, that will benefit him immensely."
For 2012-13, Kentucky fans have to love the progress that WCS has made. If only Wiltjer could show the same.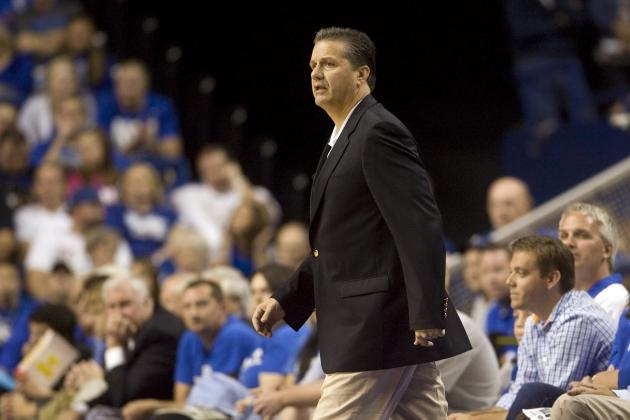 Mark Zerof-US PRESSWIRE

Depth has been an issue every year past John Calipari's first in Lexington. This year is no different.
Ryan Harrow, Julius Mays and Archie Goodwin in the backcourt. Alex Poythress, Kyle Wiltjer, Willie Cauley-Stein and Nerlens Noel in the frontcourt.
Past that, who knows?
Will Calipari go past seven?
"I think Cal, it doesn't matter how deep it is, I think he's just not comfortable with going much past his rotation," Nafpliotis said.
"I think his teams are so young and so well conditioned, he likes staying with a core group of players for continuity's sake," he added.
Short answer: No.
Jon Hood, a redshirt junior, would be next in line, but as much as Big Blue Nation would love for the local product to play, it isn't likely.
"I think he wants to play Hood, and we'll see, but I don't see it happening," Ables said.
Against Maryland, expect Calipari to stick to seven players.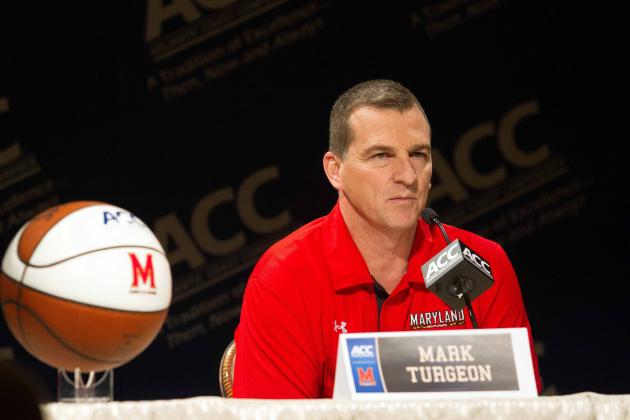 Jeremy Brevard-US PRESSWIRE
Maryland head coach Mark Turgeon.
The Kentucky Wildcats start the season in New York against the Maryland Terrapins in the Barclays Center.
John Calipari's scheduling tactics give Kentucky a huge stage, but marquee games are no longer at Rupp Arena.
"For me, I like it. In general, I like the big events," Ables said. "Cowboys Stadium (in 2013) will be awesome. He's playing games in bigger venues for exposure."
And it's working. The Harrison twins (hopefully they need no introduction) will be playing in their home state in one of the largest sports venues in the country—in their freshman year. Some seniors never get that experience.
For Kentucky fans, though, the thought of games around the country is bittersweet.
"I'm right there with Paul on that. Cal has made the Kentucky program has this 'it' factor—some factor that everybody likes," Nafpliotis said. "As a fan that lives out of town, I get pride when I see Kentucky show up for a game in New York."
For the game in New York, we will see the new Wildcats play a team that is guaranteed to give the defending champions their best shot. Maryland has plenty of firepower and motivation (see: Harrison twins) to win.
Maryland has something to prove. The UK FCs agree: The game will be close—and could include a very ugly first half.
Predictions:
"The first half will be shaky," Ables said. He predicts a Kentucky win, 76-69.
"Maryland is better than people realize," Nafpliotis noted. He has the Wildcats winning 74-62.
My prediction: 67-60, Kentucky.