Schalke vs. Arsenal: 6 Things We Learned from Draw in Western Germany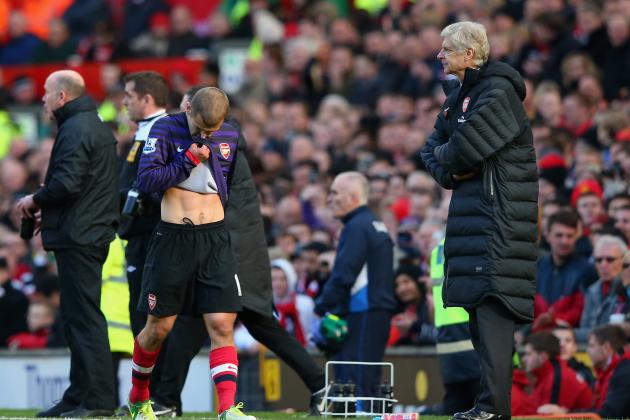 Alex Livesey/Getty Images

After the two sides saw out a rollercoaster 2-2 draw in Gelsenkirchen, Group B proceedings are as finely poised as ever.
Huub Stevens' Schalke remain atop the pool's proceedings, but both they and Arsenal are in danger of falling victim to cockiness with third-placed Olympiakos still challenging, also.
Conceding and scoring tow goals apiece, both Schalke and Arsenal have areas to improve upon following their latest Champions League clash, only the fourth occasion in which the two sides have met.
Arsene Wenger's men will undoubtedly be happier with the point, having succumbed to a 2-0 loss in the reverse fixture, but both teams can take lessons away from what was a tight affair at the Veltins Arena.
Begin Slideshow

»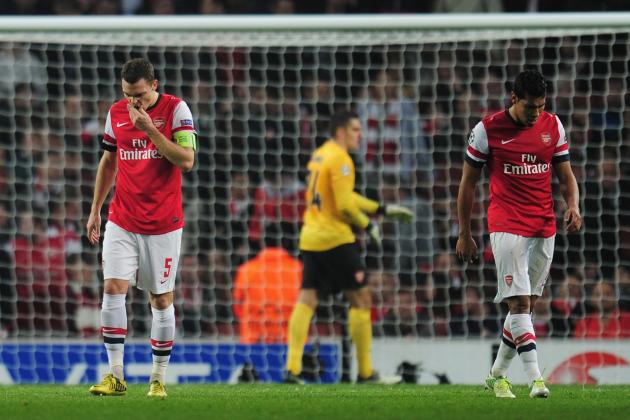 Shaun Botterill/Getty Images

Having conceded just two goals in their first five Premier League matches, expectations were moderately high at the beginning of Arsenal's season, aspirations mostly attributed to a stern defence.
It's assuredly more than coincidence that these improvements on the Gunners' foundations were at least as partial result of the influence from Steve Bould, Arsenal's new defensive coach, who replaced the retired Pat Rice.
However, Bould's coaching would have apparently only lasted so long and the Gunners are now struggling to not concede, keeping just one clean sheet in their last 10 fixtures.
Tuesday was another example of how fragile the Gunners' backline can be at times, and as some have said in recent times, the team looks to lack the steel and grit that players such as Tony Adams, Lee Dixon, Martin Keown and Nigel Winterburn brought to the table.
After Andre Santos' poor performance against Manchester United on the weekend, Wenger chose to let Thomas Vermaelen deputise for the injured Kieran Gibbs at left-back.
Jefferson Farfan capitalised on Vermaelen's shortcomings in the position on several occasions, and Schalke's Lewis Holtby, Ibrahim Afellay and Klaas-Jan Huntelaar also found it too easy to penetrate the backline at times.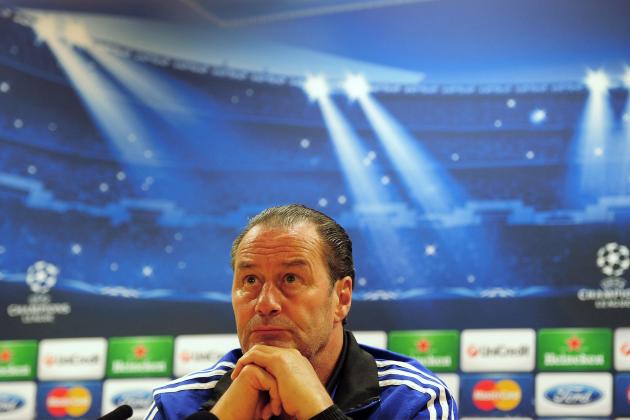 Shaun Botterill/Getty Images

Although it was only two seasons ago that they launched their assault on the Champions League semi-finals, Schalke are once again showing glimpses of the form necessary to stage some European magic.
Die Knappen remain the only unbeaten side in their group and while a 2-2 draw may not have been a priority leading up to the game against Arsenal, the comeback shows certain qualities of a title-winning team.
Huub Stevens will be the first to admit that Joel Matip and Benedikt Höwedes were partly at fault for the conceding of Arsenal's goals, but the offensive strengths are just as noteworthy.
Players like Lewis Holtby, Jefferson Farfan, Ibrahim Afellay, Christian Fuchs and of course Klaas-Jan Huntelaar have attracted a host of European attention of late.
Just as there is no smoke without fire, that sort of interest doesn't come without good reason, and Stevens has appeared to have assembled a squad capable of challenging most in this competition.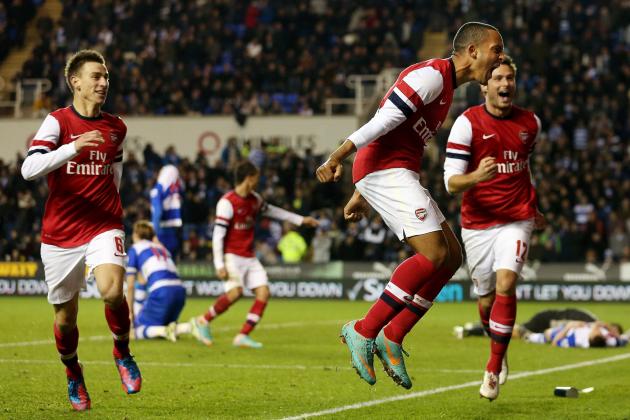 Scott Heavey/Getty Images

With his contract set to expire in the summer, it's of little secret that Theo Walcott's position at Arsenal has become increasingly unsettled in recent months.
According to a recent BBC Sport report, one of the primary circumstances in Walcott's reluctance to sign a new deal with the club is the fact that Arsene Wenger seems equally as unlikely to give in and play the speedster in his former position of striker.
Although his opener against Schalke wasn't the outside the box strike that every fan hopes to see on a regular basis, the fact that Walcott was in the right place at the right time to mop up Olivier Giroud's mistake is simply a signature of a certain type of striker.
Just as his contract nightmare has been made public, it's equally as known that Walcott is a speed demon by nature, dealing in terms of pace more than anything, a very valuable tool for any target man.
Having now netted eight goals in just five starts across all competitions, Walcott is the most prolific scoring talent on his team, and it wouldn't be absurd to think the 23-year-old would thrive in his old role.
Walcott's goal against Schalke showed, instinct, ideal positioning and a cool head to go along with the obvious physical attributes and fine finishing that Walcott has a tendency to display.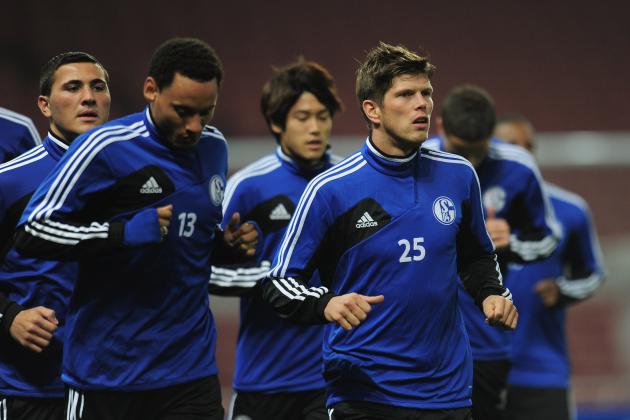 Shaun Botterill/Getty Images

From one contract dispute to another, Klaas-Jan Huntelaar will also see his current contract expire this summer unless he signs a new deal at the Veltins Arena or, less probably, is sold by Schalke in January.
Last season, the Dutch talisman netted 48 goals in 48 appearances for the Miners, excelling in the expectations of the public eye and becoming one of Europe's most prolific strikers in the process.
While not as efficient, a ratio of eight goals in 15 appearances this campaign is still nothing to be sniffed at, and boasts the signs of a premier talent.
The draw against Arsenal provided Huntelaar with his fourth consecutive goal in Champions League competition and made "The Hunter" just the third player in the competition's history to net in all of the opening four fixtures of the tournament.
While there are undoubtedly other assets that could be brought in, Huub Stevens already has a proven source of goals amongst his ranks, and the club's hierarchy need to be pulling all the strings necessary to ensure the player's further commitment.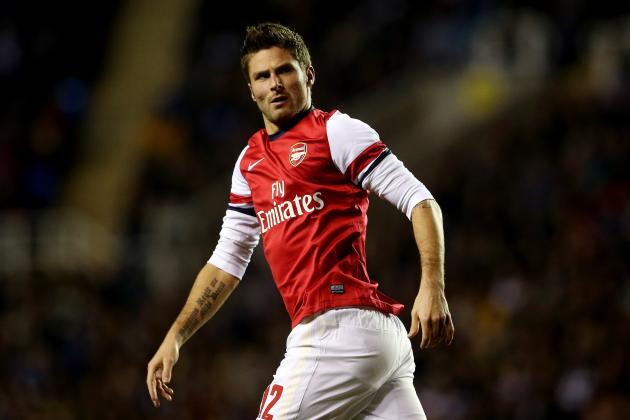 Scott Heavey/Getty Images

Having netted the first Champions league goal of his career, Olivier Giroud can feel slightly safer in knowing that those wanting more of him in an Arsenal shirt may be appeased for another week or two.
In all seriousness, having come in over the summer as a replacement for the departed Robin van Persie, Giroud was always going to be attempting to fill the boots of RVP, however unfair a comparison that may seem.
Latching wonderfully onto the end of a Lukas Podolski cross, Giroud's diving header was an emphatic finish for what was, on the whole, a very positive performance for the Frenchman.
The time players get to settle into new surroundings these days isn't quite as kind as it perhaps once was, with fans, staff and boardroom members alike demanding result now.
That said, it would appear that Giroud has rode through his tough settling in phase and is now paying back the club that paid for his transfer fee, netting four goals and making five assists across all competitions.
Against a strong Schalke defence, Giroud's runs and impressive routes sometimes went unfulfilled, but that doesn't reflect badly on the forward, merely that he and his teammates are still gelling as a unit.
He may not be a Robin van Persie replica anytime soon, but the question about whether or not Olivier Giroud is improving or not is a rather one-sided debate.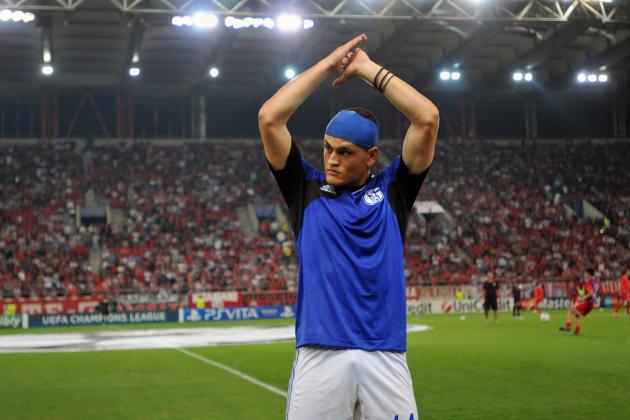 EuroFootball/Getty Images

Integral to the success of any team hoping to clinch a trophy such as the Champions League is squad depth and the resources necessary to cope with a gruelling, multi-pronged campaign.
Without spending massive amounts of money, Schalke have amassed a very impressive roster over the last three years in particular.
This summer alone, the Bundesliga side managed to lure Tranquilo Barnetta and Roman Nëudstadter to the Veltins Arena as free transfers, while the considerable talents of Ibrahim Afellay are at the club on just a season-long loan deal.
This is of course in conjunction with the rest of the quality at Huub Stevens' disposal, such as the aforementioned Klaas-Jan Huntelaar, Jefferson Farfan, Benediky Höwedes, Lewis Holtby and Joel Matip.
Against Arsenal, Stevens was forced into leaving assets such as Kyriakos Papadapoulos, Julian Draxler and Marco Höger on the bench, all of whom are extremely good players in their own right.
With these kinds of conundrums, Schalke would certainly seem to be moving in the right direction, and are showing they can push through a season that would otherwise put obstacles in a club's path.