Texas Football: 7 Ways the Longhorns Can Reinvent Themselves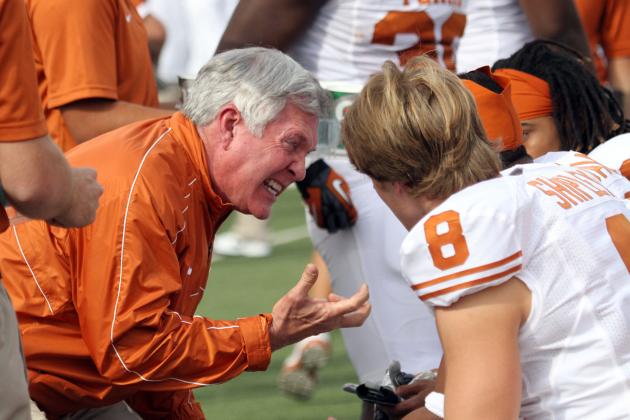 Michael C. Johnson-US PRESSWIRE

In a matchup that many thought would knock the Longhorns further down the path to irrelevance in this 2012 season, the now-No. 17 Texas Longhorns were able to buck the odds and take down Texas Tech by a 31-22 score. This was a great win for the 'Horns and head coach Mack Brown, but there is still a lot of work to do in getting this program back where it belongs.
Let me start off by saying that I was wrong about David Ash in this game. He got the ball downfield, especially to Mike Davis, and consistently made the correct decisions throughout the game in quieting the quarterback controversy in Austin yet again.
But Ash had some help. The offensive line played one of its best games of the season in keeping Ash off the turf and paving the way for Johnathan Gray's second-consecutive 100-yard game. But most importantly, the defense finally started making key plays and showed some pride in holding the explosive Red Raider offense under 30 points.
But this team is still far from the finished product of a dominant power football team. The Red Raiders were still able to rack up nearly 450 yards of offense and still allowed four yards per carry on the ground. And there were still times when Texas seemed to relax, letting Texas Tech back into a game that Texas could very well have run away with.
But, in a season where 6-2 felt more like 2-6, the Longhorns have showed us all a glimpse. A glimpse of a team that is well within reach of 10 wins. A glimpse of a team that may not have to undergo some major makeover in the spring. Most importantly, a glimpse of a team that has the pieces and potential to return back to the top of the college football landscape.
Read on for your own glimpse at what the Longhorns can do both this season and beyond to keep this thing going in the right direction after their biggest win of the season.
Begin Slideshow

»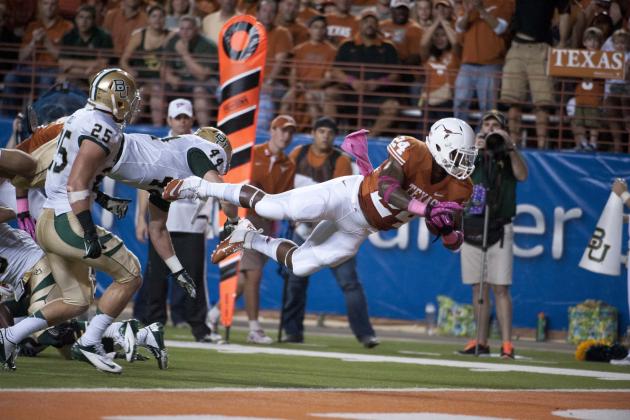 Brendan Maloney-US PRESSWIRE

The Longhorns may have pulled out a great win over the weekend, but for the second week in a row you saw a Longhorns offense that seemed to relax after a strong start. The 'Horns got away with it, but this is not something that they can afford to let happen in these final three games.
There are very few points that are open to complaint following Saturday's big win in Lubbock, but the inconsistency following three straight touchdown drives is one of them.
The Longhorns looked great on those first three drives. Ash was dealing, Johnathan Gray was finding room to run and Mike Davis was easily blowing past his man. Then it gets a little fuzzy.
After amassing what seemed to be a commanding 10-point halftime lead, the Longhorns were stagnant on offense in the third quarter and needed some big plays from both sides of the ball in the fourth quarter to put the game away.
The same sort of thing happened the week before against Kansas, when the Longhorns easily marched down the field for an opening-drive touchdown only to need two consecutive touchdown drives to squeak by with a 21-17 victory.
For whatever reason, Texas took its foot off the gas pedal when things seemed easy and you cannot win like that in college football. Just look at No. 3 Oregon, a team that I'm not so sure does not sprint back to the team bus after a win.
In these final three games, especially to pull off the upset at No. 2 Kansas State, Texas cannot afford to relax in any way, shape or form. It needs to show the killer instinct that the best of the best show on a weekly basis both to close this season and in seasons yet to come. Because when this team is playing its hardest it is very good; it is when it slows down both on the field and on the sideline that it gets into trouble.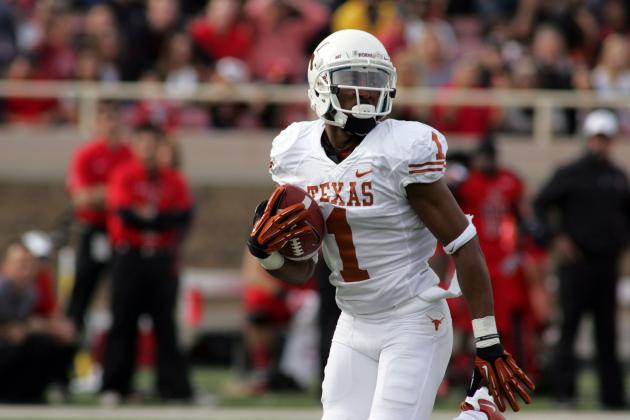 Michael C. Johnson-US PRESSWIRE

Though the Texas Longhorns are making a concentrated effort to become a power football team, the importance of being able to get the ball down the field in the passing game cannot be lost on this team.
While Johnathan Gray and the defense certainly deserve credit for their efforts in dispatching the Red Raiders, it was the joint effort of David Ash and Mike Davis in the passing game that was the ultimate difference in the game.
Not only was Davis able to make a significant direct impact on the game with his four catches for 165 yards and two touchdowns, but his indirect impact on the game was superb. By establishing himself early as a dangerous downfield threat, Davis was able to spread out the Texas Tech defense and prevent them from stacking up against the run.
The result was 165 rushing yards at 4.2-yard clip against a defense that was allowing only 121 yards/game at less than four yards per carry.
It is more important this season because the offensive line is not as dominant as it should be in years to come, but having a dangerous downfield threat like Davis changes the complexion of this offense. It prevents the defense from loading up against the plethora of talented backs this team has in its arsenal and gives the offense some quick-strike ability when that is needed.
Against talented fronts like the ones Iowa State, TCU and Kansas State possess, Davis' ability to take the top off the defense will work wonders for this offense. And should he be able to keep it up next year, this offense could be very lethal with the way the underclassmen are coming along.
I will get into this more later, but Texas cannot underestimate the value of a big, fast receiver that has to be accounted for on every play.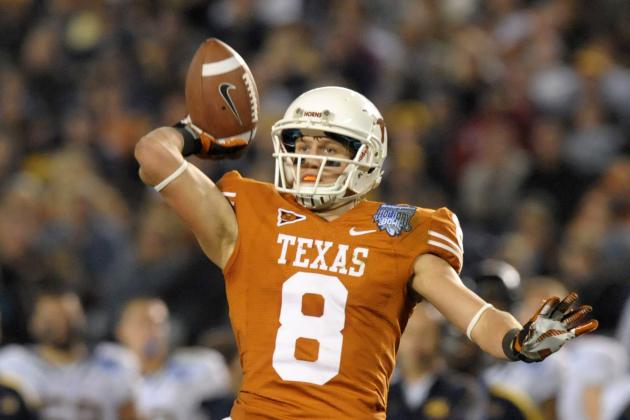 Kirby Lee-US PRESSWIRE

This is more with an eye toward the Kansas State game, but it is time for Mack Brown to give offensive coordinator Bryan Harsin some more freedom in his play-calling.
While the Longhorns are taking the right steps toward becoming an offense that controls the clock and scores on long methodical drives, they are not quite there yet and need explosiveness to win these final three games. That means letting Harsin take risks with his play-calling and letting him absolutely throw the kitchen sink at the Wildcats on December 1.
I will not say that this is Boise State versus Oklahoma in the Fiesta Bowl, but it is similar. On paper, Texas is totally overmatched in almost facet of the game against Bill Snyder's club. The 'Horns will not be more physical, will not be more disciplined and will not have the home crowd on their side.
What they will have is one of the most creative offensive minds in the game and, if he and his offense have success against Iowa State and TCU, some momentum coming into the game. And just like it took every ounce of Harsin's savvy to beat the Sooners back in 2007, so too will it require the same type of effort for the 'Horns to pull off their biggest upset of maybe the last decade.
That said, I have a feeling Brown and the rest of the coaching staff are prepared to do just that in their team's regular-season finale. But going forward as well, Brown needs to show his offensive coordinator that he has the confidence in him to make the right decisions. After all if he wanted someone conservative in the booth, he would not have hired Harsin.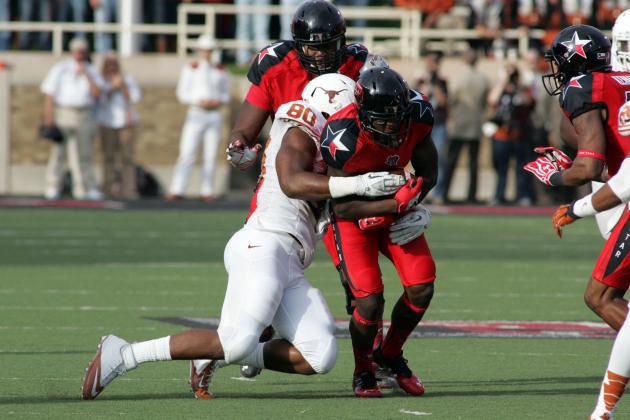 Michael C. Johnson-US PRESSWIRE

Though the defense has shown some life in its last six quarters of football, this unit is still on pace to be the worst in Texas history. The key with this group going forward is not to panic.
Yes, the Longhorns still have issues tackling. Yes, they are still awful against the run. And yes, they are still one of most colossally disappointing units in the country.
I will not harp on the Jordan Hicks injury because that dead horse has been beaten to an absolute pulp and the issues with this defense go beyond just Hicks' absence. After last season this group lost four-year starter Blake Gideon, linebacking stalwarts Keenan Robinson and Emmanuel Acho and run-stuffer Kheeston Randall among others.
That is four defensive starters that have been replaced by four guys that have never consistently started that are then backed up by guys that had hardly seen the field prior to this season, many of them freshmen.
Add to this that Carrington Byndom and Adrian Phillips have drastically underperformed in 2012. Bydnom was among the Big 12's best shutdown corners in 2011 that has been lit up on the outside. Phillips spent two seasons learning from Gideon and has not been half the hitter that the departed Gideon was.
And once Hicks and Jeffcoat went down, who were two returning starters that were going to be counted upon to cover up deficiencies at linebacker, this group was simply exposed. For coordinator Manny Diaz's scheme and blitz packages to be effective, he needs the depth that this team simply has not had.
Now why it took Diaz over five games to figure this out one may never know, but the defense has played significantly better the last couple of games now that Diaz has simplified to the bare minimum. The missed tackles are still there but have been cut down with fewer people scrambling to get into position and the greener members of this group are starting to buckle down.
Point being that this defense has been a perfect storm of underachievement and inexperience along with unfortunate injuries. But the positive sign is that this group is figuring it out and is figuring it out with the backups taking their licks. They have to keep it up for three more games, but holding Texas Tech to 22 points is a major leap from giving up 63 to Oklahoma.
If this group can continue to improve in the simplified scheme, then at the very least we should see a markedly improved Texas defense in 2013.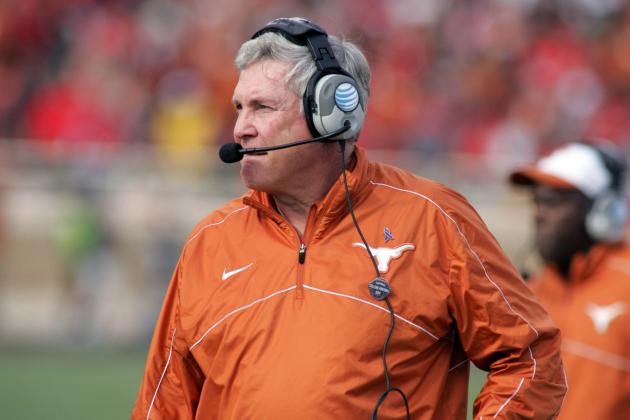 Michael C. Johnson-US PRESSWIRE

Just like 2010 and 2011, the Texas Longhorn faithful have been calling for Mack Brown and his coaching staff's jobs from a very early point in the season. Expect at least of a majority of them to be back in 2013.
A lot of the issues thus far with this Texas team can certainly be pinned on the coaches. It did not have these guys tackling for the majority of the offseason and has had trouble handling the injuries and personnel issues that have plagued this team in all three phases of the game.
But despite it all this team is still 7-2 with a legitimate shot at its first 10-win season since 2009 and a couple of impressive wins to boot. The 'Horns have won two games on their final drive, gotten the monkey off their back in beating a ranked team on the road in Texas Tech and have seen some very impressive play out of freshmen like Johnathan Gray and Daje Johnson.
Once you take all of those achievements into consideration, the only coach that is in any real danger is the defensive coordinator/linebackers coach Diaz. He has not handled the loss of Jordan Hicks very well, and the linebackers that he was supposed to have ready to step up have only now started to come along. Even worse, Diaz's defense has been viewed as soft en route to being victimized for a 15-of-20 fourth-down percentage.
This 2012 season has been a less-than-ideal scenario for Diaz, but very seldom do football seasons go exactly as planned. The main problem here is that Diaz has been outsmarted by the offensive minds he was hired to stand against and took an entire half to figure out the one-dimensional offense of the Kansas Jayhawks. Unless Diaz gets three more performances out his team like he got against Tech, it is hard to imagine him returning to the Texas sidelines.
As for the rest of the staff, things should be pretty much the same in 2013. Harsin's offense is scoring over 40 points per game and is only getting better. Stacy Searels still does not have his recruits seeing regular playing time but has coached up the current guys to very solid 2012 campaign. Duane Akina is still one of the best to ever do it with the defensive backs and should never be let go.
And since it will cost Texas $3.5 million to fire Mack Brown this offseason, the odd man out will probably be Diaz. Look for his replacement to be the type of coordinator that emphasizes turnovers and being there to back up your teammates, two areas where the Longhorns could use some improvement.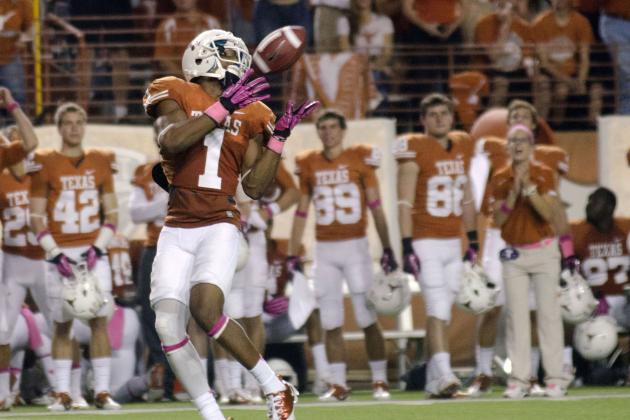 Brendan Maloney-US PRESSWIRE
Losing RSJ makes replacing Davis in 2014 a daunting task
As Texas continues its move towards becoming a smashmouth, SEC-style team it needs to focus on bringing in the top offensive and defensive line prospects to solidify a dominant presence in the trenches. Another big-play wide receiver would not hurt either.
When you look at teams such as Alabama and LSU, who have been the class of the SEC in recent years, you notice that they almost always win the battle in the trenches. Why? Because they consistently have some of the best front-line players in the country.
Just look at their 2012 squads. Alabama's offensive line, not its whole team, might be better than that of the Philadelphia Eagles. And LSU's Barkevious Mingo and Sam Mongomery are two of the top defensive end prospects in the country. In three years, you want to be able to say the same things about the Texas linemen.
Texas is already on the right track on the offensive line. Last year's haul brought in offensive tackle Kennedy Estelle, the No. 7 tackle, and Curtis Riser, the No. 6 guard. And 2013's group of big uglies should be even better with commitments from No. 1 center Darius James, No. 3 tackle and fan favorite Jake Raulerson and No. 6 tackle Kent Perkins.
Along the defensive line Texas was able to bring in speed-rusher Shiro Davis and top defensive tackle Malcom Brown, who have both seen significant playing time this season. However, the only major prospect they have locked up for 2013 is No. 11 tackle A'Shawn Robinson, who has played extremely well this season and could shoot up the rankings before his season is done.
The defensive tackle position is where Texas has seen the most glaring hole on defense, as they have been dominated for most of the season in giving up five yards per carry. Brown's development should help here, but you would like to see a better haul in this year's class.
One area that certainly needs to be addressed in through the recruiting process is the impending graduation of Mike Davis, whose big-play ability has proven invaluable this season. Texas still has one more year with Davis, but does not have anyone on its radar that possesses the same size-speed combination as the team's leading receiver. The loss of Ricky Seals-Jones certainly hurts in this regard, but the real failure here is not having guys like Laquon Treadwell or Torii Hunter Jr., whom Texas was late going after, as backup plans.
This could be a moot point if either 2012 freshmen Cayleb Jones, Marcus Johnson or converted defensive back Kendall Sanders emerge as solid options on the outside. Sanders is currently second on the depth chart behind Davis, and the fact that he was not redshirted makes me think he has shown some serious talent. Only time will tell.
Also keep an eye on how Texas pursues the tight end position. Both M.J. McFarland and D.J. Grant have performed well this season when given the opportunities, but neither is much of a blocker. I would really like to see Texas bring in a complete tight end that gives the team a big target in the middle of the field and that can catch passes out of power formations. We have seen how valuable this position can be for power teams like Stanford, and it is time for Texas to recognize that value.
Michael C. Johnson-US PRESSWIRE
Will Ash be under center in 2013?
Last but certainly far from least, there is still some skepticism about who Texas goes to at quarterback after the 2012 season.
First of all, David Ash is going to be quarterback of this team for the rest of the season barring some major meltdown in these final three games. I know I counted him out after that Kansas game and I am still worried about how he fares against Kansas State, but he is not going anywhere. Though I still would like to see him use his athleticism a little more as a runner.
But starting next season things are a little less clear at the game's marquee position. Ash has had a mostly impressive 2012 season and certainly has earned the right to be the favorite heading into the offseason. But Texas does have some interesting prospects in the fold.
First you have freshman Connor Brewer, who enrolled early last spring and is quite possibly the best thrower on the team. He is not as athletic as Ash, but he does have very good arm strength and has great upside as a pocket passer.
Then you have Jalen Overstreet, a dual-threat quarterback that has been taken on as a project by this Longhorn team. The coaches have been working with Overstreet to improve his throwing motion and make him more of a complete player. Whether the improvement is significant enough to earn him starting consideration is highly unlikely, but Ash was not exactly expected to be a starter either.
And then there is Tyrone Swoopes, the No. 10 athlete of the 2013 class that plummeted down the rankings after serious questions about his throwing ability emerged over the summer. Swoopes is still committed to Texas as a quarterback, and his size-speed combination alone brings back memories of a certain Vince Young, but he has a long way to go. He very well may start, but only after he is redshirted in 2013 and is developed into a true dual threat with his arm.
When it is all said and done I expect Ash to be the guy for his junior season with Brewer jumping senior Case McCoy on the depth chart.