New Orleans Saints Mid-Season Analysis: Inside the Numbers of the 2012 Campaign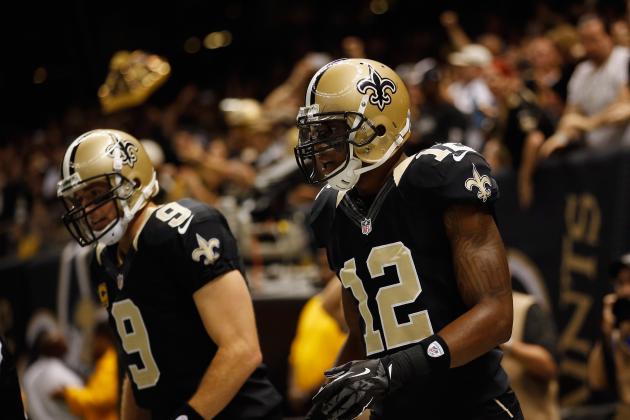 Chris Graythen/Getty Images

The most important statistic in football is the win-loss record. Teams want to be well above .500. But one way teams and analysts alike self-scout and rank the best teams is also unit-by-unit statistical analysis.
Part of the reason the New Orleans Saints are 3-5 at mid-season is undoubtedly psychological, having gone through so much off the field.
Yet statistics still help us better understand the issues facing the team and illustrate areas where it can improve.
Here is a statistical look at the first half of the Saints' 2012 season.
Standard metrics taken from pro-football-reference.com.
DVOA taken from footballoutsiders.com.
Begin Slideshow

»
Chris Graythen/Getty Images

Offensive rushing statistics tend to be pretty cut and dried, until you bring in Football Outsiders Defense-Adusted Value Over Average (which we will here).
Standard Statistics
Rushing Attempts: 164
Rushing Yards: 648
Attempts/Game: 20.5
Touchdowns: 4
Yards/Attempt: 4.0
These are the standard statistics to measure a team's ability to run the football. They have some merit, as they effectively chart a team's commitment to the run over the course of a season.
It should be noted that Travaris Cadet combined for 10 carries and four yards in that total. If you adjust the numbers to identify primary ball-carriers, the numbers would be 154 attempts for 644 yards and three touchdowns. At least the average per carry would go up slightly, to roughly 4.2 yards per carry.
Still, the rushing attempts per game is concerning. The official statistics are aided by the 25-attempt, 140-yard effort from the Saints' offense on Monday night. Take Monday night's game away and the numbers look awful.
DVOA
Adjusted Rush Offense: 0.3 percent
Rank: 11
Non-Adjusted Rush Offense: -3.7 percent
Football Outsiders defines these statistics better than I ever could here. What is interesting, though, is that the Saints' running game is actually considered to be in the top half of the league using these situational metrics, rather than standard statistics.
Of course, the one thing these metrics take into account is that Monday night's game is heavily weighted (hence the adjusted percentage being much higher than the non-adjusted).
Nonetheless, the 0.3 percent says the Saints are better than the league average in overall rushing. And the 11th rank states they are the 11th-best team in rushing for the season.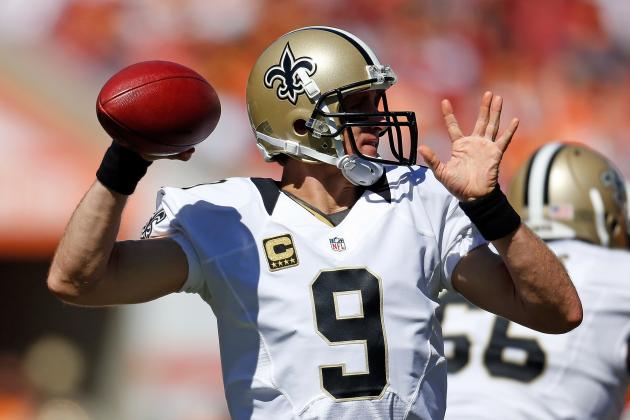 J. Meric/Getty Images

Conventional passing statistics can sometimes be a little more complicated than conventional rushing statistics, and thus worth a little closer look. Still, DVOA is useful for offensive passing statistics, too.
Standard Passing Stats
Completions: 209
Attempts: 342
Completion percentage: 61.1
Yardage: 2,549
TD: 22
Int: 8
Long: 80
Yards/Attempt: 7.5
Yards/Completion: 12.2
Yards/Game: 318.6
Sacks Allowed: 15
Sack Yardage Lost: 106
Net Yards/Called Pass (Sacks Included): 7.07
That's a lot to digest, I understand. Here are the basic take-homes from those statistics. The Saints are guaranteed more than seven yards per time a pass play is called. Few teams can boast that kind of production.
One stat missing is sack percentage. That number is 4.2 percent. That means Drew Brees is only sacked on one of every 25 called passing plays. That is exceptional. Add to that the interception rate of 2.3 percent, and it's easy to see that the Saints only have negative results on 6.5 percent of all called passing plays.
In other words, on 93.5 percent of the Saints' called passing plays, they net a positive result (incompletions are much better than sacks or interceptions and thus a positive result).
The yardage statistics also insinuate that the average completion for the Saints nets a first down. That is rare. Drew Brees normally averages approximately 9.5 yards per completion for his career.
In other words, he's nearly 2.5 yards per completion better than normal. In other words, the passing game has been more explosive this season than normal.
DVOA
Adjusted Percentage: 25.9
Rank: 11
Non-Adjusted Percentage: 24.1
While the conventional passing statistics make the Saints' passing game look gawdy, the adjusted metrics bring it back to earth a bit. The adjusted percentage makes up for the fact that Brees has thrown fewer interceptions in the second quarter of the season than he did in the first. And his overall efficiency has been better the past four or five games.
In this case, statistics simply prove what the eye test told us.
Even the non-adjusted percentage tells us the Saints' passing offense is 24.1 percent better than the league average over the first eight games of the season (though some teams have played nine games).
Interestingly, the adjusted rate proves that Brees has played better as the competition level has increased. Thus, it is reasonable to assume that Brees truly missed offseason activities, but is now back to playing at the level he did in 2012.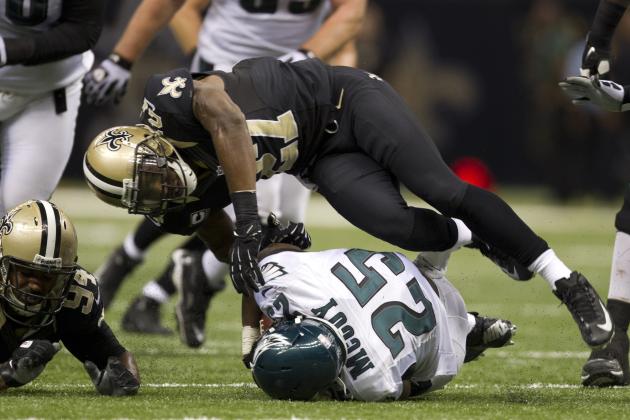 Wesley Hitt/Getty Images

The eye test tells you the Saints are horrible against the run. The stats tell the same story.
Standard Statistics
Rush Attempts Against: 266
Yardage Against: 1,412
Yards/Attempt: 5.3
Rushing TDs Given Up: 9
Yards/Game: 176.5
Attempts/Game: 33.3
The defensive rushing statistics are quite telling. Specifically, two things stand out.
One, teams are running the football against the Saints a lot. In the past, the Saints' defense hasn't been great against the run, but the attempts have been limited. That is mainly because the team led so often.
Second, it is obvious that the 5.3 yards per clip number is staggering and disappointing. To give up more than half the needed yardage for a first down on every rushing attempt (at least on average) is a bad sign.
Remember, those numbers also account for kneel-downs and short-yardage attempts where the offense simply could not have gained more yards. That's where DVOA comes into play.
DVOA
Adjusted Percentage: 9.7
Rank: 30
Non-Adjusted: 8.2
It is important to note that the defensive DVOA assumes negative numbers are good and negative percentages are not the desired result.
Admittedly, these percentages mean as much to me as Greek does (actually Greek probably means more). But to see that there are two teams worse in situational rushing defense is almost as stunning as how bad the unit projected to be through the conventional metrics.
However, it is odd, and sad, to see that unit has actually gotten worse as a run defense as the season has progressed, as proven by the adjusted percentage being a higher positive number than the non-adjusted integer.
Again, these are just statistics. Sometimes the eye test tells a more complete story. But these metrics only further prove the run defense has been a huge problem all year long.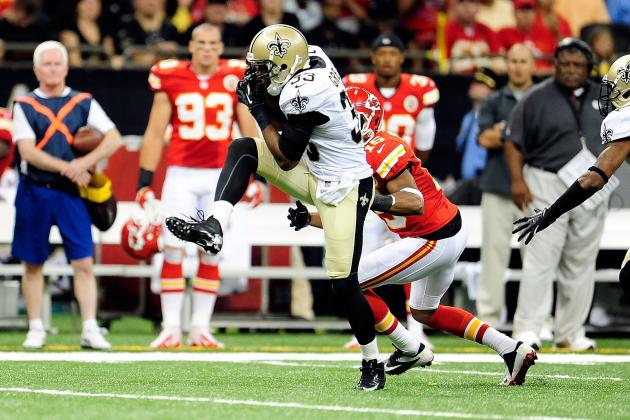 Stacy Revere/Getty Images

As good as Drew Brees has been this season statistically, the Saints' pass defense has been nearly that bad. Here are the statistics to prove that.
Standard Statistics
Completions: 185
Attempts: 286
Completion Percentage: 64.7
Yards: 2,491
TDs: 16
Ints: 4
Yards/Attempt: 8.7
Yards/Completion: 13.5
Yards/Game: 311.4
Sacks: 20
Sack Yardage: 133
Adjusted Net Passing/Attempt: 8.2
Again, this is a lot to take in. It doesn't all make a lot of sense. Most of all, it shows how bad the Saints' defense is overall. We already saw the egregious rushing defense numbers. The passing numbers are not any better.
Every time an opposing team drops back to pass against the Saints, it gains more than eight yards (on average, of course). When it completes the pass, it almost averages an explosive play (some consider one 15-plus yards, others 20).
Also, think how bad these stats were before the Philadelphia game, when the team racked up seven sacks and held Michael Vick absolutely in check (save for one play).
DVOA
Adjusted Percentage: 31.5
Rank: 30
Non-Adjusted: 29.6
The primary thing to understand about these numbers is that the pass defense started 2012 awfully bad. And though still terrible, the unit has improved against the pass. At least there's something encouraging to report on the Saints' defense.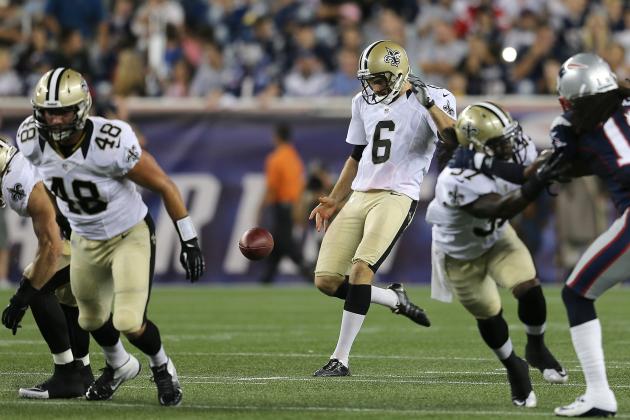 Jim Rogash/Getty Images

I won't bore you with the actual special teams statistics (I already know I'm one of the few people who actually care about special teams on film or during a live game).
It is interesting to note, though, that the DVOA numbers list the Saints at No. 16. Common sense would seem to tell you the unit would be in the top 10.
But some of the numbers do represent common sense. For instance, the team is awful in the kicking game (field goals and extra points). And the return game (both kick and punts) does the team no favors, either.
It is only in the coverage game that the team excels. That actually makes sense.
At the end of the day, special teams numbers are not meant to be fretted over too much. Even Aaron Schatz, who runs Football Outsiders, advises people not to put too much stock into the special teams rankings.
The variance between the first and 16th team is minimal at best, at least statistically.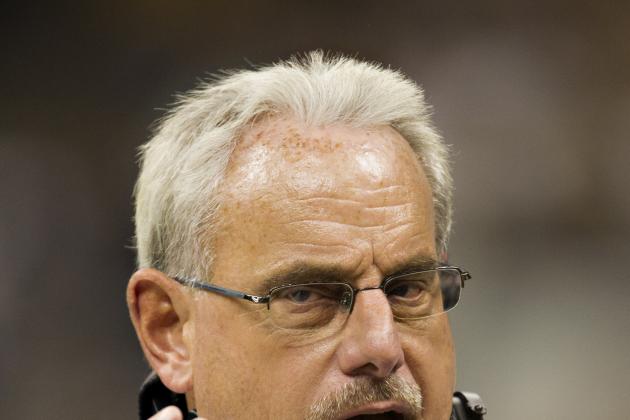 Wesley Hitt/Getty Images

The most important statistics from a team perspective are points scored (218, for 27.2 per game) and points against (229, for 28.6 per game).
Of course, the Saints' 27.2 points per game is wonderful. In fact, most years that clip would win a lot of games. But giving up almost 29 points per game is just awful. No team is going to routinely win football games that way.
Yet, the Saints still have an expected win-loss probability of 3.8-4.2. In other words, statistically speaking, given all the advanced metrics produced by New Orleans through eight games, the team should have won approximately four games.
It, of course, has won three. That would mean that statistically the team has been unlucky to some extent. And again, those stats don't take into account psychological elements, coaching and factors of that sort.
But it does prove that the Saints are somehow actually a better team than their record indicates.
That may not be what fans want to hear. And the team doesn't want to hear it, either. But at least the Saints can take solace in knowing they are nowhere near the bottom of the league. In fact, they're pretty darn average.
Follow @BRwillosgood for Saints, Hornets and other sports-related news, commentary and musings.