Notre Dame, Stanford, Duke, Northwestern Etc. to Be Helped by New Standards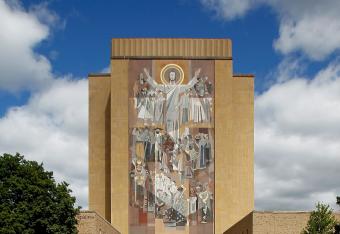 Notre Dame's Hesburgh Library actually gets used by football players
Jonathan Daniel/Getty Images
I was not on Bleacher Report a lot over the summer due to my career, so perhaps what I am writing here is redundant. If so, I am sorry.
A couple of years ago I wrote an article for BR which addressed the issue of academic performance (or the lack thereof) by football players at many schools. I called for and proposed some reforms that would help level the playing field for football programs at schools like those named in the title of this article. Here is the link to that article:
http://bleacherreport.com/articles/571806-bcs-time-to-reward-the-notre-dames-and-dukes-for-doing-it-the-right-way
Now, it appears that—much to my surprise—many new eligibility requirements have in fact been put in place by the NCAA in an effort to at least attempt to get more actual students competing as student athletes. Here are those new requirements:
The NCAA's new eligibility standards for prospective student-athletes go into effect for the 2016 class but begin applying to this fall's high school freshmen. In order to be eligible for a scholarship and compete at a Division I institution, a high school student must have done the following:
16: Number of core courses required for NCAA eligibility
10: Number of core courses that must be completed by the beginning of a high school athlete's senior year
7: Number of 10 initial core courses that must be in English, math or science
2.3: Minimum GPA in those 16 core courses (up from 2.0)
2.5: Minimum GPA for junior college transfer
According to NCAA statistics:
15.3: Percentage of student-athletes who enrolled in 2009-10 but would not meet the 2016 academic standards
35.2: Percentage of football players who enrolled in 2009-10 but would not meet the 2016 academic standards
43.1: Percentage of men's basketball players who enrolled in 2009-10 but would not meet the 2016 academic standards.
I am not going to hold my breath that these new requirements will cure all of the ills that exist where there are imbalances between academic excellence and football prowess. But I salute them as being a positive step in the right direction. Let's hope there are more to come, especially as they apply to GPA's and graduation rates of current college football players at the highest levels.
This article is
What is the duplicate article?
Why is this article offensive?
Where is this article plagiarized from?
Why is this article poorly edited?

Notre Dame Football: Like this team?