Kansas State Football: 3 Reasons John Hubert Will Dominate TCU's Defense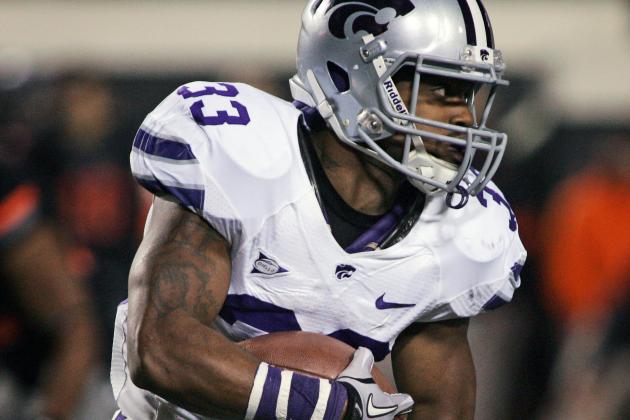 Brett Deering/Getty Images

With the availability of Collin Klein uncertain, the No. 2 Kansas State Wildcats could rely heavily on running back John Hubert when they travel to TCU on Saturday.
Hubert—who came up just shy of 1,000 yards rushing in 2011—has rushed for over 100 yards four times this season. Altogether, Kansas State has 2021 yards on the ground so far this year.
Although the Horned Frogs' stingy defense has allowed the seventh-fewest rushing yards this year, they face off against a versatile K-State team. John Hubert may not be the face of the Wildcats' offense, but here are three reasons he will dominate on Saturday.
Begin Slideshow

»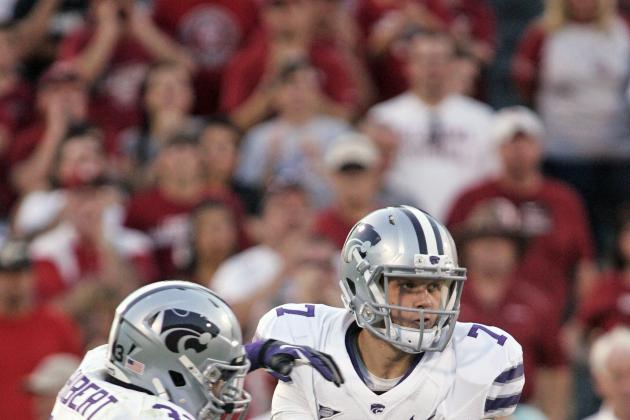 Brett Deering/Getty Images

This week's matchup seems to be a test of K-State's versatility versus TCU's recovery speed.
Collin Klein is the first person opposing defenses must account for in the K-State offense and with good reason. Not only has he thrown for 1875 yards this year, he also has two games with more than 100 yards rushing.
This poses a huge problem for the Horned Frogs in Week 11.
If Klein plays on Saturday, not only must TCU defend against Klein's ability to move out of the pocket, they must do so while defending receivers Chris Harper, Tyler Lockett and Tramaine Thompson. Klein has connected with this trio for nine of his 12 touchdown completions this season.
This makes the powerful Hubert a third option for the speedy TCU defense to acknowledge.
Hubert's ability to wiggle up the middle or undercut the defensive backfield on screen passes makes him easily disguisable and impossible to defend given the many options surrounding Klein.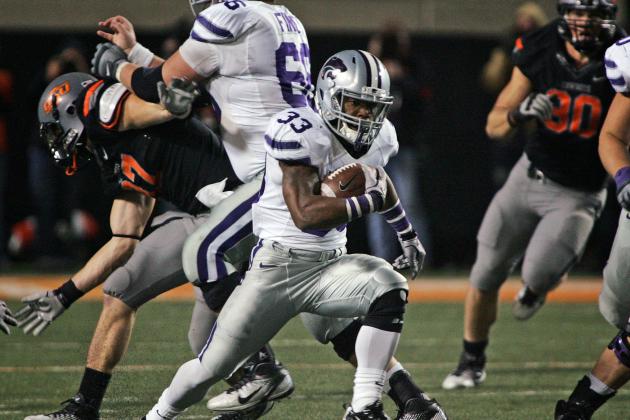 Brett Deering/Getty Images

TCU's trademark 4-2-5 defense may have stymied rushing offenses this season, but Hubert can open it up this week.
With the exception of a 95-yard rush against Missouri State in Week 1, Hubert's longest run of the season was just 36 yards against Oklahoma. He is a small, powerful downhill runner who can muscle out gains for three, four and five yards at a time.
A fast defense, TCU is not designed to defend against a rusher like Hubert.
The fundamental purpose of a 4-2-5 defense, when defending the run, is to force the rusher back inside where two linebackers smother him.
Averaging 5.5 yards per carry, Hubert can beat this with his speed to the outside and his power up the middle.
TCU can avoid giving up the big play, but unless they can get him for a loss, Hubert's value will come in short gains this week.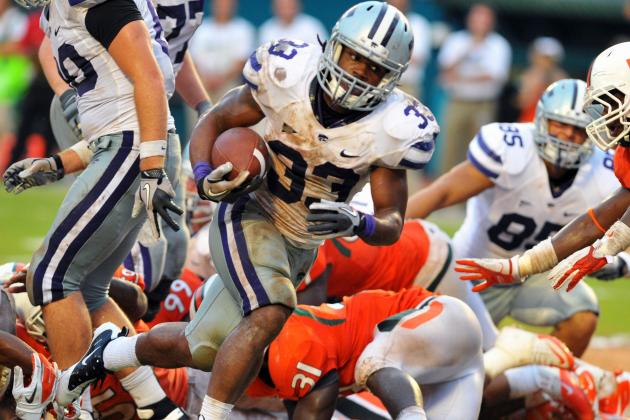 Al Messerschmidt/Getty Images

TCU may have one of the top rushing defenses in the NCAA right now, but they have not faced the best rushers in the NCAA.
Of the backs that have played against TCU this season, only Oklahoma State's Joseph Randle has more rushing yards than Hubert.
When Randle and the Cowboys hosted the Horned Frogs, sheer numbers alone helped the junior running back eclipse 125 yards: he averaged just 3.9 yards per carry, but touched the ball 32 times.
The TCU defense has allowed an average 3.1 yards per attempt this year.
Hubert, conversely, has been held under four yards per attempt just three times this season. What's more, he has done so while carrying the ball an average of just 15.2 times per game.
Nevertheless, this is the best rush defense K-State has encountered this season, but John Hubert and the Wildcats are poised to dominate the way they have in each game so far this season.