Atlanta Braves: 5 Key Vets You Likely Won't See on the 2013 Roster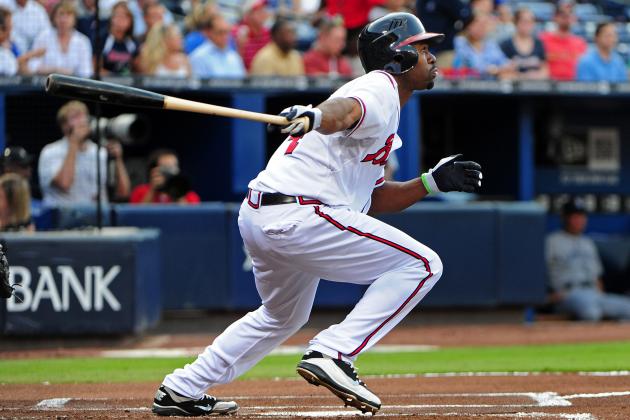 Scott Cunningham/Getty Images

Now officially the MLB offseason, the Atlanta Braves must make some tough decisions regarding their expiring contracts.
Brian McCann, Tim Hudson and Paul Maholm were all brought back for the 2013 campaign, but they were not the only players Atlanta needs to figure out its standing on, as many a Brave is headed for either free agency or arbitration.
To be considered for this list, Braves had to either be significant components to the team or have longevity with the club. In other words, Jeff Baker, Lyle Overbay, Jose Constanza and Miguel Batista were not heavily considered for this list.
Also, veterans Tommy Hanson and Dan Uggla might be traded this offseason, but I would prefer to stick to those eligible for free agency for the purposes of this list.
Begin Slideshow

»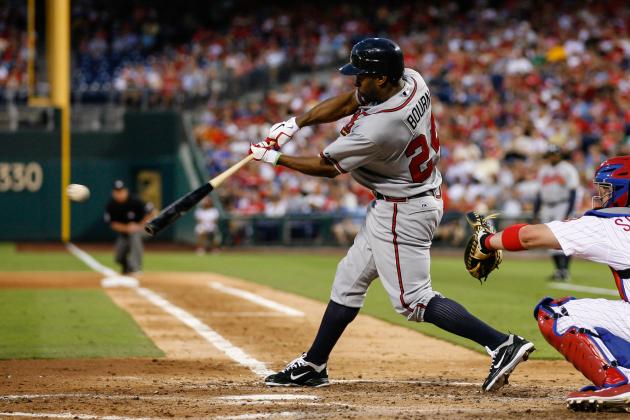 Brian Garfinkel/Getty Images

It's imminent, really.
Michael Bourn just recorded the best season of his career, turning in career highs in home runs (nine), walk rate (10.0 percent) and most importantly WAR (6.4). Unfortunately for the Braves, he'll hit the open market this offseason, asking for $100 million.
And in a world where a) Jayson Werth is the proud beneficiary of a $126 million contract, b) Scott Boras will get Bourn exactly what he's looking for and c) the new large-market Washington Nationals are the front-runners to sign Bourn, it seems very unlikely that Atlanta will be able to retain his services.
When everything is dissected, is it really a good idea for Atlanta to lay down a long-term, $100 million deal for a player whose value is tied directly to the health of his legs?
The Braves will put a competitive offer on the table, but signing Bourn for $100 million would be crippling, considering the contract would probably be backloaded and most expensive when Bourn is least productive.
Expect Bourn to be patrolling center field for the rival Nationals come spring.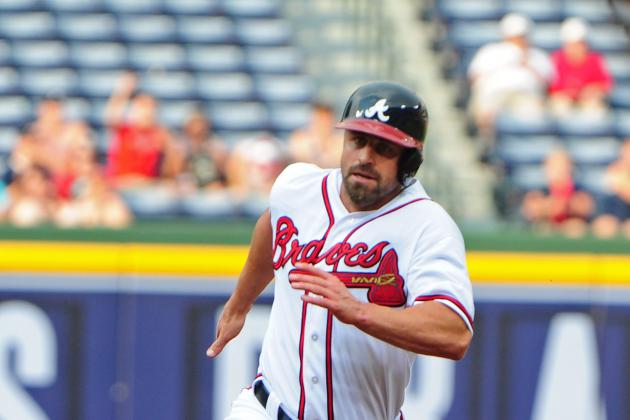 Scott Cunningham/Getty Images

A week ago, I would have said that signing Reed Johnson was not only a priority for the Atlanta Braves, but that it was essentially a done deal.
But with the recent acquisition of Jordan Schafer, Johnson's roster spot in Atlanta is now put into question. It's not that Schafer is better offensively than Johnson (which he's not at all), but Schafer is younger, cheaper, faster and much better defensively.
Atlanta didn't pick up Schafer to replace Bourn in center field, but he could be used in both Johnson and Jose Constanza's roles. I also see Johnson getting quite the raise in salary; he'll probably leapfrog lefty-mashing Matt Diaz in contract girth this offseason, which might lead to Johnson's release.
I'd love to see Johnson back on the Braves in 2013. Schafer's return to Atlanta points to other likelihoods, though.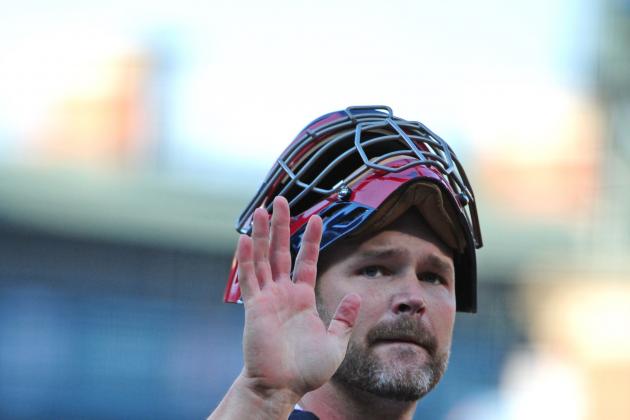 Scott Cunningham/Getty Images

Let me make this clear: Re-signing David Ross should be one of Atlanta's top priorities this offseason. Unfortunately, Ross' Georgia roots might be the only thing keeping him in Atlanta.
The perfect backup catcher, the veteran can handle a pitching staff, provide a dangerous power-hitting bat off the bench and even do a terrific job if called upon to start (see his 2012 Wild Card Game against St. Louis for further proof).
At 35 years of age, Ross might want to test the waters of free agency and look for a home in which he'll collect more at-bats while he can still produce at a high level.
With the New York Yankees catcher situation in flux and Brian Cashman having a longstanding interest in Ross, there is a decent possibility that he suits up in pinstripes next season.
Ross is the most likely on this list to stay, but because he is a crucial component to the Atlanta roster and drives interest in the free-agent market, he makes this list nonetheless.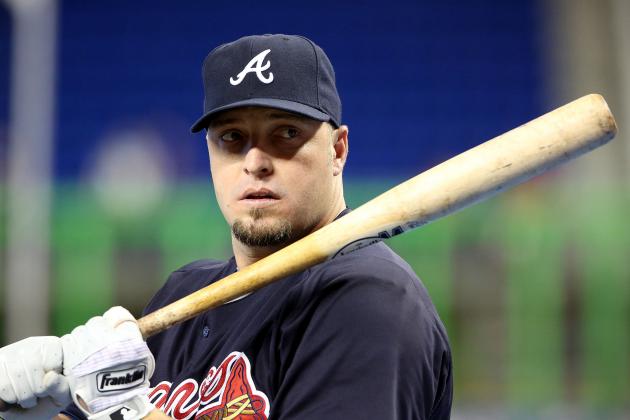 Marc Serota/Getty Images

OK, so Eric Hinske didn't exactly have a great 2012 campaign. Even so, the 11-year veteran has spent his past three seasons in Atlanta and has really embedded himself into the culture of Braves Country.
But that doesn't excuse his .583 OPS.
I hope Hinske gets healthy and is productive again, but the Braves could probably allocate his $1.5 million contract to more efficient uses.
Hinske has been an admirable player off of the bench for the Braves, but it might be time to cut ties and bid him farewell.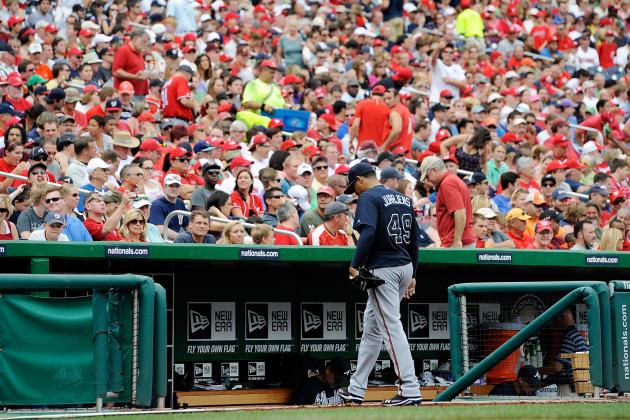 Patrick McDermott/Getty Images

Don't laugh. Jair Jurrjens was once a highly valued member of the Atlanta Braves.
However, due to an abysmal 2012 season, Jurrjens may have played himself into non-tender territory.
Making $5.5 million this season, Jurrjens posted a 6.89 ERA and a 1.86 WHIP in 48.1 innings. If Atlanta cuts ties with Hinske and his $1.5 million deal, saving an extra $5.5 million on Jurrjens should be a no-brainer with the depth of Atlanta's minor league starting pitching.
Whether he's traded or non-tendered, definitely expect Jurrjens to be pitching for another organization in 2013.