The Philadelphia Flyers' 8 Most Untouchable Prospects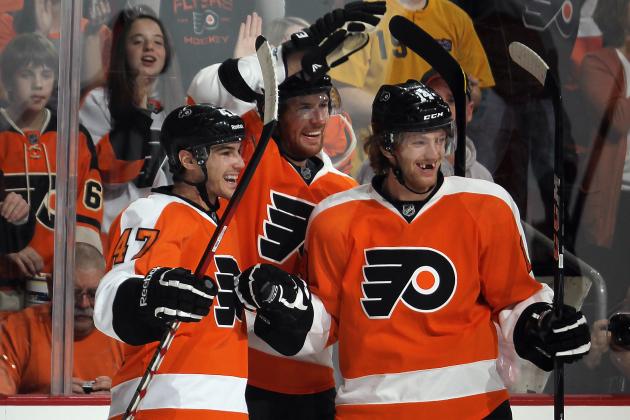 Bruce Bennett/Getty Images

After the horrific news surrounding the cancellation of the 2013 Winter Classic last week, there's at least a little cause for optimism as the NHL and NHLPA engaged in a long meeting yesterday and reconvened today.
There's no guarantee anything will come of it, but at least it's something.
Without glimmers of hope like that, fans are left to ponder when they will ever see their favorite NHL squads hit the frozen surface again.
And without encouraging news like that, fans would be left to consider this season a lost cause.
It may yet come to that, and if it does, the projected stars of tomorrow will quickly become the stars of today.
With that, here's a look at the top eight untouchable prospects for the Philadelphia Flyers.
Begin Slideshow

»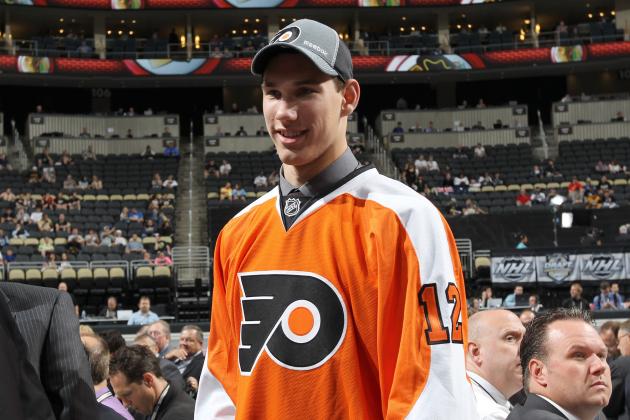 Bruce Bennett/Getty Images

Stolarz is absolutely a project, but he's a project at a position in which the Philadelphia Flyers desperately need help.
A 6'6", 220-pound goaltender from Jackson, New Jersey, Stolarz is currently a freshman at the University of Nebraska-Omaha. In three starts so far, Philly's second-round pick from last June is 0-3 with a 3.03 goals-against average coupled with a .871 save percentage.
At just 18 years old, Stolarz is still a number of years away from the NHL, but his massive size should present him with an opportunity to play at the highest level at some point.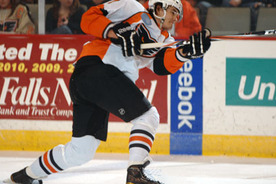 Like Stolarz, Lauridsen is a hulking defensive presence.
A 6'6", 220-pound blueliner from Denmark, Lauridsen plays an extremely physical game and is the kind of big, strong defender for which the Flyers are known. A hard worker in the defensive end, Lauridsen is a solid finisher of checks and is surprisingly fluid on the ice for his size.
The Flyers' seventh-round pick in the 2009 draft, Lauridsen notched just three goals and seven points in 65 games for the Adirondack Phantoms last season. In seven games this season, the hulking defenseman has one assist to go along with 13 penalty minutes.
Lauridsen is projected as a third-pair blueliner, but could provide great depth and size for the Flyers down the road.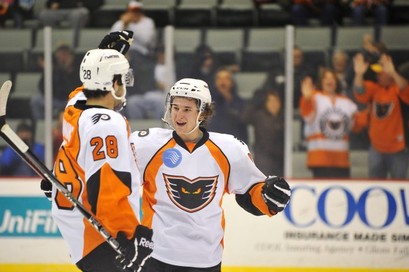 Akeson is a highly skilled offensive player who was signed as a free agent by the Flyers prior to the start of last season.
After posting 108 points in 67 games in his final season with the Kitchener Rangers, Akeson joined the Adirondack Phantoms last year and paced the team in scoring with 55 points (14 goals, 41 assists).
With the influx of NHLers designated to the AHL this season as a result of the lockout, Akeson was sent down to the Trenton Titans of the ECHL where, in nine games this year, he's tallied eight points (two goals, six assists).
A 5'10", 190-pound forward, Akeson needs to bulk up in order to compete at the NHL level, but he's certainly got the offensive upside, creativity and vision to play at the game's highest level.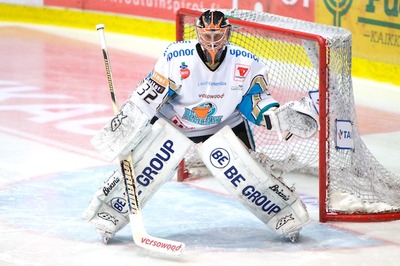 Another much-needed goaltender prospect for the Orange and Black, Hovinen appears to be Philly's best hope at a youthful option in net.
At 6'7", 200 pounds, Hovinen is another massive presence in goal and doesn't need to challenge too aggressively to cut down the shooting angles for the opposition. His massive size allows him to cover the net extremely well and Hovinen has above-average lateral movement for a goaltender of his size.
Like Akeson, Hovinen is honing his skills in Trenton and, through three games this season, has posted a 2.57 goals-against average to go along with a .921 save percentage.
Obviously, Ilya Bryzgalov is Philadelphia's goaltender for the foreseeable future, but the enigmatic netminder is prone to bouts of inconsistency and that could certainly open the door for Hovinen down the road.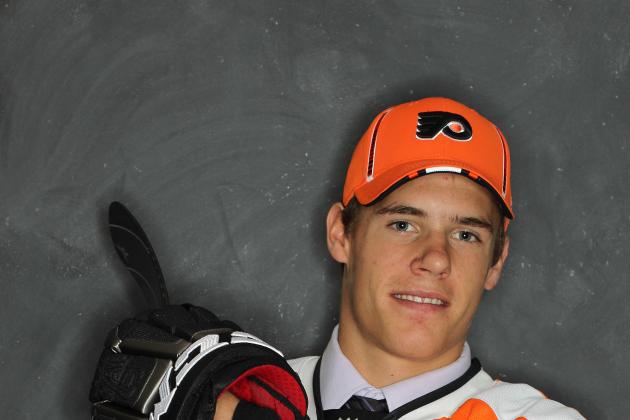 Nick Laham/Getty Images

Philly's third-round pick in the 2011 draft, Cousins is a highly skilled and creative playmaker.
A 5'11", 180-pound forward from Belleville, Ontario, Cousins is in his fourth season with the Sault Ste. Marie Greyhounds of the OHL and has already produced 27 points (eight goals, 19 assists) in just 18 games this season.
Character concerns have certainly arisen after Cousins was charged with sexual assault a little over two months ago, but the reality is Cousins has all the tools to play at the game's highest level.
He's a tenacious, agitating skater, which is exactly the kind of forward that has had success in Philadelphia.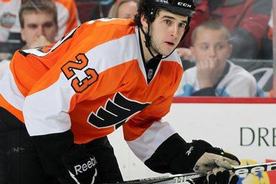 Manning a solid, all-around defenseman who had a fine first pro season a year ago.
In 46 games in Adirondack, the 6'1", 195-pound blueliner notched six goals and 19 points and at one point was called up to the big club and ended up playing four games for the Flyers.
A highly competitive blueliner, Manning plays a strong physical game and is a tenacious battler in his own end. Not just solid in his own end, the Prince George, British Columbia native is capable of contributing offensively, having notched a pair of goals in eight games this season with Adirondack.
Projected as better than a depth defenseman, Manning will likely crack Philly's top four on the back end one day.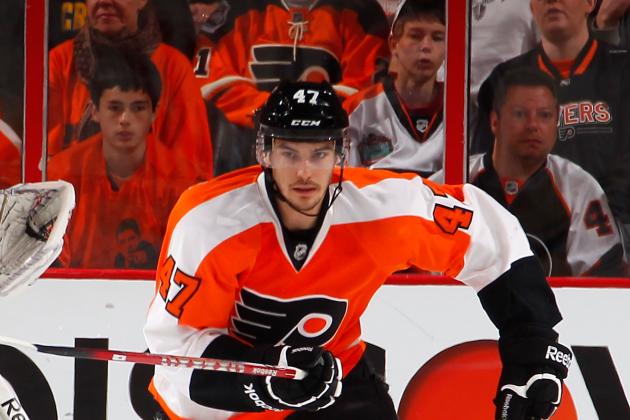 Paul Bereswill/Getty Images

Philadelphia's sixth-round pick in the 2009 draft, Wellwood has bounced back and forth between the Phantoms and Flyers over the last two years.
After grabbing just three games with the big club two years ago, Wellwood earned 24 games with the Flyers last season in which the speedy forward tallied five goals and nine points. He had a far greater offensive impact in Adirondack, where the Windsor, Ontario native tallied nine goals and 21 points in 33 games at the AHL level.
A phenomenal skater who can apply tremendous pressure on the forecheck, Wellwood should be a depth forward and go-to penalty killer in the NHL for a long time.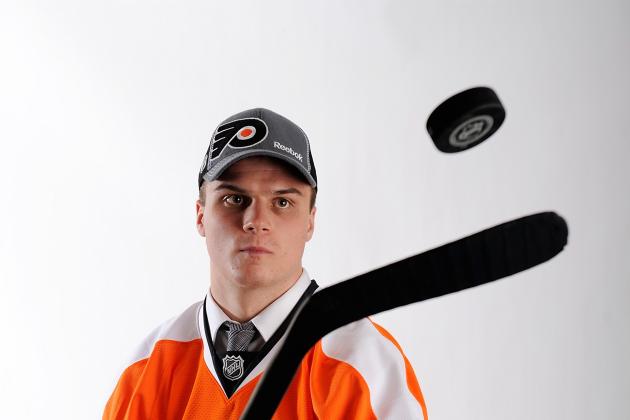 Jamie Sabau/Getty Images

Philadelphia's first-round pick and the 20th overall selection in last June's draft, Laughton is the prototypical Flyer.
An all-around forward who competes at an extremely high level, Laughton is in his third season with the Oshawa Generals of the OHL. In 64 games last season, the Oakville, Ontario native managed 21 goals and 53 points and has already tallied five goals and 13 points in 14 games this season.
Laughton is a two-way forward who competes up and down the ice. He'll finish most of his hits and has the offensive upside to be a regular contributor at the NHL level.
He's not projected to a high-end first-liner, but could land as Philly's second-line center for many years to come.