MLB Trade Rumors: Would Vernon Wells for John Lackey Swap Help Either Team Win?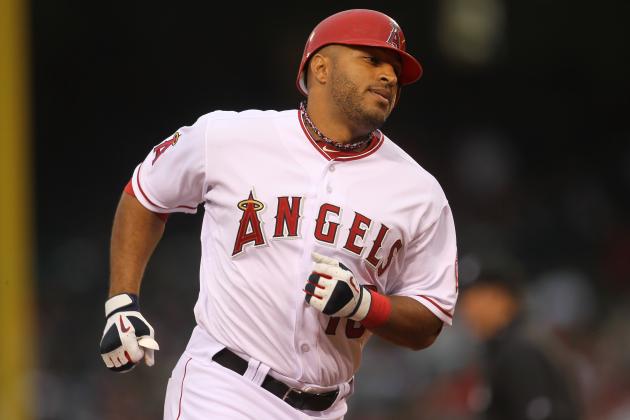 Stephen Dunn/Getty Images

The Los Angeles Angels and Boston Red Sox have been intertwined in baseball history on more than one occasion. Game 5 of the 1986 ALCS, the Fred Lynn trade in 1980 and several other moments have seen the two teams brought together to add to baseball lore.
There could be one other moment that could add to that lore, if a recent musing by a member of the media were to come to fruition.
In his Sunday Baseball Notes column for The Boston Globe, Nick Cafardo discussed a possible trade between the Angels and Red Sox involving outfielder Vernon Wells and starting pitcher John Lackey.
Lackey spent the first eight years of his career pitching in Anaheim and certainly has his place in Angels' history—he was the winning pitcher in Game 7 of the 2002 World Series, the Angels' first and only championship.
Is this a trade that could actually benefit both teams?
Let's take a look.
Begin Slideshow

»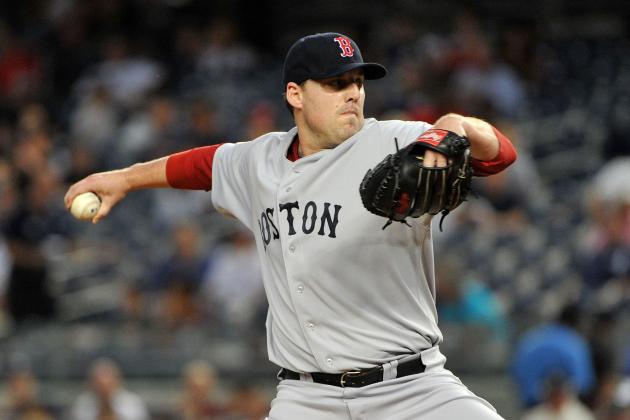 Christopher Pasatieri/Getty Images

When starting pitcher John Lackey signed a five-year, $82.5 million contract with the Boston Red Sox in December 2009, he couldn't possibly have imagined what would transpire over the next two seasons.
Lackey was decent in 2010, posting a 14-10 record and 4.40 ERA. In 2011, however, the roof caved in. Lackey posted a 12-12 record and 6.41 ERA in 28 starts, one of the worst ERAs for any starting pitcher in Red Sox history.
In addition, Lackey was named as one of the culprits in the beer and chicken wing scandal that rocked the Red Sox in early October 2011 (via The Boston Globe). Lackey didn't help his cause by blaming the media instead of owning up to his role.
Lackey also underwent Tommy John surgery during the offseason, missing the entire 2012 season.
Vernon Wells has yet to get on track following his trade from the Toronto Blue Jays to the Los Angeles Angels. Wells hit just .218 in 2011 with 25 HR and 66 RBI, and followed up with a .230 average in 2012 with 11 HR and 29 RBI.
Wells also spent two months on the disabled list with a torn ligament in his thumb, losing his starting role to Mark Trumbo in the process.
During his time with the Angels, Lackey developed a reputation as a reliable innings-eater who demanded the ball in big games.
Wells has always been a great clubhouse presence, but there's no question his situation in Anaheim has eaten away at him.
A change in scenery for both players could be just what the doctor ordered.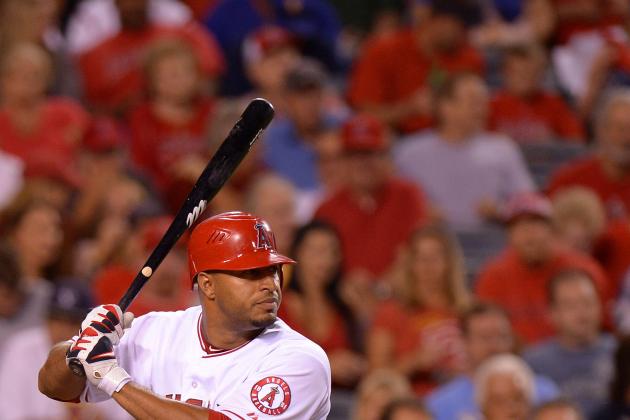 Jake Roth-US PRESSWIRE

The Los Angeles Angels have been hamstrung by the contract of outfielder Vernon Wells, especially now that his future role with the team is up in the air.
Owed $42 million over the next two seasons, it's hard to imagine the Angels keeping Wells on the bench and continuing to dole out his salary. In addition, his contract could inhibit the Angels' ability to re-sign right fielder Torii Hunter, a player the Angels would love to bring back.
Dealing Wells to the Boston Red Sox for starting pitcher John Lackey helps to alleviate a major payroll issue. The Angels would snip $5.75 million off their payroll in the swap of players—money that can definitely help out in shaping the rest of their roster.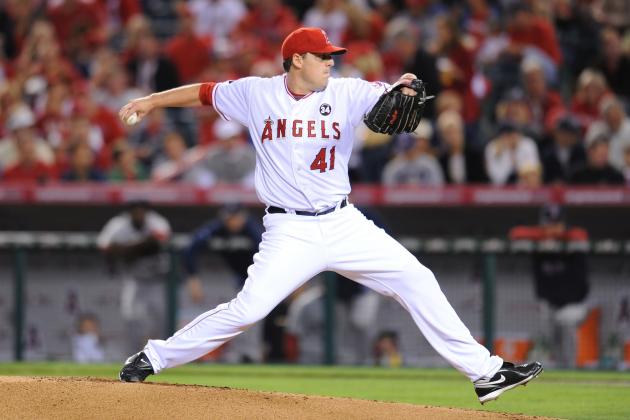 Lisa Blumenfeld/Getty Images

The Los Angeles Angels will be looking to re-sign starting pitcher Zack Greinke this offseason. Part of that process involves shedding payroll from their roster.
The Angels took care of part of that issue by dealing Ervin Santana to the Kansas City Royals and declining the $15.5 million option on pitcher Dan Haren's contract for next season, instead paying him $3.5 million to become a free agent.
We discussed the Wells-Lackey deal in the previous slide and how the Angels would save an additional $5.75 million. But the deal also helps the Angels replenish their starting rotation as well.
A healthy Lackey could certainly help out the Angels, who currently only have Jered Weaver and C.J. Wilson under contract for next season. Jerome Williams and Garrett Richards will be looked at as candidates for the back end of the rotation, but one would have to think a healthy Lackey is a far better option.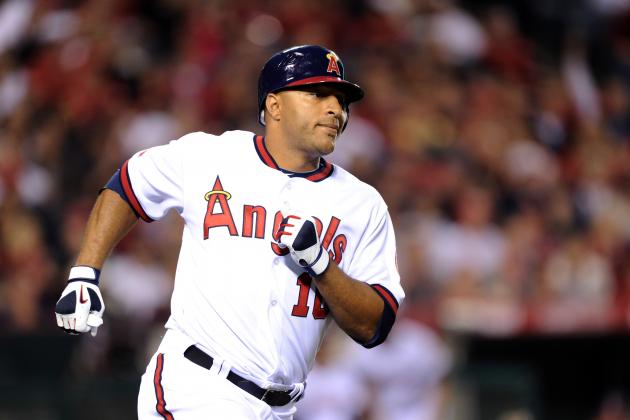 Harry How/Getty Images

A huge area of need right now for the Boston Red Sox is outfield help. Over a dozen players patrolled the outfield in 2012 for Boston, with former manager Bobby Valentine constantly shuffling his lineup to find the right mix.
The Sox could bring back Cody Ross, who put up a .921 OPS at Fenway Park. But there's still another corner outfield position to deal with.
Acquiring Vernon Wells for John Lackey would greatly help the Red Sox in dealing with that issue. Wells has transitioned to left field after winning three Gold Glove awards in center for the Toronto Blue Jays.
In addition, Wells would help strengthen the middle of the Red Sox lineup. With Will Middlebrooks, David Ortiz and Wells, the Red Sox would certainly have an element of power.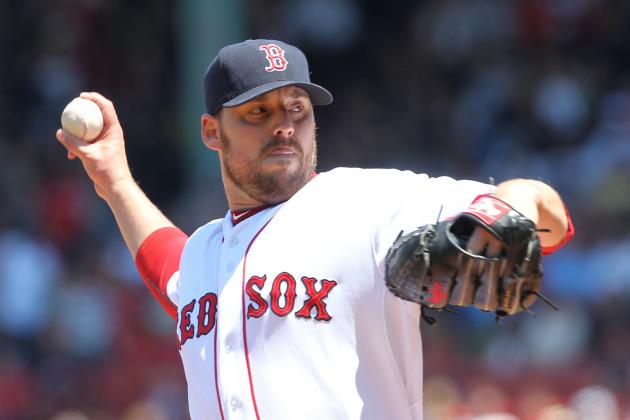 Jim Rogash/Getty Images

When reporter Bob Hohler of The Boston Globe broke the story about the beer drinking and chicken-wing eating scandal in the Boston Red Sox clubhouse, John Lackey was named as one of the individuals involved.
Lackey responded by blaming the media for their role in the scandal (via The Boston Globe), a message that in hindsight probably was not the best idea.
Lackey was known as a stand-up guy during his time with the Angels, a leader in the clubhouse who became manager Mike Scioscia's go-to pitcher.
That John Lackey never surfaced in Boston. In fact, his attitude and demeanor came off as reclusive and combative.
The Red Sox already dealt Josh Beckett away, another of the named individuals in the 2011 scandal. Dealing Lackey further erases the memory of that awful period in Red Sox history.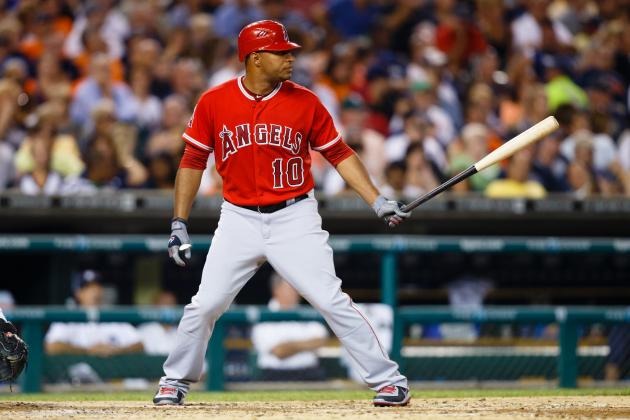 Rick Osentoski-US PRESSWIRE

There are certainly several issues at play in a proposed deal between the Boston Red Sox and Los Angeles Angels involving Vernon Wells and John Lackey.
While we've looked at some of the issues in the previous slides, would the trade actually help either side win more games?
My answer is yes.
If Lackey is completely recovered from Tommy John surgery, he can clearly help the Angels rotation. In addition, he enjoyed his best years in Anaheim and would be rid of a media presence that clearly made him uncomfortable in his time with the Red Sox.
Wells gives the Red Sox a potential power option as well as a solid defensive presence. His time in Anaheim has also been a time he would rather forget at this point.
History certainly shows us that the best of players sometimes just can't adapt well to new surroundings. Shortstop Edgar Renteria's lone season in Boston in 2005 is a perfect example.
For me, there's no question this deal could be of great benefit to both teams involved.
Doug Mead is a featured columnist with Bleacher Report. His work has been featured on the Seattle Post-Intelligencer, SF Gate, CBS Sports, the Los Angeles Times and the Houston Chronicle.