Atlanta Hawks: 3 Reasons Team Must Immediately Decide on Future of Josh Smith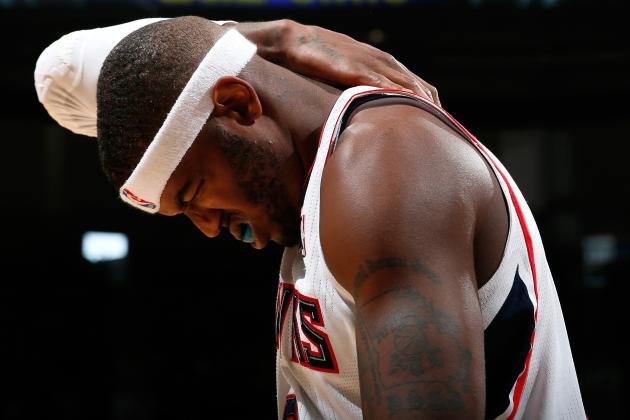 Kevin C. Cox/Getty Images
Will Josh Smith be on the move in the near future?
After trading away Joe Johnson (and his hefty $119 million contract) and Marvin Williams, it is obvious the Atlanta Hawks are prepared to completely blow up their old core that many had hoped could compete for a title in A-Town.
After years of early exits, the Hawks are a team mired in mediocrity and unfulfilled expectations.
Although they moved two key components, one key piece that remains a question mark is supremely talented power forward Josh Smith.
Smith's contract is set to expire in the summer. Therefore, as a team that could be stuck in purgatory as far as the NBA draft lottery is concerned, the Hawks need to decide his fate sooner rather than later.
Let's explore the reasons why it is in the Hawks' best interest to make a decision soon.
Begin Slideshow

»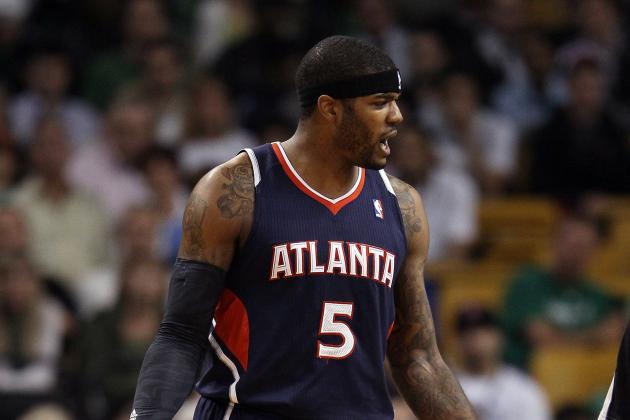 Elsa/Getty Images

After trading away Joe Johnson and Marvin Williams, it's time for the Hawks to finish what they started.
Smith would join Williams and Johnson as another key member of their old core to be shipped elsewhere, assuming a trade is actually complete before the season ends.
After dumping Johnson's contract and sending Williams (who most consider a draft bust) away, it would be in the team's best interest to ship Smith off as well.
With the state the Hawks are in now, there is no way they are in shape to be serious contenders in the near future. If they are clear with their intentions, it would at least give Hawks fans comfort, knowing that the team has a plan for progress during their rebuilding phase.
Frontcourt mate Al Horford should be on the trading block as well, but Smith is the priority.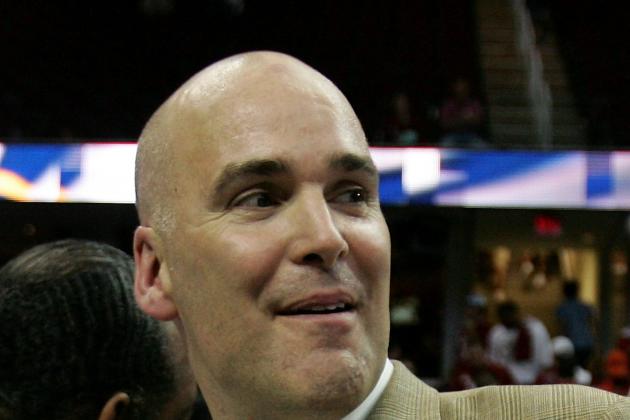 Jonathan Daniel/Getty Images

When the Hawks brought Danny Ferry in as their new general manager, many expected great change to come with him. His decision to move Joe Johnson and Marvin Williams were proof of that.
Smith's contract expires this season. Furthermore, he will become an unrestricted free agent, which means he controls his destiny when it comes to who he signs with.
While Smith could re-sign with the Hawks under the NBA's collective bargaining agreement after this season (five years unrestricted, rather than just three, while still in a contract year), there is no guarantee that he will, regardless of what he or his camp have said.
It's wiser for Ferry to try to move Smith while he still has value, rather than gambling and losing if Smith doesn't decide to stay in Atlanta.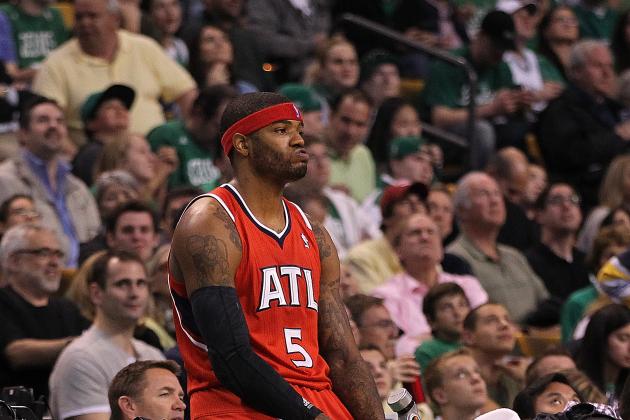 Jim Rogash/Getty Images

Throughout his career, Smith has averaged around 16 points and eight rebounds with about two blocks and a steal. On paper, these are solid numbers, but has Smith reached his full potential in Atlanta?
In Mike Woodson's isolation-heavy offense, during his six-year tenure from 2004 to 2010, most of the half-court offense was initiated through either Joe Johnson or Smith.
Smith's incredible athleticism flourishes in the full court, but he is often very limited in what he can do in half-court sets.
When Larry Drew took over in 2010, much of their offense remained similar, but the Hawks coach has now mentioned implementing a brand new up-tempo offense (via PeachtreeHoops.com) in Atlanta.
Smith had a solid first game of the season (18 points, 10 boards and three blocks), but it came in a loss.
The biggest complaint against Smith is his shot selection.
Smith settles for mid-range jumpers and at times three-pointer jumpers. In some spots on the floor, he's shot as low as 23 percent. Considering his tremendous athletic gifts, why is it Smith continues to insist on taking shots that he has shown little progress in improving upon?
Whether it's low basketball IQ or he's just being stubborn (it's possibly both), it is clear Smith is still a work in progress. The question is, do the Hawks have enough time for Smith to figure it out? Even if they do, is it worth the risk of him skipping town next season?
The Hawks should just close the book on the Josh Smith project and let him find a team that would be a better fit.