Michigan Football: Winners and Losers from the Week 10 Game vs. Minnesota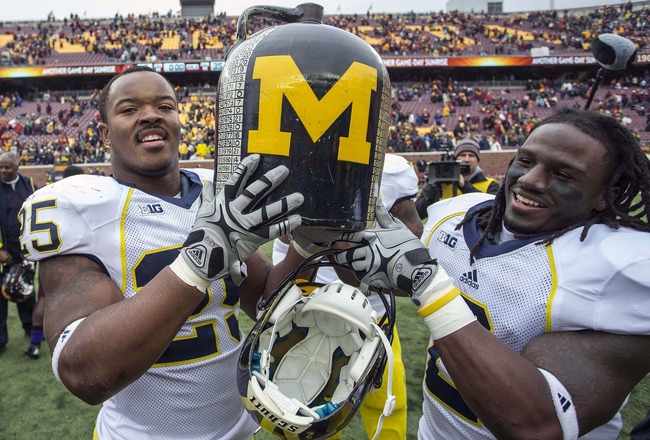 Jesse Johnson-US PRESSWIRE
Along with the Michigan Wolverines staying alive in the Legends Division race, Saturday's 35-13 win over the Minnesota Golden Gophers may have been a glimpse into the future.
Quarterback Devin Gardner, who substituted for ailing senior Denard Robinson, may have guaranteed himself the job in 2013.
In the lineup with Gardner next fall will be a variety of young backs to complement Fitz Toussaint, who will return for his final season. Powerback Thomas Rawls, and speedsters Justice Hayes and Dennis Norfleet, will bring versatility to the evolving pro-style offense.
On defense, youngsters like Jake Ryan, Desmond Morgan and Raymon Taylor already play at a high level. Next year, you'll see more of freshmen Joe Bolden, Jerrod Wilson and Ondre Pipkins, along with the return of cornerback Blake Countess, who will spend the remainder of 2012 recovering from a knee injury.
With the win over Minnesota (5-4, 1-4), Michigan (6-3, 4-1) picked up its second piece of hardware in the last three weeks. The Wolverines took back the Paul Bunyan Trophy with their win over Michigan State, then retained the Little Brown Jug in Minneapolis.
Let's take a look at some of the winners and losers from Saturday's victory:
Winner: Denard Robinson/Devin Gardner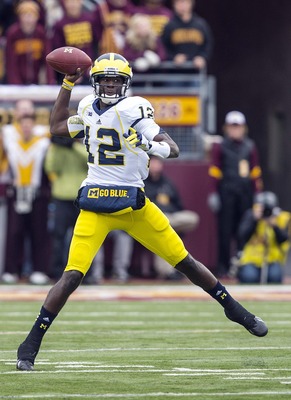 Devin Gardner (12)
Jesse Johnson-US PRESSWIRE
Though he never left the sidelines, Denard Robinson got exactly what he needed: a day off.
The elbow injury which knocked him out of the Nebraska game has been aggravating him for a few weeks. With Devin Gardner's solid afternoon, Robinson won't be concerned if he has to exit a game in the near future. That couldn't be said after Russell Bellomy's disappointing performance a week ago.
Gardner's outing turned Michigan's backup quarterback situation from a question mark into a strength. The quarterback from Inkster completed 12 passes in 18 attempts for 234 yards and two touchdowns.
Before the contest, Michigan's starting quarterback situation for 2013 was also in question.
Bellomy, Gardner and incoming freshman Shane Morris were expected to battle for the job, now it looks like Gardner has the inside track.
Loser: Offensive Line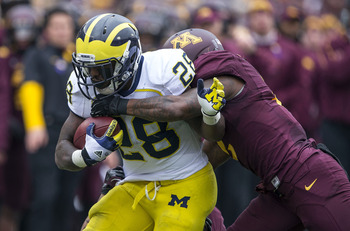 Jesse Johnson-US PRESSWIRE
Throughout most of the 2012 season, the offensive line pass protected fairly well for Denard Robinson.
With Russell Bellomy in the game last week, and Devin Gardner at quarterback Saturday, the protection totally broke down. Gardner was sacked three times, making a mockery of Michigan's first-quarter offense.
In addition, Michigan's tailbacks have been ineffective most of the season. Saturday, Thomas Rawls split the carries with Fitz Toussaint, and showed he could gain the tough yards on his own. Toussaint still needs a little help from the line, which was easily pushed around by the Gophers.
Rawls and Toussaint should be decent one-two punches, but serious work must be done up front for that to happen.
Winner: Minnesota Gophers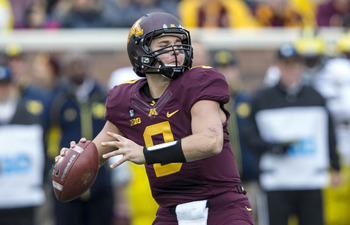 Minnesota Freshman QB Philip Nelson (No. 9)
Jesse Johnson-US PRESSWIRE
This edition of the Gophers is a far cry from the one which lost to Michigan 58-0 at the Big House last year.
Coach Jerry Kill showed up Saturday with a team that could actually compete.
Minnesota had more first downs than Michigan and held the ball almost two minutes longer. The Gophers, who trailed 14-7 at halftime, simply couldn't make the big plays on offense. Freshman quarterback Philip Nelson, who appears to have a bright future, was starting his third collegiate game.
Statistically speaking, Minnesota was ranked near the bottom of most Big Ten categories, a year ago. The Gophers have moved from ninth to third in pass defense, ninth to third in time of possession and 11th to sixth in passing offense.
In his second year at Minnesota, Kill previously had head coaching jobs at Saginaw Valley State, Emporia State, Southern Illinois and Northern Illinois.
Loser: Defensive Line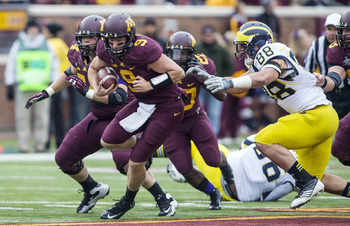 QB Philip Nelson (No. 9) escapes Craig Roh's (No. 88) grasp.
Jesse Johnson-US PRESSWIRE
For the most part, Michigan's defense stats have been impressive for the second season in a row.
The Wolverines are first in the Big Ten in pass defense (145.4 yards per game), and second in both total defense (288.7) and scoring defense (16.8).
However, they are 11th in sacks.
Defensive coordinator Greg Mattison has mentioned several times this season (and last) that pressuring the quarterback is a priority. What little disruption Michigan is able to get comes from Jordan Kovacs, Jake Ryan and just recently Craig Roh.
Rarely do you see Will Campbell, Ondre Pipkins or Quinton Washington rush the quarterback. Which means that Mattison must create havoc by dialing up a variety of blitz packages. This strategy works against the mediocre teams, but toss an effective passing quarterback into the mix and you have a different kettle of fish.
Michigan needs to solve this problem before it faces Braxton Miller and the Ohio State Buckeyes.
Winner: Receivers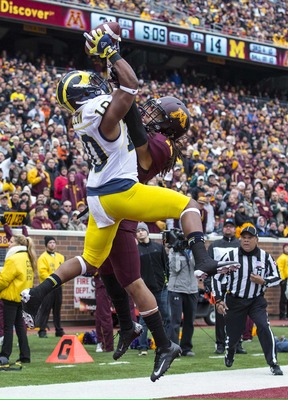 Jeremy Gallon's (No. 10) Touchdown Catch
Jesse Johnson-US PRESSWIRE
All Drew Dileo's 45-yard touchdown reception did was change the entire complexion of the game.
Devin Gardner had just completed running a maze around the Michigan backfield before hoisting a pass to Dileo, who was waiting all by himself in the corner of the end zone.
The pass virtually woke up the Wolverine offense, and supplied Gardner with the confidence he needed.
Gardner was superb in and out of the pocket, passing sometimes flat-footed and other times on the run.
Simply put, the receivers made some catches that they hadn't in recent weeks. Dileo had another solid day, as did Jeremy Gallon, who leads the team with 22 catches for the season.
Gallon outfought a defender in the end zone for a 10-yard touchdown catch, which was reminiscent of Roy Roundtree's scoring reception against Notre Dame a year ago. Roundtree, himself, caught a couple of passes, one a 47-yard reception down the middle.
And let's not forget tight end Devin Funchess, who has star written all over him. At 6'4, 230 lbs, Funchess not only is a big target, he might have the best hands on the team.
Keep Reading

Michigan Wolverines Football: Like this team?