Updated NASCAR Chase for the Championship Odds After Texas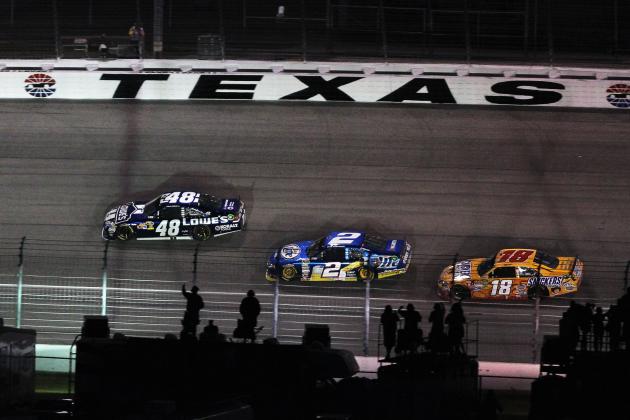 Todd Warshaw/Getty Images

The nature of the NASCAR Sprint Cup Chase format is akin to that of whittling down wood. Each week, contenders are either whittled away into nothing or carve themselves into stronger contenders.
After eight races, only two drivers have any strong odds to win. Still, with only two drivers mathematically eliminated, there are some long shots to win.
But, barring some unforeseen and unlikely circumstances, Texas proved to solidify the notion that only Chase leader Jimmie Johnson or Brad Keselowski have a legitimate shot to win the Sprint Cup in 2012.
Begin Slideshow

»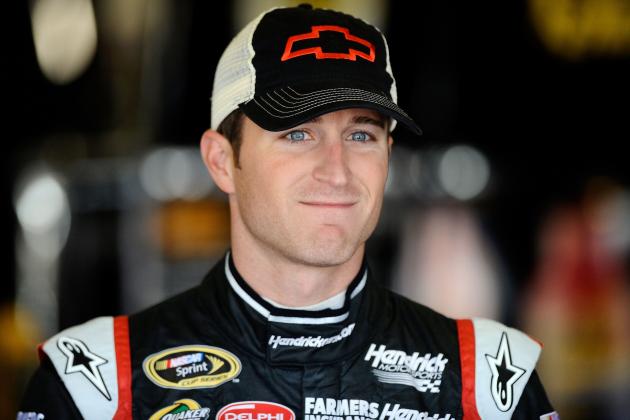 Jared C. Tilton/Getty Images

After the checkered flag flew in Texas, nine out the 12 Chase drivers ended up more than a full race's worth of points down to Johnson. Currently in fourth place, Kasey Kahne is 58 points short of Johnson and 51 points back from Brad Keselowski. With two races left, the odds are astronomical that he would be able to eclipse that much from just one of the drivers, let alone two.
Every other driver, from fifth to last place is at least 72 points down, which amounts to about a race and a half. Had Matt Kenseth and Jeff Gordon (currently fifth and sixth place, respectively) not gotten off to such slow starts, their odds to win could have been much higher. They are just simply out of time.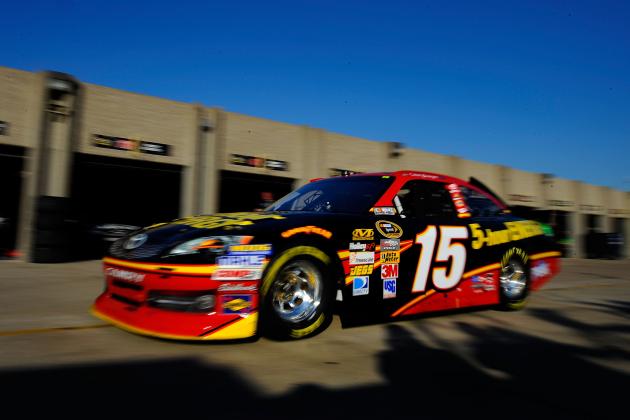 Jared C. Tilton/Getty Images

Aside from Johnson and Keselowski, Clint Bowyer has the only legitimate shot to win the title. It is, of course, a long shot. By having to make up 36 points in two races, Bowyer will have to race very well and get some help from mistakes by the No. 48 and No. 2.
Stranger things have happened, and Bowyer has had a very solid inaugural season with Michael Waltrip Racing, but even giving him 20-to-1 odds is probably a bit generous.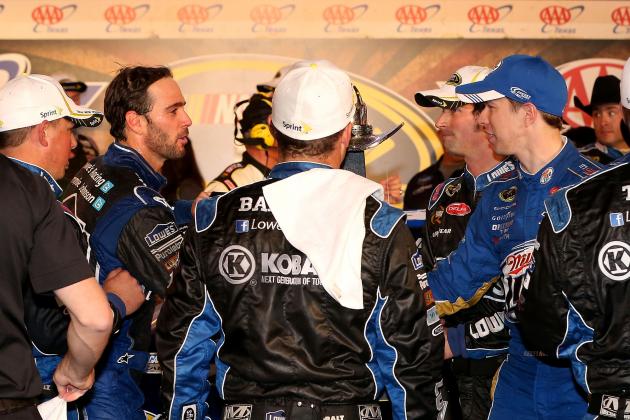 Tom Pennington/Getty Images

While Johnson does seem to have slightly better odds for the championship after leaving Texas with a win and a seven-point cushion, it still seems a toss-up as to who will win.
It is about as close as Keselowski raced Johnson at the Texas Motor Speedway. Both have raced like champions and have looked like champions at different times during the season.
Because Johnson is doing so at a better time, perhaps the odds for him could be considered slightly favorable: 3 to 2 as opposed to Keselowski's 2 to 1.
It is probably be just as easy to flip a coin and see if heads or tails comes up.