Tennessee Football: Grading All 22 Starters from the Game Against Troy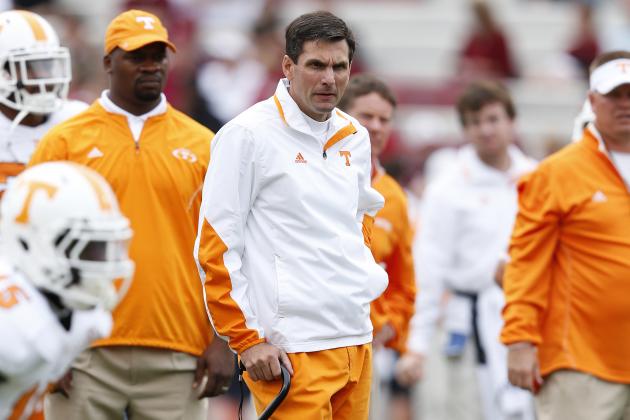 Joe Robbins/Getty Images

The Tennessee Volunteers got back on the winning track with a 55-48 victory over the Troy Trojans this past Saturday in Knoxville.
Yes, you are looking at the score correctly. The Vols did give up 48 points to the Trojans.
Winning is always the most important thing, but the fashion in which it was achieved is not the way Tennessee was looking to start their "second season."
Once again, the offense was forced to put up big points and stats in order to pull out a win. The defense, however, was doing its best to snatch defeat from the jaws of victory.
Breaking down all 22 starters for this game is daunting on one side of the ball and simple on the other. Giving grades to the starters on offense is the simple part.
The defense is another matter entirely. Breaking down the starters individually wouldn't be a fair way to grade them, as all players were equally as bad.
Looking at them as a unit is the best way to assess this game.
Begin Slideshow

»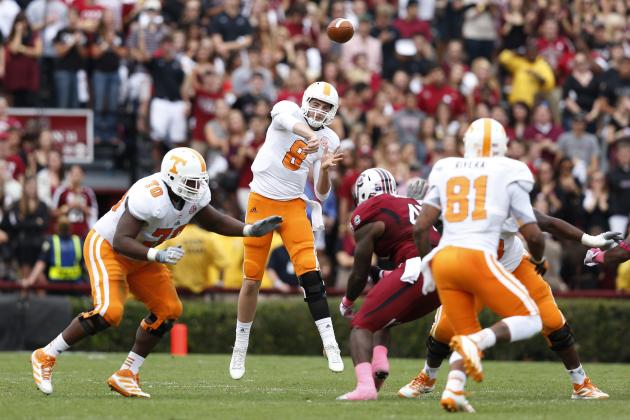 Joe Robbins/Getty Images

Stat Line: 29-of-47, 530 yards, 5 TD, 0 INT
Grade: A
Tyler Bray had his best game as the Vols' starting quarterback. His 530 yards broke the record for most in a game. That record was previously held by one Peyton Manning, good company to be in for sure.
Except for a few overthrows early in the game, Bray was as close to flawless as he has ever been.
This is also where one of the big knocks on Bray comes in, as a majority of his big performances come against nonconference foes.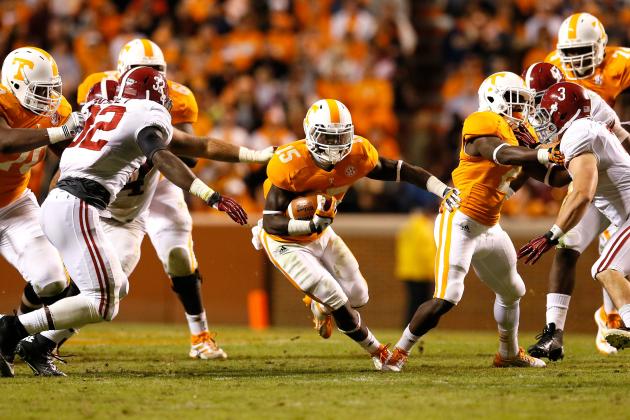 Kevin C. Cox/Getty Images

Stat Line: 19 carries, 132 yards, 2 TD; 2 receptions, 32 yards
Grade: A
Marlin Lane also had one of the best performances of his career at Tennessee in this game.
He showed in this game he has the potential to be an every-down back for this team. For the first time in a while he ran with authority, hitting openings and taking on tacklers.
If he can continue this play, then the Vols will have something to build on: an already improved running game.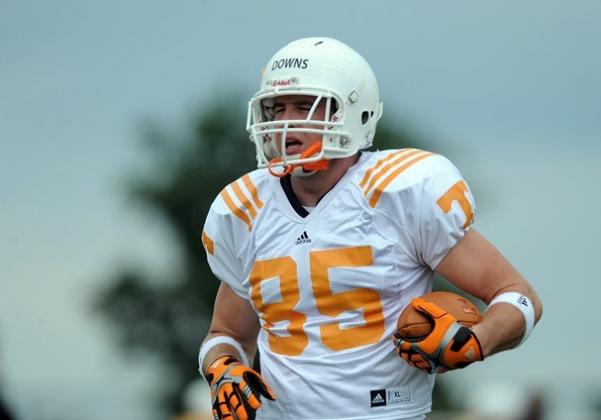 photo courtesy of govolsextra.com
Stat Line: No stats
Grade: N/A
This was the first start for Brendan Downs at Tennessee.
Butch Dill/Getty Images

Stat Line: 1 reception, 12 yards
Grade: A-
Ben Bartholomew is an excellent asset to this Volunteers team. He's one of those players that does exactly what is needed.
He's always good for a catch that will pick up a first down.
Excellent job in this game opening holes for Lane and Neal.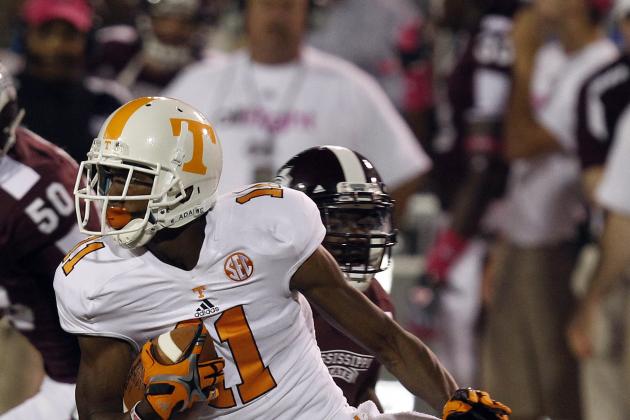 Butch Dill/Getty Images

Stat Line: 9 receptions, 181 yards, 3 TD; 2 punt returns, 5 yards
Grade: A-
After a few weeks of below-expectation performances, Justin Hunter had an excellent game catching the ball, save for a few drops early on in the game.
This is the caliber that is expected out of Hunter in each game. Looks like he may be back on track after this one.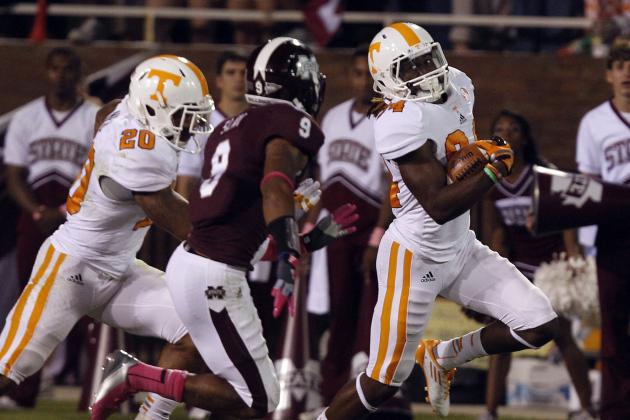 Butch Dill/Getty Images

Stat Line: 9 receptions, 219 yards, 1 TD; 2 carries, 13 yards; 2 kick returns, 43 yards
Grade: A
What can you say about Cordarrelle Patterson that hasn't already been said? He is the most dynamic player on this Tennessee team, and the story wasn't different in this game.
He ended this game with 275 total yards, which is becoming the usual for him.
The only thing that is stopping him from getting more is the amount of touches he's getting.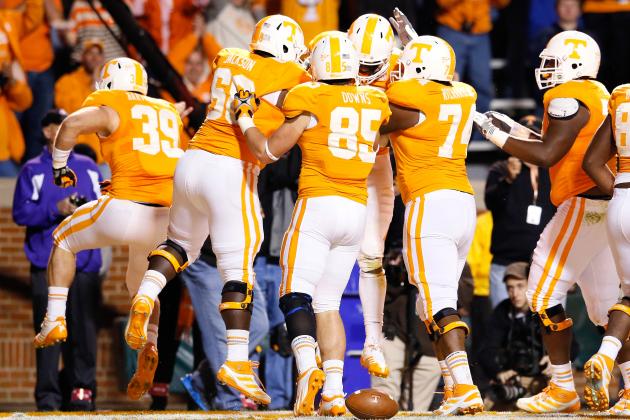 Kevin C. Cox/Getty Images

Grade: A
The strongest unit for the Tennessee Volunteers this season continues to be its offensive line.
They just continued to get better this week. They kept Tyler Bray clean and gave him plenty of time to throw the ball and rack up record-setting numbers.
This week they did an excellent job in run blocking, enabling Marlin Lane to have the excellent game he had.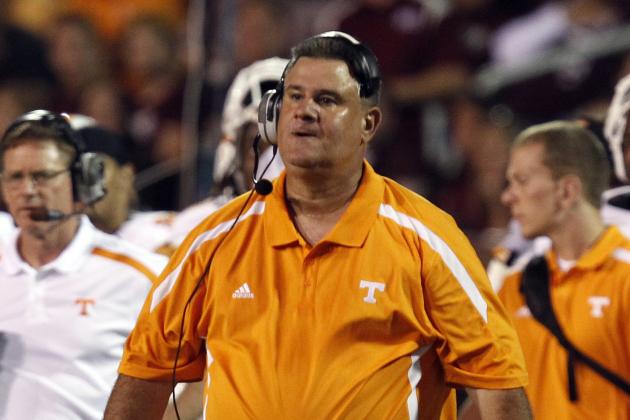 Butch Dill/Getty Images

As stated earlier in this article, the defense will be graded as a unit.
Grade: F
Seven hundred and twenty-one. This is the number of yards that the Tennessee defense yielded to Troy in this game. This is an atrocious number to look at.
The Trojans, for the most part, did whatever they wanted to the Vols defense.
This wouldn't be as bad if this team had shown improvement thought the season, but it just seems to get worse by the week.
At this late stage of the season, 721 yards should be given up over a two- to three-game stretch and not to a 4-5 Sun Belt team.
If the Vols' hope to make it to a bowl game are to be realized, then this defense will need to turn it around in a hurry. At this late juncture, it's not likely to happen.