Ravens vs. Browns: Baltimore Starts, Ends Strong in 25-15 Defeat of Cleveland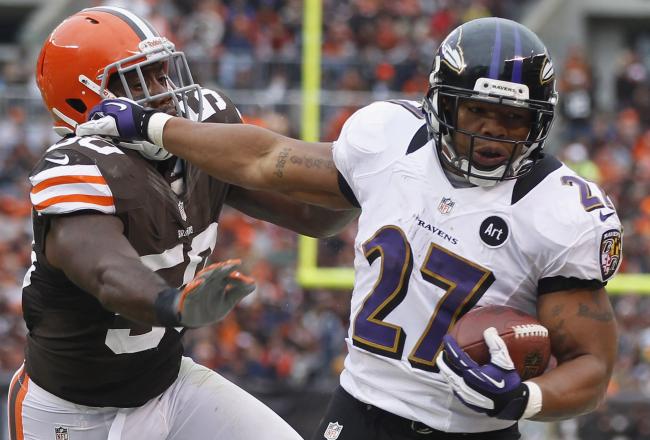 When the Ravens run the ball well, they win. Simple as that.
Matt Sullivan/Getty Images
The Baltimore Ravens' win on Sunday over the Cleveland Browns was all about the first and fourth quarters, with everything in between a struggle. However, starting strong and finishing just as well is one way to win a football game, and the Ravens most certainly did that, ending the day with 25 points to Cleveland's 15.
The Browns certainly did their part to drop this contest, wasting red-zone appearance after red-zone appearance and notching five field goals instead of touchdowns. However, what the Ravens accomplished when their offense was in sync earned them an elusive and much-needed road win.
Not surprisingly, the Ravens played their best offensive football when running the ball. Ray Rice had 13 first-half carries for 66 yards and a touchdown, giving him a 5.1 yards-per-carry average. Rookie Bernard Pierce also added four runs in the first 30 minutes, including one for a touchdown of his own.
The Browns did wise up to the run, leading Baltimore to turn away from it in the middle of the game. But it was ultimately carries by Rice and Pierce that led the Ravens to Flacco's fourth-quarter touchdown pass to Torrey Smith and subsequent two-point conversion that gave them eight of the 10 points they put up to win the game.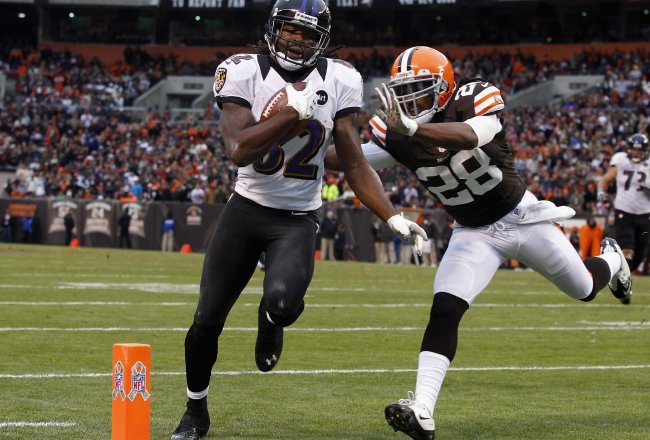 Torrey Smith may have scored the Ravens' game-winning touchdown, but it was running by Ray Rice and Bernard Pierce that got him there.
Matt Sullivan/Getty Images
Finally, Baltimore returned to the formula that works best for them on offense rather than turning away from it. Flacco didn't have his strongest performance in terms of yardage or even completions, going 15-of-24 for 153 yards and a touchdown, but he wasn't asked to be the hero. In fact, if you count Flacco's two scrambles and the late-game direct snap to backup quarterback Tyrod Taylor, the Ravens ran the ball 37 times—13 times more than passing it, finally.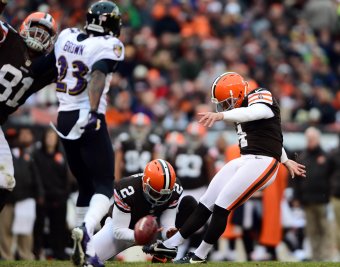 Cleveland scoring only field goals helped some, too.
Andrew Weber-US PRESSWIRE
Even when running the ball wasn't working well, the Ravens stuck with it, which is something that couldn't be said about their previous games this season. Turning the corner like this on offense is exactly what the Ravens had to do—with their defensive issues, the offense's focus should be on controlling the time of possession and limiting chances for mistakes instead of it being Flacco's show every week.
That offensive coordinator Cam Cameron was willing to give up his stubbornness about passing on the road, even if for just this one game, gives more credence to the repeated cries to have Rice, in particular, and the run game, in general, be the focus of their offense.
On defense, it was more of the same struggles. They gave up over 100 yards rushing—though, thankfully, not the 180 or more they have over the last three weeks. Browns quarterback Brandon Weeden did a solid job of moving the ball down the field as well, with 176 yards on 20 completions—after all, Cleveland did have five scoring opportunities on the day, they just resulted in a field goal each time—but Weeden also threw two picks.
Like it has been for much of the season, the Ravens needed their offense to be the playmaking side of the ball. With strong running bookending the game, Baltimore achieved it.
This article is
What is the duplicate article?
Why is this article offensive?
Where is this article plagiarized from?
Why is this article poorly edited?