Louisiana Tech Football: Bulldogs Are Final Hope for Non-AQ BCS Bust
Louisiana Tech is ranked 19th in the AP poll, but can't celebrate yet. They need help from other teams if they want to receive a BCS bowl bid
Bob Levey/Getty Images
One by one, the teams without automatic bowl qualifiers who still have BCS bowl aspirations have fallen.
Last weekend, it was then-undefeated Ohio, who lost a heartbreaker to archrival Miami-Ohio 23-20. On Saturday night, Boise State joined the group, losing a 21-19 battle with San Diego State on the blue turf.
The Bobcats and Broncos were generally assumed to be the best bets for a team from a conference that does not automatically send a team to a BCS bowl to receive an at-large bid. With the aforementioned losses by those teams, there is virtually no way that they will not end up playing in a minor bowl game.
However, all is not lost for those fans who would like to see a bit of variation in the BCS bowl lineup every year. The Louisiana Tech Bulldogs, ranked 19th in the most recent AP poll, still have an outside shot to sneak in.
Sonny Dykes's team doesn't necessarily control its own destiny, but an ounce of hope is really more than Bulldogs fans have had to hold onto in the past.
The Bowl Championship Series rules state that the highest-ranked champion of a non-automatic qualifying conference will receive an automatic berth if it is either ranked in the Top 12 of the BCS standings or ranked in the Top 16 and higher than at least one automatic-qualifying conference champion.
Currently, Nebraska is the Big Ten's highest-ranked team at No. 18, which is the lowest ranking for a team that leads an automatic qualifying conference or division within a conference.
Will Louisiana Tech finish ahead of a AQ conference champion in the BCS standings?
On the surface, it is simple. If the current leaders of the AQ conferences win out, Louisiana Tech would not meet the requirements and is an unlikely candidate to receive an at-large bid. However, with losses by either Nebraska or Louisville, who would plummet in the rankings if they lost a Big East game, things get more interesting.
A loss by Nebraska would nearly assure Louisiana Tech of finishing ahead of all Big Ten teams in the BCS rankings at the end of the regular season, assuming the Bulldogs win out. However, the Big Ten title game gives the conference an extra opportunity to pick up points and jump over the Bulldogs, who by then would be idle.
Louisville, on the other hand, isn't as lucky.
If the Cardinals were to lose and fall below Louisiana Tech, they do not have a conference championship game to rely on for points. Obviously, the argument can be made that the Cardinals would not fall below a one-loss Louisiana Tech squad with a loss. Late-season losses can be especially, and sometimes unfairly, penalizing, though.
While Louisiana Tech qualifying for a BCS bowl is one thing, being competitive in the game would be another thing entirely.
With Ohio's defensive secondary injuries and Boise State's offensive struggles, the Bulldogs may actually have been the best mid-major program all along. However, Sonny Dykes's squad still has its issues. The Bulldogs are reminiscent of the 2007 Hawaii Warriors team that ran the table in the WAC and played Georgia in the 2008 Sugar Bowl.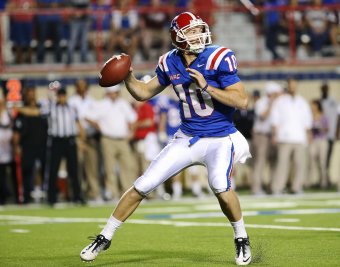 Kevin Jairaj-US PRESSWIRE
The Bulldogs possess an extremely potent offense, averaging 52.4 points per game, which ranks second in the nation behind Oregon. In 2007, Hawaii averaged 56.4 points per game and ranked second in the nation as well.
Louisiana Tech owes a lot of its success this season to senior quarterback Colby Cameron, who has thrown for over 2,900 yards and has yet to throw an interception. The 2007 Hawaii squad was led by quarterback Colt Brennan, a Heisman Trophy finalist who feasted on the weaker defenses in the Western Athletic Conference.
The defense is the issue, as it often is with good mid-major squads. While Louisiana Tech gives up just over 21 points per game, the defense thrives off of forcing turnovers. There are concerns as to whether the Bulldogs could be as aggressive defensively against a team from a power conference.
Perhaps Louisiana Tech's game against Texas A&M three weeks ago offers positive reinforcement. In addition to giving the Aggies considerable trouble before falling 59-57, the Bulldogs forced two turnovers while giving up none.
Louisiana Tech isn't dead in the water by any means, but it definitely needs help.
Most fans and teams hope for chaos to occur at the top of the BCS standings. Fans of the Bulldogs, and underdogs in general, will be crossing their fingers for chaos in the middle instead.
This article is
What is the duplicate article?
Why is this article offensive?
Where is this article plagiarized from?
Why is this article poorly edited?