Oklahoma State Football: Winners and Losers from the Game vs. Kansas State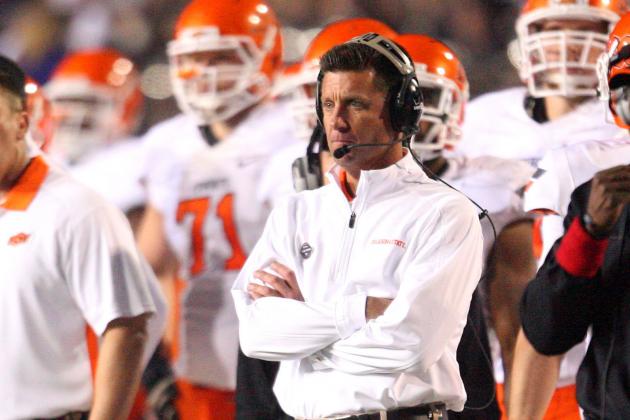 Scott Sewell-US PRESSWIRE

After all the media hype that called this game Kansas State's biggest test on the year, one thing is certain. It's really hard to win on the road with a true freshman quarterback.
When you take away the turnovers, the Oklahoma State Cowboys played a pretty good game against the Wildcats.
However, those five turnovers made the difference between the two teams and really showed how important it is to have a veteran passer like Collin Klein behind center.
The Wildcats are obviously the big winners in the game, but this contest was full of winners, as well as a few losers. Read on to find out more.
Begin Slideshow

»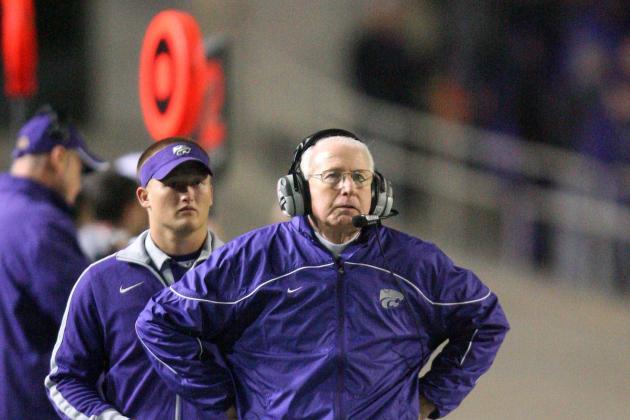 Scott Sewell-US PRESSWIRE

This game was the epitome of Bill Snyder football. Good defense, great special teams and an effective rushing attack.
The Kansas State Wildcats forced five turnovers and used them to jump out to a big lead against an overmatched Oklahoma State team.
And when the defense wasn't getting takeaways, the special teams were setting up the offense with a short field after great returns.
Sure, the Cowboys moved the ball at times, but freshman quarterback Wes Lunt made far too many mistakes to beat Snyder's ball club.
Ed Zurga/Getty Images

I thought the Cowboys did a pretty solid job of slowing down Collin Klein and the running game early. Klein ended the game with 64 yards, but he needed 17 carries to get there; good for 3.8 yards per carry.
That's not great, but it's doing your job and forcing him to throw the ball more than he wants to. However, the Cowboys finally started to falter in the second half, particularly in the fourth quarter.
With the game on the line, the Cowboys let Angelo Pease rush for 56 yards in the final quarter and kill off the clock.
Oklahoma State knew what the Wildcats were going to do, but they couldn't stop them; and K-State was able to hold on for the win.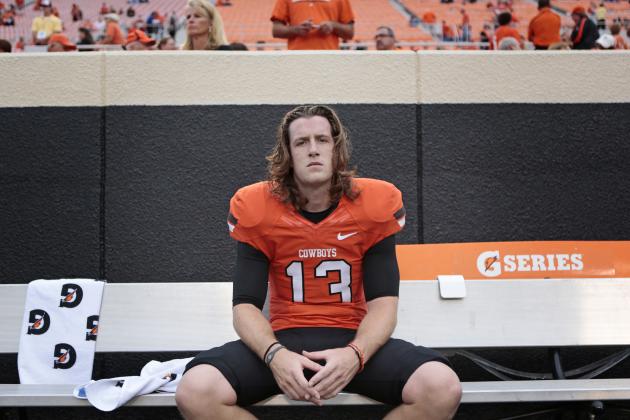 Brett Deering/Getty Images

Outside of some questionable coverage on Tyler Lockett's touchdown return, Quinn Sharp played a pretty much perfect game.
He went 3-for-3 on field goals, booting in one from 43 yards out. He was also perfect on extra points and boomed out a few big-time punts to help change field position.
One could argue that Kansas State had some huge returns and that blame could be placed on Sharp, but on both of the big returns, it was much more on the coverage team than the guy kicking the ball.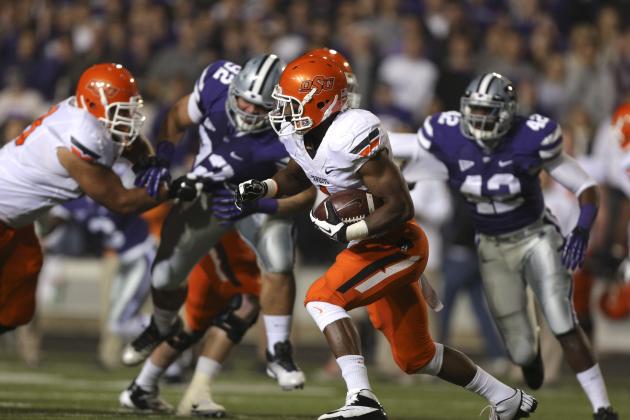 Ed Zurga/Getty Images

Now, when you're down by 14 points at halftime, you're probably going to throw the ball more than you might want to.
This is going to make it difficult for any running back to put up big yards; however, Joseph Randle is the best player on this Oklahoma State team and you have to expect more out of him.
Randle had a paltry 43 yards on 15 carries, good for 2.9 yards per carry, and never looked like his explosive self.
It's fair to say that this was one of the games in which the Pokes needed their running back to step up. When you throw out a freshman QB against the second best team in the nation, you need someone to take the pressure off of him.
Randle failed to do that, and that is a major reason why the Cowboys lost this game.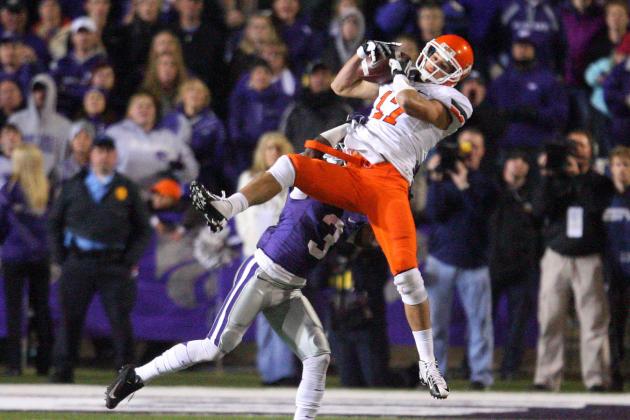 Scott Sewell-US PRESSWIRE

Defensive backs don't have better days than Allen Chapman enjoyed this weekend.
The veteran cornerback absolutely feasted on Cowboys QB Wes Lunt. He picked him off twice, returning one for a touchdown, but he wasn't finished there.
Backup quarterback Clint Chelf had the Cowboys driving late when Chapman decided he should spread the love around and blemish Chelf's great day by intercepting him in the end zone to seal the game.
For those of you scoring at home, that's three total interceptions for Chapman, which triples his season total.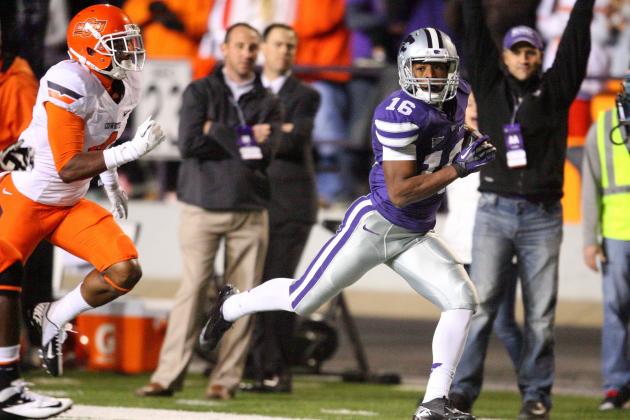 Scott Sewell-US PRESSWIRE

Let's just say that both teams' coverage units are probably going to be running extra wind sprints in practice this week after dreadful performances on Saturday.
The Wildcats weren't quite as bad as the Cowboys, but they did give up a huge 80-yard return to Desmond Roland.
This came right after K-State had returned their own kickoff for a touchdown and kept Oklahoma State in the game emotionally and on the scoreboard.
The Cowboys gave up a kickoff return for a TD as well, but theirs was for 100 yards.
They almost gave up two more special teams TDs, as K-State had a 60-yard kickoff return and a 39-yard punt return that was stopped at the last second by punter Quinn Sharp.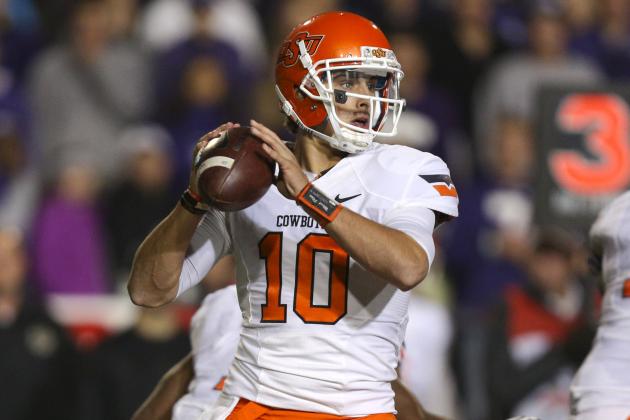 Ed Zurga/Getty Images

As I've mentioned, Chelf had an interception in the end zone to erase all hopes of a Cowboy comeback, but, up until that point, he was deadly accurate and looked like the veteran presence the Pokes needed.
He came in completely cold and had 233 yards passing on 16-of-27 completions. He was also able to throw a nifty touchdown pass to Charlie Moore and added 33 yards rushing on four carries.
Speaking of Moore, he had a huge day, going off for 135 yards and the previously mentioned score. Josh Stewart and Austin Hays also played well, grabbing over 80 yards receiving each.
In the end, none of that was enough, but you can't take away the fact that Chelf played very well given the circumstances and that the receivers really stepped up to help their veteran quarterback.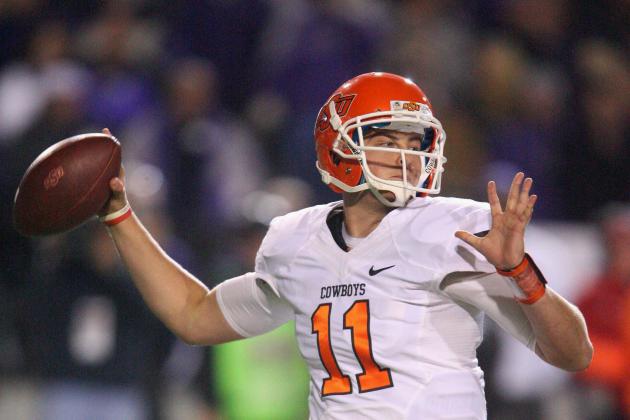 Scott Sewell-US PRESSWIRE

Unsurprisingly, Wes Lunt looked like a freshman quarterback against the Kansas State Wildcats.
He came out of the gates with a nice-looking 54-yard strike to Austin Hays for the opening touchdown, but it was all downhill for the young signal-caller after that.
Lunt was intercepted three times before sitting out most of the second half with concussion-like symptoms, and he probably should've been pulled earlier for poor play.
Those Oklahoma State fans who watched Lunt struggle to make smart plays against the Arizona Wildcats probably saw this coming.
Lunt is a good, young player with a rocket arm, but he's still very young and you can't expect him to perform his best in a hostile environment, especially against a team like K-State.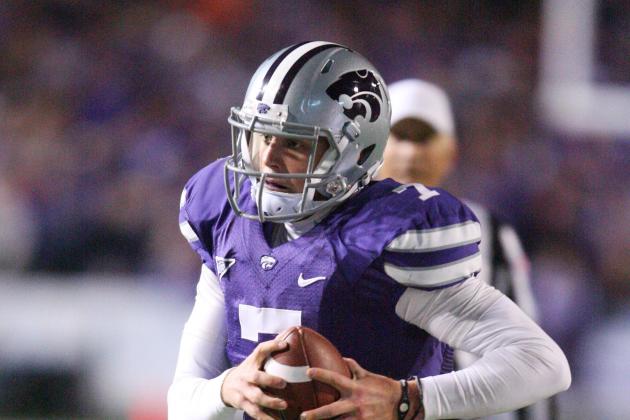 Scott Sewell-US PRESSWIRE

Klein may have sat out most of the second half with an injury, and he may have only scored one touchdown before that injury, but he did what he does best—win games.
Klein didn't wow many Heisman voters with his statistical performance (not to say it was subpar, but it certainly wasn't eye-popping), but his team won the game, and that's what really matters.
Unless the injury is more severe than originally believed, the Heisman is probably Klein's to win and K-State will most likely run through the Big 12 undefeated.
He may not be the sexiest player on the field, but it's hard to argue when you look in the "W" column.