Heisman Watch 2012: Projecting What Final Standings Will Look Like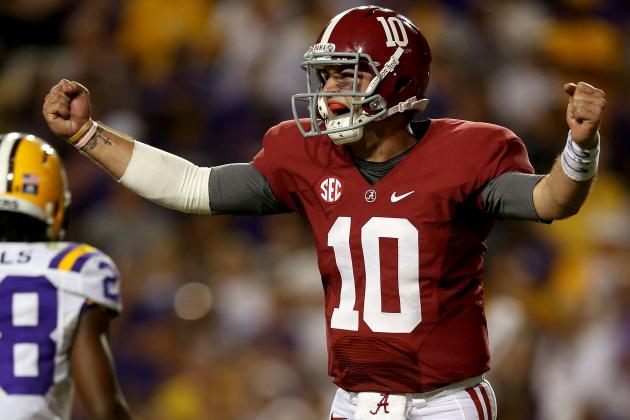 Matthew Stockman/Getty Images

AJ McCarron's comeback victory cemented his legacy as a great quarterback, but it didn't win him the Heisman.
The Heisman Trophy goes to not only the best player in the sport, but also the most valuable player in America.
While McCarron is extremely important with the way he manages games and takes care of the football (still no interceptions this year), he's not the most valuable player in college football nor is he the most outstanding.
So who will win in it then? Read on to find out.
Begin Slideshow

»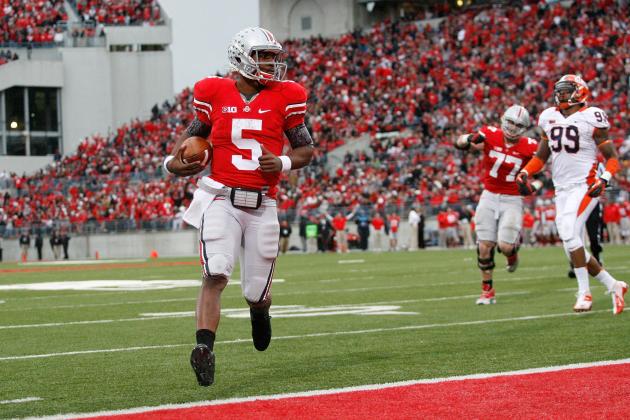 Kirk Irwin/Getty Images

An argument can be made that Braxton Miller is just as important to Ohio State as Klein is to Kansas State. Both quarterbacks hold similar playing styles and responsibilities within the offense.
But while Miller's stats are great, they are not better than Klein's.
So far this season, Miller has completed 56.9 percent of his passes, while throwing for 1,753 yards, rushing for 1,166 yards and totaling 27 touchdowns with six interceptions.
Once again, those stats are impressive. However, they pale in comparison to Klein's 71.1 completion percentage, 1,875 passing yards, 698 rushing yards and 29 total touchdowns with two interceptions.
That and the fact that Klein is facing the pressure of battling for a national championship this season gives the Kansas State signal-caller the edge over Miller.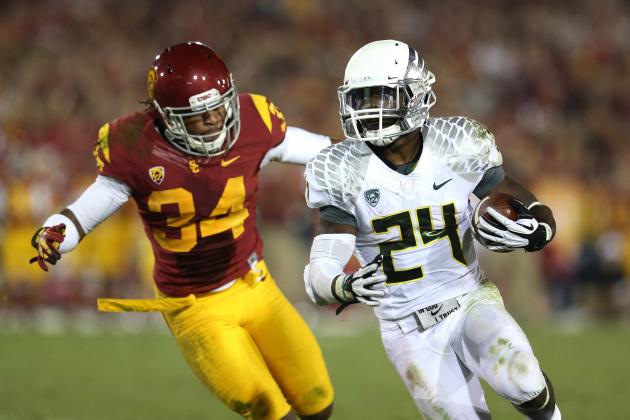 Stephen Dunn/Getty Images

Kenjon Barner is electric.
Any time Barner touches the football, he's always one or two moves away from scampering into the end zone.
But is he the most valuable player in the country? Come on, he plays for Oregon, where speed is required of the ball boys. Having said that, you can't ignore this guy's stats.
In Oregon's biggest game of the season against USC, Barner rushed for 321 yards and five touchdowns.
Barner is second in the country in rushing yards per game, with 143.9, and in rushing touchdowns, with 19. His stats alone will keep him in the Heisman conversation for the rest of the year, but the fact that Oregon has other notable playmakers, such as De'Anthony Thomas, will keep him from winning it.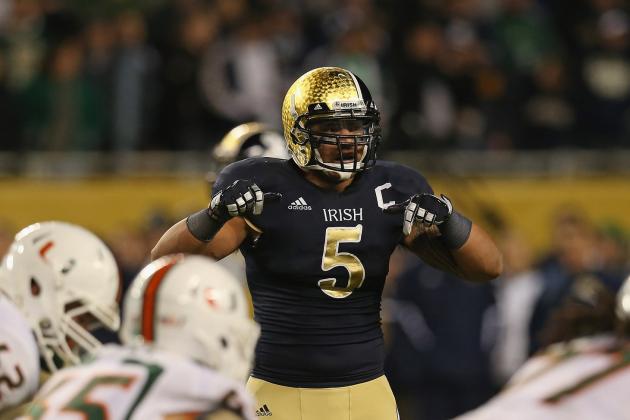 Jonathan Daniel/Getty Images

Will a defensive player ever win the Heisman again?
Players such as Tyrann Mathieu and Ndamukong Suh came close in recent years, but Manti Te'o might have a better shot than both of those players.
Te'o has captured the hearts of the media with his story, and being the face of a resurgent Notre Dame football team certainly makes him a viable Heisman candidate.
Te'o has the stats to back up his case, as well.
Te'o has 87 total tackles, five interceptions, 1.5 sacks, four pass breakups and 5.5 tackles for loss. His stats aren't eye-popping, but Notre Dame's 9-0 start continues to be Te'o's Heisman campaign.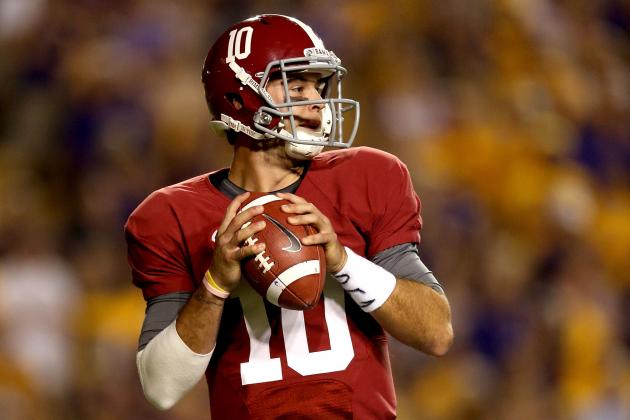 Matthew Stockman/Getty Images

Heisman winners always have "that moment." McCarron's came Saturday night in Death Valley.
It wasn't any numbers or any highlights. Rather, it was his leadership, courage and passion that cemented his legacy as an Alabama quarterback.
Like a battered champion in a 15-round dogfight, Alabama was against the ropes and LSU continued to work the body. It wasn't until the last seconds of the fight that McCarron delivered a counter shot that would decide the game.
McCarron led Alabama down the field with precise passing, and when he hit T.J. Yeldon for a 28-yard touchdown pass with 51 seconds left, he created his Heisman moment.
McCarron is a Nick Saban quarterback who manages the game, but really, he's more than that. McCarron's 1,849 yards, 19 touchdowns and zero interceptions prove it. But when it comes to being the most valuable player in football, he has nothing on Klein.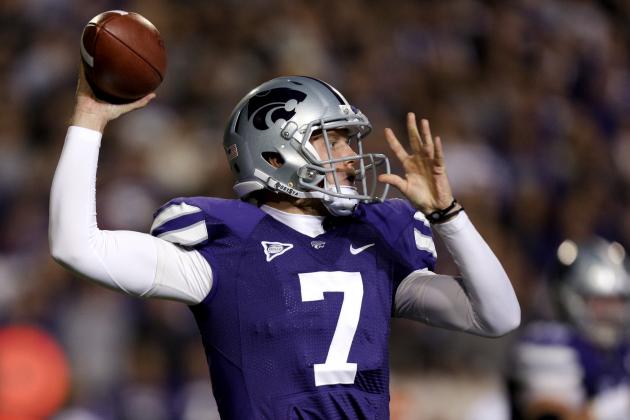 Ed Zurga/Getty Images

While McCarron is extremely valuable for Saban's offense, Klein is the most valuable player in the sport.
What's Kansas State without "Optimus Klein?"
What's Kansas State without having big No. 7 catch the snap and either run through tackles or launch passes down the field? Klein's value to the program was visible in the Oklahoma State game last Saturday.
Klein gave his team a 38-17 lead against Oklahoma State before getting injured and sitting out the final 25 minutes of the game. The Wildcats only added six more points for the rest of the game.
Even though the Wildcats were still able to move the football, it was apparent how much Klein means to this team. Klein's status is still uncertain after an arm injury he sustained in the game, but expect him to find his way onto the field and keep his team's undefeated streak alive. Klein has the stats, he has the wins and he's the most valuable player in the country. That will win him the most prestigious trophy in the sport.