Franklin vs. Le: Preview, Odds and Predictions for UFC on Fuel TV 6 Main Card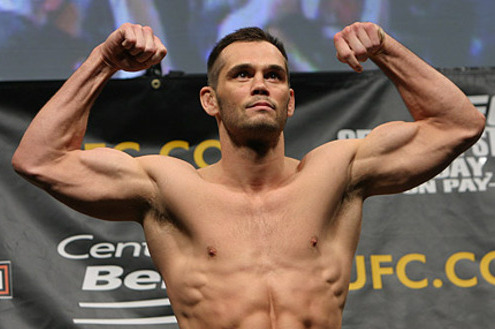 Ken Pishna/MMAWeekly.com
The UFC will make its way to China for the first time ever on Saturday. With it, the organization will bring UFC on Fuel TV 6, which is to be headlined by a middleweight bout between former middleweight champion Rich Franklin and former Strikeforce titleholder Cung Le.
Franklin and Le are both coming off wins and looking to pick up a few more before they inevitably decide to call it quits within the next couple of years. Depending on the outcome, it wouldn't even be all that surprising if this fight turned out to be the final MMA appearance for one of the two competitors.
Most of the attention heading into this event will be focused on Franklin and Le, but let's take a look at which fighters should be considered the favorites in each of the six bouts on the main card.
Begin Slideshow

»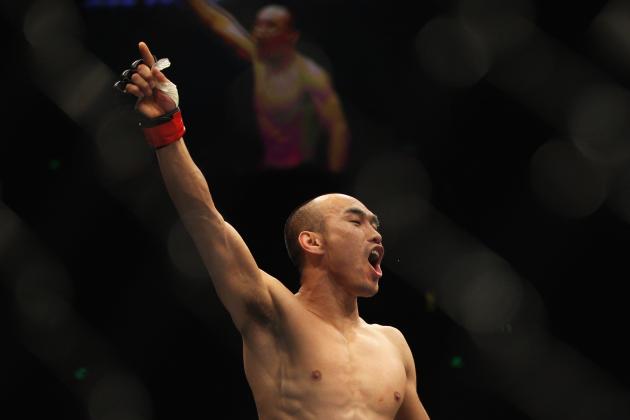 Mark Kolbe/Getty Images

Odds
TBD
Preview
The lone Chinese fighter on the main card of the UFC's first event in China, Tiequan Zhang will be under a lot of pressure to please fans in attendance at UFC on Fuel TV 6. Having lost three of his past four fights, Zhang has more than just fans to fight for on Saturday, though. His UFC career could very well be on the line against Jon Tuck.
Tuck is undefeated in six MMA fights and has shown the well-rounded game that Zhang is still seeking. The native of Guam is a world-class grappler and recently knocked out One FC standout Eduard Folayang in just eight seconds.
Almost all of Zhang's wins over high-level competition have come via submission. With both of his wins under the Zuffa banner coming via guillotine choke, Zhang has already given up his hand. Tuck will avoid trying to take this fight to the ground and should be able to put the Chinese fighter away rather quickly with his hands.
Prediction
Tuck defeats Zhang by knockout in the first round.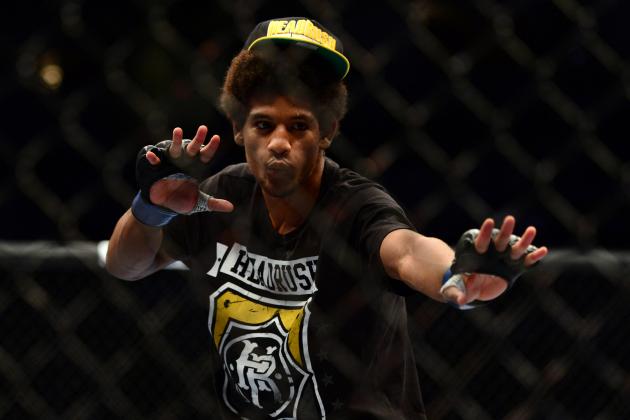 Kyle Terada-US PRESSWIRE

Odds
TBD
Preview
Alex Caceres has looked excellent since moving to the bantamweight division, with his only loss coming via split decision in a fight that saw him lose two points due to an accidental kick to the groin. At UFC on Fuel TV 6, Caceres will have a chance to pad his record against a UFC newcomer and late replacement opponent in Motonobu Tezuka.
Both Caceres and Tezuka are dangerous on the ground, with a handful of submission wins each, but both men have also been forced to tap on occasion as well.
This fight will go to the ground quickly, and the wild-grappling Caceres will make things interesting there. Eventually, one fighter is going to catch the other with some type of submission, and the edge has to go to Caceres, who has proven himself against high-level competition more than Tezuka as of late.
Prediction
Caceres defeats Tezuka by submission in the second round.
UPDATE: This bout has been moved to the preliminary card. A bantamweight fight between Takeya Mizugaki and Jeff Hougland has replaced it on the main card.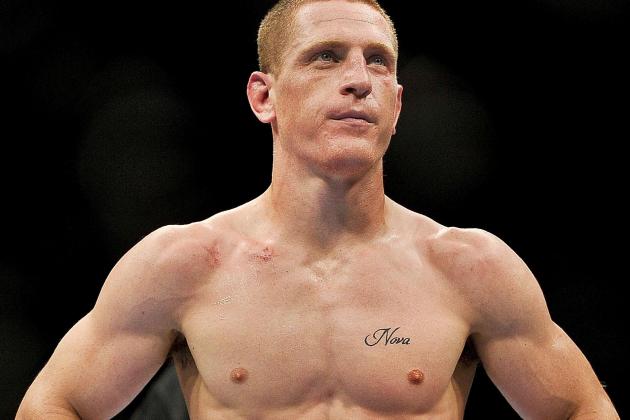 Paul Abell-US PRESSWIRE

Odds
Mac Danzig -260
Takanori Gomi +200
Preview
Grapplers have caused problems for Gomi during his UFC run, and Danzig has a very solid ground game. However, Danzig has only been successful on 39 percent of his takedown attempts over his past five fights, so taking Gomi off his feet might not be as easy for Danzig as it has been for some others.
Standing with Gomi for any period of time is not something any lightweight fighter would prefer to do. Though Danzig is a good boxer, having trained with Freddy Roach and knocked out Joe Stevenson, Gomi possesses dangerous one-punch knockout power that is possibly without equal in the 155-pound division.
This fight could go in two very different directions, but I believe Gomi can survive on the ground in the first round against Danzig, as he did against Clay Guida. Given the chance to start the second round standing and slippery with sweat against a more tired Danzig, Gomi will be able to open up with his striking more and could put The Ultimate Fighter winner away if he connects.
Prediction
Gomi defeats Danzig by knockout in the second round.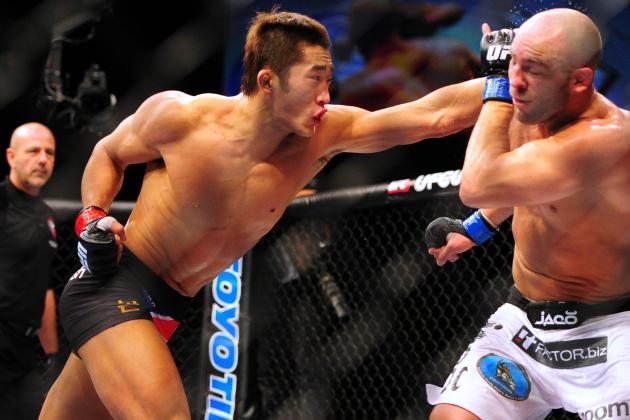 Mark J. Rebilas-US PRESSWIRE

Odds
Dong Hyun Kim -260
Paulo Thiago +200
Preview
Ever since his shocking knockout win over Josh Koscheck, some have tried to paint Thiago as a fighter who is just as strong in the striking department as he is on the ground, but that is simply not the case. Thiago has never landed more than 36 significant strikes in any of his UFC fights, and the only other knockout win of his career came due to a knee injury suffered by his opponent.
Thiago is a grappler through and through, so there's no reason to think the outcome of his upcoming fight with Kim will be decided with both fighters standing.
Neither Kim nor Thiago has ever been submitted, so this bout could simply come down to which fighter can win the battle for the top position.
If that's the case, this could turn into a very close fight. Thiago has only been taken down multiple times in a single fight against Diego Sanchez and Jon Fitch, while Kim has only been clearly bested in the grappling department by Demian Maia in a fight that didn't fully play out due to injury.
When standing, Thiago will be more willing to strike than Kim, and that will more than likely only result in him leaving an opening to be taken down. By the slightest of edges, Kim should take this one on the scorecards.
Prediction
Kim defeats Thiago by decision.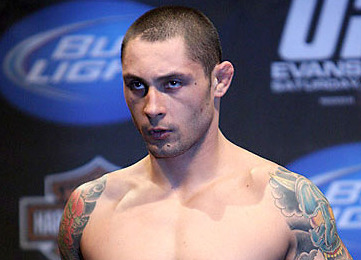 Scott Peterson/MMAWeekly.com
Odds
Thiago Silva -365
Stanislav Nedkov +275
Preview
Usually, when a fighter is undefeated in their first 12 fights, they can be considered a very bright prospect and possibly even a future contender. However, Nedkov is 30 years old, and even though it worked out for him, his striking was windmill-like in his UFC debut against Luiz Cane.
Against a more talented and heavy-hitting striker like Silva, that same approach will end much differently for Nedkov on Saturday. If Nedkov comes out winging overhand punches at UFC on Fuel TV 6, he's either going to get blasted with a quick counter or taken to the ground and smashed like Brandon Vera was by Silva.
Unless Nedkov has made some major improvements in the year since his last fight, it's hard to see this fight ending any other way than with Silva landing big punches.
Prediction
Silva defeats Nedkov by knockout in the first round.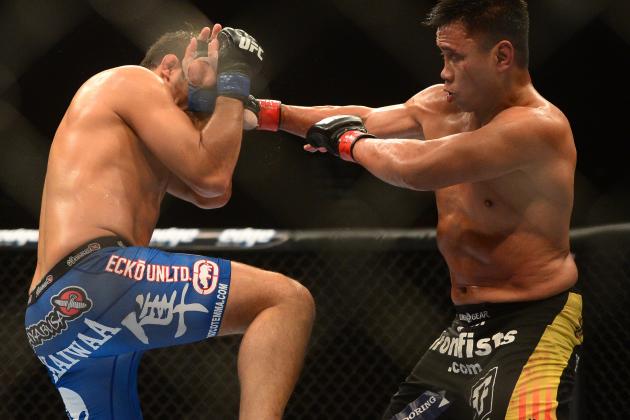 Mark J. Rebilas-US PRESSWIRE

Odds
Rich Franklin -315
Cung Le +245
Preview
Franklin and Le are former champions who have represented MMA well, but their time to retire is drawing near. Untimately, the outcome of this fight could determine the future of both fighters.
With dynamic striking and underrated takedown defense, Le presents a lot of stylistic problems for the former UFC middleweight champion. However, Franklin possesses a clear advantage over Le in MMA experience and conditioning.
As long as Franklin can survive the first round or two, he should be able to wear Le down, which would increase his chances of taking the fight to the ground. From the top position, Franklin can beat Le mentally and force a stoppage.
Prediction
Franklin defeats Le by knockout in the third round.
Odds via Bovada.
Statistics via FightMetric.