Purdue Football 2012: Can the Boilermakers Run the Table for a Bowl Game?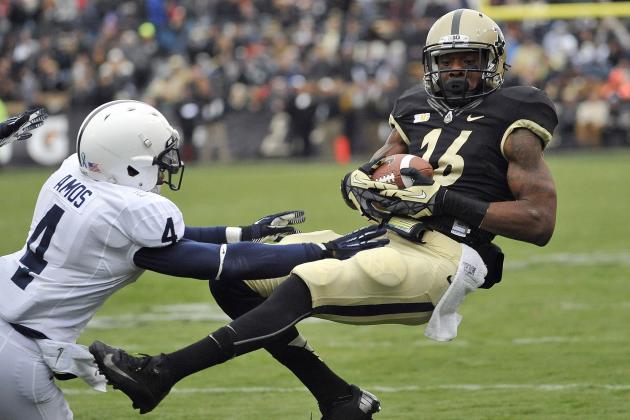 Sandra Dukes-US PRESSWIRE

Sitting at 3-6 and riding a five-game losing streak, the Purdue Boilermakers are faced with the daunting task of winning out just to make a bowl game. Such a finish will be challenging, especially since they still have two road games to go.

But when you take a closer look at the Makers' schedule in 2012, it's clear that they have a very real chance to run the table.
The six teams that have beaten Purdue this season have a combined record of 42-13, whereas the three squads left on the slate are a paltry 10-17.
Two of those losses were well-played games, as the Boilermakers took No. 3 Notre Dame to the brink in South Bend and lost in heartbreaking fashion at undefeated Ohio State. But the most recent losses have been of a much more demoralizing variety.
Can Purdue bounce back and fight their way to bowl eligibility?
It's tough to tell at this point, but let's take a look at the remaining schedule to find out a little more.
Begin Slideshow

»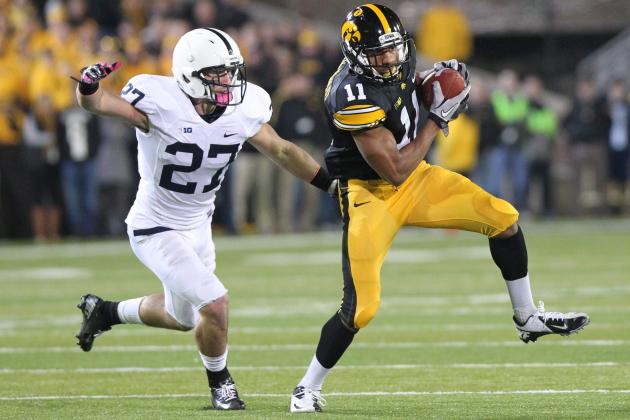 Reese Strickland-US PRESSWIRE

The matchup looming this weekend with the Iowa Hawkeyes (4-5, 2-3 B1G) may not scream "big game," but it is a crucial must-win for both teams' postseason hopes.
The Boilermakers are in a lose-or-go-home scenario, while the Hawkeyes need to win two of their next three for a bowl.
Considering the fact that Iowa still has dates with Michigan and Nebraska, the showdown on Saturday looks like the deciding factor.
As far as schedule goes, Iowa and Purdue are in a very similar boat. Like the Makers, the Hawkeyes also have some nice wins, a few hard-fought losses and a couple head scratchers.
Victories over a 9-1 Northern Illinois and at Michigan State are impressive, while a loss to 3-6 Central Michigan in Iowa City raises serious question marks.
This game is a classic toss-up, so naturally the edge will be given to the home team.
If Caleb TerBush and the Boilermakers' offense can't find their stride, the Hawkeyes' underrated defense will be ready to take advantage.
But if Purdue comes out ready to play, like it has on several occasions this season, Iowa could be in for another long afternoon.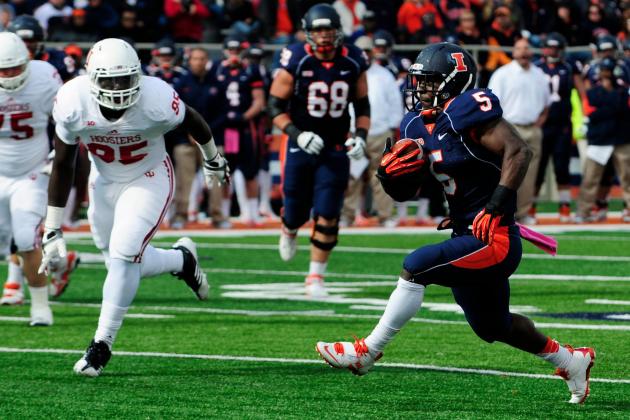 Reid Compton-US PRESSWIRE

The Week 12 road date with Illinois (2-7, 0-5 B1G) is definitely the easiest game left on the schedule for Purdue, but that doesn't mean the Illini are going down without a fight.
Assuming the Boilermakers handle Iowa in Week 11, this matchup is one that Purdue can not afford to overlook. Potentially coming off seven straight losses, Illinois will be hungry, itching for a victory in front of the home crowd.

Unfortunately for the Fighting Illini faithful, highlights have been hard to come by for first-year head coach Tim Beckman.
Ilinois' only wins on the season have come against a sub-.500 Western Michigan and FCS Charleston Southern. To make matters worse, six of the Illini's seven losses have been by at least three possessions.
The Purdue defense, which forced four turnovers and brought Ohio State to overtime in Columbus, figures to match up well against an Illinois attack that ranks No. 115 in total offense.
If the Boilermakers come out focused against the Illini, they should leave Urbana-Champaign with a victory and a fighting chance for a bowl bid.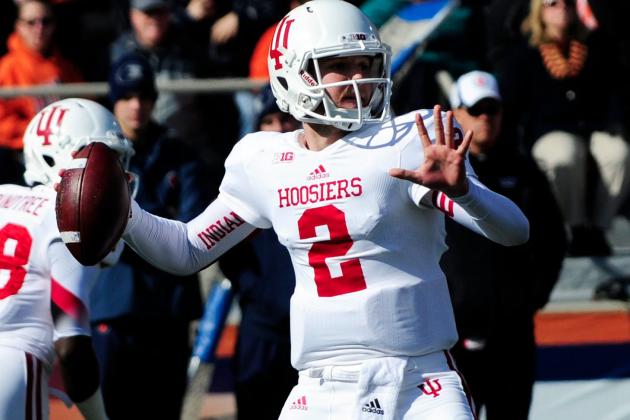 Reid Compton-US PRESSWIRE

The regular season finale against Indiana (4-5, 2-3 B1G) will be the biggest hurdle in Purdue's race for bowl eligibility.
The Hoosiers' overall record won't intimidate anyone, but they are a better team than the standings indicate.

Four of Indiana's five losses have been by four points or fewer, including a 52-49 shootout against Braxton Miller and the Ohio State air show.

IU's biggest liability is on D, where the Hoosiers rank No. 84 in total defense and No. 75 in scoring defense, which should favor Purdue since the game is in West Lafayette.
But the key to the Boilermakers claiming victory will be on defense, where handling the Indiana offense may prove difficult.
The Hoosiers rank No. 35 in the nation in total offense with 4,020 yards, which is good for second best in the Big Ten Conference.
Purdue has struggled to contain opposing offenses in recent weeks, so the matchup between the IU attack and the Makers' D figures to decide this contest.
It's also important to note that Indiana will be coming off consecutive games versus Wisconsin and Penn State, so injury and fatigue could play a major role on Thanksgiving weekend.
If the defense can hold off the Hoosiers, Purdue should be able do enough on offense to win this game on its home turf.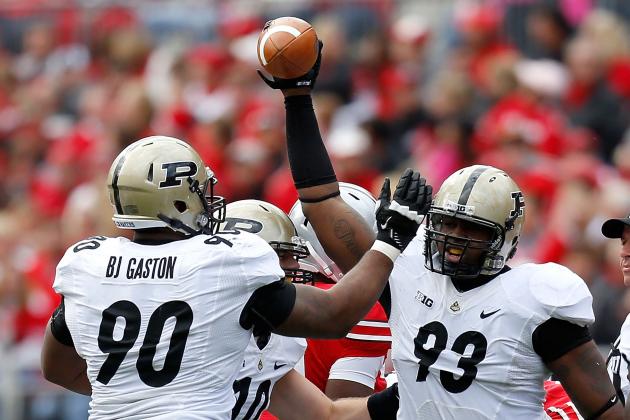 Kirk Irwin/Getty Images

Trying to project games weeks in advance usually proves to be futile, but the Purdue schedule just looks too darn favorable.
I think the Boilermakers have a legit shot to run the table, defying the odds with two road wins and an epic barn burner over Indiana. At 6-6, Purdue would qualify for the postseason, a welcome result for a season that's off track so far.
But, of course, this prediction could be totally wrong. The Hawkeyes could show up to play and end Purdue's hopes this weekend, or the Boilermakers could get caught looking ahead to Indiana when they visit Illinois.

Wow, I never thought I would say a team was peeking ahead to the Hoosiers...but that just shows you how quickly the college football landscape can change.

And I'm expecting a big change for Purdue by the end of November.