Not even the governing body of college athletics can stop the 2012 Ohio State Buckeyes football team from finishing the 2012 regular season with an unblemished record.
Sitting with a 10-0 record (6-0 in conference play) with two games to go, the Buckeyes have already made Urban Meyer's return to the sidelines a successful one. While they can't play for the Big Ten Championship or in a bowl game thanks to the NCAA sanctions levied on the program, all is not lost.
With 10 games down and two to go, the 2012 Buckeyes can add their names to the short list of Ohio State football teams who went undefeated.
But getting to that point won't be easy, with each of their remaining games coming against formidable opponents, teams with players capable of making big plays and changing the momentum of a game in the blink of an eye.
Here's what the Buckeyes need to traverse in order to become the sixth team in school history to, as the late Al Davis used to say, "Just Win, Baby!"
Nov. 17 vs. Wisconsin Badgers at Camp Randall Stadium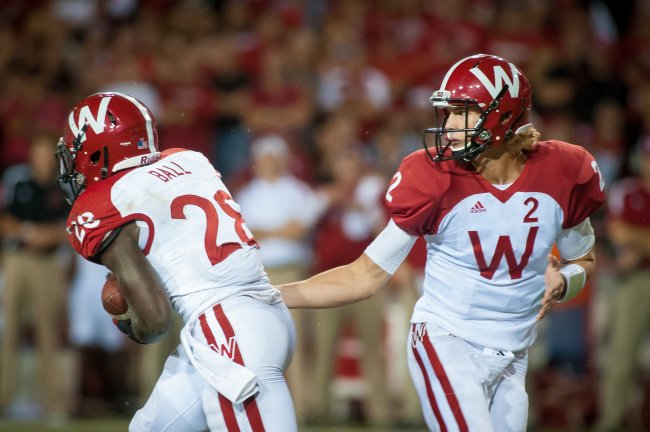 Eric Francis/Getty Images
Ohio State has won four of the past five meetings between the two schools, including a 33-29 win at Ohio Stadium last October. While Wisconsin's season hasn't gone according to plan, they remain a dangerous squad that Ohio State cannot take lightly, especially with the game in Camp Randall Stadium, one of the hardest places for a visiting team to win in the country.
Russell Wilson is no longer the man under center for the Badgers, and while current QB Joel Stave is certainly no Wilson, the Badgers return two highly productive offensive players in RB Montee Ball and WR Jared Abbrederis, who combined for 228 total yards and four touchdowns against the Buckeyes in 2011.
Defensively, the Badgers rank 17th in the country against the run, allowing only 108 yards rushing per game. With so much of Ohio State's offense predicated on QB Braxton Miller and RB Carlos Hyde's ability to move the ball on the ground, the Badgers could keep things close and have the game ultimately come down to who has the ball last.
Nov. 24 vs. Michigan Wolverines at Ohio Stadium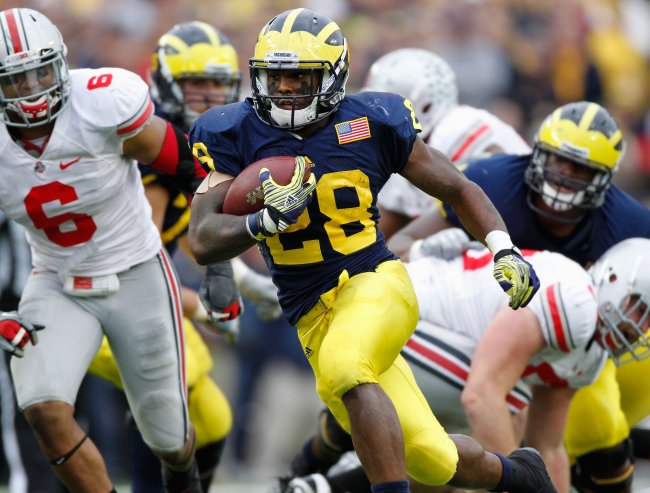 Gregory Shamus/Getty Images
It's Michigan vs. Ohio State, a game that needs no introduction.
The Wolverines ended the Buckeyes' seven-game winning streak last season at the Big House, beating Ohio State 40-34 behind a near-perfect afternoon from Wolverines QB Denard Robinson.
Robinson completed more than 82 percent of his passes and picked up more than six yards per carry en route to finishing the day with almost 340 total yards of offense and five touchdowns. Between Robinson and Fitzgerald Toussaint, the Buckeyes allowed the duo to carry the ball 46 times for nearly 300 yards, eating up clock and keeping Braxton Miller and the Buckeyes offense on the sidelines.
While Ohio State's defense has been stout against the run for the most part in 2012, allowing less than 108 rushing yards per game, Robinson and Toussaint have the ability to take over a game.
Only three players have rushed for at least 90 yards against the Ohio State defense in 2012: Cal's Brendan Bigelow (4 carries, 160 yards and 2 TD), Nebraska's Rex Burkhead (14 carries, 119 yards) and Indiana's Stephen Houston (11 carries, 91 yards and 2 TD).
If Ohio State allows Robinson and Toussaint to become No. 4 and No. 5 on that list, the Buckeyes' perfect season has a very good chance of coming to an end.