NY Yankees 2015: Prospect Pool Could Be Very Special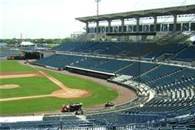 http://newyork.yankees.mlb.com/mlb/prospects/watch/y2012/#list=nyy
The 2013 Yankees, no doubt, will be an old team. The infield, which has been the foundation around which the entire team has been built over the past seasons, averages over 34 years of age. It's two most celebrated members, Derek Jeter and Alex Rodriguez, are 38 and 37, respectively.
While age may be a state of mind for those of us in the real world, it is far more than that to an athlete. It is, in many cases, the primary barometer with which to gauge the very state of their careers.
In the cases of Jeter and Rodriguez, both of whom will be entering 2013 with concerns about their health, age is the one constant thread found in virtually any discussion that involves their projected performance.
The end for each of these athletes is near, if not contractually in the case of Rodriguez then certainly in terms of the role he will play with the team in 2013 and beyond. Jeter, who somehow has defied the inevitable effects of age, is inked through 2013 with an $8M player option for 2014. In other words, Jeter will be around after 2013 whether the Yankees like it or not.
As for the remainder of the team, there will certainly be pieces from the 2013 team competing for the 2014 roster. 1B Mark Teixeira is a definite, as he is signed for what seems like another eon or so, and 2B Robinson Cano projects to be a Yankee as well. This presumes, of course, that he decides to sign with the team after the 2013 season, when he becomes a very attractive free agent for any and all bidders.
C Russell Martin, if there are in fact baseball gods, will ideally have moved on by the 2014 season, although Yankee GM Brian Cashman and Yankee Manager Joe Girardi may still be so fascinated with his defensive skills that they continue to ignore the fact that he has morphed into a significant offensive liability, 20 or so HR's per year or not.
LF Brett Gardner will likely still have a job with the team, although he may be the center fielder as soon as 2013 if certain reports are accurate. Regardless of where he plays, though, he will either still be going year by year contractually or perhaps will have signed a multi-year deal prior to the 2014 season.
Other than Eduardo Nunez, then, that's the grand sum of players on the current roster that project to be a part of the 2014 version of the big club. By 2015, when we likely remove Jeter from the equation, yet another spot opens up.
With all of this in mind, we thought it would be interesting to project what the 2015 version of the Bombers might look like if the organization decided to hold on to some of their more promising youngsters.
These are the Yankees of course, and so the likelihood of this happening is beyond remote, however the names that follow offer a glimpse into what it might be like if the Yankees could operate like other franchises, such as the Kansas City Royals, for instance, and field a team made up of the fruits of their scouting labor.
Begin Slideshow

»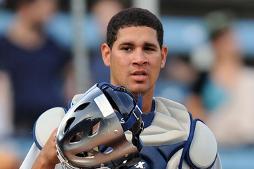 http://newyork.yankees.mlb.com/mlb/prospects/watch/y2012/#list=nyy
CURRENT PROSPECT RANKING, ORGANIZATION: 1
Height: 6'2", Weight: 220
DOB: 12/02/1992

If the Yankees are smart, they will not use Gary Sanchez as a trade chip the way they did with Jesus Montero. Sanchez, like Montero, is a better hitter than he is a defender; however, it's worth noting that he was just 19 years old for the entire 2012 season.
He has time to develop the defensive skills to compete at the MLB level, and most importantly he has the tools to allow that to happen; a plus arm, a strong frame, and good feet. A look at his 2012 statistics demonstrates that the offense is there, so with a little patience, the Yankees can expect great things from this heir apparent to Jorge Posada.
Sanchez will still only be 22 at the start of the 2015 season; young for a catcher to be given such responsibility but not unprecedented by any stretch. The Yankees typically avoid exposing their young prospects to the major league level, however the requirement for fiscal prudence laid out by Yankee owner Hal Steinbrenner makes this practice less likely to be adhered to in the future.
http://newyork.yankees.mlb.com/mlb/prospects/watch/y2012/#list=nyy
CURRENT PROSPECT RANKING, ORGANIZATION: 9
Height: 6'1", Weight: 215
DOB: 09/26/1992

Bichette struggled in 2012, taking a step back from his impressive 2011 performance in virtually all categories. Having said that, this is not uncommon for young players as they move up to more competitive leagues and as they adjust to a new life of being on the road and away from support systems they have normally depended on.
There are no voices within the Yankee system suggesting that the team made an error in selecting Bichette 51st overall in 2011, and that is how it should be. He is big, possesses a power stroke and is better defensively than what was expected.
There is no question that the Yankees will need a new 3B by 2015, and likely sooner, and should they not trade for a long-term solution, like a Chase Headley, for instance, then Bichette could have every chance of challenging for an everyday role in 2015.
http://newyork.yankees.mlb.com/mlb/prospects/watch/y2012/#list=nyy
CURRENT PROSPECT RANKING, ORGANIZATION: 3
Height: 6' 2", Weight: 200
DOB: 09/06/1991

A converted infielder, Tyler Austin is perhaps the most MLB-ready prospect in the Yankee organization today. He has excelled with the bat at every level he's played, and his slash line for 2012, .322/.400/.559/.960 over 110 games across four different minor league levels, was outstanding.
He would be turning 24 during the 2015 season, and at 6'2" and 200 his size and body type projects well for his either continuing as an OF or playing 3B, his natural position, should Bichette or other options not prove out.
Make no mistake about it; if the Yankees do not trade Tyler Austin, he will be a big part of the Yankee offense for years to come.
http://newyork.yankees.mlb.com/mlb/prospects/watch/y2012/#list=nyy
CURRENT PROSPECT RANKING, ORGANIZATION: 18
Height: 6' 2", Weight: 190
DOB: 09/06/1993

He is big, has tremendous speed, a cannon arm and projects as a power bat as well. There are discussions internally about possibly moving him to the OF, CF specifically, however the Yankees simply do not have a viable SS prospect in their system that projects better than Aune, and that includes Cito Culver, the Yankees No. 1 pick in 2010.
The key differential between Aune and Culver is size and projectability. Where Culver is in the mold of shortstops from the 1980's and prior, Aune is unquestionably a perfect example of the modern shortstop based on his size and power potential.
The Yankees have struggled to identify a clear heir to Derek Jeter, and make no mistake about the fact that it is no small thing to replace one of the best players to ever play the position. Current Yankees utility player Eduardo Nunez is a dynamic option, with great speed and a powerful arm as well, but his defensive lapses represent a tremendous obstacle in his pursuit of a regular slot in the lineup.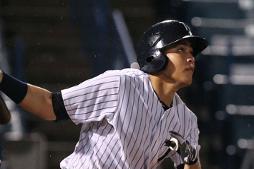 http://newyork.yankees.mlb.com/mlb/prospects/watch/y2012/#list=nyy
CURRENT PROSPECT RANKING, ORGANIZATION: 10
Height: 5' 11", Weight: 190

DOB: 03/26/1992
Ramon Flores does not have the size or power possibilities of the other prospects mentioned here; however, he may very well be the purest hitter amongst the group.
His .302 average and 29 doubles over 132 minor league games in 2012 demonstrate that the ability is there, and his ability to play all outfield positions is a clear advantage to have when competing for a roster spot.
While Flores is not necessarily known for breakout speed he did steal 24 bases during the course of the 2012 season. This is the kind of threat the Yankees currently do not possess enough of, and this kind of athleticism will be an additional weapon for Flores to boast.
His 2012 OBP of .370 was outstanding, although his strikeout totals (85 in those 132 games) needs watching. 29 doubles across 132 games is no small matter either, and bodes well going forward in terms of Flores' RBI capabilities.