Ranking the 10 Most Decorated World Champions in Wrestling History
Becoming world champion is undoubtedly the crowning achievement in any wrestler's career, a defining moment that shows he has reached the pinnacle of the industry.
However, the fact that David Arquette and Vince Russo are former world champions shows that it isn't always the most talented people who receive the opportunity—especially when you consider that legendary stars, including Curt Henning and Scott Hall, never captured a world title during hugely successful careers.
This list will count down the 10 names who, despite not necessarily being the greatest, are the most highly decorated world champions in wrestling history. When it comes down to a tie, stars are ranked based on how many days in total they held world title gold.
Note: To be eligible for inclusion, a wrestler must have captured at least two significant world championships over the course of his career.
Begin Slideshow

»
Mitsuharu Misawa is the most successful world champion that Japanese Wrestling has ever produced. The first man to hold the AJPW Triple Crown five times, Misawa also held the GHC World Heavyweight Championship on three occasions after forming Pro Wrestling NOAH in early 2000. Before his untimely death in June 2009, "The Standard Bearer for Future Generations" had spent an impressive 2,509 days in his career as world champion.
Harley Race was one of the biggest names in the industry during the height of wrestling territories and captured the NWA World Heavyweight Championship no less than eight times between 1973 and 1984, often trading the belt with archrival Ric Flair.
Verne Gagne is rightly regarded as a legendary name in the business and captured the AWA World Heavyweight Championship 10 times during a legendary 32-year career, but the criteria for these rankings only includes performers who've won at least two different world titles.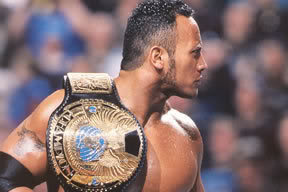 "The Great One" was the first man to hold the WWE Championship seven times, and he also captured two WCW World Heavyweight titles to end his full-time wrestling career with nine world title victories under his belt.
As Vince McMahon's hand-picked champion, The Rock controversially won his first WWF Championship in the final of the Deadly Game tournament at Survivor Series 1998. Entering a memorable feud with Mankind, the two traded the belt back and forth, and "The People's Champion" was a three-time title winner by February 1999.
The Rock enjoyed four more runs as world champion before his departure from the company, his seventh and final reign ending at the hands of rising star Brock Lesnar at Summerslam in August 2002. During this time, "The Great One" also had two short reigns as WCW World Champion between August and December 2001.
One of the most enduringly popular superstars in history, The Rock surprisingly only spent a miserable 394 days as world champion during his nine title reigns. He's not the greatest of world champions when it comes to longevity, but he's one of the most popular, and it seems as though "The People's Champion" is almost guaranteed a 10th stint with world title gold when he faces the WWE Champion at the upcoming Royal Rumble.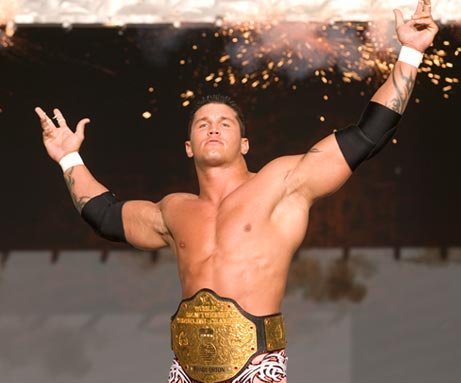 Randy Orton became the youngest world champion in WWE history when he captured the World Heavyweight Championship from Chris Benoit at Summerslam in August 2004. Since then, "The Viper" has gone on to lift a total of nine world titles with the company.
His inaugural World Heavyweight Championship would remain Orton's only run with world title gold for over three years, before he was awarded his first WWE Championship by Vince McMahon at No Mercy 2007. "The Apex Predator" went on to immediately drop the belt to Triple H but ended the night as a two-time champion after overcoming "The Game" in a Last Man Standing rematch.
By September 2010, Orton was a six-time WWE Champion, before adding two more World Heavyweight Championships between May and August of 2011. His longest single run with either title amounts to little over six months, and "The Legend Killer" has spent only 558 days as world champion during his career.
Still only 32 years old, there is no doubt Randy Orton will once again capture world title gold, sooner rather than later, and find himself higher up the rankings in years to come. Whether he can cement his legacy as a great world champion remains to be seen.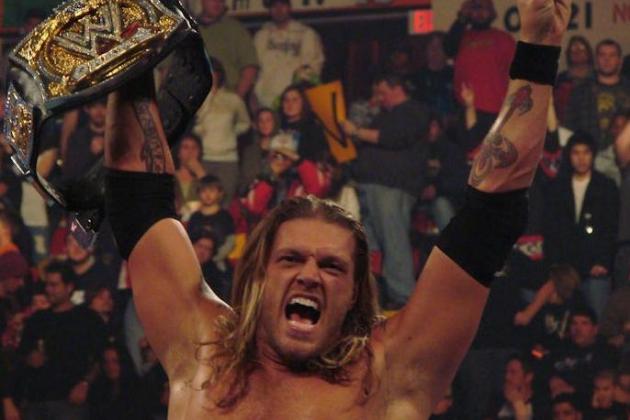 One of the most decorated singles competitors in WWE history, "The Rated-R Superstar" went on to win no less than 11 world championships between January 2006 and his unfortunate retirement in April 2011.
Cashing in his Money in the Bank briefcase to lift the WWE Championship for the first time in January 2006, Edge began his fourth and final run with the belt in January 2009. However, all but one of these reigns lasted only three weeks, meaning "The Ultimate Opportunist" never received a solid run as champion.
Moving to Smackdown, Edge cashed in his second Money in the Bank briefcase on The Undertaker in May 2007, en route to a record-breaking seven World Heavyweight Championships. During this period, the title was switched with alarming regularity, and the longest "The Rated-R Superstar" ever held onto the belt was a little over three months between December 2007 and March 2008.
One of the few stars lucky enough to retire while in possession of a world title, the majority of his reigns were over before they really gained much momentum, and Edge amassed only 548 days in total as world champion.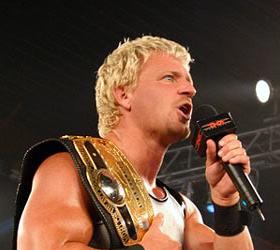 That's right. Jeff Jarrett is no less than an 11-time world champion.
After returning to WCW in October 1999, Double J captured his first WCW World Heavyweight Championship six months later. Jarrett would ultimately hold the belt four times by July 2000, with his longest run with the belt coming to only 41 days.
After forming TNA with his father Jerry, "The King of the Mountain" held the NWA World Heavyweight Championship six times between 2002 and 2006 before TNA cut their ties with the National Wrestling Alliance. Jarrett was a much worthier champion during this time as five of his title reigns lasted over 100 days, with the longest running from June 2004 to April 2005.
"The Chosen One" captured his last world title to date when he lifted the AAA World Heavyweight Championship in Mexico City in June 2011, going on to enjoy the longest reign in the title's history at 274 days.
Benefiting greatly first from Vince Russo and then from his father's willingness to push him as a top star, Jeff Jarrett's 11 world title reigns definitely do not reflect his standing in the industry. However, he has accumulated over 1,000 days as world champion, and you cannot argue with that.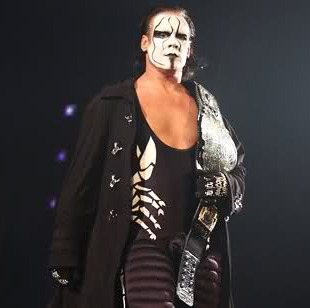 Quite possibly the greatest star to never work for Vince McMahon, Sting can nonetheless lay claim to being one of the most decorated world champions the business has ever seen, with 12 world titles to his name.
Still going strong today at age 53, "The Stinger" captured his first NWA World Heavyweight Championship all the way back in July 1990 and held onto the belt for over six months. After separating from the NWA and establishing their own world title, Sting became the third-ever WCW World Heavyweight Champion and began an 134-day reign in February 1992. A third world title win came in early 1993, although this lasted for only six days.
Following this, "The Icon" would go without the belt for over four years before defeating Hollywood Hogan in a hugely anticipated match at Starrcade in December 1997. "The Stinger" eventually became a six-time WCW World Champion, although his first reign as champion was actually longer than the other five combined.
After several years in the wilderness following WCW's purchase by Vince McMahon, "The Stinger" signed with TNA and eventually captured his first NWA World Heavyweight Championship in sixteen years in October 2006, before dropping the belt only four weeks later. After TNA severed ties with the NWA, Sting became a four-time TNA World Heavyweight Champion between October 2007 and August 2011.
In addition to his recognized accomplishments, "The Icon" is also a two-time WCW International World Heavyweight Champion and has held the WWA World Heavyweight Championship. One of the most respected workers to ever step inside the ring, Sting has the accolades to match his status in the industry.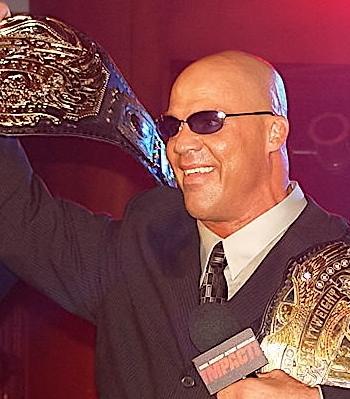 One of the greatest pure athletes in wrestling history, Kurt Angle has also won 12 world titles over a highly consistent career.
Winning the WWF Championship less than a year after his television debut, "The Olympic Hero" would hold onto the belt for four months. Angle ultimately became a four-time WWE Champion, dropping the strap for the final time to Brock Lesnar in September 2003. The Olympic gold medalist would also have a forgettable six-day run as WCW World Champion in July 2001 during the Invasion angle.
In January 2006, "The Wrestling Machine" would claim the World Heavyweight Championship after winning a Battle Royal in his first appearance on Smackdown following a brand switch, and he held the belt until Wrestlemania 22. Four months later, he was gone from the company.
Making his TNA debut in October 2006, Angle became the inaugural TNA World Heavyweight Champion in May 2007 and has since held the belt five times, for a company-record 463 days as champion. "The American Hero" also enjoyed an eight-month run as IWGP Heavyweight Champion between June 2007 and February 2008, although he only defended the belt four times.
Quite possibly the greatest all-round performer in the history of the business, Kurt Angle has proved himself as one of the best over his dozen reigns as a world champion, and it seems likely he will capture the TNA World Heavyweight Championship again to add to his impressive list of achievements.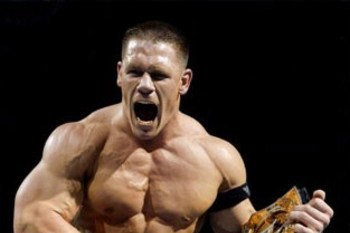 John Cena began his career as a world champion with a nine-month reign between April 2005 and January 2006 and has gone on to capture the WWE Championship a record 10 times, as well as an additional two World Heavyweight Championships.
Cena's third run with the belt was his most successful, carrying the title for 380 days and becoming the longest-reigning WWE Champion since Hulk Hogan in the 1980s. After this, however, booking overkill began to follow the Cenation leader wherever he went.
Lifting his first World Heavyweight Championship at Survivor Series in November 2008, Cena only held onto the belt for less than three months. The face of the company would win the belt for a second time at Wrestlemania 25, dropping it to Edge a mere three weeks later.
Focusing his attentions back to the WWE Championship, Cena captured the WWE Championship four times in only eight months between September 2009 and May 2011. His final two stints as WWE Champion combined for a total of only 34 days, and he hasn't captured the big one since dropping it to Alberto del Rio in October 2011.
Now moving back into the WWE Title picture and embroiled in an ongoing rivalry with CM Punk, it seems to be a question of when John Cena will add to his impressive 1,163 days as a world champion, not if.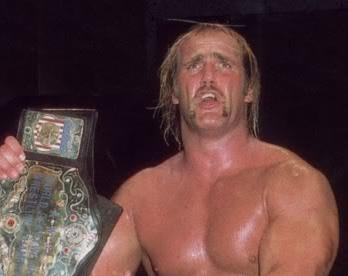 The man who helped bring wrestling to the mainstream, Hulk Hogan is still one of the most recognizable stars the business, as well as one of the greatest world champions of all time.
Beginning his first reign as WWF Champion in January 1984, "The Hulkster" would hold onto the belt for an incredible four years before dropping it to Andre the Giant. His next two runs with the strap would last 364 and 248 days respectively, cementing his place as one of the great world champions. Hogan eventually left the WWF in 1993 as the company's first ever five-time world champion.
After signing for rivals WCW, Hogan was treated as the organization's top star and won the WCW World Heavyweight Championship in his debut match, holding onto the belt for an impressive 15 months. Turning heel for the first time in his career and fronting the New World Order, the most popular stable in the business, "The Hulkster" became a six-time WCW World Champion and held the belt for a combined total of well over 1,000 days before departing under acrimonious circumstances in early 2000.
Returning to the WWE in 2002, Hogan won his final world championship when he enjoyed a short four-week reign as champion after defeating Triple H at Backlash in April 2002.
Over the course of his 12 reigns, Hulk Hogan accumulated an incredible 3,362 days as a world champion, ensuring that the biggest name in wrestling history is remembered as one of the greatest stars to ever call himself world champion.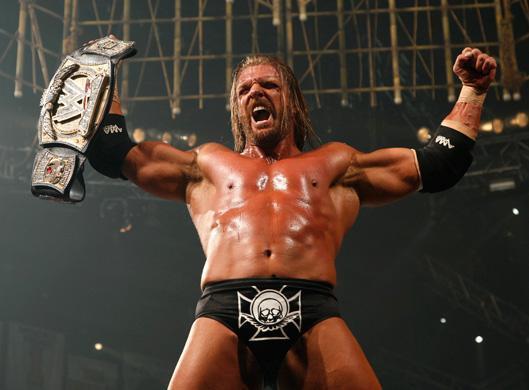 It is no secret that Triple H idolized "The Nature Boy" Ric Flair when he was growing up, so it comes as no surprise to find that "The Game" has enjoyed a similarly decorated career, winning no less than 13 world championships.
Capturing his first WWF Championship in August 1999, Triple H went on to dominate the main event scene in the company and began his fifth run with the title less than three years later in March 2002.
After being named as the inaugural World Heavyweight Champion that September, "The Cerebral Assassin" would also hold that particular title on five occasions, including an impressive 280-day reign between December 2002 and September 2003.
When the World Heavyweight Championship was taken to Smackdown following Triple H's loss to Batista at Wrestlemania 21, "The Game" refocused his attentions to the WWE Championship and captured the belt for the first time in over five years at No Mercy in October 2007, before losing it to Randy Orton by the end of the show.
In February 2009, "The King of Kings" claimed a record eighth WWE Championship from Edge, only to drop the belt to "The Legend Killer" a little over two months later. Ultimately, this would be Triple H's last world championship to date.
With increased corporate responsibilities and a reduced in-ring schedule, it seems unlikely that "The Game" will capture a major world title again. Despite accusations that his involvement with the McMahon family accelerated his career, he has proved over 13 title reigns and 1,155 days as world champion that he deserves his place among the all-time greats.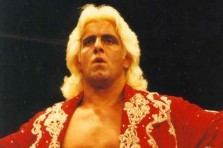 As well as being the most decorated world champion in wrestling history, Ric Flair is renowned as one of the industry's greatest-ever talents thanks to a massively successful 40-year career. Officially a 16-time world champion, "The Nature Boy" actually considers himself to have won an unprecedented 21 world titles.
One of the biggest draws of the 1980s, Flair captured the NWA World Heavyweight Championship a record 11 times between 1981 and 1993. Although his second title win isn't officially recognized by the company and a further two were only retroactively acknowledged in 1993, "The Nature Boy" nonetheless accumulated over 3,000 days as NWA World Champion. Five of these reigns lasted over a year, with the longest an impressive 793 day stint between May 1984 and July 1986.
A short run with the WWF between August 1991 and February 1993 saw "The Nature Boy" capture the WWF Championship twice, although both reigns only combined for a disappointing 118 days before he departed the company.
After WCW split from the NWA in September 1993 while he was still champion, Flair enjoyed two reigns with the short-lived International Heavyweight Championship, which eventually became unified with the WCW World Championship in June 1994. However, these are no longer acknowledged as official world title reigns.
"The Dirtiest Player in the Game" captured his final world championship when he lifted the WCW World Championship for a record seventh time on May 29, 2000 after the belt had changed hands three times in a week. (It could be argued that Flair won eight world titles with the company, but his third reign isn't officially acknowledged after a double pin finish in a match with Ricky Steamboat in April 1994.)
With an official record of eight NWA, six WCW and two WWF world title wins, Ric Flair is without a doubt one of, if not the, greatest world champions in history. And if you include the five title reigns that aren't officially recognized, they further cements his credentials as "The Man."
So there they are, the 10 most decorated world champions in wrestling history.
Most of these names shouldn't come as a surprise, but there are some interesting discoveries. The Rock's disappointing total days as champion come as a surprise, while Jeff Jarrett doesn't strike me as somebody who deserved to win 11 world titles.
Let's hear your opinion on this one.
What do you think of the rankings?
Do these stars deserve their places among the greatest world champions?
As always, sound off in the comments below.