Oh Tony Eury Sr., Where Did You Go?
March 15, 2009
In 2004 it looked like Dale Earnhardt Jr. was starting to become what his father was in a sense, as in consistency and winning. It took Earnhardt 14 less tries to win The Great American Race.
In Earnhardt's first five years in the Sprint Cup Series, he totaled 15 wins and six poles. Tony Eury Sr. played a big role in that.
Eury Sr. was Earnhardt's crew chief through his two Nationwide Series years, in which he won two championships in dominating fashion. The duo was an example of what a good crew chief matched with a good driver can do when they work together, and understand where each other are coming from.
They continued that success for Earnhardt's first five season in the Sprint Cup Series, NASCAR's elite racing division.
Together they showed promise and moments of brilliance, and what was to come for Earnhardt's racing career. They were a match made in heaven.
In 2004, they showed potential to win races by being consistent. With six wins, 15 top-fives, and 21 top 10's after the 2004 season, the duo was an early favorite in 2005 to win the Sprint Cup championship.
Switching equipment with Michael Waltrip's team brought a halt to that, and they finished a disappointing spot in the Cup standings.
The next season brought another change for son of the late great Dale Earnhardt. Eury Sr. was no longer his crew chief, instead it would be Eury's son: Tony Eury Jr.
Nobody knew exactly what to expect from the No. 8 team that year. In Eury Jr's first year as he crew chief, he led his race team to one win at Chicagoland Speedway, and a fifth place finish in the standings.
High expectations were held for Earnhardt Jr., and Eury Jr. the following year in 2007. Unfortunately, those expectations were not even close to being met.
With zero wins, only seven top-fives, 12 top-10's, and an embarrassing 16th place finish in the point standings, things had to change. And they did.
Earnhardt ended up leaving his father's race team (all in part because Teresa Earnhardt is very selfish), and joined forces with a rival, Rick Hendrick.
It had been almost a full year since NASCAR's most popular driver had been to Victory Lane, and his fans were becoming more antsy and disappointed with every race that passed with out an Earnhardt name at the top.
One could blame the under achievement to the equipment Teresa Earnhardt was providing him, even some people were arguing maybe Earnhardt isn't who he was hyped up to be.
But one thing a lot of people noticed was the down fall of Earnhardt's consistency, and lack of wins was the communication between he and Eury Jr. In three years as a crew chief, Eury Jr. had only two wins.
Would the switch to the powerful and dominant Hendrick Motorsports change that?
Could Rick Hendrick get Earnhardt a championship?
Earnhardt Jr. started the 2008 inaugural season with Hendrick off with a bang.
He dominated the Budweiser Shootout, and won his Gatorade Duel race leading up to the Daytona 500.
The duo ended up finishing ninth in the Daytona 500, which was a disappointment to a lot of race fans who expected Earnhardt to win, or at least finish in the top-five.
Through the first half of the season, Earnhardt was one of the most consistent drivers, and ranked third in the Sprint Cup standings.
However, the wins were not there. With the only win being at Michigan—off fuel mileage—and Earnhardt being so dominant at times in the race, it really made me think of why the team had only one win.
It didn't add up to me.
The No. 88 teams should've had at least four wins.
The only thing to point to, was the communication between him and Eury Jr. There were times where it seemed like they were both totally confused on strategies and how to set the car up later in the race.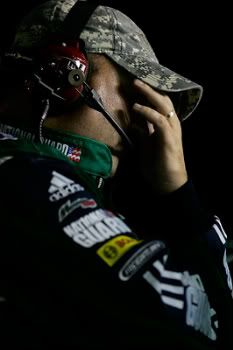 They are lucky they have the luxury of having such great equipment, because if they didn't they would not be in the top-five in points, that's for sure.
Rarely did I ever see the cousins on the same page. Yes, they were consistent and they were finishing in the top-10 most of the time, but the bottom line was, they weren't winning.
To make a long story short, they made the Chase—ran horrible—and finished 12th in points.
A disappointment if you ask me.
We are now through the first four races of the 2009 race season, and Earnhardt Jr. currently sits 24th in the standings.
Yes, some of his poor finishes he only has himself to blame, but since Daytona where the  team possibly had a car capable to win, they have completely been off on his setups for the races.
People say maybe it's a reverse year.
Maybe they will get all their bad runs out of the way now and really hit their mark as they enter the Chase.
If they make the Chase.
Earnhardt and Eury Jr. need to get on the same page, or it's going to be a long season for Junior Nation.
Who knows, maybe they will turn it around.
But until then, people will continue to hear me cry and be heard over the mountains saying: "Oh Tony Eury Sr., where did you go!"