Stanford Football: What We Learned from the Win against Colorado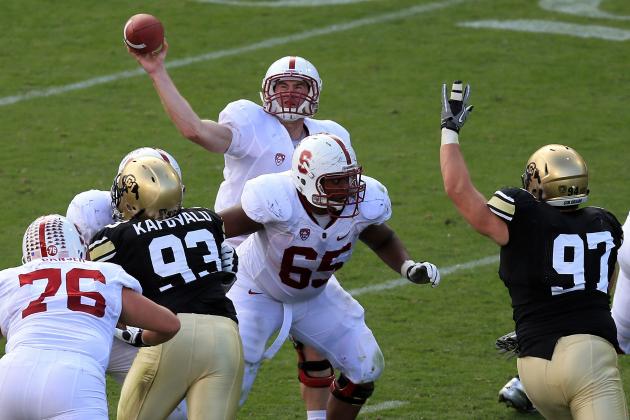 Doug Pensinger/Getty Images

The No. 14 Stanford Cardinal (7-2, 5-1 Pac-12) flew into Boulder and turned in a dominant performance against the Colorado Buffaloes (1-8, 1-5 Pac-12). The 48-0 victory was somewhat expected, but the game meant so much more than just a notch in the win column.
With matchups against a couple of tough teams coming up, the game against Colorado was the last "easy" one that the Cardinal would have. The momentum and clarity gained from this game will surely help Stanford as it moves into one of the toughest parts of its schedule
Next week, the No. 11 Oregon State Beavers will travel to Stanford Stadium. The week after that, Stanford will be in Eugene for the biggest game of its season. That, of course, is against the No.4 Oregon Ducks, who defeated No. 17 USC 62-51.
So, what exactly did we learn about the Stanford Cardinal this week?
Begin Slideshow

»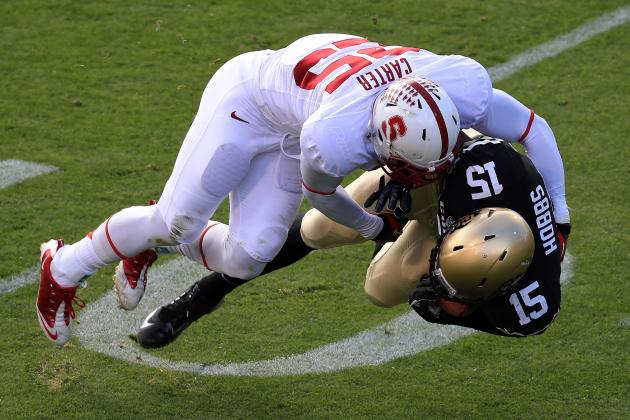 Doug Pensinger/Getty Images

Stanford's secondary is by far the weakest part of its defense and there's no question about it. We've all witnessed how physical the defensive line and linebackers can play. It's the secondary that needs to do better before the Cardinal defense can be considered one of the best in the nation.
In fact, before this game Stanford came in at No. 114 out of 124 in passing yards allowed per game. To put that in perspective, Colorado, known as having the worst defense in the nation (dead last in scoring defense), is 119th in that same category.
Stanford had a pretty great game, holding the Buffaloes to 97 passing yards. This is less than half of what Colorado averaged coming into the game (205.3).
Safety Ed Reynolds is quickly becoming a big name for the Stanford secondary. In his second consecutive game, he had returned an interception for a touchdown. This time it was a 52-yarder that gave Stanford its first points of the game.
Reynolds now has a total of five interceptions, of which three were returned for touchdowns.
True freshman cornerback Alex Carter also had a big game. He was physical and certainly seemed to be Stanford's lockdown corner for the game.
Carter laid out Colorado tight end Nick Kasa and forced a fumble.This was Carter's third forced turnover in four games.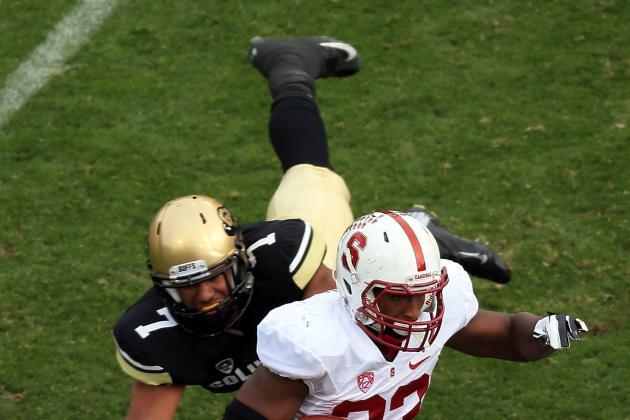 Doug Pensinger/Getty Images

Stanford's star running back, Stepfan Taylor did record two rushing touchdowns against the Buffaloes but did so only with 10 carries and 43 yards.
His 10 attempts were the lowest he had all season, and it just goes to show that the offense doesn't need to depend on him. He wasn't even the team's leading rusher, but we'll get to that later.
The fact that the Cardinal could put up 48 points on the board with only 12 of those as a result of Taylor is a great sign for the next few games.
Stanford prides itself on running the ball and playing physical, but being able to mix it up with a passing game and play action really helps the offense, which has sometimes struggled to score. They've only scored more than 24 points three times this season.
The Cardinal will need as many points as they can get against the likes of Oregon and UCLA coming up.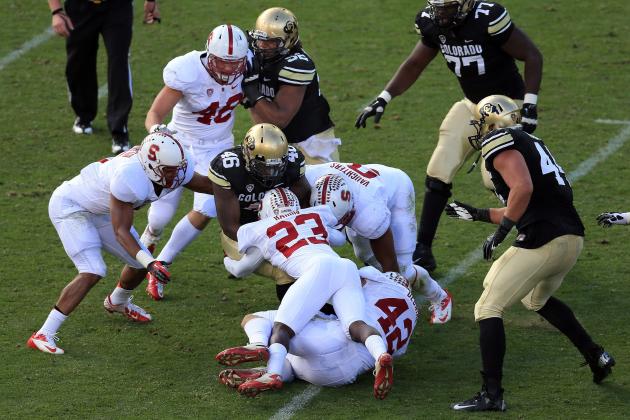 Doug Pensinger/Getty Images

The Cardinal defense recorded their first shutout of the season. In doing so, they snapped Colorado's streak of scoring in 150 consecutive home games, which goes back all the way to 1986.
The defense had seven sacks and didn't allow Colorado to get its run game going at all. Stanford's dominant run defense held the Buffs to minus-21 rushing yards. This is the second consecutive game in which the Cardinal held an opponent to negative rushing yardage.
With this performance, Stanford now has the No. 1 rushing defense in the nation. This is because Alabama had a tough time stopping the LSU run game.
The strong run defense that Stanford is known for will truly be tested in Eugene when they face Kenjon Barner and the Oregon Ducks.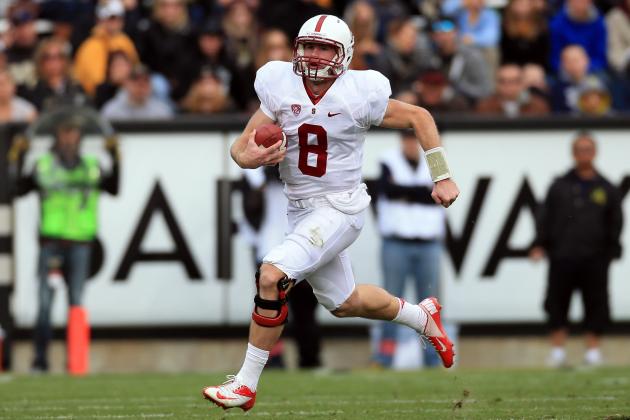 Doug Pensinger/Getty Images

Josh Nunes has been Stanford's starting quarterback for all of this season so far. This will most likely change next week when the Cardinal face Oregon State.
Nunes was given the first two series of the game against Colorado. He failed to lead the offense to a score on both of those.
David Shaw then gave Kevin Hogan the keys to the offense. Hogan was a huge improvement. He went 18-of-23 for 184 yards and two touchdowns. He also was the team's leading rusher with 48 yards.
In the seven drives that he led, five of them resulted in touchdowns, and one ended with a field goal. This kind of efficiency is what Stanford has been looking for all season.
Stanford fans can only wonder if their team would be 8-0 if David Shaw had given Hogan the nod at the start of the season.
We will see if Hogan is the real deal against a tougher defense in Oregon State. But there's no doubt that Hogan has re-energized the program and given fans hope for the rest of the season.