Kansas State Football: 10 Things We Learned from the Win vs. Oklahoma State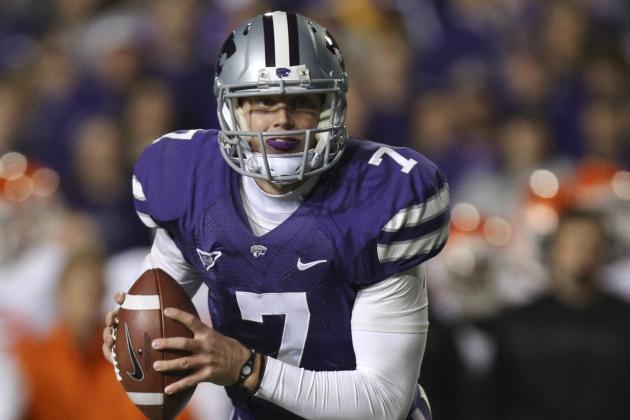 Ed Zurga/Getty Images

The Kansas State Wildcats achieved a big win on Saturday over the Oklahoma State Cowboys in Manhattan, Kansas, 44-30. On a national TV stage, the Wildcats taught us all quite a few things about just what kind of team they are.
The Cowboys are no slouch. Mike Gundy's team has athleticism, and many expected it to be a test for Kansas State. While it was not a blowout like the Wildcats' other recent games have been, it was game that showcased the fact that Kansas State was simply the better team on the field.
Bill Snyder has this team rolling toward a national championship appearance, and the things we learned in this game only confirm that fact.
Begin Slideshow

»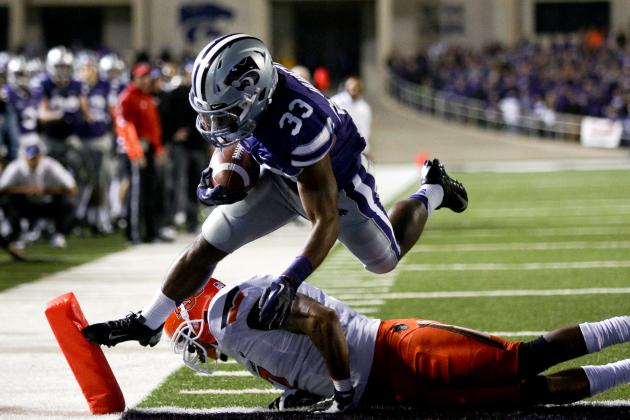 Ed Zurga/Getty Images

When a player is a leading contender for the Heisman Trophy, it means that he is important. On most teams, even Top 10 teams, if the Heisman contender goes down, the team likely goes down with him.
Not this Kansas State team. The Wildcats played the last quarter and a half without Collin Klein, their Heisman race-leading quarterback. They held Oklahoma State at bay, while also putting enough points on the board to pull out a win.
I am not saying that Kansas State can win it all without Klein, but the fact that they were able to dispatch the Cowboys with him out does speak to how talented the rest of the team really is. Klein has been thought of as a one-man show, but that is not the case.
Ed Zurga/Getty Images

This might be the most obvious entry on the list, but it belongs nonetheless. This Bill Snyder guy can really coach some good football.
Three years ago, this Kansas State team was struggling to make bowl games, a picture of mediocrity. Today, they are just a few wins away from going to a national championship game, and the credit for that turnaround goes first and foremost to Snyder.
He has found the recruiting diamonds in the rough, and he has coached this team to play efficiently. In this game, he coaches his team to exploit the opponent's weaknesses and use them to propel the ship to a victory.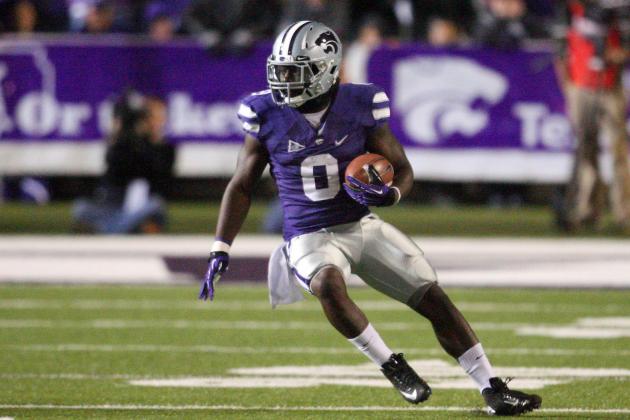 Scott Sewell-US PRESSWIRE

This Kansas State team has far more athleticism than most of us realized before this game. Oklahoma State has athletes on both sides of the ball, but Saturday night they were clearly the inferior team out there.
While much of that is due to the Wildcats' coaching and efficient style of football, much of it is also due to the athleticism that this team has. No team can look as good as they did Saturday night and be as unathletic as this team has been labeled in the past.
Angelo Pease, Allen Chapman and Ty Zimmerman all proved their talent Saturday night, and they were not the only ones. The Kansas State defensive front consistently outmuscled Oklahoma State's offensive line, and the secondary made big-time athletic plays.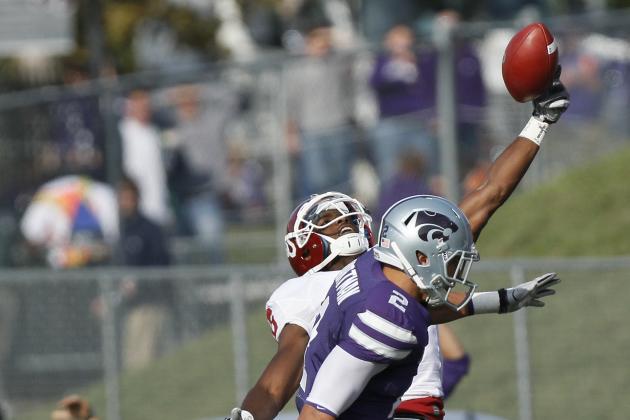 Ed Zurga/Getty Images

Speaking of Allen Chapman, he is a beast. Grabbing one interception in a game is impressive in and of itself. Intercepting two passes is almost unheard of. Achieving the interception trifecta is downright magical, and that is what Chapman did Saturday night.
These were not just bad throws that happened to come in his direction either. Chapman earned his interceptions, and each required athleticism and high football IQ for him to get. The Cowboys did not hand over the ball so much as Chapman simply took it away.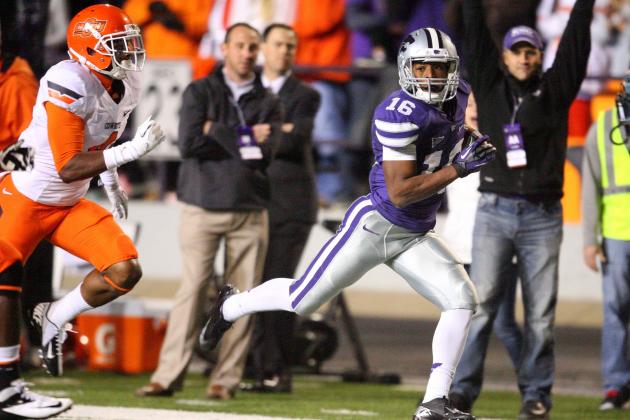 Scott Sewell-US PRESSWIRE

The Oklahoma State Cowboys did a horrendous job throughout the game of covering kickoffs, and the Kansas State Wildcats proved that they will exploit such errors if their opponents choose to commit them.
The Wildcats returned a total of four kickoffs in the entirety of the game and averaged 49.8 return yards on each. Tramaine Thompson returned 60 yards to set up a scoring drive, and Tyler Lockett returned one 100 yards from his own end zone to score a touchdown.
Special teams is another area in which the Wildcats' efficiency spills over, and they proved that they will dominate in that phase when facing an opponent who is making mistakes. The Cowboys made mistakes, and the Wildcats took full advantage.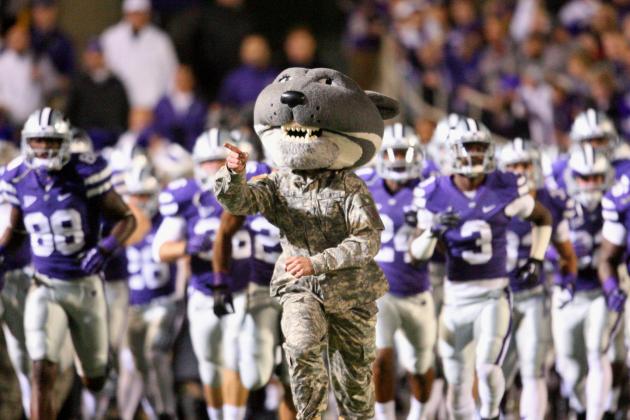 Scott Sewell-US PRESSWIRE

When you look at the Kansas State defense and the yardage it gave up to Oklahoma State, the stats do not really impress you. The Wildcats gave up 504 yards of total offense, including 417 through the air.
However, they also forced five turnovers and limited the Cowboys to converting just 3-of-12 on third downs. They proved that yards are not the only thing to consider when judging a defense, and that is something everyone needs to learn.
At the end of the day, defense is not about how many yards you hold your opponent to. It is about preventing your opponent from scoring more points than you do, and that is what Kansas State has done all year by forcing turnovers and limiting third-down conversions.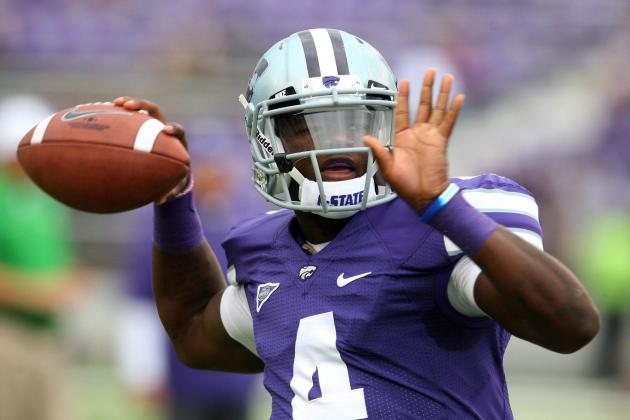 Scott Sewell-US PRESSWIRE

When Collin Klein went out, one could hardly blame any Kansas State fan for worrying about what would happen to the offense. After all, Klein is a Heisman Trophy candidate and the unquestioned leader of this team.
Then Daniel Sams came in and put all those worries to rest. The redshirt freshman completed six of seven passes for 45 yards and rushed the ball seven times for 20 yards. But above all the stats, Sams stabilized the offense.
He kept the ball secure, and he even led his team on a few scoring drives. Granted, he didn't do anything spectacular, but this team is not about being flashy. It is about winning the efficient way, and Sams proved he can do that.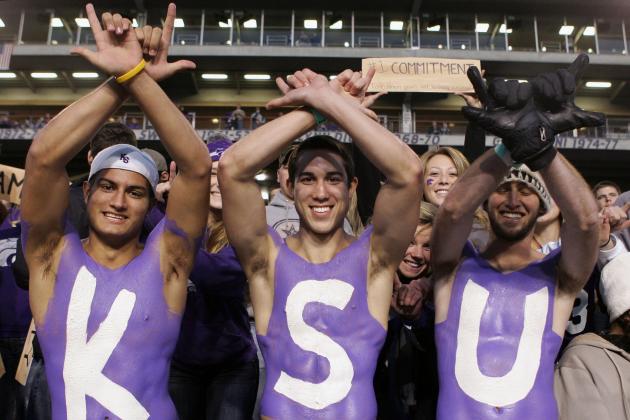 Scott Sewell-US PRESSWIRE

There are many great atmospheres in college football. In fact, one of the best, Baton Rouge, had a big game in it this week. But in this game, the Kansas State crowd proved that Manhattan, Kansas deserves to be among those toughest places to play in the nation.
There were multiple times watching it on TV where I could hear the crowd and could see the almost-tangible effect it was having on Oklahoma State. They were loud, rowdy and they supported their team through it all. Those are the ingredients for a great stadium experience, and Kansas State has it.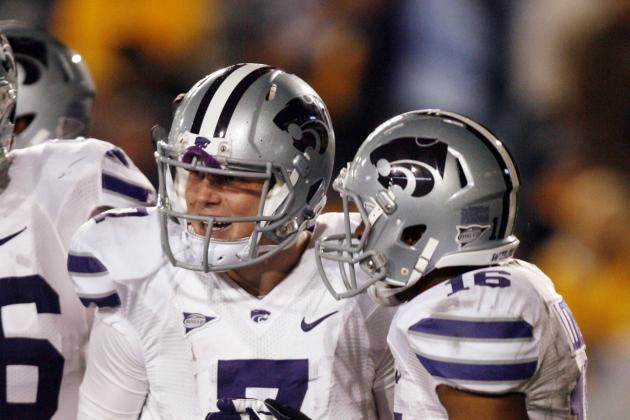 Charles LeClaire-US PRESSWIRE

The Kansas State Wildcats get a lot of publicity for being a ground-and-pound team that wins by running the ball. While that is true, there is also a ton of credit that must be given to the players that play wide receiver.
Tyler Lockett, Tramaine Thompson and Chris Harper are all major difference-makers at the wide receiver position, and they are a big reason why Collin Klein has such a high passer rating. They are athletic and have great hands, attributes that every quarterback wants to throw to.
They combined against Oklahoma State for 14 catches for 229 receiving yards. There is no denying the fact that they played a major part in moving the chains against an Oklahoma State defense that dared them to do so.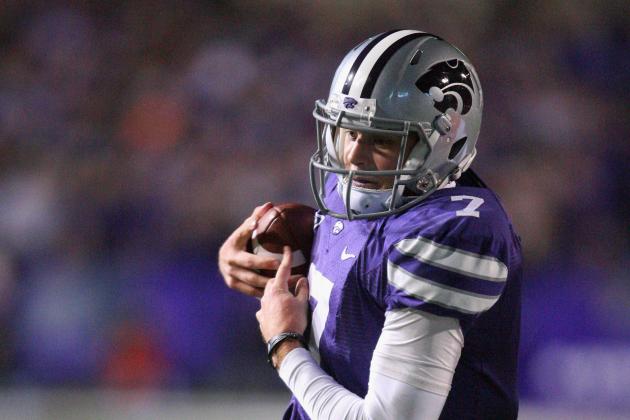 Scott Sewell-US PRESSWIRE

In today's game, offenses score with reckless abandon, not worrying about keeping the ball from the opponent. Instead, they worry about putting up as many points as possible, as fast as possible.
Kansas State takes the old-school approach, and it works. Faced with that type of fast-paced offense, the Wildcats held the ball, dominating the time of possession by over 15 full minutes.
The result was an Oklahoma State offense that was unable to get into a consistent groove, and a Kansas State defense that was well-rested. That is why Kansas State is still undefeated, and still on its way toward a national championship.