WWE/TNA/ROH: My Top 10 Moments of the Week (Oct. 29-Nov. 2)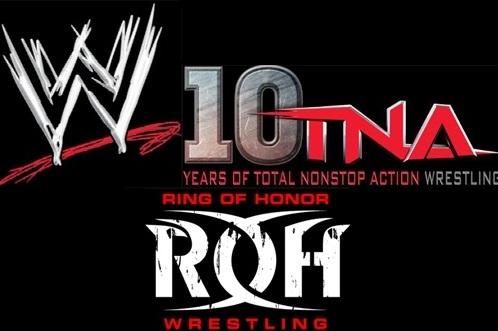 logos from wwe.com, impactwrestling.com, rohwrestling.com
As another week of professional wrestling comes to a close, I return with my top moments of the week!
I apologize for disappearing for a while, but I just needed a break. As you can see, I put the moments back down to 10 from the previous 15. That is due to my schedule as I don't have much time to watch shows like Superstars, NXT or Main Event. When I am able to watch them, the three shows will be included, and the number of moments will be bumped back up to 15.
The Hell in a Cell pay-per-view will not be included either this week since I was unable to watch the event, but PPVs will back on the list starting with TNA Turning Point next Sunday.
This week's list includes moments from WWE Monday Night Raw and Friday Night SmackDown, TNA Impact Wrestling and the Oct. 27 episode of ROH Wrestling, all of which delivered this week in their own ways.
The usual format of the opening slide will return next week; I just wanted to do a quick introduction this week due to this being my first one in about two months. What will be the same, though, is your ability to vote on what you thought was the best show this week. So click here to cast your vote!
So without further delay, here are my top 10 moments of the week, starting with what I thought was the worst moment this week!
Begin Slideshow

»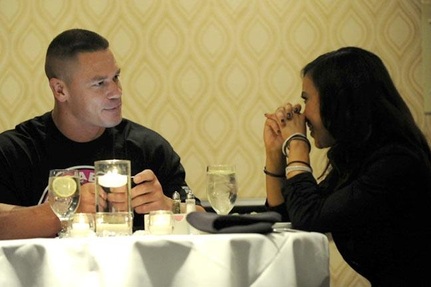 photo from thejohncenablog.blogspot.com
As my top 10 moments of the week returns, so does the worst moment of the week. For me, the worst moment this week was the John Cena/AJ Lee affair.
The in-ring segment on Raw was incredibly boring, and I kept expecting Claire Lynch, or just a pregnant woman, to come out to make things worse. The fact that this is eerily similar to the TNA storyline just makes this even worse, in my opinion.
Sure, affair storylines in wrestling are nothing new, but so far WWE's has mirrored TNA's. The proof Vickie Guerrero has—a photo of Cena and AJ having dinner and a video of the two of them getting into an elevator—were almost exactly the same as Christopher Daniels' proof of AJ Styles and Dixie Carter's affair before Claire got involved.
I wouldn't be surprised if Guerrero's next piece of evidence was a phone call between Cena and AJ. Hopefully Styles' little jab at WWE this past Thursday on Impact Wrestling will get them to change it up.
With John Cena being the face of the company, I figured they'd have a better storyline for him than this.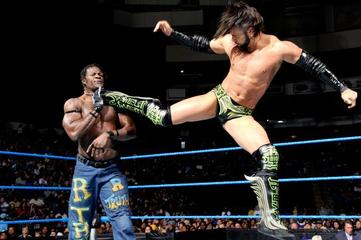 copyright to wwe.com
R-Truth and Justin Gabriel delivered an entertaining match this past Friday on SmackDown. With a quickened pace, the two superstars gave fans a good match. These two wrestlers ended up working well together despite their different styles.
Both of them could be huge stars with the WWE if given the chance.
They were doing great with R-Truth during his heel character, but he's now being wasted with this Little Jimmy comedy gimmick. I feel the gimmick is holding him back.
Gabriel is incredibly talented and should be pushed in the midcard. I think he'd make a great Intercontinental or United States champion, but it remains to be seen if he gets a more active role.
I hope to see both superstars featured more often sooner rather than later.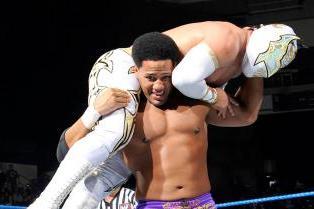 copyright to wwe.com
I thought this match between Sin Cara and Darren Young was an enjoyable one. With some nice back-and-forth action throughout, both superstars delivered in this match.
I'm glad to see how much Sin Cara has progressed since his debut. He has gone from the master of botching to a solid in-ring performer. Working with Rey Mysterio has done wonders for him!
Young has also progressed nicely as a wrestler as well. I wasn't too impressed with him when the Prime Time Players debuted, but I'm starting to turn around. He's definitely the star of the Prime Time Players tag team in terms of wrestling ability.
The match was also good build for the feud between the Prime Time Players and Rey Mysterio and Sin Cara. While the feud just seems like a filler to keep both teams busy, it's been a pretty decent one. I don't think it'll last too much longer, though.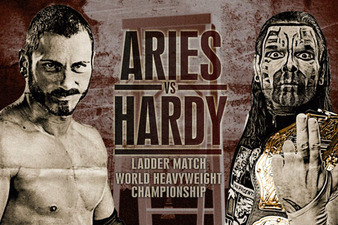 copyright to impactwrestling.com
While the matches this past Thursday on Impact Wrestling were disappointing, the in-ring and backstage segments helped hype up TNA Turning Point on Nov. 11.
As of this writing, five matches are set for the PPV. These five were built up more on the show, which is a good thing. Jeff Hardy vs. Austin Aries added a ladder match stipulation, Magnus' heel actions put the Television Championship match in place and in-ring segments helped advance Kurt Angle vs. Devon, the Tag Team Championship match and set up the Triple Threat No. 1 Contender's Match.
With just five matches so far, Turning Point is already looking strong due to the advancement of storylines.
Since PPVs typically have eight matches, seeds were planted for the remaining three. The ODB/Tara feud was advanced, which will no doubt lead to the Knockouts Championship match, and Joey Ryan got a pinfall victory over X-Division champion Rob Van Dam.
As for the final match, I believe it'll be Bully Ray vs. Luke Gallows. Since Devon is busy with Kurt Angle, and considering Gallows was just revealed as a member of the Aces and 8s, I think a match between the Bully and the former member of the Straight Edge Society is a safe bet.
Turning Point is looking great right now, and I hope TNA keeps the build to the event strong!
When Miz TV returned a month or so ago, it fell flat in a big way. Since then, though, the segment has been picking up steam and became, as the Miz says, must-see television.
The newest edition on SmackDown this past Friday was another good installment. As Miz, Sheamus, Kofi Kingston and the Big Show talked of titles and their respective feuds, each superstar delivered strong mic performances.
The star of the segment was the Miz, as I felt his promo was the best of the four. The former WWE champion is one of the best mic performers in WWE today!
Sheamus was Sheamus, which is good enough, while Kingston surprised me with his promo. I've never liked his mic work too much, but he delivered here.
The Big Show gave a good heel promo as well, and he finished off a strong opening segment.
This segment continued some good build for the Intercontinental and World Heavyweight Championship feuds for Survivor Series. Much like TNA Turning Point, the build for the annual WWE November PPV has been quite good so far.
It's been a while since I've seen two superstars fight in the catering area. While the ones I'm used to feature food flying everywhere, this one between Randy Orton and Alberto Del Rio was a good one.
Despite Del Rio getting in a few shots, Orton was pummeling the Mexican superstar. With Del Rio and Ricardo Rodriguez costing Orton his match against Wade Barrett moments before, I'm glad it was more one-sided.
Del Rio has been screwing with WWE's Apex Predator, so it was time for Orton to get the upper hand on him. Even though Orton won at Hell in a Cell, Del Rio has been in his head.
I think this feud will be ending next week on Super SmackDown Live, for the most part, anyway, due to Team Foley vs. Team Punk, and I'll be happy when it does.
Orton is better than having to feud with WWE's resident main-event jobber.
As for Rodriguez getting coffee and chili dumped on him, it was quite funny. Seeing someone get covered in food is always good for a laugh!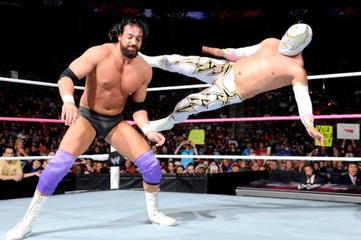 copyright to wwe.com
The tag team division in WWE has been very good as of late. While the other two tag team matches on Raw are nothing of note, this one certainly is. Out of the seven matches on Raw, I felt that this was the match of the night.
The two teams delivered some excellent action as they showed fans that the division is something to be excited about.
Rey Mysterio and Sin Cara have become quite the good team since forming. Their similar styles obviously mesh perfectly together, and what Mysterio can't do anymore, Sin Cara makes up for it.
Rhodes Scholars have surprised me, in a good way. They were just formed out of nowhere, but they have developed into a very good heel team. Their mic work and in-ring skills have mixed well, and I think they're on their way to becoming one of the best teams WWE has seen in years.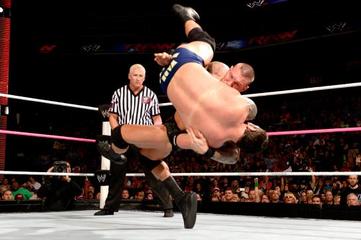 copyright to wwe.com
This is a match that has been seen quite a few times, but I'm perfectly fine with that. Randy Orton and Wade Barrett work very well together, and they continued to do so this past Monday on Raw.
With some nice back-and-forth action throughout the contest, Orton and Barrett delivered a solid match.
Since their feud earlier this year was ended abruptly due to Barrett's injury, I would like to see it finished. Orton has to get away from Alberto Del Rio first, though. Their feud bores me, and I just want it to end.
Barrett has been impressive since his return, and I'm happy to see him competing against main-event talent. His push during the Nexus storyline was rushed and just fell flat. WWE is now building him up, which is already looking better than his last push.
I don't know who will be the world heavyweight champions come WrestleMania, but I hope it's a face as I would love to see Barrett win the Royal Rumble and challenge for the big gold belt.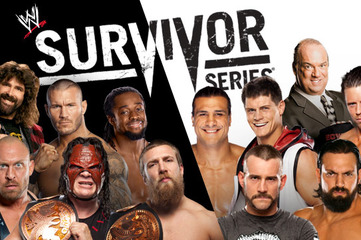 copyright to wwe.com
I have always been a fan of Mick Foley. It didn't matter if he was Mankind or Cactus Jack, or involved with WWE or TNA, I have been a supporter of his for years.
While he really can't perform in the ring anymore unless it's of hardcore style, his work on the mic is as strong as it's ever been. His segment a month ago with CM Punk was excellent and would have topped the list that particular week if I wasn't on a break.
The hardcore legend returned this past Monday, and while his promo was short, it was a strong one. Punk was boring me at the beginning of the show and Foley saved the segment.
I like the setup of the traditional Survivor Series match at the PPV. While the teams were very predictable, they're both filled with a lot of talent. Foley as his team's mouthpiece adds to his group of superstars. While Daniel Bryan can deliver a great promo, he can't hold a candle to Foley once he's in the zone.
The mic work between Foley and Punk in the next few weeks should be quite entertaining and very well could lead to one final shot at the WWE Championship for the hardcore legend, most likely in a hardcore-style match.
That way, Foley remains on television, he'll show the younger fans what hardcore is all about and he could possibly get involved in the inevitable CM Punk vs. Rock WWE Championship match at the Royal Rumble.
Mick Foley, welcome back!
This segment between the two former TNA world heavyweight champions was the best moment of the night this past Thursday on Impact Wrestling. Both wrestlers delivered solid promos here, especially AJ Styles.
For me, Styles' promos are usually hit or miss. Sometimes he gives a strong performance, but he mostly misses. This segment was great, though, as Styles showed that he really can work a microphone.
Since turning heel and going solo, Bobby Roode has been delivering great promo after great promo, and this was no different.
The addition of Hulk Hogan and James Storm to end the segment was a nice touch. As Roode and Styles gave their cases for deserving a shot at the TNA World Heavyweight Championship and also fought a little bit, Hogan made a triple-threat match for Turning Point.
The match itself is very interesting.
While the winner becomes the No. 1 contender for the title, the one that takes the fall won't be allowed a title shot until next year's Bound for Glory, which is a long 11 months away. That's quite the stipulation, and I can't wait to see how it develops.
As for Styles' little jab at WWE, well, it was hilarious! I'll just leave it at that.
The Oct. 27 episode of Ring of Honor's ROH Wrestling featured the finals of the Survival of the Fittest tournament where the winner receives a shot at the ROH World Heavyweight Championship anytime they want it.
Featuring Jay Lethal, Adam Cole, Mike Mondo, Davey Richards, Roderick Strong and Michael Elgin, these six wrestlers delivered an exciting match.
The beginning of the match saw a lot of great action as all but Elgin went flying before the elimination of Mondo. The action slowed down a bit after that as a few quick eliminations in the form of Strong and Cole occurred.
When it came down to Lethal, Richards and Elgin, the excitement picked right back up. The match saw Elgin use his incredible strength to carry both men while Lethal and Richards used their quickness against their bigger opponent.
When it was all said and done, it took an exploder suplex onto a table, a couple of high-flying moves and multiple kicks to the head to finally break the "Unbreakable" Michael Elgin.
With the final two, the locker room emptied and watched Lethal and Richards deliver one hell of a match.
Whether they were trading kicks and finishing moves or Richards was hitting a superplex and holding on upon landing to get back up to deliver a brainbuster, these two wrestlers gave everything they had.
Jay Lethal vs. Davey Richards alone was such a great match, and they help put the overall match at the top spot this week. This also marks the very first time Ring of Honor has taken the No. 1 spot!
Well, that's it for me. Thanks for reading!
Don't forget to hit me up on Twitter, where I always follow back fellow wrestling fans and usually tweet during the shows!