Georgia Football: 10 Things We Learned from the Bulldogs' Win vs. Ole Miss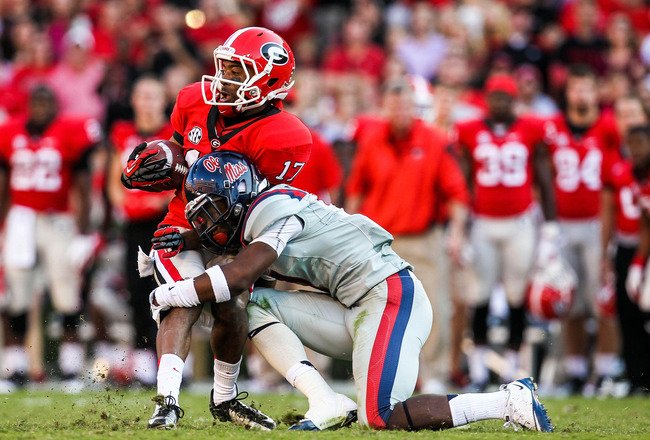 Daniel Shirey-US PRESSWIRE
The game did not start well for the Bulldogs, but they were able to weather the early storm and came away with a dominating performance against Ole Miss.
Many may think the Bulldogs won't take anything away from a win like this because of the level of talent Ole Miss brings compared to Georgia.
But in a game like this where things aren't going your way in at the start of the game, there are plenty of things for the Bulldogs to take away from this game before heading to Auburn next week.
Here's 10 things we learned from the Bulldogs win vs. Ole Miss.
Aaron Murray Can Bounce Back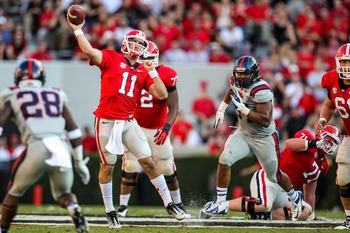 Daniel Shirey-US PRESSWIRE
After a rough outing last week against Florida, Aaron Murray came back with a vengeance against Ole Miss.
Murray completed 21 of 28 passes for 384 yards and four touchdowns.
He did not have a great start, as he was sacked five times in the first half. But he kept fighting and the results paid off.
The Offensive Line Will Have Ups and Downs Duing Games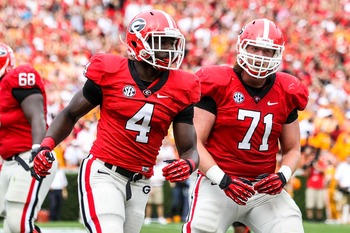 Daniel Shirey-US PRESSWIRE
The one thing Bulldog fans have to realize about the offensive line is that they will have their shares of good and bad moments.
After UGA gave up five sacks in the first half, the coaches made some blocking adjustments and surrendered zero sacks in the second half.
They're not as good as fans would like for them to be, but they are not as bad as people think they are. They just need to be good enough to give Murray and the rest of the skill players time to make plays.
Todd Gurley Is the Clear No. 1 Running Back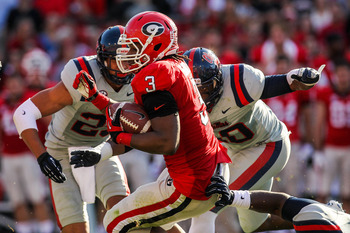 Daniel Shirey-US PRESSWIRE
Todd Gurley did not have any big touchdown runs, but he clearly showed why he's the starting running back.
Gurley rushed for 117 yards on 18 carries and helped keep the chains moving, especially in the second half.
Keith Marshall should still get a good amount of carries, but Gurley is by far the go-to guy when it comes to the run game.
Alexander Ogletree Is Coming Along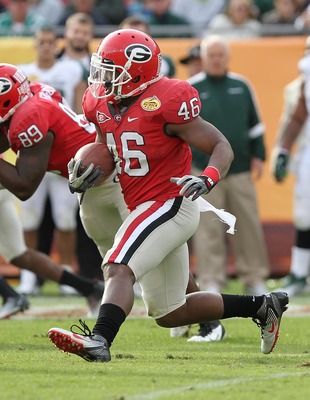 Kim Klement-US PRESSWIRE
Alexander Ogletree took over at fullback last week when Merritt Hall went down with an injury,
He played well last week, but played even better against Ole Miss, as he scored on a eight-yard run in the second half.
Mark Richt wants to get the fullback more involved in the offense, and having a guy like Ogletree as a fullback will make the offense more efficient.
Let's Not Forget About Marlon Brown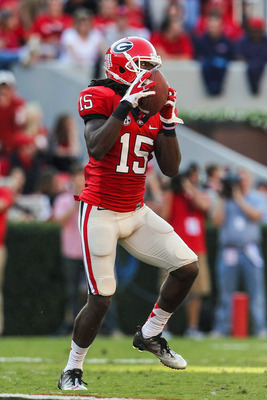 Daniel Shirey-US PRESSWIRE
We talk about Malcolm Mitchell and Tavarres King as being the playmakers on the outside.
But we can't forget about Marlon Brown who caught three passes for 113 yards including a 66-yard touchdown pass.
Brown is having a solid year, and his skill set will be needed if the Bulldogs reach the SEC Championship.
He did leave the game in the third quarter due to knee injury. It didn't look serious, but coaches will keep a close eye on him during the week.
Garrison Smith Makes the D-Line Better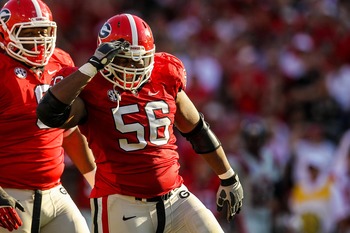 Daniel Shirey-US PRESSWIRE
It's tough to see Abry Jones go down for the year, but the Bulldogs were confident in what Garrison Smith could bring to the defensive line.
He proved that against Ole Miss, tallying seven tackles (including one sack).
Smith has always been a solid player, but never really got that chance to prove himself. Now he has that opportunity and is playing at a high level.
Alec Ogletree Is an All-American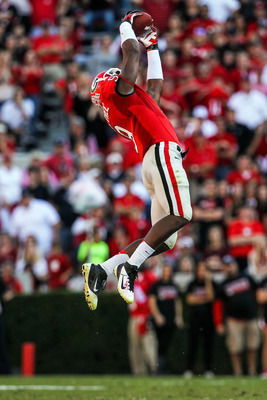 Daniel Shirey-US PRESSWIRE
Because he missed four games, Alec Ogletree may not be named as an All-American. But there are few inside linebackers playing better than him right now.
Ogletree led the team with 11 tackles, one sack and one interception. He also came up with a safety in the second half, which put the nail in the coffin for the Rebels.
Jarvis Jones will get all the attention, which he should. But if the Bulldogs are able to go to the SEC title game, Ogletree will be a big reason why they make it to the Georgia Dome.
Jarvis Jones Can Make Plays When He Doesn't Make Plays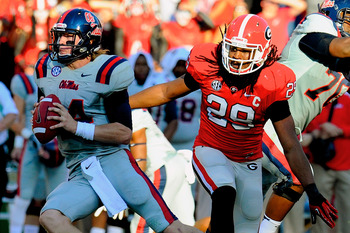 Dale Zanine-US PRESSWIRE
Jarvis Jones had a quiet game, racking up three tackles and one tackle for loss. But he was constantly in the backfield making Bo Wallace's life miserable.
That's why Jones is considered as one of the best players in college football. He doesn't need to make the big sack in order to be a playmaker. He knows where to be at all times and never makes the same mistake twice.
Damian Swann Has the Tools to Be an Elite Cornerback
Daniel Shirey-US PRESSWIRE
He's only a freshman, but Damian Swann is showing that he can be an elite cornerback if he continues to work hard on and off the field.
Swann ended his night with three tackles, one sack and one pass defended. He never got beat off the line of scrimmage and was always around the football.
Swann has had a good year so far and has the tools to be a very special player.
This Team Can Fight Back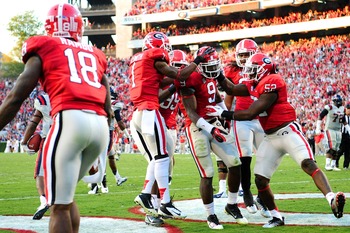 Dale Zanine-US PRESSWIRE
It was really proven last week against Florida, but the Bulldogs proved it again against Ole Miss.
After being down 10-0, something clicked for the Bulldogs and they rattled off 37 unanswered points to win their eighth game.
Ole Miss wasn't backing down, and if Georgia wanted to win this game, it would have to take it away from the Rebels.
They did just that, and now the Bulldogs have to face an Auburn team hungry for an SEC win.
I expect that game to be a dogfight.
Keep Reading

Georgia Bulldogs Football: Like this team?