Buffalo Bills Red Zone Issues Are Key in 21-9 Loss to Houston Texans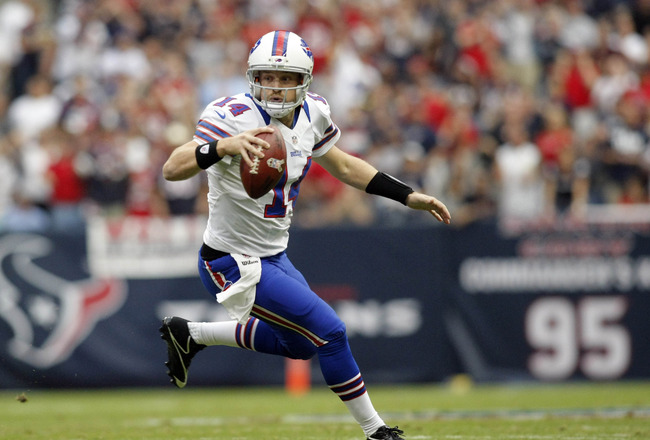 Ryan Fitzpatrick couldn't lead Buffalo on a TD drive
Brett Davis-US PRESSWIRE
The Buffalo Bills lost at the Houston Texans on Sunday 21-9 to drop to 3-5 on the 2012 season. Bills quarterback Ryan Fitzpatrick led the Bills three times into the red zone, but all they came away with was two field goals. Houston converted its red-zone opportunities into touchdowns, while the Bills instead kicked field goals with their chances. That was the difference in the game.
Buffalo's maligned defense held the high-flying Houston offense in check for the majority of the game, as Houston was only up 14-9 at the end of the third quarter. Houston came into the game ranked No. 2 in the NFL, averaging 30.9 points per game. The Bills defense knew they would have their hands full today.
One of the interesting highlights of the game would be the return of Mario Williams, the ex-Texans first overall draft pick, returning to play his first game against his former team.
Coming off its bye week, Buffalo had been 15-8 since 1990, but Houston was coming off of its bye week as well. Rather strange quirk by the NFL schedule maker.
We will proceed to break down the game and look at key issues that helped to determine the outcome.
Mario Williams Played More Inspired Football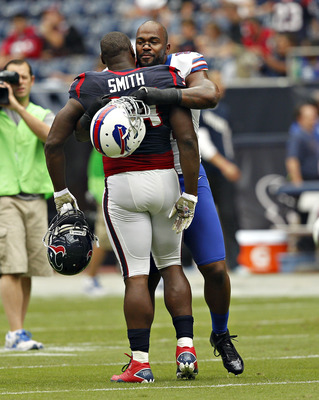 Mario Williams gives hug to ex-Texans teammate
Bob Levey/Getty Images
Mario Williams was very troubled by his wrist injury suffered late in the preseason. So, he opted to have a procedure done on it during the Bills' bye week. According to ESPN's Insider Adam Schefter on the ESPN Sunday Countdown show, Williams had been playing with a torn ligament in his left wrist.
Schefter said that Williams was playing with the equivalent of one arm. That can help to account for why Williams put up such poor numbers in the first half of the season when so much was expected of him.
How did Williams perform in his return to Houston, where he played his entire career before joining the Bills?
Williams led the Bills in tackles on Sunday with seven. He made two tackles for loss, picked up one sack and got one quarterback hit. Being able to use both of his hands in a game had to be a huge benefit for Williams, and it showed.
If Williams is reasonably close to being back to "Super Mario," which is what he appeared to be on Sunday, that bodes well for the Bills defense to improve in the second half of the season.
Bills Offense Abandoned the Running Game in 2nd Half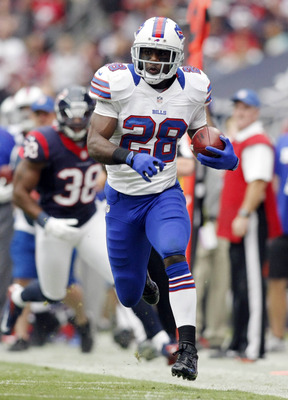 C.J. Spiller only had six rushes in the entire game
Brett Davis-US PRESSWIRE
In the first half, Buffalo rushed the ball 11 times for 52 yards. Houston has a very good defense, but the Bills were able to move the ball on the ground, averaging 4.7 yards per rush.
Trailing 7-6 at halftime, Buffalo received the opening kick of the second half. If it could somehow drive down the field and take the lead, that would make it a brand-new contest.
Chan Gailey called for three straight pass plays, all of which were incomplete. After the three-and-out-drive, Houston had great field position and drove 43 yards in five plays to take a 14-6.
Buffalo ran the ball three times in their next possession, and managed to kick a field goal to trim the gap to 14-9. The defense held and got the offense the ball back. Once again, Gailey disdained the running game, and three straight incomplete passes led to another three-and-out-drive. Once again, Houston answered with a touchdown drive, and just like that, it was 21-9.
In the second half, the Bills attempted only five rushes compared to 21 passes. The mix was so heavily tilted that it didn't keep the Texans pass rush guessing as to what the Bills intended to do.
Chris Hairston Has His Hands Full with J.J. Watt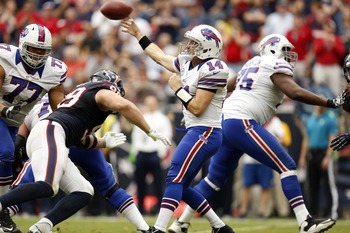 J.J. Watt prepares to lay a QB hit on Ryan Fitzpatrick
Thomas Campbell-US PRESSWIRE
Houston Texans DE J.J. Watt has been a force all year long. Watt has been discussed as one of the main candidates for the NFL Defensive Player of the Year. Watt has been leading the NFL in sacks as well as ranking among the league leaders in deflected passes.
Buffalo downgraded starting LT Erik Pears to out for the Houston game, so the Bills were forced to go with Chris Hairston to try to neutralize the dynamic Watt.
Watt was held to five tackles, one sack and two tackles for loss by Hairston. But the key stat was that he got credited with five quarterback hits on Ryan Fitzpatrick. Watt's pressure gave Fitzpatrick very little time to throw the football.
Hairston did the best he could, and the fact that he only gave up one sack to Watt is nothing to be ashamed of. Fitzpatrick was able to keep his passes out of the reach of Watt's big reach, as he didn't deflect a single pass today.
Bills Had Trouble with Houston's Big Three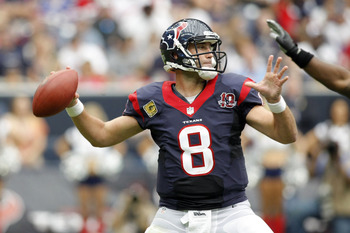 Matt Schaub led the Texans to three touchdown drives
Brett Davis-US PRESSWIRE
The Houston Texans offense is led by their three stars on offense; quarterback Matt Schaub, running back Arian Foster and wide receiver Andre Johnson. Unfortunately for the Bills, all three wound up having a big day on Sunday.
Schaub passed for 256 net yards by completing 19 of 27 passes for two touchdowns and no interceptions. Buffalo sacked Schaub twice on the day, once by Mario Williams and once by Kyle Moore.
Schaub was very effective on an outstanding play-action fake to Foster, and then rolling back to the other side to find a wide open Owen Daniels on a 39-yard TD strike to open the scoring in the game.
Arian Foster rushed the ball 24 times for 111 yards and a touchdown. Foster averaged 4.6 yards per rush.
Andre Johnson caught eight passes for 118 yards. Johnson came up big throughout the game for Houston. Bills CB Aaron Williams was injured in the first half, and the Texans went to Johnson repeatedly, targeting him 10 times in the game.
Bills Offense Had Trouble Converting 3rd Downs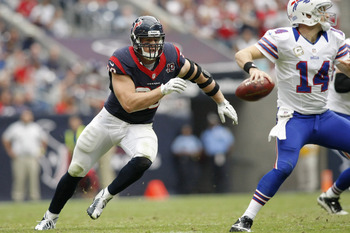 Ryan Fitzpatrick needed more time to throw on Sunday
Brett Davis-US PRESSWIRE
The Buffalo Bills offense was able to generate 308 yards of total offense Sunday, which is a very good total against the Houston Texans defense, who are ranked as the No. 3 overall defense in the NFL.
One of the keys to the game today was Buffalo's inability to convert on third downs. Buffalo was only two for 11 on third downs in the game, and that helped to seal the Bills' fate.
When you are playing against a well-balanced offense like Houston, you have to keep your offense on the field, but unfortunately, the Bills kept finding themselves in 3rd-and-long scenarios to often. As we mentioned earlier, abandoning the running game in the second half wasn't the smartest thing to do either.
Houston wasn't necessarily all that much better, as it converted on four of 11 opportunities for the game.
Bills Overall Defense Showed Improvement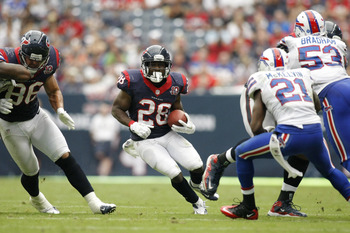 Bills defense showed improvement from last game
Brett Davis-US PRESSWIRE
The Texans offense was ranked at No. 9 in the NFL, averaging 371.4 yards per game. Buffalo allowed 374 yards, which is basically at its average. Considering some of the earlier results, this is more like a moral victory.
Buffalo Bills DE Chris Kelsay spoke up after the Week 7 loss to Tennessee and said that everybody on defense needed to be accountable and give 100 percent on every play.
The Bills defense seemed to play more inspired football as a unit on Sunday. One example was that the defense recorded six tackles for a loss, which is a sign that they are becoming more aggressive on defense. That is a very positive development.
Kyle Moore continues to exhibit positive results, as he came up with a sack, a tackle for loss and a quarterback hit.
Alex Carrington has now blocked a field goal in two straight games, as he blocked a field goal in the first half to help the Bills trail by only one point at the half.
We don't know the extent yet of Aaron Williams injury. Terrence McGee was made inactive for the game, so the Bills were already shorthanded in the secondary. They did activate CB Ron Brooks this week, so they will need to get him back into football shape to be game-ready.
Few Changes Coming out of Bye Week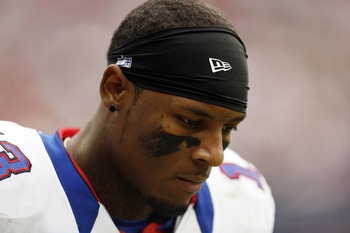 Stevie Johnson was held to three catches for 29 yards
Thomas Campbell-US PRESSWIRE
With the bye week to review the team's performance after the first seven games, Bills fans were curious to see if Chan Gailey and the coaching staff would roll out any new wrinkles for the Houston game.
The one thing that seemed clear was that the Bills attempted to stretch the field with deeper passes. Ryan Fitzpatrick didn't complete any of them, but the Bills were at least making a concerted effort to force the issue.
While the Bills' short passing game is the major bread and butter of this offense, the Bills need to make sure they don't fall into becoming too predictable on offense. Trying to go over the top of defenses is one way to keep defenses guessing.
Fitzpatrick tried to hit Stevie Johnson deep several times, but they couldn't connect. Johnson was held to three catches for 29 yards, out of seven targets for the game.
The Bills leading receiver was Donald Jones, who had six receptions for 65 yards, followed by C.J. Spiller, who had five catches for 63 yards.
Bills Now Must Face New England on the Road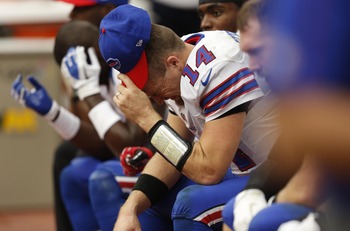 Ryan Fitzpatrick Has to Out-Duel Tom Brady Next Week
Thomas Campbell-US PRESSWIRE
The Bills now face the daunting task of traveling to face the New England Patriots next Sunday. You may recall that the Bills went up 21-0 the last time they met in New England, only to see New England come storming back with 49 straight points to win going away 49-21.
Sitting at 3-5, the Bills are in need of coming up with a winning streak if they are to have any realistic shot at securing a playoff berth. A loss to New England would drop them to 3-6, meaning that they would have to run the final seven games to just finish at 10-6. Some years, teams that finish at 10-6 don't even qualify for the playoffs.
But at least this year in the AFC, teams that finish at 9-7 may have a decent chance to qualify for the postseason. The window on the Bills' chances is starting to close a little bit more with each passing week.
Thanks for checking out the presentation.
Keep Reading

Buffalo Bills: Like this team?