If 2013 Is Mariano Rivera's Final Season, Who Closes for the Yankees in 2014?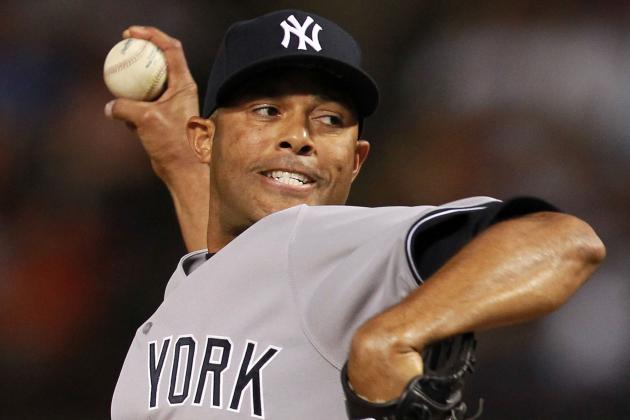 Ronald Martinez/Getty Images
Mariano Rivera has announced he'll be back in 2013.
New York Yankees fans can breathe a sigh of relief as Mariano Rivera has announced he will be back for the 2013 campaign. With that announcement, one cannot help but wonder who is going to be groomed to take over in the ninth inning once the shoo-in for Cooperstown finally hangs up his spikes.
Following Rivera's traumatic season-ending injury in 2012, the Yankees were fortunate enough to have former Tampa Bay Ray Rafael Soriano in their arsenal, and the big right-hander stepped up his game to fill the void.
In 69 appearances, Soriano had 42 saves and a 2.26 ERA. With him, the team maintained the stability it had grown accustomed to during the era of "the Sandman."
Unfortunately, that success translated to the potential for "greener pastures" for Soriano and he opted to pursue free agency this offseason.
With that solid backup gone, who will the team turn to should 2013 be Mariano Rivera's final season?
Begin Slideshow

»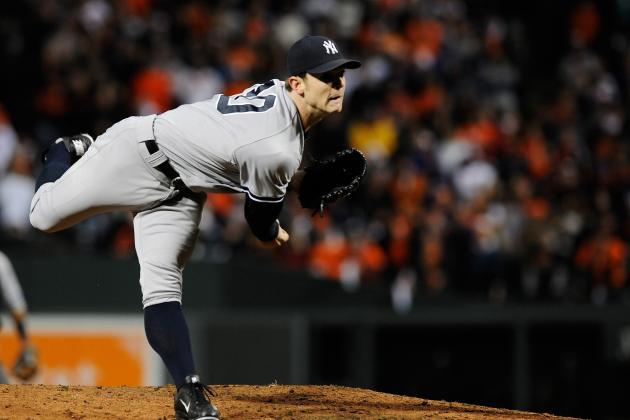 Patrick McDermott/Getty Images
Is D-Rob the Yankees' next closer?
David Robertson has turned the eighth inning into his home. Over the past two seasons, what Mariano Rivera has been to the ninth inning, "D-Rob" has been to the eighth.
Since 2010, Robertson has thrown 96.1 innings with a 1.22 ERA, 0.95 WHIP and 146 strikeouts in the eighth inning.
Can his success as the primary setup man translate into success as a closer?
Yankees fans hope that the brief glimpse they were given of Robertson as the stopper in 2012 was not an indication of what the hurler will do if given the closer role.
When Rivera was ruled out for the season, Robertson was initially handed the ninth-inning job with the "Bombers" and immediately struggled.
After managing to get a save in spite of yielding a hit and two walks in his first game closing for the Yankees, Robertson imploded in the very next opportunity. In that game against the Rays, he gave up three hits, a walk and four earned runs in two-thirds of an inning.
That would be the end of his opportunities as closer for the Yankees, and he pitched in one more game before winding up on the disabled list with an oblique strain.
By the time he returned, Rafael Soriano had firmly established himself as the ninth-inning relief pitcher for the Yankees in 2012.
Overall, 2012 was a fairly successful season for David Robertson, and he finished the season with 65 appearances and a 2.67 ERA.
At just 27 years of age, Robertson still has many years ahead of him as a major league reliever. Given Mariano Rivera's precious little time remaining in a Yankees uniform, "D-Rob" needs to use 2013 as his chance to further the team's confidence in him, and establish himself as the logical choice to step into the shoes of the "Great One."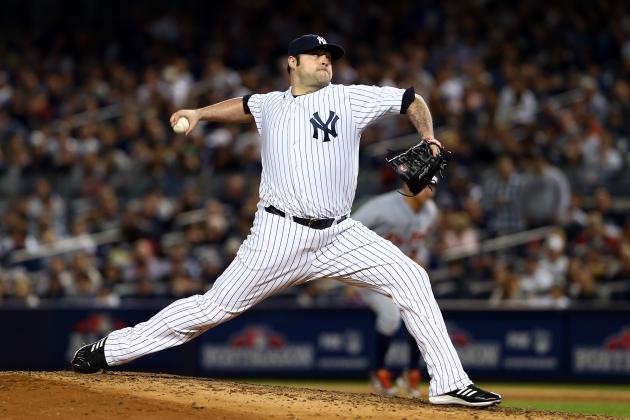 Alex Trautwig/Getty Images
Can Joba leverage his return to form into a closer role for the Yanks?
Oh what a roller-coaster ride it has been for Joba Chamberlain in a New York Yankees uniform.
Since his arrival with the big league club in 2007 when he excited the Yankees faithful with an electric fastball, knee-buckling breaking ball and intimidating size, the right-hander has been a lightning rod in pinstripes.
His ups and downs have been well documented and have been as varied as his roles within the club. He has been used as a middle-inning reliever, seventh- and eighth-inning specialist and a starter in his five seasons in the Bronx, and has shown fans both great and disappointing performances in each of those roles.
2012 was no different for Joba as he began the season on the disabled list after undergoing arm surgery in 2011, then breaking his ankle during that winter.
When he returned in August, he suffered through a rough first month, throwing 7.1 innings with an 8.89 ERA. Many believed that he had been returned to the Yankees bullpen too soon, and that he needed more time in the minor leagues.
Before that could happen, something clicked.
No sooner had the calendar turned to September then Joba became the flame-throwing phenom of old. From September 4 until the end of the regular season (13 innings), Chamberlain gave up one run, nine hits,and just one walk while striking out 17.
If he can carry what he did in the last month of 2012 into the 2013 season, the Yankees will have no choice but to consider giving Mariano Rivera's closer role to Joba Chamberlain in 2014.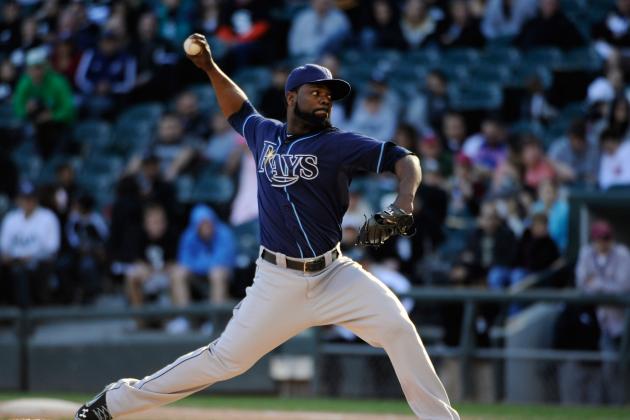 David Banks/Getty Images
Will Fernando Rodney be in pinstripes in 2014?
The Tampa Bay Rays have shown a "knack" for coming up with stellar closers every year or two. Those closers use their big seasons with the team to sign better free-agent deals elsewhere.
Rafael Soriano parlayed his 45-save, 1.73 ERA season in 2010 with the Rays to a two-year deal with the Yankees. Following an erratic first season with the "Bombers," he took advantage of Mariano Rivera's injury to flash that closer form in the Bronx.
35-year-old Fernando Rodney just completed a 48-save season (with a microscopic 0.60 ERA) with Tampa Bay, and his contract with the team will be up after 2013.
Should he manage to repeat his incredible performance in 2013, and if Mariano Rivera decides that 2013 is his last season (as is widely speculated), the Yankees will surely be looking once again to the Tampa area for their next closer.
Regardless of who the Yankees decide to go with as their closer in 2014 (be it someone from in-house or an outside free-agent signing), the man they choose will have the unenviable task of following the greatest relief pitcher in the history of the game.
It is a challenge that perhaps no one will be able to meet.