Auburn Football: 10 Things We Learned from the Tigers' Win vs. New Mexico State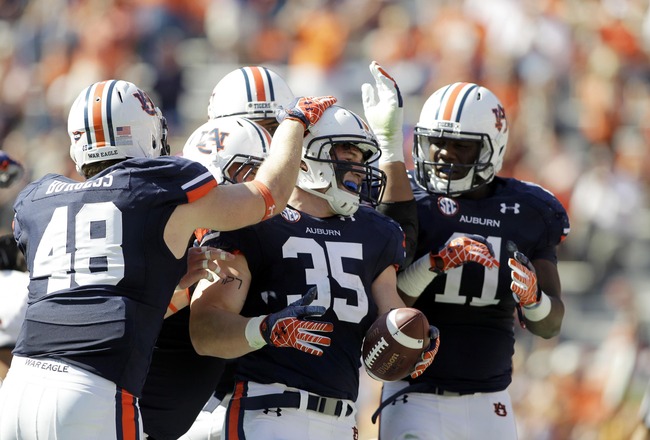 John Reed-US PRESSWIRE
The roar heard beneath Jordan-Hare Stadium approximately five minutes after the final buzzer sounded in Saturday's game vs. New Mexico State was five games of pent-up frustration finally being let out.
It probably could have been heard up the road in Birmingham.
Although it was against an awful New Mexico State squad, the Auburn Tigers got a taste of victory for the first time since Sept. 15. Forty-nine long days of frustration and rampant speculation about coaches can finally be put to rest for at least 24 hours.
After a slow start, Auburn reeled off 35 points in the second half to defeat New Mexico State, 42-7, on homecoming.
The defense that allowed an historic amount of yards just one week ago nearly pitched a shutout.
Here are 10 things we learned about the Tigers' win vs. New Mexico State on Saturday.
Jonathan Wallace Performed Well but Has a Ways to Go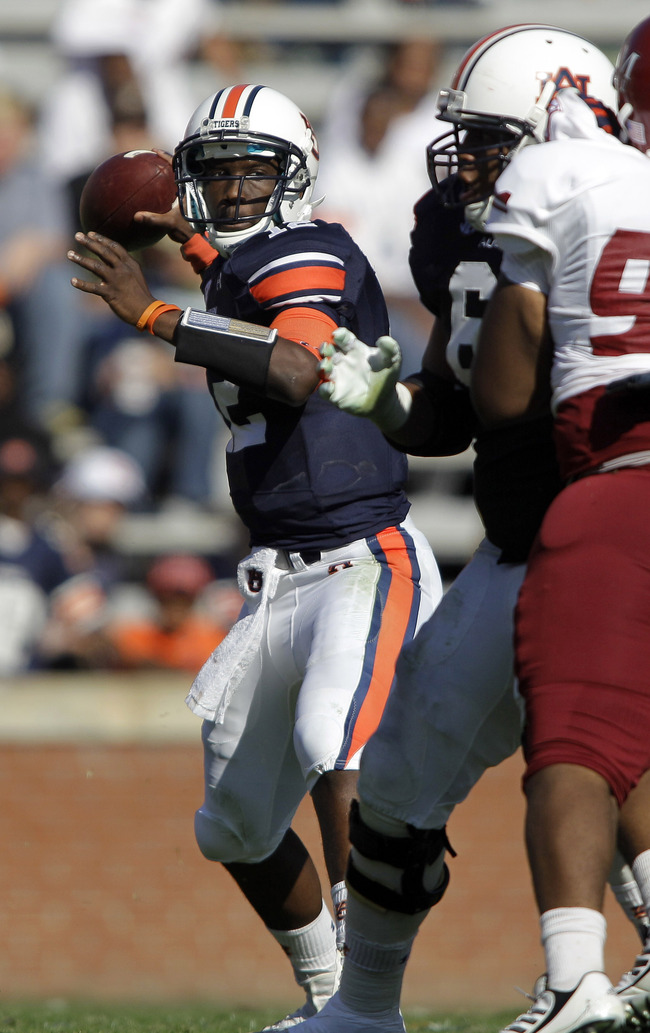 John Reed-US PRESSWIRE
The first play and the first couple of drives could not have gotten off to a worse start for a freshman who was making his first collegiate start.
It was a botched handoff to Tre Mason, and the ball fell to the ground only to be recovered by a man in a blue jersey. The Tigers lost seven yards on the first drive.
Jonathan Wallace did not let that drive dictate the way that he played the rest of the game though. Chizik expressed his enthusiasm on Wallace's performance following the game, according to a tweet by Ryan Wood of the Opelika-Auburn News.
Chizik on Wallace: "Couldn't be more proud of a guy ... Jonathan started off a little bit slow, took a big hit, never came out. ... Tough."

— Ryan Wood (@AUBlog) November 3, 2012
Wallace finished the day 9-of-16 for 164 yards. He threw one touchdown and one interception.
He made plays with his feet and got out of trouble some in the first half. He only made one really bad decision. That came when he threw the ball into double coverage, and the result was an interception.
There were accuracy issues throughout the game that Wallace must fix. Those were opportunities that the Tigers can't afford to miss.
Wallace played well, but he is a long way from being the QB that Auburn needs him to be in order to upset the final two SEC foes of the season.
The Defense Shook off Last Week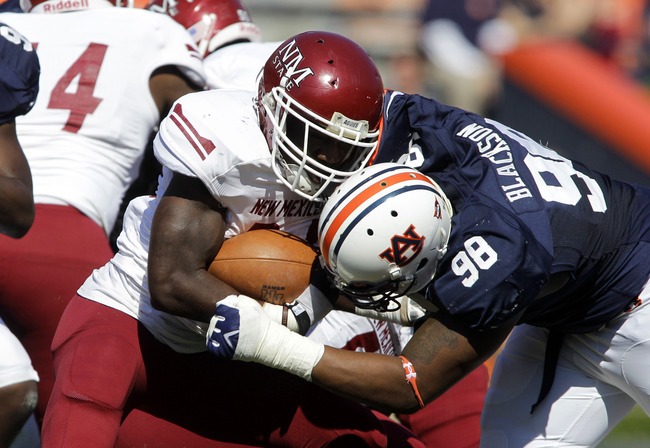 John Reed-US PRESSWIRE
It would have been easy for Auburn's defense to feel sorry for itself after surrendering 630-plus yards last week against Texas A&M. But it didn't.
There was the usual slow start and a few big plays allowed but the Auburn defense came very close to shutting out New Mexico State. Following the game, defensive coordinator, Brian VanGorder commented on the defense's performance, according to a tweet by Justin Hokanson of AuburnSports.com.
Brian VanGorder said after last week, the D could have flopped around today, but they "got off the mat" and performed well.

— Justin Hokanson (@JHokanson) November 3, 2012
It says a lot about the character and focus of the Auburn defenders that they were able to shield out the negativity that came after last week's performance.
Good Things Happen When Tre Mason Gets the Ball a Lot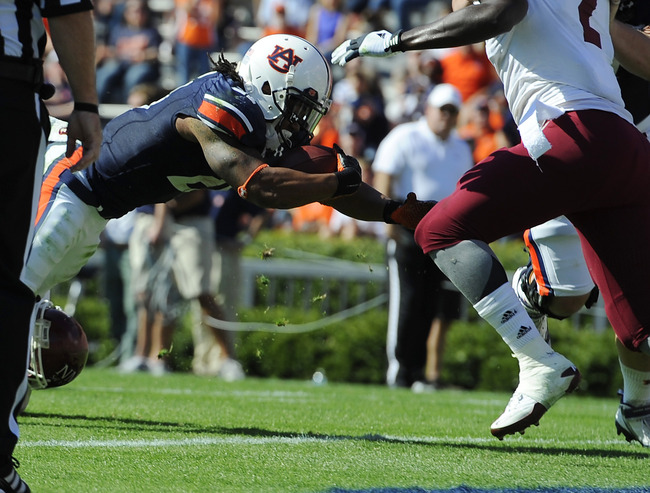 Tre Mason scores Auburn's first TD. Photo Credit: Todd Van Emst / Auburn Athletics

There is a common theme to Auburn's two wins. Tre Mason has gotten the ball 20-plus times in both instances.
Against Louisiana-Monroe, Mason received 22 carries.
Against New Mexico State, Mason had 22 carries for 152 yards and one TD. He averaged 6.9 yards per carry. In a tweet, Aaron Brenner of the Columbus Ledger-Enquirer gave some insight on Chizik's thoughts on Mason's performance.
Chizik on Tre Mason: "He wants the ball. He's very adamant; he wants the ball."

— Aaron Brenner (@wareagleextra) November 3, 2012
Good things happen when Auburn commits to running the ball with Mason 20-plus times.
As hard as Mason runs, he deserves it.
Improvements in Fourth-Quarter Play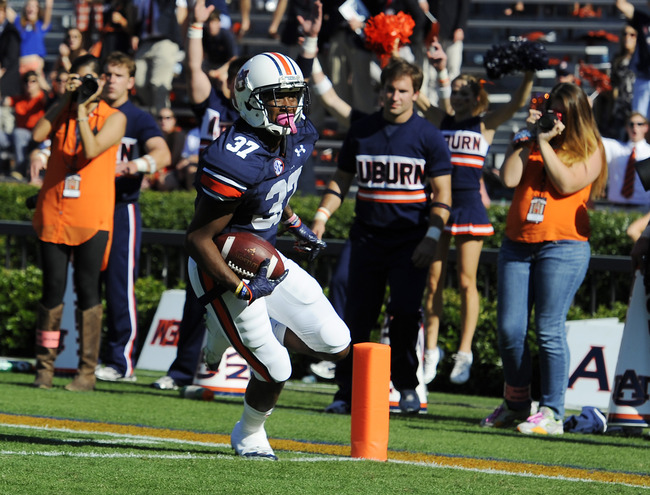 Trovon Reed Scores on a 40-yard pass. Photo credit: Todd Van Emst / Auburn Athletics

Auburn's fourth-quarter woes have been well-documented this year. Going into the fourth quarter against New Mexico State, Auburn was being outscored 69-6 in the fourth quarter this year.
Things were different on Saturday.
Backups like Mike Blakely and Corey Grant got to see the field in the fourth quarter and played hard in mop-up duty.
Auburn wore down New Mexico State with the running game and the Alabama heat.
Auburn scored 14 points in the final quarter on Saturday and closed the game out in the opposite way that it started it—in dominating fashion.
Daren Bates Should Have Been an RB
The rewind button in the Mixon house got used a bunch after Daren Bates returned a New Mexico State fumble for a touchdown in the third quarter.
During the return, Bates stiff-armed an Aggie defender, and it looked like he took seven losses of frustration out on the man. It was like a devastating hook from Muhammad Ali. Ryan Wood of the Opelika-Auburn News provided Bates personal interpretation of the play in tweet.
Breaking: Daren Bates, a running back in high school, said that was the best stiff arm he's ever thrown against anybody. Like, duh.
— Ryan Wood (@AUBlog) November 3, 2012
Hey, Coach Chizik, I know someone who might want to get some carries if you need him.
Slow Starts Continue to Be a Problem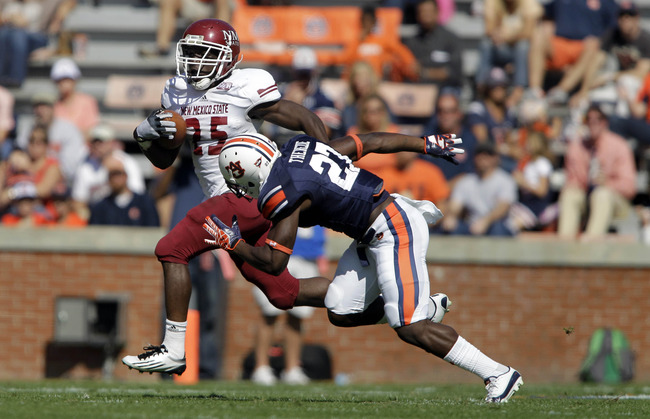 John Reed-US PRESSWIRE
It was very ugly early on against New Mexico State for Auburn. The Aggies were having limited success moving the ball, and the Auburn offense just looked sloppy.
It was only 7-0 in Auburn's favor after the first half.
New Mexico State gained 126 yards on its first three drives of the game. Auburn gained 25 yards and turned the ball over once.
With Auburn's next two SEC opponents, that cannot happen if Auburn wants to stay in the game. Maybe a night game with rival UGA will help the focus early-on for this team. It did not do much for them last week, though.
Auburn Learned How to Use Jay Prosch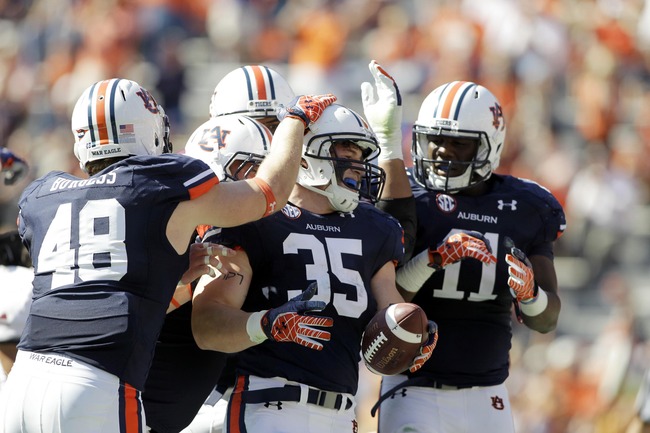 John Reed-US PRESSWIRE
Auburn fans have been screaming for more of Jay Prosch in the Auburn backfield. It's safe to say those fans are happy today.
Prosch was used the way he was meant to be used in the running game. On short-yardage situations, Scot Loeffler turned to Prosch to lead the way or take care of getting the first down (or touchdown) himself. Ryan Wood of the Opelika-Auburn News expresses Prosch's enthusiasm over his success in a tweet.
#Auburn fullback Jay Prosch said his last TD was as a HS senior: I've been waiting & waiting & hoping to get opportunity. Today was the day.

— Ryan Wood (@AUBlog) November 3, 2012
Auburn Struggles to Be Physical Consistently
Auburn defenders tackle New Mex St's Germi Morrison. Photo credit: Todd Van Emst / Auburn Athletics

There were times when it looked like Auburn was playing the physical style of football that is needed to win on a consistent basis.
Other times? Not so much.
One instance that sticks out is late in the second quarter. It was 3rd-and-2. Auburn elected to run to the right side off the tackle. It didn't even gain a yard.
This game was a time when the "Jimmy's and Joe's beat the X's and O's." Auburn did that most of the day. In that instance and other times, it did not.
Auburn will need to come out and play a physical brand of football from kickoff until the final buzzer next week to have a chance.
Onterio McCalebb and Demetruce McNeal Are the Leaders on Their Side of the Ball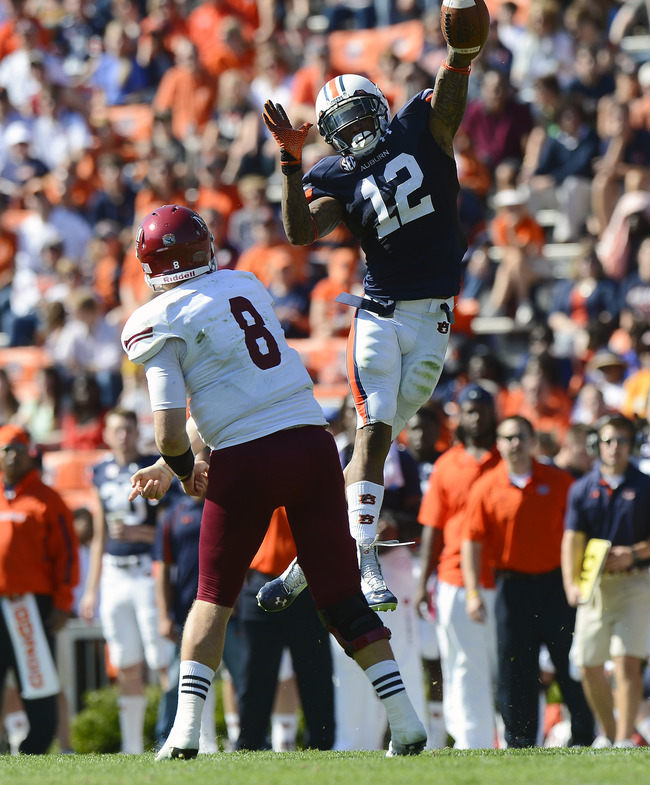 Demetruce McNeal knocks down a pass by quarterback Andrew Manley. Photo credit: Todd Van Emst / Auburn Athletics

Onterio McCalebb and Demetruce McNeal have supplanted themselves as leaders of the offense and defense, respectively.
To begin the third quarter, McCalebb had a run of 14 yards that set Auburn up for a Jay Prosch TD.
Later in the same quarter, McCalebb had runs of 18 and 38 yards. The latter of those runs went for an Auburn TD.
McNeal was all over the field for the Auburn defense. McNeal had his head in on 10 tackles. He also forced the fumble that Daren Bates returned for a touchdown. He had two pass breakups and a sack on the day.
This is nothing new for these two players who have been around during the best and worst times of Auburn football.
They are established leaders of their respective units.
Auburn Players Have Not Given Up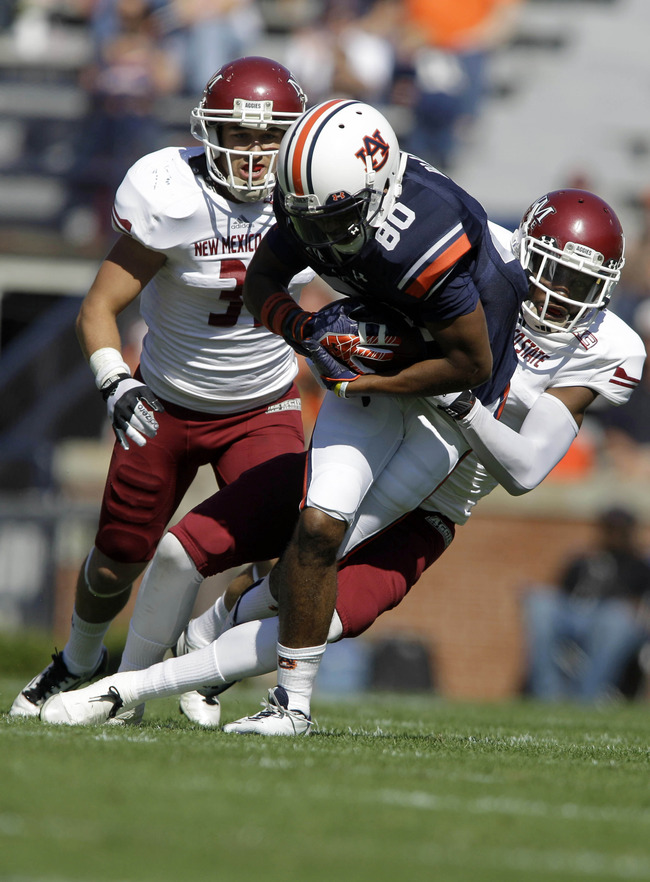 John Reed-US PRESSWIRE
No one is happy with how this season has gone. People with little fortitude would have turned in for the season. Not this bunch. They are still playing for something.
It was apparent on Saturday that this team has no quit in them.
When things didn't go the right way in the first half and this team was only up by seven points, Auburn could have felt sorry for itself and came out with no emotion in the second half. It didn't.
As fans, it's easy to sit here in our recliners and fuss about how bad this team is and to give up on them. Good thing we don't have to suit up every Saturday.
You have to feel good for this team. Regardless of how things have gone, you cannot count out the hard work this team has put in.
Despite the firestorm of negativity that is surrounding this team, it has not quit. It may not quell the negativity around the coaching staff for long, but it will for a few hours at least.
For 24 hours, these players can enjoy this win that they have earned. They should celebrate. They deserve it. Good things happen to those who don't quit when times get tough.
Keep Reading

Auburn Football: Like this team?