Detroit Lions vs. Jacksonville Jaguars: Live Score, Highlights and Analysis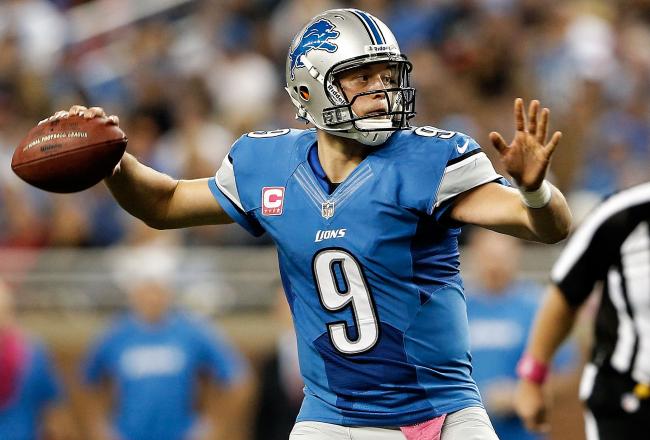 Leon Halip/Getty Images
On the surface, this is a game that doesn't have an awful lot of intrigue behind it.
Two teams with a combined record of 4-10 will face off in a game that might be the lowest-rated of the week, but that doesn't mean it doesn't have some storylines.
The Lions may be 3-4, but they're also winners of two of their last three.
The Jaguars are 1-6, but they pushed the Green Bay Packers to their limits last week.
The Jaguars have fought hard against good teams, and the Lions are too schizophrenic to be trusted. Despite how it may look on paper, this should be a close game.
And if that's not enough for you, keep an eye on Mike Thomas. Thomas was shipped off to the Lions from the Jaguars this week, and it will be interesting to see just how much he gets involved in the offense.
It must be a strange feeling to enter a week in the NFL expecting to play against a team, only to actually be playing for them by that Sunday.
You can catch this game at 1:00 p.m. on Fox...unless you're in the Jacksonville area. Then it might get a little dicey.
But I can tell you for certain that this live blog will not be blacked out in your area.
Current Score: Lions 24, Jaguars 0 (4Q)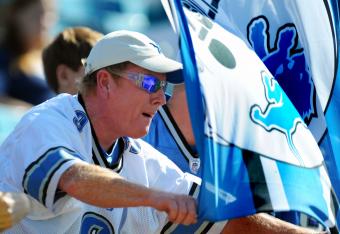 The Lions recover the onside kick and kneel to run out a game that had been over for most of the second half.
This was perhaps a statement game for the Lions, who win two straight for the first time this season, and finally climb back to .500 for the first time since Week 3.
The Jaguars did some things they can build on in the second half, but the game as a whole is a big loss, as the team slips to 1-7.
The Lions will head into a huge game against the Minnesota Vikings to try avenging their earlier home loss and move back above .500.
The Jaguars will play the Indianapolis Colts in a primetime game that (luckily) cannot be flex scheduled away from them, and try to beat the only team they've beaten this season a second time.
Thanks for following along, and stick around for continuing postgame coverage.
I've always wanted to say that.
Final Score: Lions 31, Jaguars 14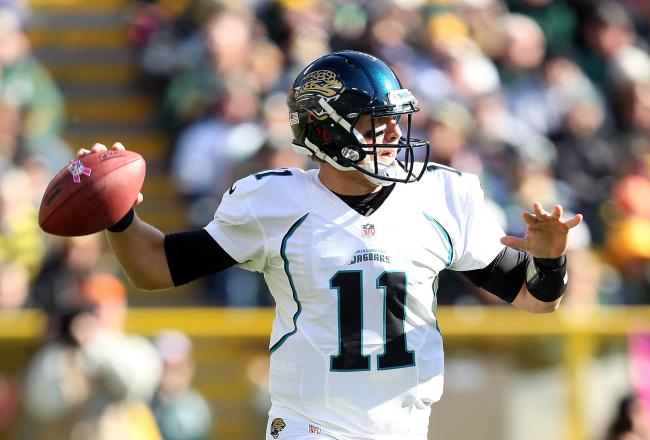 Touchdown Jaguars!
Blaine Gabbert to Justin Blackmon for
Lost in the blowout that was this game is a solid game by Blaine Gabbert.
Despite a quiet first half, he finishes the game with a strong touchdown drive, over 200 yards passing, and a 27/38 line including a 12-completion streak.
You could argue that a lot of Gabbert's yards and completions came against a soft zone in what was effectively garbage time, but a good game is a good game. Gabbert needs whatever he can get to boost his confidence.
Current Score: Lions 31, Jaguars 14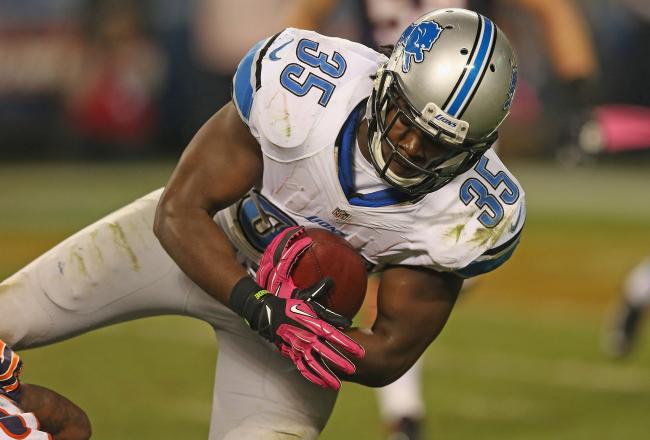 Touchdown Lions!
That's going to lock this thing up, as the Lions march down the field on the legs of Joique Bell and punch the ball into the end zone.
Joique Bell and the Lions' offensive line basically just steamrolled the Jaguars all the way down the field, and not only did the Lions score, they burned about six minutes off the clock in the process.
It's Jaguars ball, but there's not much more to see here. Lions have dominated this one from start to finish.
Current Score: Lions 31, Jaguars 8 (2:42 4Q)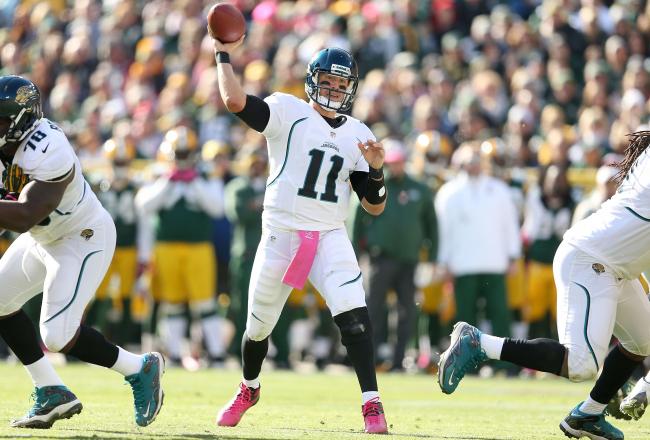 Touchdown Jaguars!
The Jaguars' offense has gotten better and better throughout the afternoon. Finally, they found their groove against the Lions' defense and broke up the shutout.
Blaine Gabbert to Michael Spurlock for the touchdown, Gabbert to Rashad Jennings for the two-point conversion, and the Jaguars are finally in business.
This game isn't over by any means, but the Jaguars are going to need, in a big way, a quick stop on the Lions and definitely no points allowed.
It's time for power football. The Lions are going to try running it down the field and eating up clock, the Jaguars will try to stop them.
Who will prevail?
Current Score: Lions 24, Jaguars 8 (8:36 4Q)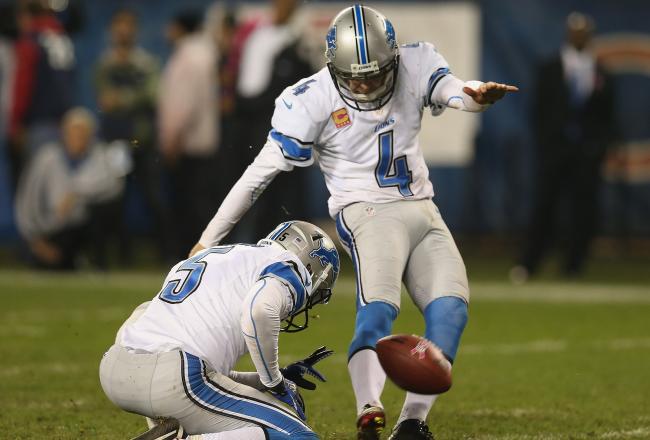 Field Goal Lions!
After Titus Young lets a wide-open touchdown pass slip through his hands in the end zone, Jason Hanson comes out to knock through a 42-yard field goal.
At this point, the Jaguars might be more focused on breaking up the shutout than they are coming back to win. There's lots of time left, but it's a steep hill to climb.
Current Score: Lions 24, Jaguars 0 (13:30 4Q)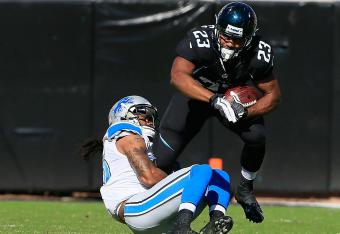 Lions fans remember what this feels like. A strong, efficient drive by the Jaguars ends with a tipped pass and a Jonte Green interception.
The Jaguars were well within field goal range, and seemed to be on track for the end zone, but Rashad Jennings mishandled a pass and tipped it into the air for an easy pick.
Now the Lions are moving the ball on the ground, large chunks at a time, and time is running out for the Jaguars as the third quarter comes to a close.
Current Score: Lions 21, Jaguars 0 (Start 4Q)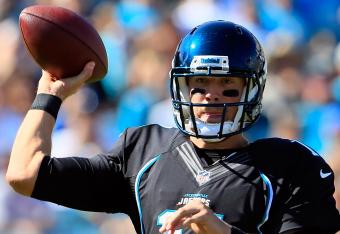 The Jaguars finally force a Lions punt, but if they don't start putting points on the board, time is going to become a factor.
They haven't been able to get much going in this game, and Blaine Gabbert doesn't seem willing to challenge the Lions secondary more than about seven yards deep.
Of course, the one time Gabbert did go deep, he got picked off, so maybe he's playing smart.
Meanwhile, the Jaguars are doing a great job of moving the ball on the ground right now. The Lions' defensive line is getting moved around at the point of attack, and the Jaguars are past midfield and moving into scoring range.
Current Score: Lions 21, Jaguars 0 (2:30 3Q)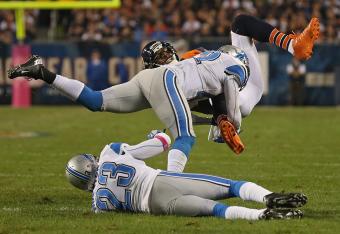 Well, the Jaguars were moving the ball better than they had all game.
And then he tried to throw one deep, and safety Erik Coleman settled under it to make it an ugly arm punt.
Coleman came up with an interception late in the first half as well, but it was called back due to a penalty on the defensive line. This one will count, and the Lions take over and start moving the ball on the ground.
Current Score: Lions 21, Jaguars 0 (9:30 3Q)
Based on the score, this game is highly one-sided. But is it statistically as one-sided as the score suggests?
Yes. Yes it is.
The Lions have the edge in offensive yards 285-62, and the edge in first downs 18-3.
Calvin Johnson is outgaining the Jaguars 111 yards to 62.
But the story in the second half should be Mikel Leshoure and Joique Bell.
This is the first time all season the Lions have entered the second half with a lead, and so it should also be the first time we see the Lions try playing to protect a lead.
Current Score: Lions 21, Jaguars 0 (Start 3Q)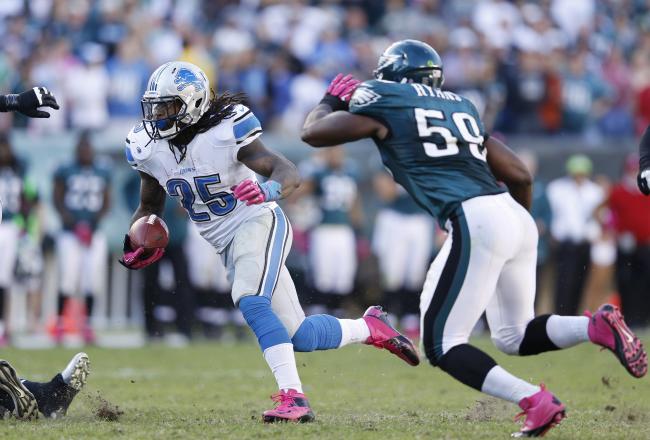 Touchdown Lions!
Mikel Leshoure. Three touchdowns.
Remember that time Leshoure tore his Achilles and everyone wondered if his career was over, or if he would ever be the same?
Yeah, he's fine, and he has a 50-yard, three touchdown performance in the first half to prove it,
With about 30 seconds left in the half, the Jaguars moved the ball to about midfield, but ran out of time before they could get anything from it.
Lions are up huge at halftime, which makes this the first time the Lions have led at halftime all season.
Current Score: Lions 21, Jaguars 0
The Jaguars finally earned a first down, but punted three plays later.
Now, at the two-minute warning, the Lions are up big and moving once again. Another score before the half could put this game out of reach early.
Current Score: Lions 14, Jaguars 0 (1:21 2Q)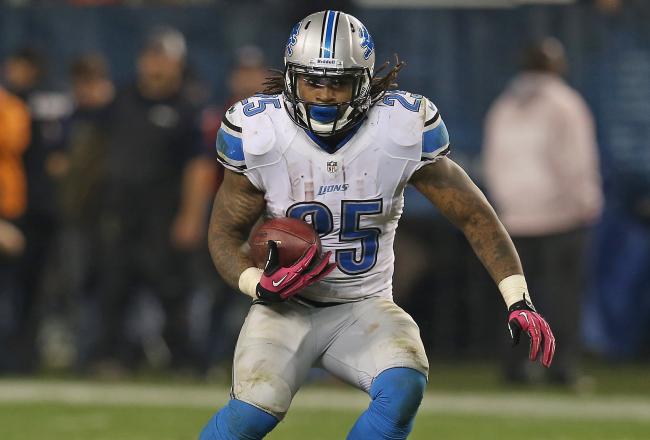 Touchdown Lions!
Mikel Leshoure pounds in his second TD run of the day from one yard out.
That was set up by a strange play there in which it looked like the entire offensive line was in the midst of a false start, but Dominic Raiola snapped the ball with a Jaguar in the neutral zone, and Stafford completed a deep ball to Calvin Johnson.
Johnson was tackled just a yard short of his first touchdown since Week 3, but Leshoure cleaned it up, and the Lions are up big.
Current Score: Lions 14, Jaguars 0
The Jaguars really needed to answer the Lions' scoring drive there. Instead, they get a sack, a drop, and another drop.
Jaguars have yet to earn a first down in this game, and we're midway through the second quarter.
And now the Lions are moving again. Jaguars need a stop in a big way here, while they look for their offense to wake up.
Current Score: Lions 7, Jaguars 0 (9:00 2Q)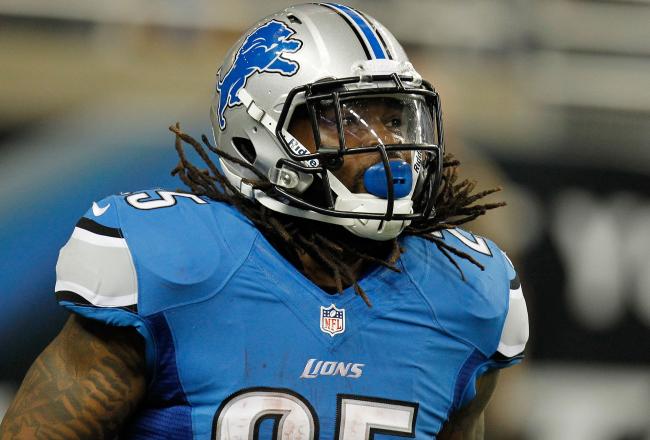 Touchdown Lions!
A great drive for the Lions included—surprise, surprise—a healthy dose of Calvin Johnson.
Mikel Leshoure cleans it up for the Lions from about seven yards out, and the Lions strike first, but not before Calvin Johnson catches 54 yards' worth of passes to get the team down the field.
Current Score: Lions 7, Jaguars 0 (12:00 2Q)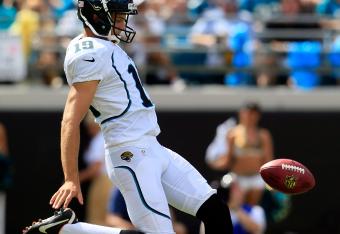 The Jaguars are not a very good offensive team. This is two consecutive three-and-outs to start the game for them.
And so when they went into the 2012 NFL Draft and decided the best way to fix their offense was to draft a punter in the third round, everyone got some laughs about it.
But with two punts on the books, Bryan Anger is averaging a net 60 yards per punt. In a game that has ben about field position so far, that's important.
Current Score: Lions 0, Jaguars 0 (1:00 1Q)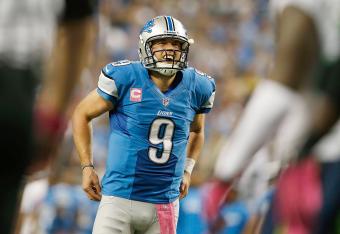 Unusual call there as the Lions get called for delay of game, but a Jaguars defender comes through and drills Matthew Stafford anyway, drawing a personal foul call that moves the Lions out of the shadow of their own end zone.
And yes, the Jaguars went three-and-out. It's a game of field position right now.
That is, until Stafford completes a deep ball on the sideline to Tony Scheffler.
Stafford is now the second-fastest to 10,000 yards in his career, getting there in only 37 games (Kurt Warner did it in 36).
Still, it's all for naught. Jason Hanson bounces a 47-yard field goal attempt off the right upright, and the game remains tied. Jaguars ball.
Current Score: Lions 0, Jaguars 0
Also of note: Calvin Johnson played less than half the Lions' snaps on that drive, which has just ended in a punt.
Everyone knew Johnson would be playing hurt, but nobody knew how much. If he's not in on every play... it could be worse than expected.
Jaguars take over from their own 13 yard-line.
Current Score: Lions 0, Jaguars 0 (12:00 1Q)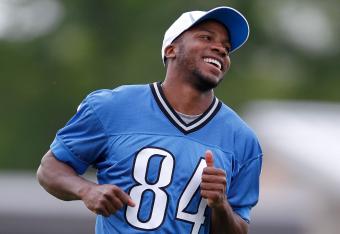 We're underway in Jacksonville, with the Lions starting the opening drive from the 20-yard line. The crowd turnout is downright embarrassing.
Like, non-BCS college team embarrassing.
Rookie WR Ryan Broyles has been targeted (and caught) on two of the Lions' first three passes. Could be a trend?
You might not be able to tell where this game is based on crowd noise.
The Lions appear to have traveled well to this game, and it looks like an approximate 50/50 Lions/Jaguars split in the stands. No telling how that will/will not affect the game.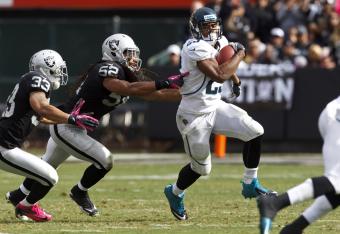 Sleepers to Watch:
When players go down with injury, it's never a good thing. But sometimes good things come out of it.
Calvin Johnson was playing hurt last week, and Titus Young picked up the slack with 100 yards and two touchdowns.
Johnson is active this week and will absolutely play, but it remains to be seen whether he will be limited by his injury. If so, Young could turn out to be Matthew Stafford's primary target.
For the Jaguars, Rashad Jennings is an interesting case. Jennings looked fantastic during training camp while Maurice Jones-Drew was holding out. Some thought Jennings was playing so well, Jones-Drew's decision would backfire and he'd lose carries.
That concern was met with a big "nope," as Jones-Drew proceeded to be one of the most productive players in football despite being on one of the most unproductive offenses.
Now, with Jones-Drew down with injury, Jennings has to carry the load against a decent, but occasionally vulnerable, run defense.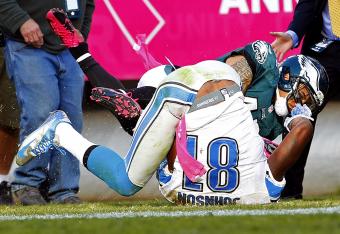 For those of you who just tuned in expecting to see football... surprise! Apparently nobody told you about Daylight Savings Time.
So you've got an extra hour to wait, but while you do that,why not keep it here for updates and analysis leading up to kickoff?
We'll start with inactive players for both teams, via NFL.com:
Detroit Lions
| | | | |
| --- | --- | --- | --- |
| Cliff Avril | DE | Active | |
| Louis Delmas | FS | Inactive | |
| Justin Durant | OLB | Active | |
| Jason Fox | T | Inactive | |
| Corey Hilliard | T | Inactive | |
| Calvin Johnson | WR | Active | |
| Jacob Lacey | CB | Active | |
| DeAndre Levy | OLB | Inactive | |
| Kellen Moore | QB | Inactive | |
| Brandon Pettigrew | TE | Active | |
| Brian Robiskie | WR | Inactive | |
| Amari Spievey | SS | Inactive | |
| Stephen Tulloch | MLB | Active | |
| Corey Williams | DT | Active | |
| Titus Young | WR | Active | |
Jacksonville Jaguars
Anthony Armstrong
WR
Inactive
Derek Cox
CB
Active
Blaine Gabbert
QB
Active


Greg Jones
FB
Inactive
Maurice Jones-Drew
RB
Inactive
Dwight Lowery
FS
Inactive
Rashean Mathis
CB
Inactive
Brad Meester
C
Active
Montell Owens
FB
Inactive
Jeris Pendleton
DT
Inactive
Laurent Robinson
WR
Active
Also significant, but not on the injury report, Lions CB Bill Bentley is out for the season with a shoulder injury. If Blaine Gabbert is ever to figure things out at the NFL level, he could stand a good shot against the Lions' depleted secondary.
This article is
What is the duplicate article?
Why is this article offensive?
Where is this article plagiarized from?
Why is this article poorly edited?

Detroit Lions: Like this team?