The Philadelphia Eagles are looking to save their season Monday night in New Orleans. Not exactly an ideal atmosphere for a season-saving effort, but the Saints have been so pathetic defensively this season that you can't rule anything out.
Here's my final preview of the matchup, along with a prediction.
What Philadelphia must do to win, offensive edition: Exploit the league's worst pass defense by taking some chances and airing it out. You might have to win a track meet.
What Philadelphia must do to win, defensive edition: Attack Drew Brees often. He's struggled when pressured this season.
How Philadelphia can lose: By continuing to display the lack of focus and intensity that has plagued this team for the better part of two seasons.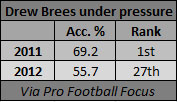 Five most important non-quarterbacks: DeSean Jackson, King Dunlap, Trent Cole, Nnamdi Asomugha, Dominique Rodgers-Cromartie
They need Jackson to perform like the playmaker he is, stretching the field against a terrible defense to open things up for Michael Vick and Co. Dunlap has to hold up in pass protection so that they can get it deep. Cole will lead a pass rush that has to step it up and perform better. Asomugha and Rodgers-Cromartie can't let Brees beat them deep.
Injury analysis, Eagles edition
It looks as though they'll be without guard Danny Watkins again, which isn't the end of the world because he was struggling anyway and Dennis Kelly played OK against Atlanta. More concerning is Nate Allen missing Friday's practice with a hamstring injury. The Eagles are already thin at safety, so Brees could take advantage of that.
Injury analysis, Saints edition
The Saints will be without Darren Sproles, but that shouldn't be a game-changer and they're pretty healthy outside of that.
B/R NFC East Blog prediction
Basically, if they couldn't stop the Falcons' offense at home, I don't know how they'll be able to slow down the Saints on the road, especially on Monday Night Football. The Eagles haven't shown me a lot of heart, so I can't buy into them right now.
Saints 30, Eagles 23