Isaac's NFL Mock Draft: Ver. 1.0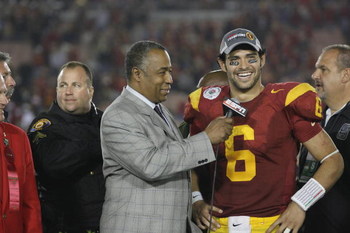 On April 25th, the NFL Draft will take place in New York City. Where will the future stars go? Future Pro Bowlers and maybe Hall of Famers will make their first stop. Where will it be? Where will Mark Sanchez (pictured) wind up? What Ohio State star will slide in the draft?
This will certainly be an interesting draft, and here, I will explain what I think will happen on April 25th, 2009.
No. 1: Detroit Lions - Mark Sanchez, QB, USC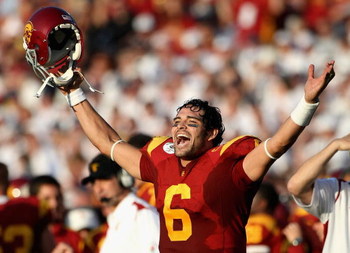 For weeks, the speculation has been that the Detroit Lions will select Georgia quarterback Matt Stafford with the No. 1 overall pick.
However, I believe USC quarterback Mark Sanchez's Combine perfomance has shown that he is not a Matt-Leinart clone.
Sanchez had a fantastic season and while he is not as flashy a prospect as Stafford, he has just as good an arm and better mobility.
With the first overall pick in the 2009 NFL Draft, the Detroit Lions select Mark Sanchez, quarterback, Southern California.
No. 2: St. Louis Rams - Jason Smith, OT, Baylor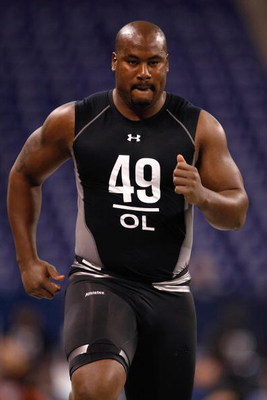 With Stafford still on the board, most would snatch Stafford as soon as the chance arises. But not the Rams. The Rams will select Baylor offensive tackle Jason Smith to get a franchise offensive lineman.
Smith impressed at the combine and some are flirting with the idea of Smith going No. 1. And frankly, it's not out of the question. The Rams will get a solid pick with Smith and lay out the blueprint of their future.
With the second overall pick in the 2009 NFL Draft, the St. Louis Rams select Jason Smith, offensive tackle, Baylor.
No. 3: Kansas City Chiefs - Aaron Curry, LB, Wake Forest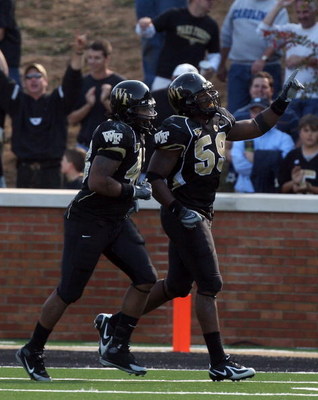 Since the Chiefs assumed Stafford would go to the Detroit Lions, they traded for Patriots quarterback Matt Cassel. Now, there would be no point in drafting Stafford.
The Chiefs should stack up on defense, which hurt them very dearly last year. Kansas City needs a franchise linebacker, and Aaron Curry of Wake Forest is the answer. He has improved each year, and his physicality and toughness help his stock.
With the third overall pick in the 2009 NFL Draft, the Kansas City Chiefs select Aaron Curry, linebacker, Wake Forest.
No. 4: Seattle Seahawks - Matt Stafford, QB, Georgia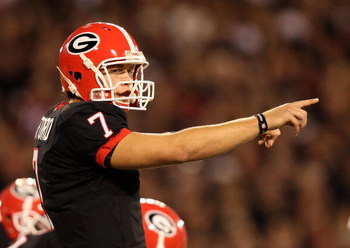 The Seattle Seahawks have bolstered their pass game by signing big name wide receiver T.J. Houshmandzadeh to five-year contract. Now, they should draft Matt Stafford to lead them.
Stafford will not have sensational receivers next year with Seattle, but he will have Houshmandzadeh and Deion Branch and Nate Burleson, both competent No. 2 receivers. Stafford would be a great pick for the Seahawks and could return them to prominence.
With the fourth overall pick in the 2009 NFL Draft, the Seattle Seahawks select Matthew Stafford, quarterback, Georgia.
No. 5: Cleveland Browns - Malcolm Jenkins, CB, Ohio State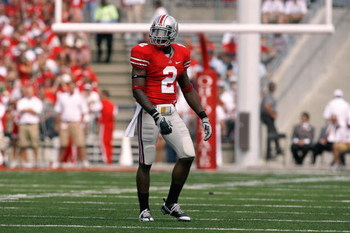 The Cleveland Browns are in need of a franchise corner to pair with youngster Eric Wright. Their answer: Malcolm Jenkins.
Jenkins can play both safety and corner, but his cornerback skills cannot be denied. There is not much scouts do not like about Jenkins. He's athletic, smart, and consistent. Overall, he would be a nice pick for the Browns, and he be the first step in rebuilding the Browns.
With the fifth overall pick in the 2009 NFL Draft, the Cleveland Browns select Malcolm Jenkins, cornerback, Ohio State.
No. 6: Cincinnati Bengals - B.J. Raji, DT, Boston College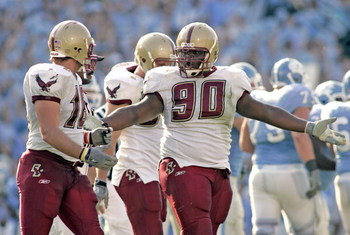 At 6'2", 337 pounds, nose tackle B.J. Raji has ideal size for an NFL lineman. He has phenomenal burst off the line, good lateral quickness, and reacts to plays well.
The only glaring weakness for Raji is that he's not very good shedding blocks. The Cincinnati Bengals need a dominant nose tackle, as teams were able to run all over them last year. A dominant defensive tackle would benefit linebacker Keith Rivers tremendously.
With the sixth overall pick in the 2009 NFL Draft, the Cincinnati Bengals select B.J. Raji, nose tackle, Boston College.
No. 7: Oakland Raiders - Michael Crabtree, WR, Texas Tech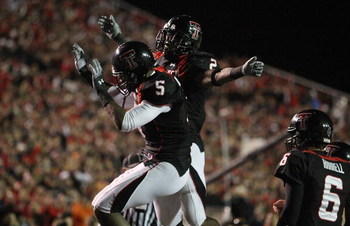 One of the most talked about prospects in this year's draft is wide receiver Michael Crabtree. Crabtree, who skipped his last two years of college to enter the NFL Draft.
However, he has only hurt his stock. On February 21st, he had a Jones fracture in his foot, which would require surgery. He did not compete at the Combine and has decided he will skip Texas Tech's Pro Day.
However, Crabtree has the talent to be a great receiver, and I do not see a scenario where he falls out of the top 10.
With the seventh overall pick in the 2009 NFL Draft, the Oakland Raiders select Michael Crabtree, wide receiver, Texas Tech.
No. 8: Jacksonville Jaguars - Eugene Monroe, OT, Virginia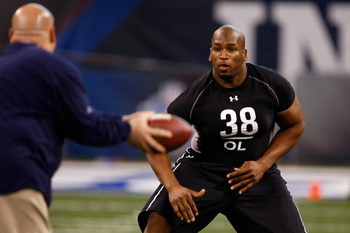 Last year, Jaguars quarterback David Garrard was sacked 41 times. As a result, his performance decreased from 2007, when he threw 18 touchdown passes and three interceptions.
While the Jaguars need some help at cornerback and wide receiver, I expect them to address offensive line in the first round and select Monroe, their future offensive tackle. He impressed at the Combine, and I am sure the Jaguars noticed.
With the eighth overall pick in the 2009 NFL Draft, the Jacksonville Jaguars select Eugene Monroe, offensive tackle, Virginia.
No. 9: Green Bay Packers - Brian Orakpo, DE, Texas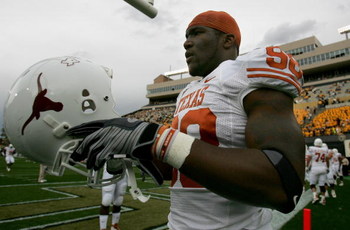 22-year-old Texas defensive end Brian Orakpo is living large. Known as "Rak", he is a lock to be a first-round pick.
With B.J. Raji to Cincinnati and Jenkins to Cleveland, Orakpo's first two suitors have chosen other players. The Packers need a defensive lineman, and "Rak" could be that guy. He had a monster year for Texas in 2008 with 42 tackles and 11.5 sacks.
With the ninth overall pick in the 2009 NFL Draft, the Green Bay Packers select Brian Orakpo, defensive end, Texas.
No. 10: San Francisco 49ers - Andre Smith, OT, Alabama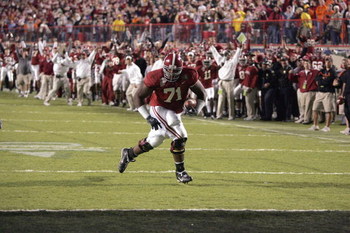 With Sanchez and Stafford off the board, the San Francisco 49ers cannot grab their future quarterback. But it may be for the best, we saw how Alex Smith worked out.
The 49ers, can select their future left tackle in Andre Smith. Smith has some athletic issues, as he showed up to the NFL Scouting Combine unprepared and overweight. However, he is a talent and I think San Francisco sees that.
With the No. 10 overall pick in the 2009 NFL Draft, the San Francisco 49ers select Andre Smith, offensive tackle, Alabama.
No. 11: Buffalo Bills - Brandon Pettigrew, TE, Oklahoma State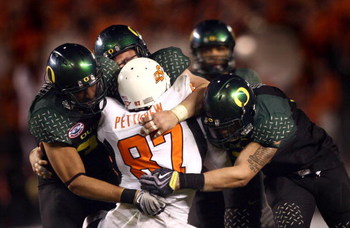 The Bills recently lost Robert Royal to free agency. Royal was their starting tight end last year and while he was not fantastic, he got the job done. This forces the Bills to draft a tight end or possibly pick up Owen Daniels via free agency.
But the draft is the best bet. Their answer: Brandon Pettigrew. Pettigrew, 6'5", 263, was not great at the Combine, but he has good game speed, sound blocking skills, and a wide body for Trent Edwards.
With the No. 11
overall pick in the 2009 NFL Draft, the Buffalo Bills select Brandon Pettigrew, tight end, Oklahoma State.
No. 12: Denver Broncos - Everette Brown, LB, Florida State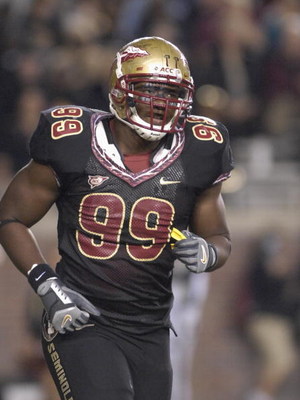 Last year, the Broncos had a very flashy offense. They had a great quarterback in Jay Cutler and a solid receiving duo in Brandon Marshall and Eddie Royal. They also had a good young tight end in Tony Scheffler.
Their problem: Defense. Their run defense was ugly, and they need some help. And that's why they should draft Everette Brown, the OLB/DE out of Florida State. Brown had a solid year with FSU last year and would be a great fit with Denver. I can see him starting immediately.
With the No. 12 overall pick in the 2009 NFL Draft, the Denver Broncos select Everette Brown, linebacker, Florida State.
No. 13: Washington Redskins - Michael Oher, OT, Ole Miss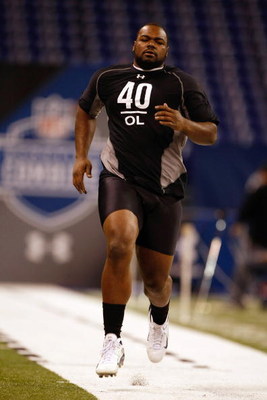 One of the most impressive offensive tackles I have ever seen is Mississippi's Michael Oher. I have never seen a better pass-protecting offensive tackle than Oher.
Some scouts compare him to Willie Roaf, the Hall of Famer, who played for the Kansas City Chiefs. Oher has the tools to be just like Roaf. He has the same skill set. But what Oher does as a pro remains to be seen.
The Redskins need a lineman, especially a young one. They have Chris Samuels, Jon Jansen, and Casey Rabach. The list of aging lineman on the Skins goes on-and-on. They need a young franchise lineman to help Jason Campbell.
With the No. 13 overall pick in the 2009 NFL Draft, the Washington Redskins select Michael Oher, offensive tackle, Mississippi.
No. 14: New Orleans Saints - Brian Cushing, LB, USC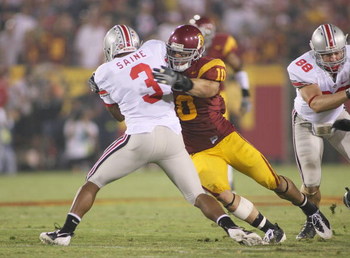 The Saints need some help at linebacker. Last year, they had a great offense with Drew Brees at quarterback making receivers like Lance Moore, Marques Colston and Devery Henderson look like All-Pros.
However, they need help at defense to become the playoff contender they were in 2006. It starts with Cushing. Cushing has great drive and is the prototypical linebacker. He projects like A.J. Hawk, the great Packers linebacker who has been very productive.
With the No. 14 overall pick in the 2009 NFL Draft, the New Orleans Saints select Brian Cushing, linebacker, USC.
No. 15: Houston Texans - Rey Maualuga, LB, USC
The Texans are in need of a solid linebacker to complement middle linebacker DeMeco Ryans. That man would be Rey Maualuga (pictured).
Maualuga has bone-crushing hits and some scouts compare him to legendary Ravens linebacker Ray Lewis. Maualuga would certainly be a good pick for Houston and would complement Ryans. In my mind, Maualuga surpasses him.
With the No. 15 overall pick in the 2009 NFL Draft the Houston Texans select Rey Maualuga, linebacker, USC.
No. 16: San Diego Chargers - Peria Jerry, DT, Ole Miss
The Chargers are in need of a pass rushing defensive tackle. The man for the job is Peria Jerry (seen here, absolutely torturing an LSU ball carrier). Jerry has terrific speed, explosiveness, and great instincts.
Jerry had 49 tackles, 18 for tackles for a loss, and seven sacks for the Mississippi Rebels in 2008. Jerry would be good for the Chargers and would definitely be an excellent pick.
With the No. 16 overall pick in the NFL Draft, the San Diego Chargers select Peria Jerry, defensive tackle, Mississippi.
No. 17: New York Jets - James Laurinaitis, LB, Ohio State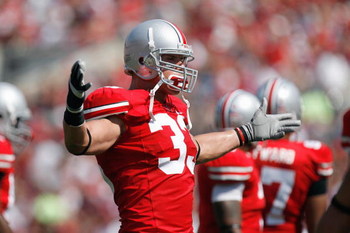 After a strong Pro Day, linebacker James Laurinaitis has risen from the mid 20's to the late 10's and into the New York Jets hands.
The Jets need another inside linebacker to form a better defense that includes Bart Scott and David Harris at linebacker. Laurinaitis has been all over the field the last two seasons, which will hopefully continue for the Jets.
With the No. 17 overall pick in the 2009 NFL Draft, the New York Jets select James Laurinaitis, linebacker, Ohio State.
No. 18: Chicago Bears - Jeremy Maclin, WR, Missouri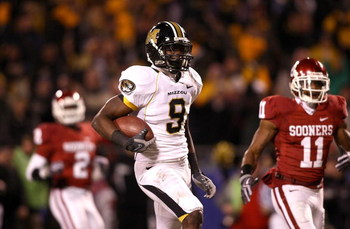 The Chicago Bears are in need of a game-breaking wide receiver. The man for the jobe is Missouri's Jeremy Maclin.
Maclin had 102 catches, 1,260 yards, and 13 touchdowns while also making plays in the return game. Maclin would be a great addition to help quarterback Kyle Orton's confidence and could complement superstar Devin Hester in the kick/punt return game.
With the No. 18 overall pick in the 2009 NFL Draft, the Chicago Bears select Jeremy Maclin, wide receiver, Missouri.
No. 19: Tampa Bay Buccaneers - Percy Harvin, WR, Florida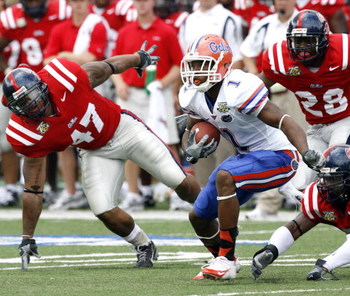 The Tampa Bay Buccaneers lost 37-year-old Joey Galloway to free agency. While the age speaks for itself, Galloway could still perform with the best of them. The Bucs will need to replace his presence by drafting a receiver.
This time, it will be a do-it-all type player—Florida's WR/RB Percy Harvin. Harvin has durability issues, but can have a Chris Johnson impact on the field, and I think the Bucs will be willing to take the risk of injury.
With the NO. 19 overall pick in the 2009 NFL Draft, the Tampa Bay Buccaneers select Percy Harvin, wide receiver, Florida.
No. 20: Detroit Lions - Vontae Davis, CB, Illinois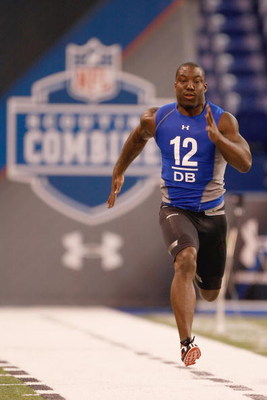 With no offensive tackles of first round value left, the Lions should just draft the best player available: Cornerback Vontae Davis.
Davis is rated as the second-best corner, but teams' other needs are allowing him to slip in the draft. The Lions should not wait. They should draft Davis and throw him into the fire immediately. It is not like they have anything to lose.
With the No. 20 overall pick in the 2009 NFL Draft, the Detroit Lions select Vontae Davis, cornerback, Illinois.
No. 21: Philadelphia Eagles - Knowshon Moreno, RB, Georgia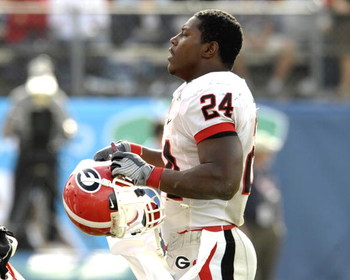 While Eagles head coach Andy Reid does not often go after running backs in the draft, this is one gem he cannot resist.
Knowshon Moreno had two fabulous years for the Georgia Bulldogs, totaling nearly 2,800 yards before declaring for the NFL Draft. He has fantastic leaping abilities, good cuts, and excellent ball security (He did not fumble once at Georgia!) The Eagles should try to build a solid one-two punch with Westbrook and Moreno.
With the No. 21 overall pick in the 2009 NFL Draft, the Philadelphia Eagles select Knowshon Moreno, running back, Georgia.
No. 22: Minnesota Vikings - Josh Freeman, QB, Kansas State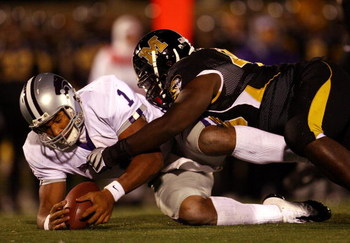 Most of the the Vikings' problems are the result of bad quarterback play. Vikings' fans and coaches are considering drafting a wide receiver in the first round, but that would not be wise.
Obviously, success starts with the quarterback, so a team is only as good as their quarterback.
The Vikings should select Kansas State quarterback Josh Freeman, a 6'6" rocket-armed mobile QB who threw for 2,945 yards and 20 TD's last year.
With the No. 20 second overall pick in the 2009 NFL Draft, the Minnesota Vikings select Josh Freeman, quarterback, Kansas State.
No. 23: New England Patriots - Clay Matthews, LB, USC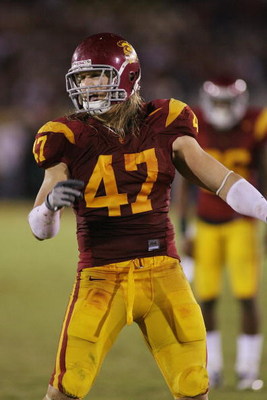 The New England Patriots groomed a great rookie last year in Jerod Mayo. In fact, Mayo led all rooki
es in tackles, winning Defensive Rookie of the Year. The Pats should follow up the trend and draft Clay Matthews out of USC. He's 6'3", has a fantastic motor and a great football IQ. He also finished his senior year with 56 tackles and four interceptions. A defense with Jerod Mayo, Tedy Bruschi, and Clay Matthews is a nightmare for any team.
With the No. 23 overall pick in the 2009 NFL Draft, the New England Patriots select Clay Matthews, linebacker, USC.
No. 24: Atlanta Falcons - Larry English, LB, Northern Illinois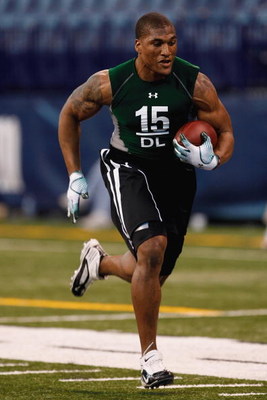 With outside linebacker Keith Brooking gone, the Falcons will need an outside linebacker who can rush the passer effectively.
The best pass-rushing linebacker left is Larry English out of Northern Illinois. At 6'2", 255, he's like Terrell Suggs of the Baltimore Ravens in that he can switch from outside linebacker to defensive end, and they share similar sizes.
With the No. 24 overall pick of the 2009 NFL Draft, the Atlanta Falcons select Larry English, linebacker, Northern Illinois.
No. 25: Miami Dolphins - Darius Butler, Connecticut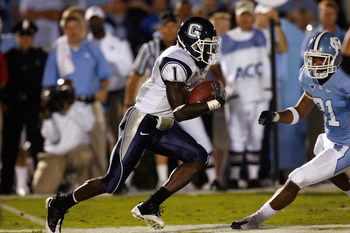 The Miami Dolphins and Baltimore Ravens, who have the No. 25 and No. 26 picks, respectively, have shown great interest in cornerback Darius Butler.
Butler, also Ravens running back Willis McGahee's cousin, had a great year for Connecticut and topped it off with a great combine. Butler, 5'10", has great ball skills and return ability. Rumor had it the Dolphins loved WR Hakeem Nicks, but Bill Parcells stresses defense, and I expect him to take Butler.
With the No. 25 overall pick of the 2009 NFL Draft, the Miami Dolphins select Darius Butler, cornerback, Connecticut.
No. 26: Baltimore Ravens - Darrius Heyward-Bey, WR, Maryland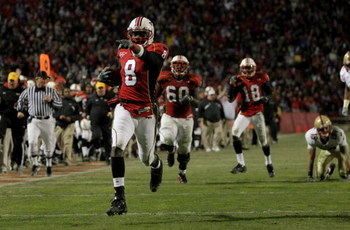 The Baltimore Ravens finished 11-5 last year and almost went to the Super Bowl, losing to the Pittsburgh Steelers in the AFC Championship, 23-14. The Ravens need to surround quarterback Joe Flacco with the weapons needed to score more points.
That weapon would be Darrius Heyward-Bey. Heyward-Bey ran a 4.30 40-yard dash and has the blazing speed, size, and hands.
With the No. 26 overall pick in the 2009 NFL Draft, the Baltimore Ravens select Darrius Heyward-Bey, wide receiver, Maryland.
No. 27: Indianapolis Colts - Hakeem Nicks, WR, UNC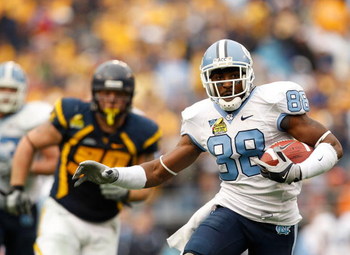 In Indianapolis, there has to be an adjustment. Colt wide receiver Marvin Harrison was released earlier this offseason, and the Colts need another wide receiver to assume tho No. 3 role behind Reggie Wayne and Anthony Gonzalez.
UNC wide receiver Hakeem Nicks would be an ideal fit. He had 1,222 yards and 12 touchdown catches as a senior, and he has big-play ability.
With the twenty seventh overall pick of the 2009 NFL Draft, the Indianapolis Colts select Hakeem Nicks, wide receiver, UNC.
No. 28: Philadelphia Eagles - Eben Britton, OT, Connecticut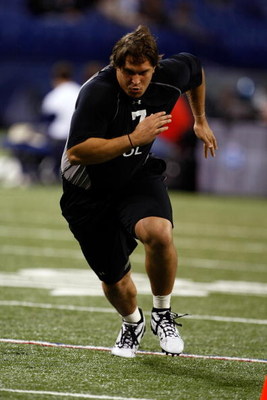 Since the Eagles have already addressed their run offense by taking Moreno, they need to address it again by drafting Eben Britton, the offensive tackle out of Connecticut.
At 6'6", Britton is a big tackle and would be a great fit for the Eagles. He brings great strength and intelligence to the field and could help the Philadelphia Eagles immensely.
With the No. 28 overall pick in the 2009 NFL Draft, the Philadelphia Eagles select Eben Britton, offensive tackle, Connecticut.
No. 29: New York Giants - Kenny Britt, WR, Rutgers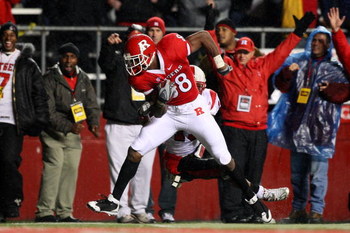 Last year, Giants wide receiver Plaxico Burress shot himself in the leg at nightclub. The Giants will need a new No. 1 receiver, and Kenny Britt can be that guy.
At 6'3", Britt is a tall target for Eli Manning, and he had 1,371 yards and seven touchdowns for Rutgers last year. He would be a solid selection for the Giants.
With the No. 29 overall pick in the 2009 NFL Draft the New York Giants select Kenny Britt, wide receiver, Rutgers.
No. 30: Tennessee Titans - Alex Mack, C, California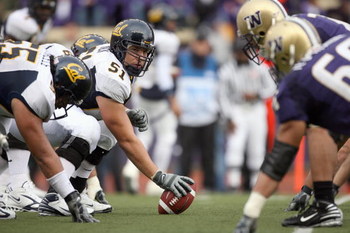 With current center Kevin Mawae not getting any younger, the Titans need to draft a center with the No. 30 pick. The guy for the job is California's Alan Mack.
Mack has great intelligence on the field, great leadership on and off of it, and some scouts even compare Mack to Mawae.
With the No. 30 overall pick in the 2009 NFL Draft, the Tennessee Titans select Alex Mack, center, California.
No. 31: Arizona Cardinals - Chris Wells, RB, Ohio State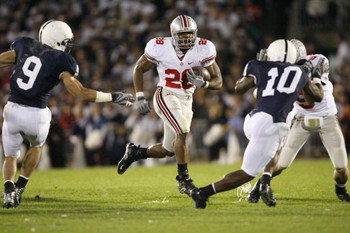 Despite an excellent Pro Day, scouts are still worried about the NFL prospects of Chris "Beanie" Wells. He has injury issues, and that's enough for some teams to refuse to take him, except for Arizona Cardinals.
The Cardinals need an effective running back, and with Beanie still on the board, they cannot resist picking him.
With the thirty first overall pick in the 2009 NFL Draft, the Arizona Cardinals select Chris Wells, running back, Ohio State.
No. 32: Pittsburgh Steelers - Max Unger, C, Oregon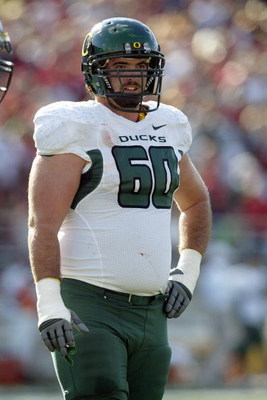 The main problem the Pittsburgh Steelers had was pass protection. Quarterback Ben Roethlisberger was always under pressure and would sometimes get sacked anywhere from three to six times a game.
They need to address their offensive line, and the best available lineman would be Max Unger, the center out of Oregon. He would be the Steelers' future center, and he is extremely versatile.
With the No. 32 overall pick of the 2009 NFL Draft, the Pittsburgh Steelers select Max Unger, center, Oregon.
Keep Reading