Alabama Football: 5 Keys to the Game vs. LSU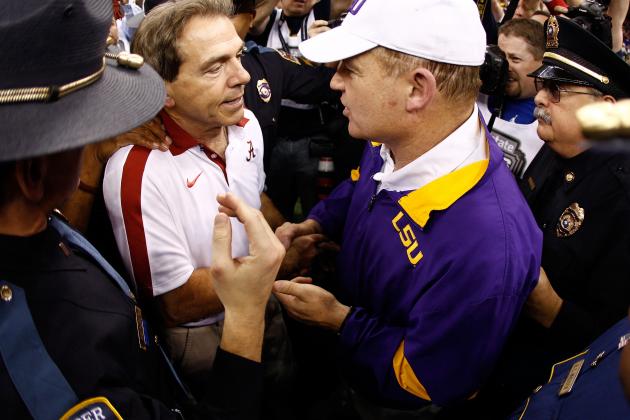 Chris Graythen/Getty Images

It may seem like deja vu all over again, but Alabama and LSU are finalizing their preparations for one another again.
Once again, the SEC West is on the line. The SEC title is on the line. The BCS title is on the line. Pretty much anything and everything that each program has worked for since January is on the line.
For the winner, all the hard work is rewarded. For the loser, well, pretty much everything is lost and the season is a bust.
Alabama comes into this one as a relatively heavy favorite when considering that it is a night game in Baton Rouge, Louisiana. But if the Tide is going to come out the victor, there are a few things that it will have to do.
If the Tide executes on all five, there is no way it comes away with anything less than a convincing victory and a berth in the SEC title game.
Begin Slideshow

»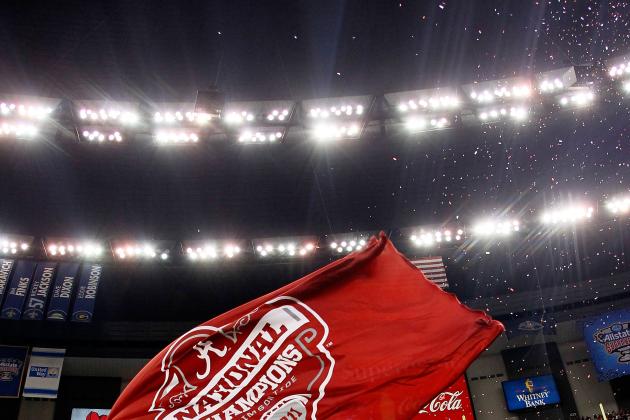 Kevin C. Cox/Getty Images

Alabama is the top-ranked team in the country. Alabama is the defending BCS champion. Alabama has not won a game by less than 16 points in two seasons.
Alabama must make LSU well aware that none of this will change on Saturday night.
Maybe it was the thrashing Alabama gave them in January. Maybe it was the loss of Tyrann Mathieu. Whatever caused it, LSU has clearly lost most of the swagger and bravado that carried the Tigers into the title game last season. They just do not look anything like the monster that they were a year ago.
If Alabama goes into this game with the confidence and determination that allowed it to shutout LSU in New Orleans, it will be noticeable from the first snap. By doing this, the Tide will send an instant message to LSU that intimidation and fear are not going to be factors in this game.
Alabama is the king of the college football mountain and it needs to play with the ferocity of an unstoppable empire come Saturday night.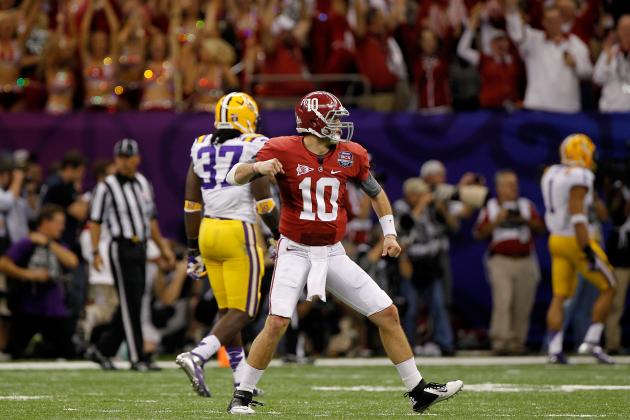 Chris Graythen/Getty Images

Baton Rouge on a Saturday night in November is not a very welcoming place.
The stench of every liquor known to man and what will likely be any number of homemade concoctions will fill the air. The crowd will be rough and raucous, determined to help their team avenge the BCS beatdown.
While Alabama must be patient, and let the game come to it, it will be important to take an early lead. If the Tide can put up a 10-spot in the first quarter and silence the rabid LSU fanbase, everything going forward will be that much easier for it.
If things get off to a rough start for Alabama, it could be a long night. Solid tackling and productive drives can be as infectious as turnovers and busted plays can be cancerous.
Alabama will run away with this one if it can establish an early command of the game and put some points on the board early.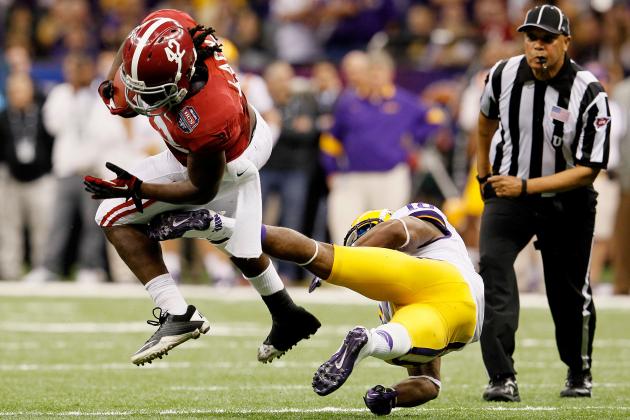 Ronald Martinez/Getty Images

Quarterback A.J. McCarron is having one of the best seasons in Alabama history. Freshman receiver Amari Cooper is becoming one of the bigger threats in the conference and Alabama has multiple options in the passing game.
None of this happens, however, without a solid running game.
Eddie Lacy and T.J. Yeldon have led an Alabama ground attack that is averaging over 200 yards per game this season. LSU will try to put an end to that success.
The Tigers may not have everything that Alabama has defensively, but they are still a top-10 defense nationally.
If Alabama cannot establish a threat on the ground and fails to move the chains with Lacy and Yeldon, everything McCarron aims to accomplish will be considerably more difficult. But if the Tide can manage to go north of 150 yards on the ground, LSU will struggle to keep this game close.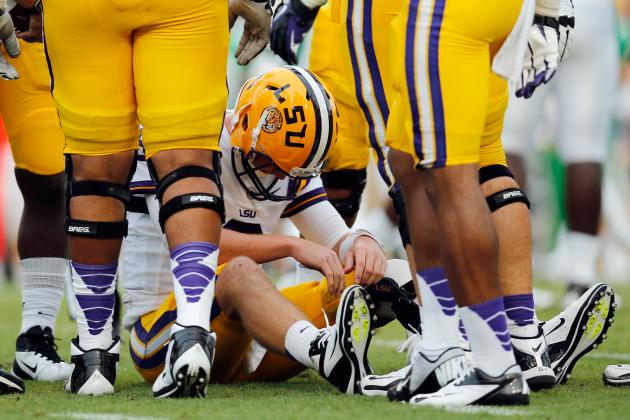 Chris Graythen/Getty Images

LSU quarterback Zach Mettenberger has looked lost and out of sorts on multiple occasions in his first year running the Tiger offense.
In his two games against quality opponents this year, Florida and Texas A&M, Mettenberger has completed just 22-of-54 passes (41 percent) for 255 yards. On the season, he has thrown just seven touchdowns to four interceptions and is only completing 56 percent of his throws. He has thrown for more than 200 yards just twice, against Idaho and Towson.
Alabama must keep pressure on the LSU hurler by forcing long passing situations and confusing LSU with multiple blitz packages, a Nick Saban and Kirby Smart specialty.
The Tide does not have to do anything special here. It just needs to prevent Mettenberger from being something different than he has been through the first eight games.
If Mettenberger is not given the opportunity to get into a rhythm and gain confidence in himself, his offense and his team will go down in flames.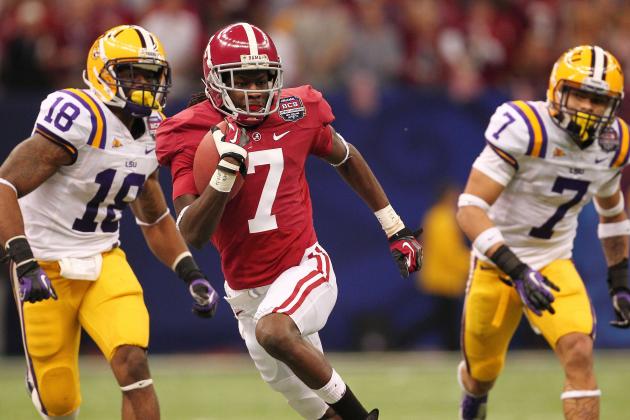 Marvin Gentry-US PRESSWIRE

Alabama leads the nation in red-zone offense, scoring 97 percent of the time and reaching the end zone on 74 percent of their chances. Conversely, LSU ranks 75th in red-zone conversions and fails to reach the end zone more than half of the time.
Defensively, Alabama also leads the nation. The Tide has only allowed eight scores in 15 red-zone attempts through eight games. The number of attempts, scores and the percentage are all tops nationally.
LSU, on the other hand, ranks 119th nationally in opponent red-zone scoring percentage. While it is fourth in red-zone attempts allowed, it seems to crack and fold once the opponent gets near the promised land.
If Alabama continues to do what it does in the red zone and the defense manages to maintain the level of excellence that it has achieved in the red zone this season, LSU is going to be in a world of trouble.
The bottom line is that Alabama, in order to lose this game, has to play so far out of character that it will be all but unrecognizable. Even then, LSU will have to execute at a level that it has yet to reach all season.
On paper, this looks like another rout for the Tide.