Are Wingers or the Diamond Best for Manchester United's Future?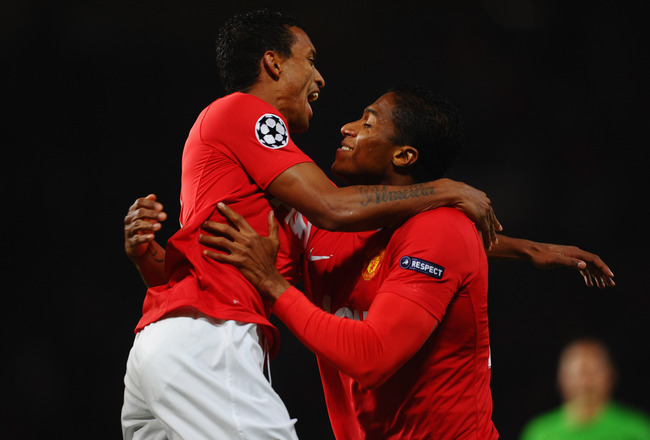 Nani Valencia
Laurence Griffiths/Getty Images
It doesn't seem likely that Manchester United manager Sir Alex Ferguson ditched the diamond for wingers against Chelsea because of an 80-year-old granny.
Watching the programme live, she did nevertheless have something of a point. It wasn't just the diamond against Braga that led to United being two goals down within minutes; it was the daft decision to play Michael Carrick at centre-back when Keane and Wootton were both fit.
Sir Alex has shown himself to be more open to tactical flexibility than ever before. As he said earlier this month in his Press Conference, reported the next day:
"If it turns out we play the diamond it would be revolutionary because it is going against our history."
Now everyone knows that he is the past master of bluff. He certainly played a diamond formation against Newcastle that was highly successful, producing a 3-0 win. He then tried it against Braga, but had to revert after conceding two goals.
The granny was half right, but the diamond is not directly the cause of losing the goals. Alan Pardew's Newcastle seemed stumped as they were overrun by United's possession. No doubt their manager had meticulously prepared for a 4-3-3.
But as we have been saying for a couple of years now, Sir Alex may notionally have a set-up that looks like a specific formation, and United's tradition is certainly in wide players and counter-attacking football.
The truth is that the players he's bought and trained have been prepared for an infinitely fluid, interchanging, fast, technical game among the attacking players.
It is interesting to look at what other managers are doing. At least four seem to be captivated by their own version of Barcelona's "tiki-taka" football. The trouble is that they don't have the Spanish side's group of players, who have mostly grown up playing that style and know each other's play inside out.
Pep Guardiola had a system which looked like 3-1-6 with no central striker. He bought a couple of strikers and tried to get them to play the system. Ibrahimovich didn't fit. Villa converted well before his long-term injury. In addition, Alexis Sanchez has fit in well, as has Cesc Fabregas, of course.
Tito Vilanova has pretty much stuck by this tradition. Recent wobbles have been mainly down to having Puyol, and especially Pique, injured.
And Sir Alex has certainly stuck with out-and-out attacking football, even if the system doesn't always resemble a 4-4-2. He has bought players like Young, Kagawa and Van Persie who are very comfortable playing a number of roles. In Wayne Rooney they also have "Mr Versatility."
At the other end of the East Lancs Road, Brendan Rodgers is being rather more rigid and currently blaming his lack of resources. However, his big mistake may have been not fancying Andy Carroll, as Liverpool have only one striker.
It can't be much fun watching your side being overrun by the team you've just left, playing pretty much the same football Rodgers is trying to instill.
It may work, or it may not. It didn't for Andre Villas-Boas at Chelsea. Roberto Di Matteo has brought his own style to the players his owner has bought this summer. It works extremely well. Chelsea play 4-2-3-1, which gives Mata, Hazard and Oscar the freedom of the park.
The truth is you need to be able to play a mix of styles. Sometimes you need an out-and-out striker or two, and sometimes you don't. United have in the past had as many as four strikers on the pitch to try and get a result.
Meanwhile, Roberto Mancini's Manchester City are struggling more than last year, apparently because he wants to play three at the back, like Barcelona and a growing number of Serie A clubs. But when he desperately needed a goal against Ajax, he ended up with four strikers on the pitch, too.
There have certainly been plenty of times when Sir Alex could have used a 3-5-1 formation, especially in the Champions' League. Against Cluj for example, he simply didn't need two centre-backs, because there was nobody to play against.
Maybe that's why he popped Michael Carrick into the back four against Braga, but it nearly backfired.
So the key point is that you cannot easily nail down Sir Alex's formation in the future. Okay, it may set up as 4-4-2, 4-3-3, 4-5-1 or the infamous 4-3-1-2 (or diamond), but his multi-skilled players have been coached to roam free in attack, while being utterly disciplined in formation in defence.
With players of pace and technical skill, who have also had defensive skills grafted on, this will surely produce the next era of United success, no?
And then, no doubt, along will come Pep Guardiola to mess it up again. But at least the players will have the technical skill and flexibility to do whatever he decides.
So let's briefly look at the merits of these two formations.
Manchester United's Tradition: 4-4-2
Best Law Charlton
Mike Hewitt/Getty Images
In Manchester United's first great era of success, Sir Matt Busby followed the revolution inspired by Hungary and Real Madrid to produce two successive teams of flair, industry and skill.
Sir Alf Ramsey gets the credit for 4-4-2 in England's successful World Cup campaign in 1966. There we saw the first "wing-backs", Ray Wilson and George Cohen.
But even in the European Cup-winning side, Manchester United had players who could roam, like Charlton and Best, as well as those in rigid positions, like ball-winning Nobby Stiles.
The key point is that Busby spawned the tradition of out-and-out attacking football. Ferguson was Busby's best student. He built one attacking side after another on rocks like Steve Bruce and Gary Pallister, with Bryan Robson or Roy Keane as the ball-winning box-to-box midfielder.
But Premier League football has been hijacked by foreign players, foreign coaches and foreign directors.
There are plenty of British coaches and players of course, and you can stick to a traditional format, as Stoke City's Tony Pulis has, for example. But you still have to get your players to understand and play against alien tactical formations and come up with a result.
This is at the root of Sir Alex's earlier comments. He still wants to play attacking football, but he used the recent matches, including against Newcastle, to try out variants that might work against the top clubs.
The defeat by Tottenham was critical in this change, because Sir Alex got both his tactics and his players wrong, and United were overrun in midfield. It wasn't just Giggs' fault; he was the fall guy.
It used to be said, for example, that players far too often tried to "walk the ball into the net". This was sometimes leveled at Arsenal: pretty football with no end product.
The truth is that that's pretty much what Barcelona are trying to do, and it's highly successful. Nobody's going to stop someone like Busquets letting fly from 25 yards if appropriate, but the game is now about close passing.
That is key to Sir Alex's progressive change. He had seen more and more teams putting a packed or highly-organised defence against his team, as Wigan did so successfully at the end of last season. So he got United playing a fast, zonal-passing game to break down the parked bus.
This was particularly effective against Cluj. Indeed Roy Hodgson also used this approach against San Marino, which is why Manchester United players were key.
The thing is, you can still play 4-4-2 and use this approach, as Sunday's match against Chelsea showed, and also last night's match.
At times, Nani, Anderson and Rafael were playing delightful triangles. Against Newcastle, this was happening all over the pitch.
This is one of the reasons why Wayne Rooney and now Robin Van Persie are key. You can play 4-4-2 or 4-4-1-1 and still find either of these players out on either wing, or even coming out deep. Meanwhile, someone else is filling in ahead, which is why Kagawa will eventually be like gold dust.
Both those senior pros can cross, or be on the end of one.
So the key is being able to adapt at will, without the Boss having to shout very public instructions.
United had a dearth of possession against Chelsea in the first half but, playing 4-4-2 against Chelsea's 4-3-3, they overran them in attack for the first two goals.
The odd man out at the moment seems to be Valencia. That doesn't mean he doesn't play, but he is one of the most one-footed players in the Premier League. He is still highly effective, because of his pace, ability to beat a man inside or outside and hit a hard low cross like the one Van Persie converted.
But look at a young player like Ryan Tunnicliffe or Nick Powell, playing against Chelsea last night. They can do everything and be everywhere: tackle, pass, cross, shoot. This is the future.
Also note Sir Alex's predilection for signings who have "football intelligence." Like Young, Van Persie, Valencia, Chicharito, Anderson, Powell, Jones, Smalling.
Such players can be trusted to think on their feet, and individually or collectively change a match.
Many commentators on message boards bang on about United needing a defensive midfield. They simply don't understand the United tradition. Having a defensive midfield is a mindset; it simply doesn't fit with attacking football.
Roy Keane and Bryan Robson weren't defensive midfielders, nor is Yaya Toure. They were box-to-box midfielders who can tackle well.
So yes, United set up with 4-4-2 on Sunday, but where did Cleverley play? Or Young? Or Rooney for that matter? Yes Valencia was largely up and down, but that's what you do with a Victor Moses, an Antonio Valencia, a Matt Jarvis, etc. That's what they're good at. It's very effective.
But Valencia can tackle as well; that's why he's been played at left-back in the past. Ashley Young can tackle, play in the hole or on the wing. He's very comfortable with a fluid system. So is Danny Welbeck. He'll do anything to get games.
So in summary, Sir Alex may pick a team that sets up like 4-4-2, but as the recent past has shown, if you stick to that rigidly, you're asking for trouble.
Diamonds Are Forever?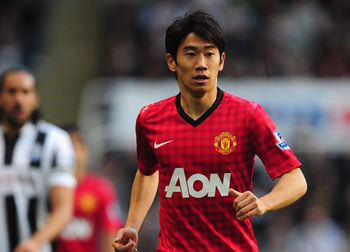 Shinji Kagawa vs Newcastle
Stu Forster/Getty Images
In the Newcastle match, Sir Alex set up United with a diamond. The home team were stumped and thumped.
Given that front players and wide players need service, what the diamond does is control central midfield and the supply chain for the ball.
In some ways Rooney was the key. Kagawa had to play out of position compared to his experience at Dortmund, but Sir Alex didn't buy him just to play in the hole.
This is another problem of supporters' mindsets. They will ask, "Why doesn't Kagawa play in the hole, where he's best?" Because the manager has, first and foremost, bought a player with excellent technical skill, good pace and outstanding footballing intelligence.
Remember, Kagawa came to Old Trafford with virtually no English. He has to learn the language and understand the individual characteristics of his colleagues. But Sir Alex has brought a group of players together who will thrive in tactical flexibility and have the intelligence to fill a hole or change things as necessary, knowing their colleagues are with them.
So in Kagawa he has a player who can undoubtedly play in the hole or at the top of a diamond, but can also play on the wing or as an attacking midfield in a 4-4-2.
So although the players took to the pitch in a diamond, it quickly became a 4-4-2 when needed momentarily.
Let's face it, when United are rampant, even a 4-4-2 becomes 2-4-4 (which is why that has had to be tightened up to stem the flow of goals, by not allowing both full-backs up the pitch at the same time).
There are other reasons why the diamond suits Sir Alex.
First, it can quickly collapse into an inverted triangle for defensive purposes.
Second, because in essence it doesn't utilise out-and-out wingers, he can play Cleverley and Anderson at the same time, just ahead of Carrick or Fletcher.
The key point, once again, is that a diamond doesn't have to stay a diamond if you have the right players on the pitch.
Atletico Madrid's recent success has been very much down to Radamel Falcao being told to stay and play up top. He needs to always be in the opposition's penalty area, because he is a lethal "sniffer."
Can you honestly see Sir Alex telling Wayne Rooney, or even Van Persie, never to come back and defend?
Its now a 12-kilometre-per-game match. Footballers have to be super-fit, adaptable and willing to collapse into a defensive formation (and not panic, as United did in the second half on Sunday at times), move back into the desired formation, or reinvent it for the purposes of scoring and winning.
They will use intelligence to be in the right place to receive the ball; to create space where it is needed; and to fill a gap left by another player when required, wherever that is on the pitch.
Like Danny Welbeck or Wayne Rooney covering left-back when Evra gets stranded up the pitch yet again...
Infinite Possibilities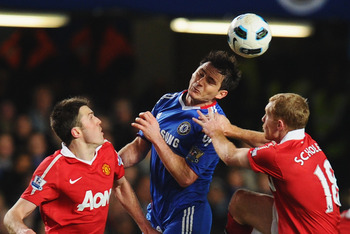 Carrick Lampard Scholes
Clive Mason/Getty Images
Every time an article on Manchester United appears on the Bleacher Report, you can bet that someone will post what the system was or, more likely, what system they should have played.
"We should get Kevin Strootman and play a diamond..." it might go.
Once upon a time, United supporters used to turn up at Old Trafford expecting to see exciting football, lots of goals and another United win.
Now, whether before the match, at halftime or after, even walking down the street, you'll hear people banging on about "Sir Alex should have played this formation" or "He should buy such-and-such a player".
As mentioned before, one of the most common is "We need a defensive midfield".
Why?
Manchester United don't play defensive football. They play to win: every...single...match.
It's not in Sir Alex's or any of his players' DNA to play for a draw, or to avoid losing. Yes, of course, after a match you might hear someone saying "of course we'll take a draw". That's a consequence, not a goal. It can be translated as: "We were desperate to win, but we''ll always take a draw rather than a defeat."
And before the match you'll have Sky Sports, MUTV or some pundit pronouncing that the players picked will play in a "diamond formation" or whatever.
Sir Alex will pick the players and use the formation that he thinks is most likely to produce a win for United.
How many people for example, seeing how Chelsea tend to set up with a 4-2-3-1, predicted that he would go with a tight 4-3-3, or even a diamond?
It wasn't the granny from Rochdale that changed his mind. He simply decided that if United played a 4-4-2 at pace it would occupy the whole Chelsea team and reveal their dodgy defence. And so it proved.
The response? Roberto Di Matteo flexed his own tactical formation to cope with United's, and suddenly Chelsea were in the game.
And that's what happens. Either the manager does it, usually when he makes a tactical substitution, or the players do it instinctively. Wayne Rooney plays where he needs to play and where he is most effective.
Other Formations
So finally, to humour the theoreticians, here are some other possibilities.
Manchester City's players don't seem to like three at the back, but it seems only a matter of time before English teams deploy this formation in Europe.
Also, against Chelsea or Liverpool, why play two centre-backs when the opposition only has one striker?
We mentioned Chelsea's 4-2-3-1. United have tried that this season, with Scholes and Carrick where Ramires and Mikel play for the Blues.
It didn't work. A great big hole opened up in midfield that could only be filled by players tracking back, or Scholes' characteristic 50-yard passes. What it did do was make United far too slow in buildup and attack. It might work with Carrick and Fletcher in the two, taking it in turns to link through the attack.
In Europe in the past, United have sometimes deployed a 4-3-3 which can become a 4-5-1.
It is possible to foresee a time, after Fabio comes back, where they could be made best use of in for example a 3-5-2, either as the flanks for the centre-back or the wide players themselves. Sir Alex is spoiled for choice with these two, because they are good enough to be out-and-out attackers as well as defenders.
So there are many possibilities of shape, but actually infinite possibilities.
What actually is Barcelona's formation? You only really need a formation in defence, you don't need one in attack unless the players are running around like headless chickens or kids in a primary school playground: all in attack; and none in defence.
And life goes full circle, or as Americans say: "What goes around, comes around."
Once upon a time somebody thought of the idea of "Total Football." The Brazilians did it; the Dutch did it; Barcelona did it.
Coaching methods and theories evolve. Its taken over 100 years for the FA to discover that we need both coaches and young players to have high technical skill rather than be just big and strong.
How did this happen? Because people like Sir Trevor Brooking saw how Barcelona and Spain were winning everything and decided we just weren't good enough. Hardly surprising when you look at the thousands of technically-skilled foreign players brought to these shores in the Premier League era.
The thing is that students of football like Sir Alex Ferguson or Arsene Wenger were already devotees of total football, and were trying to do it in their own way, while simultaneously trying to stop the opposition from scoring.
So the Villas-Boas, Rodgers or even Di Matteo way may not be the right way forward. Yes, Barcelona don't need a striker, because they happen to have the cleverest footballer ever waltzing his way through defences and scoring 70 goals a season.
Yes, in theory you can pass the ball into the net, but where is the X-factor in that?
You play the system that works best for your players, to get the result you want. As Phil Jagielka said in answer to Steven Gerrard's criticism of the Everton style of play:
"We don't believe in passing it around for half an hour for the sake of it. We won't change the way we play. We won't start to look to put in a thousand passes a game."
Priceless!
Remember Muhammad Ali using "Rope-A-Dope" to beat George Foreman for the world heavyweight title? He stood there, round after round, taking everything Foreman could throw at him on his arms until Foreman was boxed out. Then he hit him back!
From the moment Sir Alex appointed Rene Meulenstein, a devotee of total football, as Technical Skills Coach in 2000, he has been building towards this moment.
The future at Old Trafford, for as long as he's there, is his own version of total football: everyone can attack; everyone can defend; you use one formation for defence. The rest of the time, you use an infinitely flexible and adaptable style with players of pace, technical skill and intelligence, who know each other's game inside-out, interchanging as needed to win the match.
It took the England cricket management scores of years to realise that the secret was to fill the team with as many all-rounders as possible.
That's the way Sir Alex seems to have gone. Depending on who the opposition is, he'll choose his players and set them up in the best way to win the game. Never for the purpose of avoiding losing.
A couple of years ago, he picked a team with about nine defenders in a Cup match against Arsenal at Old Trafford and everyone thought, "What on earth is he doing now?" They played Arsenal off the park.
One of the stars was a young man called Rafael. He as much as anyone represents the way forward for Manchester United.
Whether it is a diamond or 4-4-2, he'll still be flying down the wing, dribbling through the middle and helping United win. He'll play right-back, left-back, winger or even in the hole if asked; anywhere he's needed. And he'll defend his socks off when required.
The way forward, whatever the system, is with infinite flexibility as needed, attackers who can defend and defenders who can attack as required.
Designs like this don't come together overnight, but when you realise that to win the EPL you now probably need 90 points out of 114, you have to go out to win every match, while being organised to keep the opposition out.
It is now possible to see what type of players suit Sir Alex and why his rotation policy is so critical. Not just to save players' legs and keep them fit, but so that everybody understands how best to play with everybody else, whatever the system or tactical formation, and reinvent it as needed.
Keep Reading

Manchester United: Like this team?