Arizona Basketball: 10 Things to Like About Arizona's Blowout Exhibition Win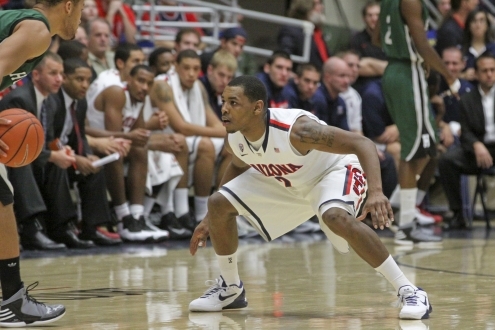 wildcat.arizona.edu
Arizona Wildcat fans have been anxiously waiting to see what this year's team was going to look like.
There has been lots of hype about the incoming freshmen and Xavier transfer PG Mark Lyons.
Even though the Red-Blue scrimmage provided a preview of the 2012-13 Cats, it's always nice to have a chance to put what you've been working on in the offseason on the court against someone other than each other.
Last night, Arizona took apart Humboldt State, 108-67, in U of A's first of two exhibition games.
With plenty of highlight moments from this warm-up to the regular season, here are 10 things to like about Arizona's blowout victory.
Begin Slideshow

»
Not only can you read about the Cats' high moments in the slides ahead, you can see some of the action in this video.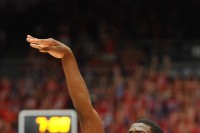 tucsoncitizen.com
Arizona head coach Sean Miller is a big proponent of the weight room.
In fact, he put his money where his mouth is when he donated $250,000 to the construction of the Wildcats' new strength training facility.
And it's obvious that the team is putting this incredible resource to good use—because the team looks good.
From the smallest guards out front to the tall timbers down low, everyone has added muscle, which will help them throughout the season.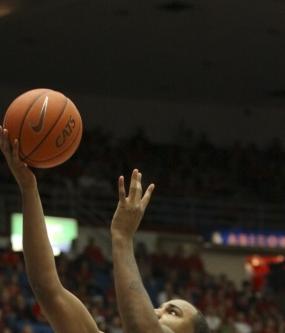 wildcat.arizona.edu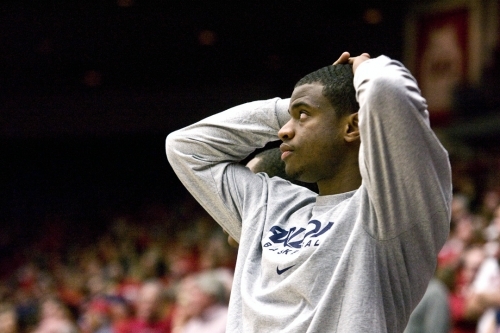 wildcat.arizona.edu
Kevin Parrom and Jordin Mayes spent a lot of time in the training room last year.
Both backcourt players were hampered by injuries that left them ineffective for most of the 2011-12 season.
It is obvious that both Parrom and Mayes have recovered and are ready to contribute.
Against Humboldt State, Parrom had 8 points and 2 rebounds, while Mayes scored 6 points and handed out 4 assists.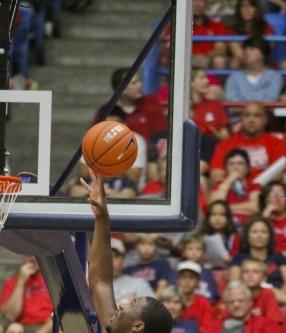 wildcat.arizona.edu
One of the advantages that usually comes with size is a team's ability to dominate on the boards.
That's exactly what the Cats did last night against Humboldt State, winning the battle on the glass, 46-26.
Seven separate U of A players had at least 4 rebounds. Nice!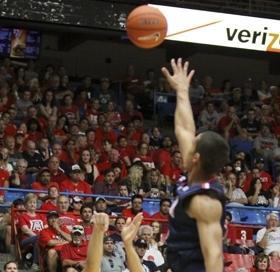 wildcat.arizona.edu
Arizona is going to create some challenges for its opponents in 2012-13 because of how many players can knock down the long ball.
Last night, 6 different players connected from downtown, with the Wildcats hitting 44 percent from beyond the arc.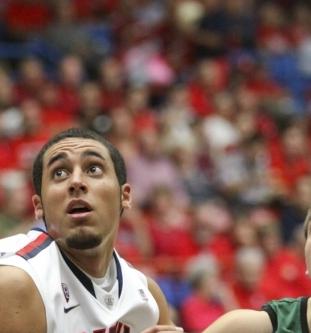 wildcats.arizona.edu
Grant Jerrett is going to be fun to watch this season.
He has so many different facets to his game, opponents will not know which part to concentrate on stopping.
More than one player has said that Jerrett might be the best three-point shooter on the team. Wow!
Last night, the 6'10" PF had 9 points and 5 boards, but also collected 3 blocks and 3 assists.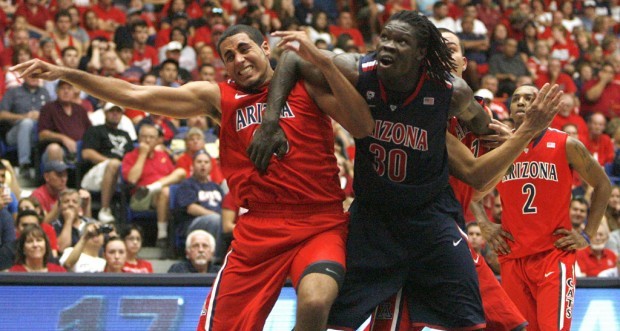 Angelo Chol (Right)/Azstarnet.com
People have talked about how sophomore center Angelo Chol will be a good back up for incoming freshmen seven-footer Kaleb Tarczewski.
However, Arizona head coach Sean Miller experimented with playing Chol and Tarczewski in the same lineup. While I don't think that we'll ever see this become the primary frontcourt set-up, Miller may go stretches with these two big men playing side-by-side.
It worked well last night.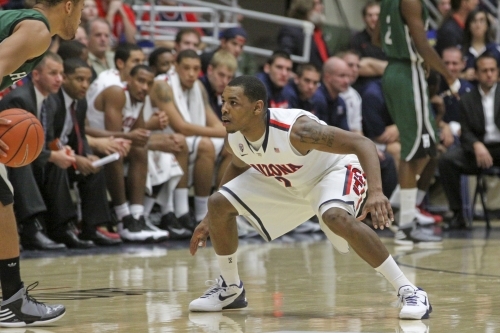 wildcats.arizona.edu
Mark Lyons brings an edge and toughness to the Wildcats' team that is contagious.
Lyons plays full-throttle basketball and it's hard for other players not to kick it up a notch when their PG is playing with such intensity.
He had a strong first outing in a U of A uniform, going for 15 points (4-of-7 from beyond the arc), 5 rebounds and 5 assists (with only 2 turnovers).
wildcat.arizona.edu
Nick Johnson's hops and quickness are not just for show and slam dunk competitions.
He uses his amazing physical skills to wreak havoc on his opponents on both ends of the court.
Against Humboldt State, the sophomore guard had 5 steals to go with his 14 points and 4 assists.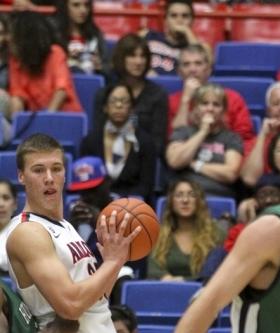 wildcat.arizona.edu
One of the most anticipated parts of last night's exhibition was to see how the seven-foot freshman center would perform.
Sure, Kaleb "Zeus" Tarczewski had a noticeable size advantage all night. But it was nice to see him put up a double-double with 18 points and 10 rebounds.
Four of his rebounds came on the offensive glass. This is definitely something that the Wildcats lacked last year when Solomon Hill and Jesse Perry—both undersized frontcourt players—had to fend for themselves under the bucket.