Rating the Manchester United Players Against Chelsea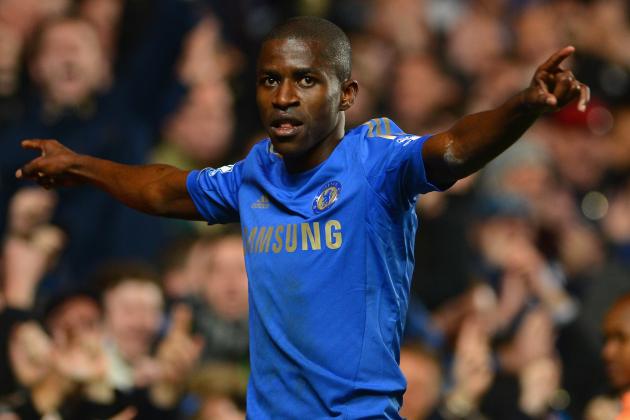 Shaun Botterill/Getty Images
Ramirez Takes the Fifth
It's a fair bet that both Manchester United and Chelsea would have been wanting to get it on again tonight. United to prove that Sunday was no fluke; Chelsea to get revenge for what they felt was a gross injustice.
No doubt some people would have looked at the team sheets before the match and thought Sir Alex wasn't necessarily bothered about winning the match. How wrong could they be?
You might say the key was in the two benches, with Chelsea's including the other two components of their wizard midfield trio and United's composed entirely of Under 21s.
The trick, however, was to win it in normal time. In that respect, Javier Hernandez's selection was inspired; Welbeck, Nani, Anderson, Giggs and Fletcher inevitable. They all need and deserve game time, none more so than Hernandez (Chicharito), who has now succeeded Solskjaer as "super-sub."
For a team that has never played together and, with the exception of Rafael, has had little game time, United looked organised and together, with a series of complex, close quarter passing moves in the first half especially.
In some senses, it was a calculated gamble by Sir Alex with the squad that he picked. Not one of the players who started or finished the match, or among the substitutes, was a regular first-team choice this season.
For those of us who have been waiting to see how some of the emerging talent at United would cope at the highest level, they could not have faced a tougher test than the current Premier League leaders.
In contrast to United, Chelsea finished the match with seven of the team who played against United on Sunday. With Torres now banned, you can make that eight for this weekend.
Whether they were under the owner's instructions or not, Chelsea threw more and more resource at getting the result. Mata, Luiz and Cahill have now played 210 minutes of football in four days. If there was any consolation for Sir Alex in the result, it was the possible knock-on effect at Swansea.
In contrast, United have a fully fresh squad for Saturday, but a couple of the likely substitutes may be carrying knocks after this match.
Not surprisingly, there were changes by both sides at halftime. Buttner may have been United's weakest link, but actually, he had a trapped nerve (or maybe he didn't fancy another 45 minutes roasting by Moses).
Chelsea's midfield needed stiffening up, but it wasn't the vulnerable and booked Romeu who departed, but Jon Obi Mikel.
After Tuesday's pulsating 7-5 win for Arsenal, few would have expected to experience another televised "goalfest." In the end, neither side could complain, and the neutrals would be delighted at 21 goals in two nights and 14 goals shared between the two teams who may slug out the title this year.
Begin Slideshow

»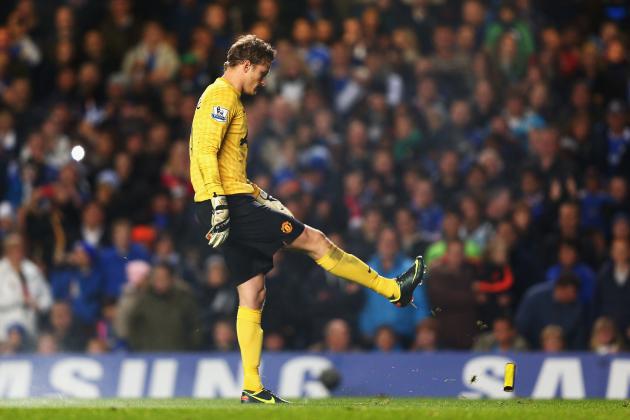 Clive Rose/Getty Images
Anders Lindegaard
Lindegaard 6/10
The Dane was not at his best despite making a couple of difficult saves.
He almost made a catastrophic error when following Victor Moses way left of his goal and managed to save while backtracking when a cross would have had him stranded.
He was made to look a mug with Hazard's penalty and may have thought he should have got to Luiz's having guessed the right way.
His distribution wasn't as good as De Gea's, and he almost gave Chelsea a golden opportunity in the first half with a poor kick down the middle.
On this form, he is a good substitute, but will not threaten De Gea's place.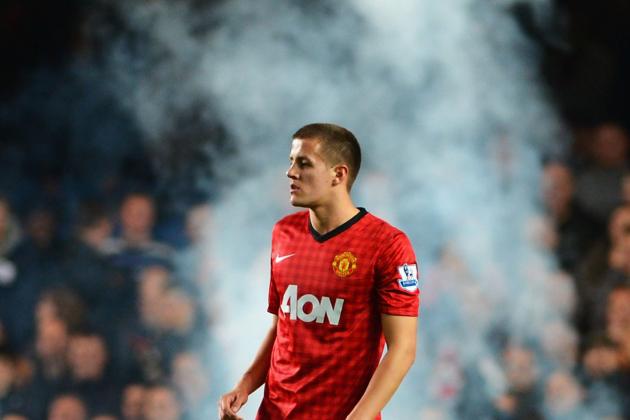 Shaun Botterill/Getty Images
Scott Wootton
Wootton 7/10
This was a baptism of fire for young Scott. All those that wondered whether he would get his chance soon, following Sir Alex's decision to play Carrick at centre back against Braga, will have been delighted.
In fact, all of the young players given their chance showed sufficient promise for the future.
We've scored Wootton so highly despite his naive error that gifted Chelsea their fourth goal. He overcame his inexperience to put in a mature performance that belied his years.
In truth, he probably should have received a second yellow card in normal time, but referee Lee Mason is to be commended for letting the lad stay on the pitch.
Through the Academy and the Under 21s, he has forged a partnership with Michael Keane that could be one for the future at Old Trafford.
Keane 8/10
If Keane's "handball" had been judged deliberate in the second half, we might have been looking at a lower score.
While Wootton has been the one of the pair who has seemed more fancied recently, Michael Keane was simply outstanding. What the pair have in common is their calmness under pressure, with the exception of Wootton's momentary aberration.
Pernickety observers may have wondered how Cahill could get two unchallenged headers from corners, scoring one, the ex-Bolton player is one of the finest header of a ball in the Premier League.
Sir Alex may have had heart murmurs on the couple of occasions that Keane ventured into the opposition half with the ball at his feet, but this mature 19-year-old always seems to be in the right place at the right time.
Given the coaching, experience and opportunity, these two must surely graduate to be regular first-teamers in the next couple of years.
Rafael 8/10
This was one of Rafael's best and most composed performances in a Manchester United shirt.
Since his unfortunate and unfair rollicking by the Brazilian media after the Olympics, the 22-year-old international has matured into a great prospect for the Red Devils.
He doesn't lunge in the way he used to in his wilder days. He is, if anything, an even better header of the ball than Evra and is more dangerous as an attacking wing back. His positional sense and awareness has improved noticeably, even in the last few weeks.
What's more, asked to move to left back when Buttner had to retire at halftime, Rafael did, if anything, an even better job.
Like his twin brother Fabio, he is genuinely two-footed and did not look uncomfortable playing off the other peg.
In the first half, he was weaving wonderful triangles with Nani and Anderson. When those three players are on song, there are no better ball players in the Premier League. If only...
Buttner 4/10
In contrast, the young Dutch defender showed his limitations in the 45 minutes he played.
It may be that he was hampered early on by the injury that removed him at halftime, but Victor Moses was having a field day until Rafael took over.
For a player on the verge of the Dutch squad, Alexander was naive, to say the least, with his clumsy tackle on the former Wigan player, gifting Chelsea a relief goal.
It was a night for defensive blunders, as is the nature of a full-blooded Cup tie, but neither Sir Alex nor Buttner's colleagues is likely to graciously dismiss the error.
Patrice Evra's occupancy is not under threat for a while yet, but Buttner's day will come unless Fabio gets there first.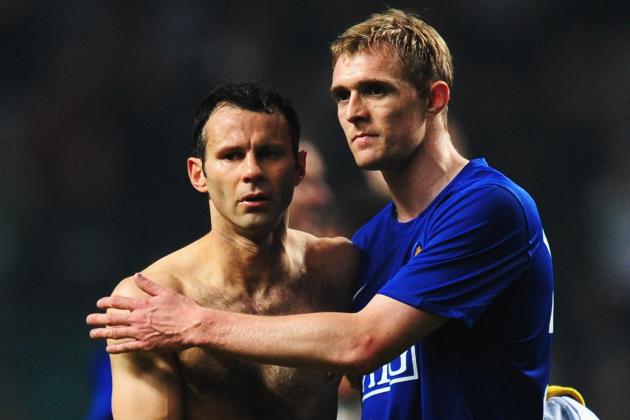 Richard Heathcote/Getty Images
Giggs & Fletcher
Giggs 8/10
Ryan Giggs had by far his best match for Manchester United in a very long time. He and Darren Fletcher put on a master-class that augurs well for the Champions League this season.
Giggs is 39 next month, but thanks to years of yoga classes, looks far fitter than Scholes. He started along with Fletcher, Anderson and Nani in a fluid midfield, with the Scot in the holding role.
When Buttner went off at halftime, Rafael switched to left back, Fletcher dropped in at right back and Giggs played the holding role.
While Ryan was excellent in bolstering defence, these forced changes reduced United's attacking menace. Nevertheless, he was prompting and conducting his young "orchestra" throughout the match, capping a masterly display with two deserved goals.
Fletcher 8/10
Sir Alex can no longer play Darren every four days, due to his colitis which he has to manage every day.
This is a great pity because since he was restored to the first team this season, he has been at his very best. He looks composed and mature enough not only to displace Michael Carrick as the incumbent holding midfielder, but also Evra as captain.
He gave the ball away cheaply early on, but after that, gave a faultless display, and like Giggs, did not deserve to be on the losing side.
Nani 7/10
The Portuguese winger might have scored a notch higher, but for his inexplicable lapses in giving the ball away.
Nevertheless, this was him back almost to his best. If this had been at Old Trafford this coming Saturday, with better players around and ahead of him, he could have helped destroy the Gunners. On this display, he deserves to be on the bench in three days time.
His individual goal was simply sublime. If he and Sir Alex can somehow find a compromise on his contract demands, his best years may yet be ahead of him at Old Trafford.
Anderson 7/10
For some reason, "Ando" still isn't fully match fit, and the exhausted player had to be substituted by Ryan Tunnicliffe before the end of the match.
He ran himself ragged before that and often through the middle of the Chelsea midfield with the ball twinkling at his feet. He had one goal blast that was unfortunately deflected and another ridiculously speculative punt from 30 yards.
If he can add another 10 percent to his fitness, he and Cleverley can profoundly reinforce Sir Alex's midfield resource, maybe even reinstating the duo that was so devastating early last season until injury intervened.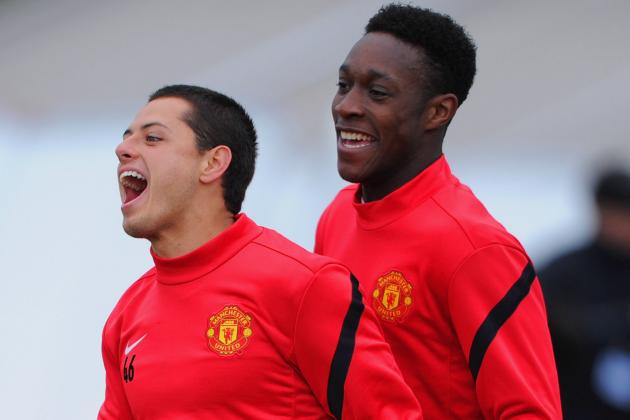 Michael Regan/Getty Images
Hernandez & Welbeck
Hernandez 8/10
Pretty close to a 9/10, but for what he would regard as a big miss in the 61st minute. It looked as if he was close to tears at the end and may have taken things to heart personally for not quite making it.
This was one of his finest games in a United shirt, and he is making it harder and harder for the manager to leave him out. He is much stronger and held off the taller, bigger Luiz throughout the match. He was only offside once, which is also a marked improvement.
He was tireless in his work-rate, has increased his ball skill and is clearly learning from Robin Van Persie. Sir Alex claims he is a delight to work with, a model professional, always wanting to learn and improve.
He led the line well and caused problems all night. Having the summer off has been a boon to getting his body fully fit and stronger. Who on earth would even consider selling him?
Welbeck 5/10
In contrast, Danny is going backwards right now. Certainly he did the job his manager would have wanted, helping out in defence. He also held onto the ball quite well, but kept running into blind alleys.
His shot selection was quite good, but its execution was lacking. He was back to his gangling self tonight rather than the confident young man trying to command a regular start in the first team.
On this form, he should give himself a season to get the pace, pattern and movement of the evolving United play. His time will come, and he still looks like an international striker for the future.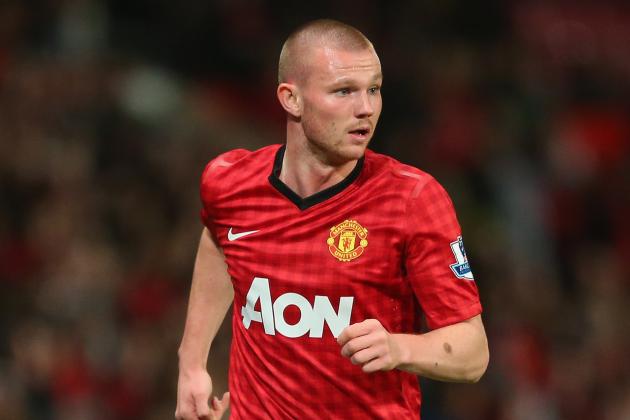 Alex Livesey/Getty Images
Ryan Tunnicliffe
Powell 6/10
This was the chance for Nick Powell to show that he is the heir to Michael Carrick. He has clearly modeled himself on his Geordie senior, but is more mobile.
With Giggs replacing Fletcher in the holding role after Buttner went off, Powell dropped into a revised three-man midfield with his captain and Anderson.
Almost immediately, he could have had a goal with a stinging hallmark drive from the edge of the penalty area that Cech palmed away at the last minute.
After that, Powell got lost at times. For a while, he was too easily barged off the ball, but he found his feet and started to take men on, not always successfully.
He finished the game strong, playing right across the park as needed. This 75 minutes will have done him the world of good. All the young players who have faced Chelsea tonight may be disappointed, but they have had a fast learning curve that will stand them in good stead in future.
Nick Powell is undoubtedly a potentially huge talent for the future if he remains patient. He can learn so much alongside Scholes, Carrick and Fletcher. Who knows how great he could become?
Tunnicliffe 5/10
Ryan didn't stand out that much, except for the fact that he looks a hugely confident young man.
He has an excellent engine, a rocket shot, tackles well and no little ball skill for a potential holding/defensive midfield. He surely knows that there is a slot that has never been filled since the departure of Roy Keane.
He did little wrong, except lose the ball a couple of times, but didn't exactly catch the eye either.
His time will come.
Macheda 4/10
Brought on when Danny Welbeck's legs would carry him no further, Macheda showed why he may be let go even as early as January if the right bid comes in.
He may turn out to be a gem elsewhere, like Diego Forlan, but he has gone backwards since he exploded into the first team at 17.
Anonymous for the 20 minutes he was on the pitch.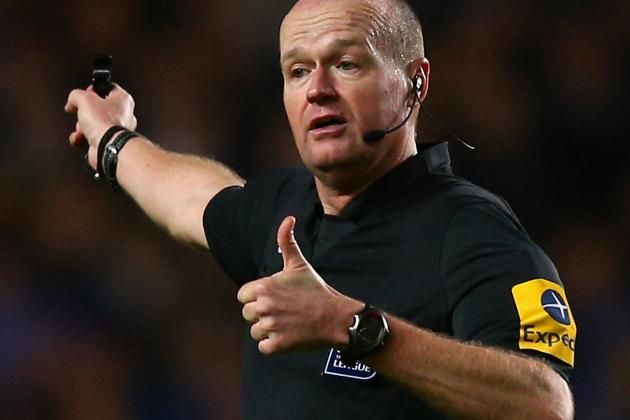 Clive Rose/Getty Images
Lee Mason
Lee Mason 9/10
We won't be making a habit of this, but Lee Mason was the perfect pick for this match after the debacle at the weekend.
No doubt the Chelsea fans would have been bleating again if they had lost, over sendings off not ordered and penalties not given. But Mason was unfussy, calm and contributed massively to a largely good-natured game that flowed from end to end.
Even Fergie praised him before the match.