New York Mets: Power Ranking the Mets' 10 Best Moments of the 2012 Season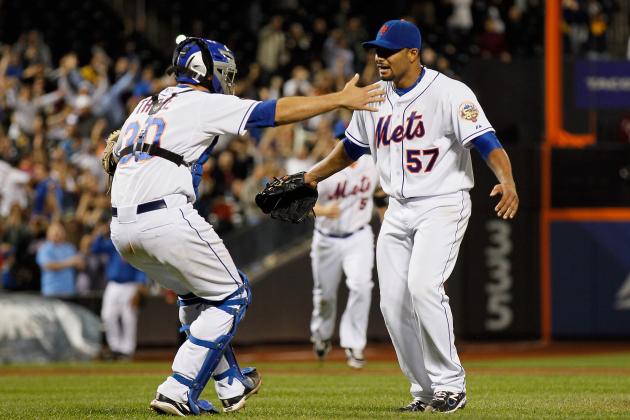 Mike Stobe/Getty Images

The 2012 Mets' season was certainly full of ups and downs. Despite ultimately winning just 74 games and finishing in fourth place in the NL East yet again, the Mets were still able to provide quite a few great moments for the fans to remember forever.
Here is a countdown of the Mets' 10 best moments of 2012. Let's hope that 2013 can provide even more memories.
Begin Slideshow

»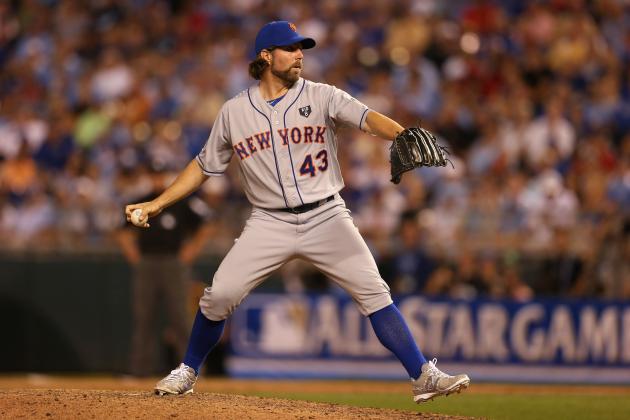 Jonathan Daniel/Getty Images

On May 16, the Mets were formally announced as the hosts for the 2013 MLB All-Star Game, to be played July 16, 2013. On August 7, the official 2013 MLB All-Star Game logo was revealed.
The Mets had long been the favorites to land the 2013 MLB All-Star Game, so this really came as no surprise to the Mets and their fans. Nonetheless, it's a big moment because it will only be the second time that the Mets will get to host the MLB All-Star Game.
The only other year that the Mets were able to host the MLB All-Star Game was in 1964, which was the very first year of Shea Stadium's existence. With almost 50 years in between, the Mets were certainly long overdue to host the All-Star Game.
It will be nice to see not only another All-Star Game in New York City next year, but one with some real Mets flair to it that the 2008 MLB All-Star Game at the old Yankee Stadium did not provide. The Mets, of course, have always been under the Yankees' shadow in New York, so it will be a great opportunity for the rest of the baseball fans across the country to get exposed to the Mets, their history and their team legends.
The next Home Run Derby event should be interesting to see as well, especially now that the Citi Field fences have been moved in. It's still classified though as more of a pitcher's park, so in order to win the event, it will likely take some distance in certain areas to get home runs.
All in all, this is an event that the Mets and their entire fanbase should be very excited for.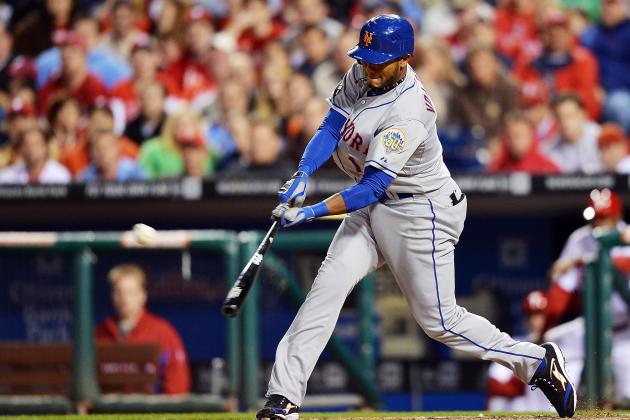 Drew Hallowell/Getty Images

Early in the 2012 season, the Mets were playing quite well. A big reason for this was because their hitters hit very well in clutch situations, which led to some dramatic wins. The Mets' win over the Phillies on May 7 was by far one of their most memorable wins all season.
Jon Niese and Roy Halladay had both pitched very well, and the game remained tied 2-2 through eight innings. Josh Thole had already suffered a concussion that would send him to the disabled list, and this was on the same day that Ruben Tejada was placed on the disabled list himself.
In the top of the ninth inning, the Phillies brought in their superstar closer Jonathan Papelbon to try and keep the game tied. Ike Davis walked, and Mike Nickeas doubled to give the Mets two runners in scoring position, but the Mets already had two outs. Terry Collins decided to have rookie Jordany Valdespin pinch-hit in the pitcher's spot.
On the second pitch he saw, Valdespin crushed a tie-breaking three-run home run into the right-field stands to give the Mets a 5-2 lead. Frank Francisco then earned his eighth save in the bottom half to give the Mets the victory. It was quite a moment though for Valdespin, whose home run was also his first major league hit.
Valdespin would hit four more pinch-hit home runs this year to bring his total to five, which set a new Mets' single-season record. Although he did not hit as well as a starter at times, Valdespin definitely made headlines with his clutch hitting in late-inning rallies.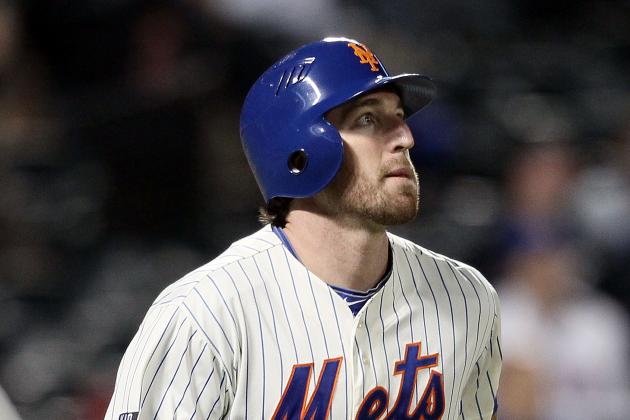 Alex Trautwig/Getty Images

Ike Davis was the Mets' best slugger in 2012 and by a good measure. He led the team with 32 home runs and was second in RBI with 90. He became the first Mets player to hit over 30 home runs in a season since David Wright and Carlos Delgado in 2008. In a lineup that certainly lacked power, it was good to see Davis giving the Mets at least one feared slugger in the lineup.
What was even more impressive though was the second-half resurgence that Davis had after struggling so much over the first two months of the season. During April and May, Davis just wasn't hitting. His average was well below .200 going into early June, and he was even getting benched in favor of Justin Turner and Vinny Rottino against left-handed pitching.
In the middle of June, Davis finally heated up and continued his slugging throughout the entire second half. By season's end, Davis' batting average was at .227, which was a huge improvement from being as low as .150 early in the season. He even had an OBP of .308, which few would have thought possible after his early slump.
Hopefully, Davis can build upon his second-half success and have a more consistent 2013 season. With the way he hit in the second half, 35-40 home runs next seasons could definitely be possible as well as over 110 RBI. If the Mets could get that plus a .270 average from Davis, it would be huge for the team's offense.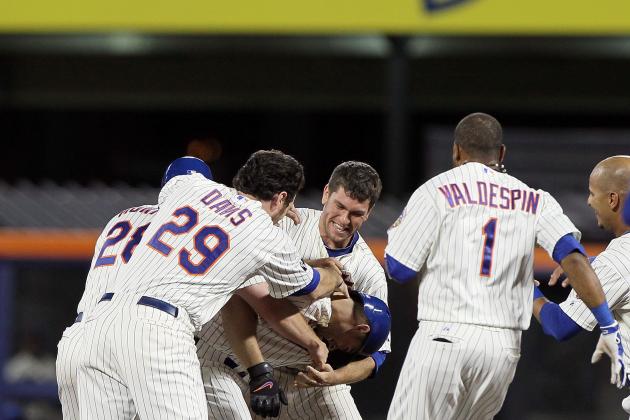 Jim McIsaac/Getty Images

The Mets may have had some really exciting walk-off wins this year, but their win against the Phillies on July 5 was the one that stood out from the rest and defined the Mets' first-half resilience.
All-Stars Cole Hamels and R.A. Dickey had a solid pitching duel going with the score being at 5-4 in the Phillies' favor at end of eight innings. However, Jonathan Papelbon struggled in the ninth inning against the Mets once again.
Ike Davis led off the inning with a double and subsequently was replaced on the bases by Ronny Cedeno as the new pinch-runner. Josh Thole then sacrificed Cedeno to third base before Kirk Nieuwenhuis struck out. Papelbon then hit Jordany Valdespin with a pitch before walking Ruben Tejada to load the bases.
The next batter was Daniel Murphy, who lined a pitch off of Papelbon's leg to tie the game at 5-5. Up next was David Wright, whose hitting single-handedly carried the Mets through their first-half success. Wright hit a fly ball to right field that fell in and resulted in a walk-off win for the Mets. The entire team then mobbed Wright on the field.
This was arguably the Mets' most exciting come-from-behind win of the 2012 season and was especially satisfying because it came against the Phillies, who have been the Mets' main rival since 2007.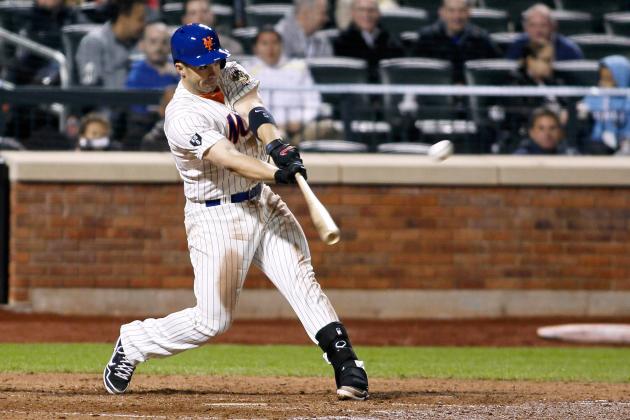 Mike Stobe/Getty Images

On April 25, David Wright set one of the three franchise records that he would break this year.
After hitting a home run against Mark Buerhle of the Marlins, Wright became the Mets' all-time leader in RBI. He surpassed Darryl Strawberry's mark of 733 RBI as a Met. Wright now has 818 RBI in his career, and all of them as a Met. Assuming he remains a Met for many years to come, this total could skyrocket over the years.
On June 5, Wright set another Mets franchise record after hitting a home run against Jordan Zimmermann of the Nationals. That solo home run gave Wright 736 runs scored, which surpassed former teammate Jose Reyes' previous record of 735 runs scored. Wright now has 790 runs scored as a Met and this number will very likely increase much further as long as he remains a Met.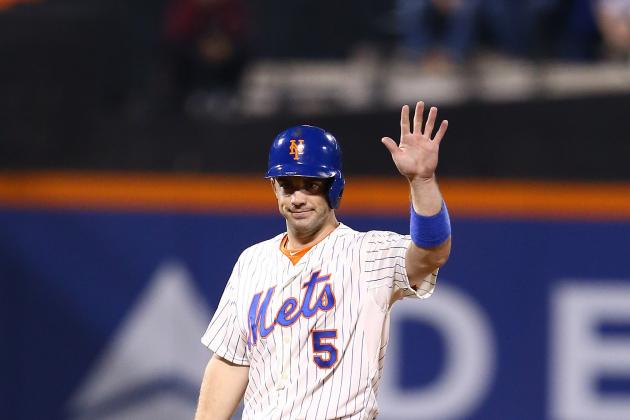 Al Bello/Getty Images

On September 26, David Wright set yet another Mets franchise record by getting the 1,419th hit of his career, which surpassed Ed Kranepool's hits record.
Kranepool had 1,418 hits through his 18-year career, all with the Mets. Wright surpassed Kranepool's mark in less than nine full seasons. This is why Wright's new hits record is considered more amazing than his new RBI and runs records. Kranepool had spent 18 long and meritorious seasons with the Mets in a variety of roles, but Wright has had a great career so far and got past Kranepool in hits rather quickly.
Wright is now the Mets' all-time leader in runs, hits, doubles, RBI, walks, strikeouts and total bases. He is also tied with Kranepool in sacrifice flies with 58 in his career. He is third in singles with 881 and will pass Jose Reyes next season, who had 898 singles as a Met. Kranepool leads the way with 1,050 singles, so Wright should take the lead there sometime in 2014.
The one team record that's notably missing from Wright's resume though is home runs. Wright is currently third all-time in home runs as a Met at 204. Mike Piazza is second with 220, while Darryl Strawberry still leads with 252 home runs. Wright should hopefully become the Mets' new all-time home run leader sometime during the 2014 season.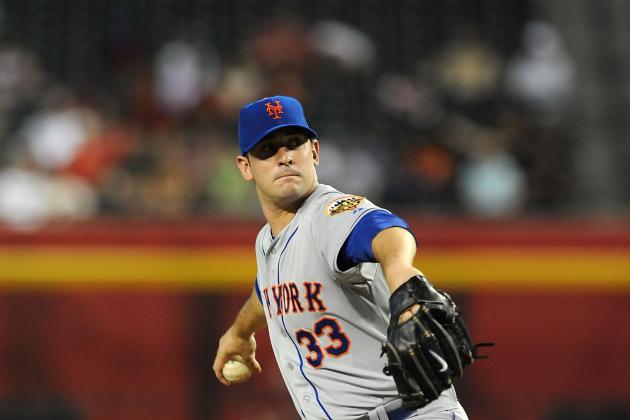 Norm Hall/Getty Images

On July 26, the Mets unveiled a huge part of their future by calling up top prospect Matt Harvey, who made his major league debut that night in Arizona against the Diamondbacks.
With the Mets at the time playing very poorly since the All-Star break, this gave the team and its fans one thing to look forward to, and Harvey did not disappoint. He pitched 5.1 scoreless innings, gave up just three hits and struck out 11 batters. At the plate, Harvey doubled in his first major league at-bat and had another hit as well. By doing so, Harvey became the first modern player with over ten strikeouts and two hits at the plate in his major league debut. He got his first major league win as the Mets won 3-1.
For the rest of the season, Harvey pitched very well despite a 3-5 record that was mostly due to poor run support. He finished the year with a 2.73 ERA and 70 strikeouts in ten starts and 59.1 innings pitched.
In 2013, Harvey will begin the year as the Mets' third starter and is expected to have a big breakout season in his first full year in the major leagues. Based on his rookie numbers, 15 wins, over 200 strikeouts and an ERA below 3.50 should all be reasonable expectations as could a possible appearance in the All-Star Game.
With Harvey now a fixture for the Mets and Zack Wheeler likely to be called up by May or June, the Mets' future should only get brighter with time.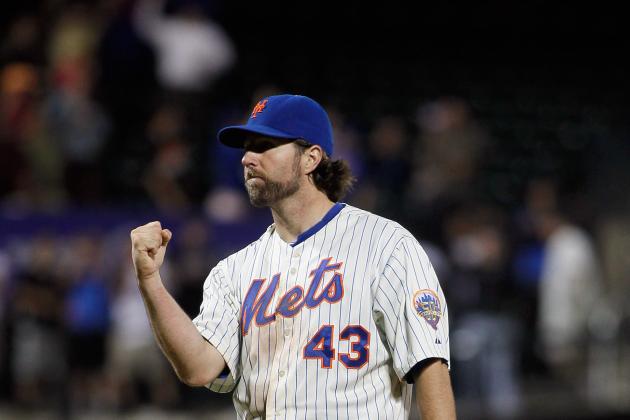 Mike Stobe/Getty Images

With all due respect to Ike Davis' power, David Wright's big first half and Matt Harvey's impressive debut, 2012 for the Mets was all about R.A. Dickey, who was arguably the best pitcher in all of baseball throughout the entire season.
After two solid seasons as a Met, Dickey all of a sudden pitched like never before and emerged as a strong favorite for the NL Cy Young Award. He finished with a 20-6 record, a 2.73 ERA, a league-leading 230 strikeouts and a 1.053 WHIP. He also led the National League with 233.2 innings pitched, five complete games and three shutouts.
Dickey's first half alone though was simply remarkable, and especially for someone who was once a journeyman knuckleballer. Dickey's biggest moments in the first half though occurred in consecutive starts against the Rays and Orioles.
In both starts, Dickey threw a complete game one-hit shutout. He became the first pitcher to do so since Dave Stieb in 1988 and the first in the National League since Jim Tobin in 1944. He also became the first pitcher to ever throw consecutive complete game one-hitters with 12 or more strikeouts in both starts.
During this stretch, Dickey established a new Mets' scoreless innings streak that ended at 44.1 consecutive scoreless innings. It was simply amazing to see someone like Dickey pitch as well as he did in the first half, especially in June. As a result of his 5-0 record and 0.93 ERA in June, Dickey was named the NL Pitcher of the Month.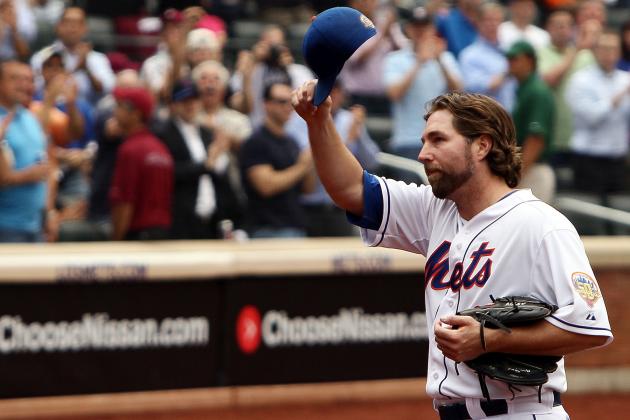 Alex Trautwig/Getty Images

R.A. Dickey's 2012 season was remarkable in virtually every aspect, but at the beginning of the season, 20 wins for him would have sounded completely unreasonable. However, Dickey did just that in his career season.
On September 27, which was the Mets' last home game of the season, Dickey got some late run support and was able to win his 20th game of the season. He became the first Met to do so since Frank Viola in 1990.
Dickey's 20th win capped off his spectacular season and put an exclamation point on what should be a Cy Young season for him. Unfortunately, he failed to reach 21 wins in his final start of the year against the Marlins, but that should not hinder the success that he had throughout the season.
If he does win the 2012 NL Cy Young Award, Dickey would become just the third Met to win the honor. Tom Seaver won the NL Cy Young Award three times in 1969, 1973 and 1975. Dwight Gooden also won the NL Cy Young Award in 1985.
Mike Stobe/Getty Images

All of R.A. Dickey's dominant starts though cannot compare to what happened on June 1.
After missing the entire 2011 season due to recovery from shoulder surgery, Johan Santana returned to the mound this year as the Mets' Opening Day starter. He had a solid first half overall, but what he did on June 1 lifted the spirits of generations of Mets fans forever.
That night, Santana threw the first no-hitter in Mets history against the Cardinals. It was also the first no-hitter of his career. The Mets had gone through over 50 seasons and exactly 8,019 games in franchise history before Santana's no-hitter on the Mets' 8,020th game. It was a moment that every Mets fan had been waiting for. A perfect game would have been that much better, but for Mets fans, a no-hitter was certainly good enough.
A few moments in that game stood out in particular. Former Met Carlos Beltran hit a line drive that landed on the baseline behind third base, but was ruled a foul ball. The call could have gone either way and definitely was critical in preserving Santana's no-hitter.
Another critical play occurred in the seventh inning when Yadier Molina hit a fly ball to left field that Mike Baxter caught near the warning track to keep the no-hitter alive. Baxter slammed his shoulder against the wall in the process and was forced to leave the game with a shoulder injury that ended up requiring a trip to the disabled list.
As the pressure kept increasing, Santana remained composed and struck out David Freese with two outs in the ninth inning to give the Mets their first ever no-hitter.
Being that it was the first time that this happened in franchise history and a moment that some Mets fans waited decades for, Santana's no-hitter was easily the Mets' best moment of 2012. Hopefully, more no-hitters and maybe even a perfect game or two will occur in future seasons.