10 Players on Notre Dame's Remaining Schedule That Could Threaten 12-0 Season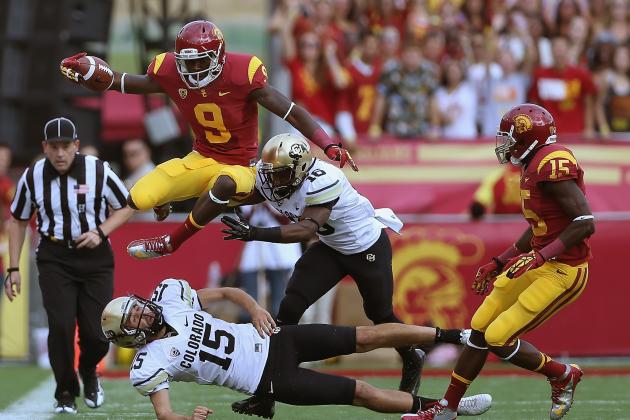 Jeff Gross/Getty Images

Notre Dame is one of five remaining undefeated teams in the FBS for 2012 as it pushes closer to a possible national title berth each week. The Irish have four games left on the schedule, and 10 players that will be a threat to the undefeated run that Notre Dame is currently on.
Each team has at least one impact player that could make the difference in the game. While it is unlikely that just one player will change an outcome, USC has four guys that will need to be keyed on if the Irish want to escape L.A. with a win.
The road won't get any easier for Notre Dame as the season moves forward—especially with these 10 guys waiting to make plays.
Begin Slideshow

»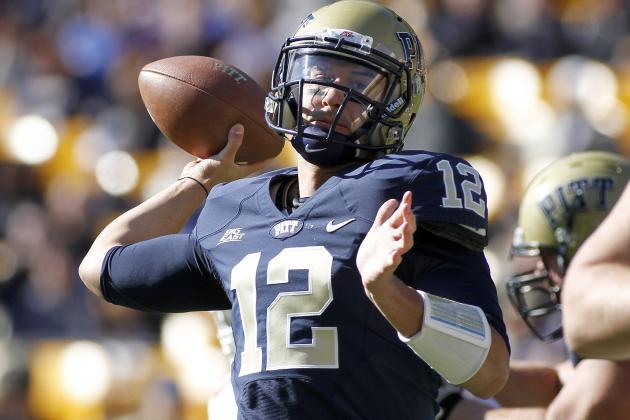 Justin K. Aller/Getty Images

Pitt may only be 4-4, but the Panthers are fielding a very good quarterback this season in Tino Sunseri. So far he has over 2,000 yards passing and 13 touchdown tosses.
Sunseri will be the best quarterback that the Irish has faced so far this season. He has two very skilled running backs that will give the Irish fits and help balance the offense this Saturday.
Landry Jones put up 364 yards through the air against the Irish secondary. Sunseri is having a better year than Jones and will arguably be as potent in the pocket. If Pitt can get the ground game churning behind Sunseri, it will be a long day for this Notre Dame team.
Key Stats
Passing: 162-of-234 for 2,199 yards; 69.2 CMP percentage; 13 TDs; 2 INTs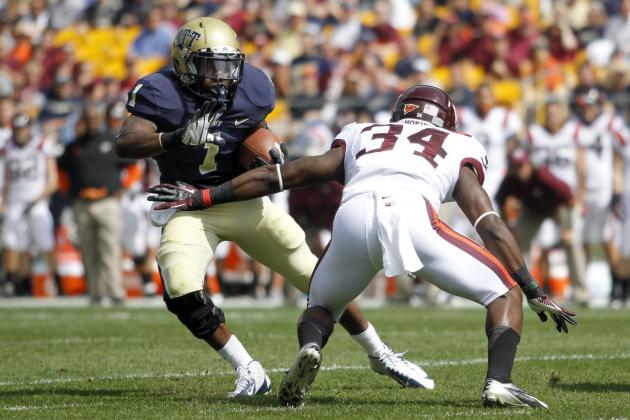 Justin K. Aller/Getty Images

When you look at how Notre Dame has controlled opponents in the ground game it is hard to imagine a player making a difference against the Irish from the backfield—enter Ray Graham.
Graham is a player that can take the ball inside and outside of the tackles as well as make big plays in the passing game. He has 622 rushing yards, but he has also added 244 receiving yards to his name this year.
This is a back that brings multiple dimensions to a team's offense and he has helped produce big plays for Tino Sunseri. The Panthers rely on Graham to be productive and with Sunseri dishing out passes and handoffs, he will be a force for Notre Dame.
His backfield buddy Rushel Shell also adds a second dimension—one that makes them both a powerful 1-2 punch.
Key Stats
Rushing: 134 carries for 622 yards; 4.6 YPC; 7 TDs
Receiving: 22 receptions for 244 yards; 11.1 AVG; 2 TDs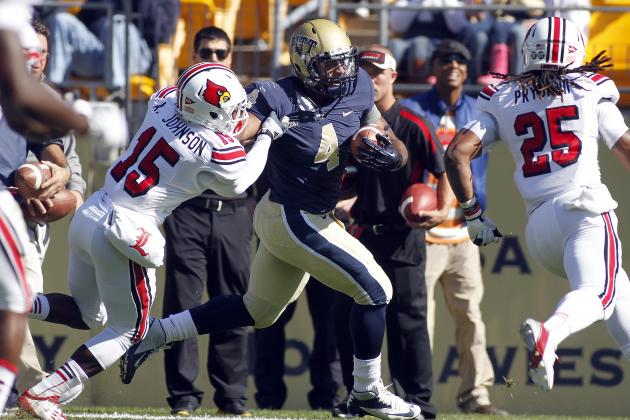 Justin K. Aller/Getty Images

Rushel Shell is the power back in the Pitt backfield. He has been a tough runner against key competition, mounting 157 rushing yards against Virginia Tech earlier in the season. Did I mention Shell is a freshman?
He has been a great addition to the backfield for Pitt, providing relief to Graham when needed and making a complete tandem of opportunities for the offense.
Shell is getting better with each game and this week will be no different. He will produce tough yards against the Irish and will provide Pitt with a much needed goal line presence. Shell has been a big part of the Panthers offensive resurgence in the past few weeks.
Key Stats
Rushing: 87 carries for 441 yards; 5.1 YPC; 4 TDs
Receiving: 8 catches for 90 yards; 11.3 AVG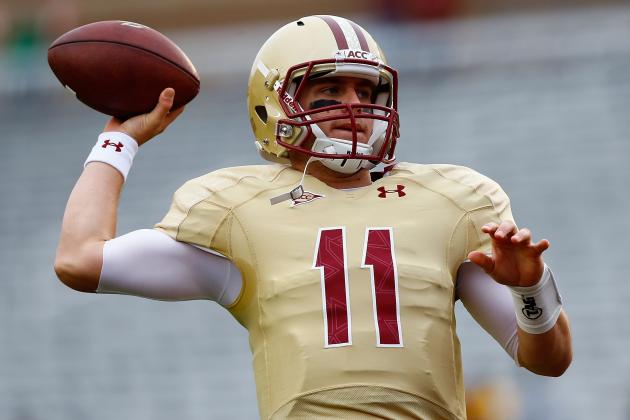 Jared Wickerham/Getty Images

Rettig is leading one of the worst teams in the ACC this season but he has not been the problem for the Golden Eagles. Rettig has thrown for over 200 yards in seven of eight games, and he has one 300 yard and one 400 yard game this season.
He has a star receiver that makes his job easier and it is a big part of the success that Rettig is seeing in Boston. He will be able to bring a powerful pocket presence to the game and will be one of the three big passing quarterbacks that the Irish have left on schedule.
The Notre Dame secondary is going to have a tough time to close the season and Rettig will be a part of the problem. This is a quarterback and a team that can't be overlooked despite their losing record.
Key Stats
Passing: 168-of-300 for 2,199 yards; 56 CMP percentage; 15 TDs; 5 INTs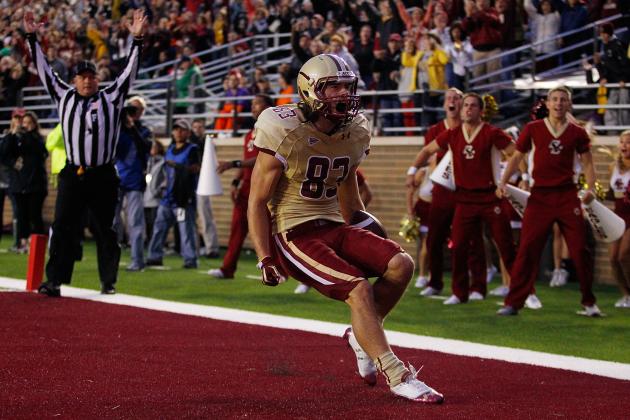 Jared Wickerham/Getty Images

Chase Rettig is good, but he isn't the quarterback that he is today without his star receiver Alex Amidon.
Amidon has been phenomenal for the Golden Eagles getting close to 1,000 yards receiving so far this year. The Golden Eagles do not have a very strong ground game, and rely heavily on the ability for Amidon to make plays in the passing game.
He will be a threat to Notre Dame in a number of ways in the coming weeks. Amidon has reached 100 yards receiving in five games this year, and has a 99 yard game to his credit as well.
His season high was a 193 yard game against Clemson.
Key Stats
Passing: 57 receptions for 943 yards; 16.5 AVG; 5 TDs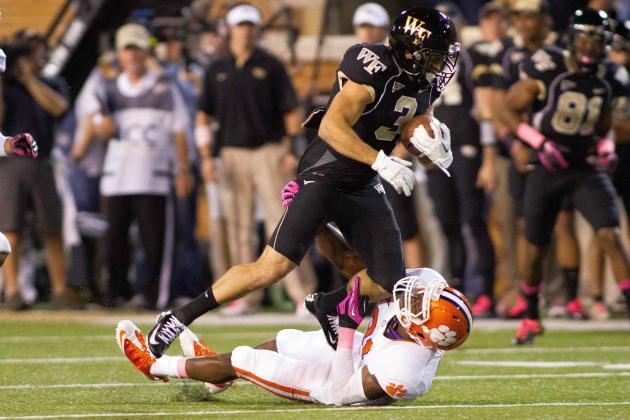 Jeremy Brevard-US PRESSWIRE

The Demon Deacons are at 4-4 for the year and they have Michael Campanaro to thank for a lot of that success. He has been very big for Wake Forest at receiver when he has been healthy, helping lead the Deacons to two big wins over North Carolina and Army.
Campanaro finished with 164 yards against North Carolina and 153 against Army.
Tanner Price relies on Campanaro to be present in the offense or Wake Forest is not very effective. Campanaro returned against Clemson this past Saturday and will be back to 100 percent for the Notre Dame game.
Key Stats
Receiving: 44 receptions for 481 yards; 10.9 AVG; 3 TDs
Rushing: 12 carries for 75 yards; 6.3 YPC; 1 TD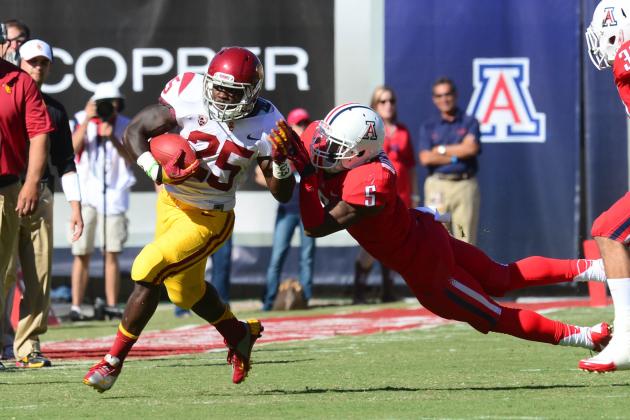 Matt Kartozian-US PRESSWIRE

Silas Redd has been a big addition for the Trojans this fall. Redd transferred from Penn State to finish his career in Los Angeles and has been on track to have a better year than ever. He has brought a solid ground threat to the Trojans offense and will be a big threat against Notre Dame.
He has been one of the better backs in the Pac-12 this season. Redd has shown the ability to be a threat in the passing game for the Trojans as well, which has helped bring a solid dual-threat dimension to the USC offense.
When Notre Dame comes to L.A. they will be battling a very tough offense with multiple threats. The Irish haven't faced a team like the Trojans and Redd will be a big part of the welcome party.
Key Stats
Rushing: 117 carries for 640 yards; 5.5 YPC; 7 TDs
Receiving: 5 receptions for 79 yards; 15.8 AVG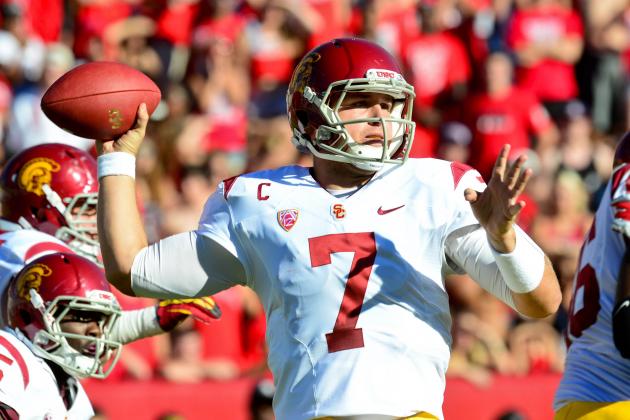 Matt Kartozian-US PRESSWIRE

Matt Barkley has dropped out of the Heisman discussion with the second loss of the season for the Trojans, but he is just as potent in the pocket as he was to start the year. Barkley has two strong receivers and a potent backfield that surrounds him.
As the season draws to a close the Barkley led Trojans will be fighting for success and Notre Dame will be driving for a national title game. If USC wins, Barkley will be a big part of it.
The Irish will have faced some very good signal callers leading into this game, but none of them have the surrounding support on the outside that Barkley does in Los Angeles. This game will come down to the wire and Barkley will lead the charge.
Key Stats
Passing: 171-of-262 for 2,266 yards; 65.3 CMP percentage; 25 TDs; 8 INTs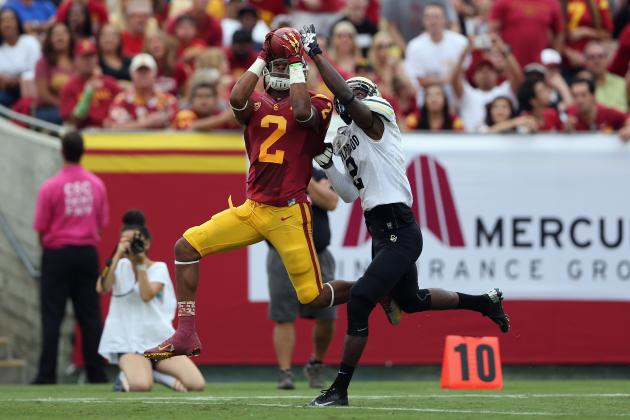 Jeff Gross/Getty Images

Robert Woods is a part of one of the most dangerous receiving tandems in the country. There have been arguments that Woods and Marqise Lee may be among the best on college football history.
One thing is for sure—these guys make big plays for the Trojans and Matt Barkley. No matter where Woods lines up, he draws the attention of the defense.
Woods has five catches or more in seven of the Trojans eight games. He also has one 100 yard game this season, and four games over 75 yards.
He takes second place to Lee right now, but he is just as dangerous and provides a solid second half to a dangerous receiving group.
Key Stats
Receiving: 53 receptions for 585 yards; 11 AVG; 9 TDs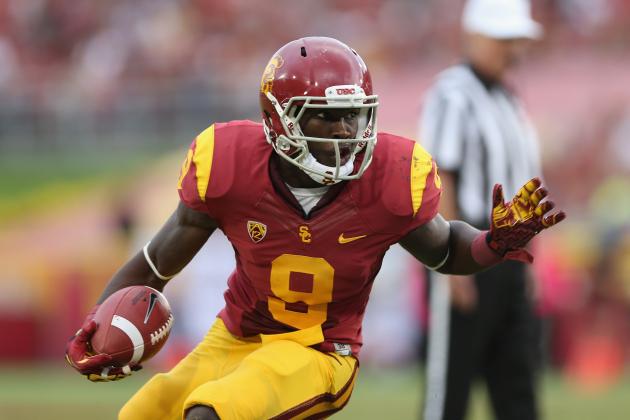 Jeff Gross/Getty Images

Marqise Lee is the leading receiver for the Trojans this season. He has over 1,000 yards receiving and 10 touchdowns already to his credit. Coupled with Robert Woods, Lee is a very dangerous 1-2 punch leader.
His abilities have him ranked No. 2 in the country in receiving through eight games. More impressively is his 9.5 catches per game average.
As the year ends with Notre Dame, Lee and Woods will be on top of their game. The Irish will struggle to get keep these guys off the stat sheet consistently.
Key Stats
Receiving: 76 receptions for 1,129 yards; 14.86 AVG; 10 TDs