NHL Lockout Figureheads and Their Pop Culture Doppelgangers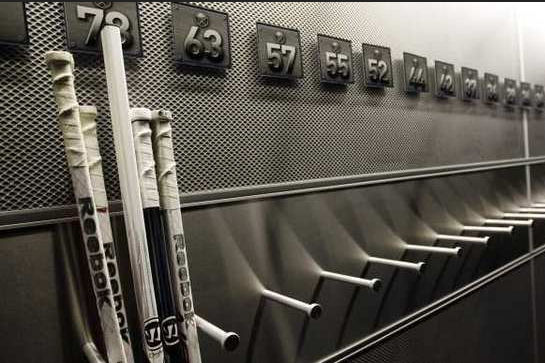 photo: articles.latimes.com
The NHL lockout has provided very little in the way of optimism for even the most committed of NHL fans. As a perpetual "glass-half-full" guy, even I am beginning to wonder when the final guillotine will fall on what is left of a potential season.
The negotiations seem to be going nowhere. Neither side really appears that interested in getting a deal done, and frankly, outside of the hardcore hockey fans, no one really seems to care either. The NHL is slowly choking the life out of itself. With greed, arrogance and ignorance ruling the "negotiations," it is looking like the only hockey we will see will have other letters in front of the -HL.
An apparent stay of execution for the Winter Classic may have prolonged the inevitable, if only for a day. If the NHL's regular-season jewel gets flushed, the season will be soon to follow. Then the implosion will be complete. All of the momentum gained, all of the fans that came back after the last lockout, and the emergence of a new generation of stars will now be quite literally put on ice indefinitely.
So, in the meantime, I'll take some time to do some doppelgangers of the key NHL lockout figures. Honestly folks, I would much rather be talking some real hockey analysis, legitimate game breakdowns and player movement, but then again, Bill Daly looks a lot like Jerry Springer's former security guard. Enjoy now!
Begin Slideshow

»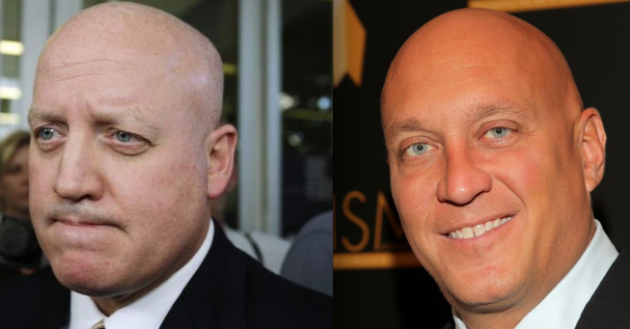 Springer's former security guard, by the way, is named Steve Wilkos. Not only do the two look almost exactly the same, but both guys seem like they couldn't care less if there is an NHL season. While Wilkos is tackling the fun issues like paternity questions, Daly has become a core figure in the deconstruction of a sports league.
Wilkos left Springer and started his own "Springer-esque" styled show, creatively named the "Steve Wilkos Show." Perhaps the NHL negotiators could use some more yelling and conflict resolution courtesy of a much larger and angrier bald guy.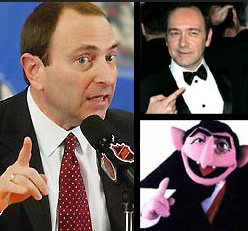 photo: bilcal7.xanga.com
What hasn't been said about the NHL commissioner really? The love-child of Kevin Spacey and Sesame Street's Count is the representative of the owners in the labor negotiations. Though much of the hatred of this man is misguided and misdirected, he is still pretty easy to dislike.
Gary Bettman typically shoulders the blame for and has long been the face of labor unrest in hockey. Fair or not, the scapegoat hat on Bettman still fits somewhat. He has played a large role in the lockouts of years' past and gives off an air of complete disinterest with regard to the well being of the NHL. Sure, he has seen profits in his league grow at a record pace, but why is there such discord as to how the bounty will be shared?
Bettman's legacy may ultimately be that he ruined the NHL, steering it into a metaphorical telephone pole. A fair argument could also be made that Bettman saved the league from itself, or at least extended the life of the NHL for a few years until team ownership could effectively ruin it completely.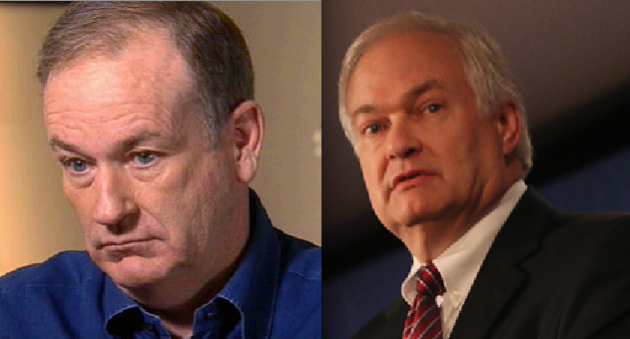 Donald Fehr always seems to have the smug look of a man who is never wrong. He will argue over the top of your defense until he can claim victory versus your fractured and oppressed response. Sound like a right-wing television host you know?
Bill O'Reilly has made a career out of verbally bullying, badgering and generally talking over the top of his guests. He seems like the type of guy who won't take no for an answer and would probably argue with you about taking yes for that same answer.
Fehr has a history of being a labor union mercenary for professional sports with six of his eight negotiations resulting in work stoppages. Though Fehr's strategies have paid off in the long run, there are some real questions that I would have regarding his commitment to the good of the NHL.

Can you tell which picture is a group of millionaires and who is posing for a catalog?
With so much on the line, I'm wondering if the players around the league voted on whether or not to show up to these meetings dressed for the part as sympathetic rag-tag go-getters. I haven't seen this many pairs of flip-flops since a mid-July Sunday barbecue or a Dave Matthews concert.
In what could be some of the most important meetings of their young lives, the player representatives have repeatedly shown up collectively wearing cargo shorts and T-shirts. If the message they sent was to look like a bunch of spoiled frat boys, then mission accomplished. I know they play a sport for a living, but maybe a blazer, some pants and, I don't know, shoes might look slightly more professional.
I know not to judge a book by it's cover, but if you want to be taken seriously when you are negotiating the distribution of over $3 billion in revenue, maybe you should leave the comfy slides at home, and, for the love of Eddie Shore, put on some pants.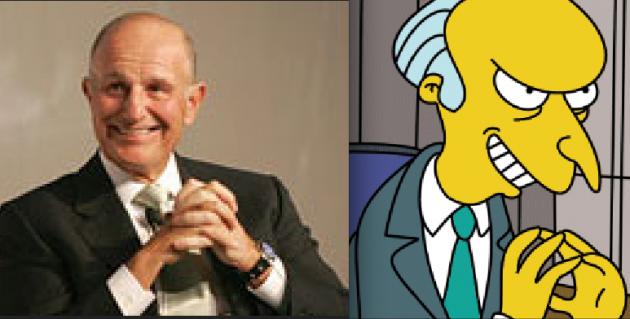 Jeremy Jacobs' reputation precedes him as one of the most shrewd owners in the NHL. Jacobs is incredibly successful in other business ventures and is considered one of the strongest supporters of commissioner Bettman.
According to an article from Elliotte Friedman of CBC, many players believe that Jacobs is the driving force behind the owners, calling the shots. Jacobs is the head of the NHL Board of Governors and is reportedly looking for a figure significantly lower than the 50 percent split of HRR (Hockey Related Revenue).
Jacobs is in no hurry to strike a deal with the NHLPA to appease anyone. He owns the Bruin's arena TD Gardens, which also houses the Boston Celtics and any other events held in Boston's largest indoor venue. Jacobs also owns the hospitality and concession companies for the Garden as well.
Bruins fans familiar with Jacobs' notorious penny-pinching ways are well aware that the pre-lockout signings of Tyler Seguin, Milan Lucic and Brad Marchand were nothing more than a smokescreen. Bet on Jacobs to be a driving force in rolling back a significant chunk of the $70 million combined that the three signed for.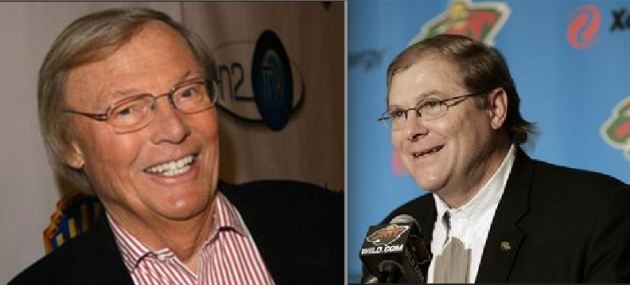 Craig Leipold is an owner who I feel needs to be addressed in this article, not only because he looks like former Batman and current Family Guy mayor Adam West, but for his role in the lockout. Leipold is the owner of the Minnesota Wild and former owner of the Nashville Predators.
After claiming losses of $60 million, Leopold couldn't get out of the Music City fast enough, selling to a Tennessee group that included the fraudulent investor William del Biaggio. After the sale of the Predators in November of 2007, Leopold was able to purchase the rights to the expansion Minnesota Wild franchise approximately 45 days later.
While his run in Minnesota has been marked with more success than Nashville, it's rather interesting that the Wild signed a total of 26 years and $196 million for their free agent trophies Zach Parise and Ryan Suter. This is a fact that was certainly not lost on Parise when he lashed out at Wild ownership (per Michael Russo, StarTribune):
Something is not right there...It's confusing. All these owners, maybe this was their plan the whole time, to sign all these guys to these big contracts knowing full well they're not going to pay the value of them. To me, that doesn't sound like good-faith negotiating, yet they keep preaching it.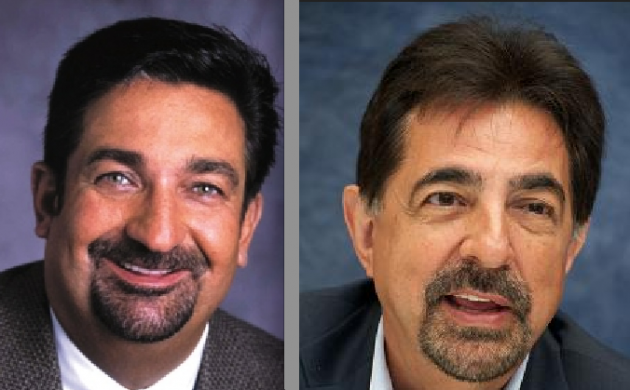 Another owner who has a vested interest in support of the lockout is Washington Capitals owner Ted Leonsis. Leonsis won the hearts of Washington Capitals fans with his passionate approach to team ownership and his playful interactions with star Alex Ovechkin.
However, a lockout and contract rollback benefit the Capital's owner greatly, considering the long term deals at over $16 million for Ovechkin and center Nick Backstrom. Leonsis is thought to be behind Boston owner Jacobs as one of the more influential owners in no hurry to drop the puck.
He also happens to look like a more square-faced Joe Mantegna.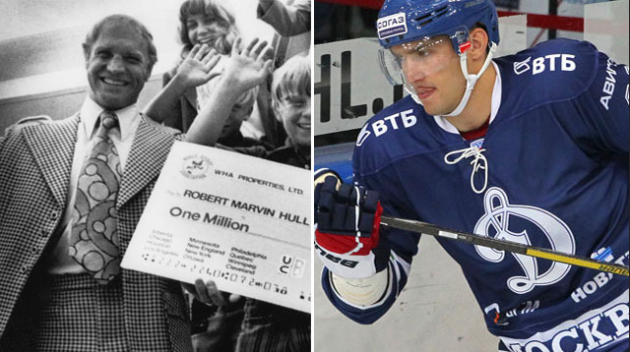 photo: sportsnet.ca
Speaking of the Washington Capitals, how much fun do you think Ovechkin is having playing in his home country right now? The KHL is loving the lockout more than you would even think, hosting some of the biggest names in the NHL.
Not too long ago there was another league in North America that lured one of the biggest stars away from the NHL. Bobby Hull left the Chicago Blackhawks to go north into Manitoba, Canada and play for the WHA's Winnipeg Jets.
Now, I'm not suggesting a scenario where Ovechkin never returns to the NHL, but is that beyond the realm of possibility at this point? If Ovechkin's $9.5 million per year gets rolled back to $7 million or less, how hard would it be for the KHL to match his deal or even surpass it. What would possibly motivate a Russian star to come halfway around the world and play for less money?
Again, the arrogance that drives the NHL right now assumes that not only will the fans be back, but so will the players. Not so fast on either of those fronts.
photo: egotvonline.com
I hate to admit it, but this lockout might put the NHL below soccer on the casual fan's entertainment map. As a soccer nerd myself, I will make room for both on my plate, but I am also considering other, more drastic measures. The NBA.
So, technically, the NHL fan's doppelganger is that of a fan cheering for another sport. Hard to spot, they look exactly the same.
I love sports and the competition. I have watched some KHL games and they are fine, but the coverage that I am used to is completely absent in those games or in a different language. I can still get my fix when I want hockey, but ESPN and the other mainstream sports networks have almost completely dropped the NHL from their radar.
I used to be a basketball fan, but the absurd salaries and entitled players who bought shark tanks for their living rooms, fathered scores of single-parent children and brought guns to their locker rooms kind of put me off. There are plenty of good guys in the NBA, it's just the awful ones that tend to get the headlines for their ridiculous behavior.
The casual sports fan and passive NHL fan doesn't care about hockey any more, though. Hockey has become a novelty act that might pass through their town from time to time, just don't get attached. They won't apologize for ditching you.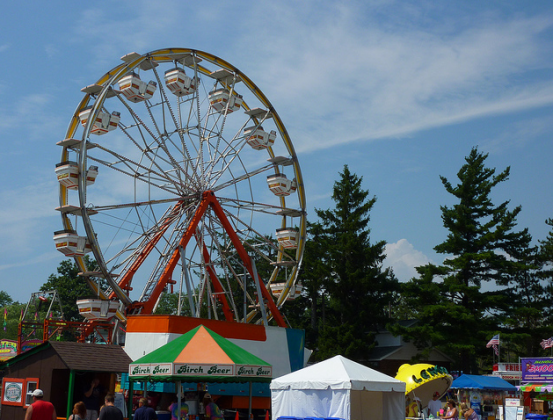 photo: 929jackfm.com
For my last slide, I am comparing the NHL to a sorry-looking carnival. I initially had a Barnum and Bailey-type circus, complete with ringmaster, but that would seem too organized and structured given the complete disarray that is rampant in the NHL right now.
Singular in its purpose to entertain ladies and gentlemen, and children of all ages, a circus actually looks down upon the NHL as a second-class brand of entertainment that gouges its followers and tells them every decade or so that they are closed for business. We'll be open again sometime, please come back and see us again. Please?
The NHL is now the carnival that you need to bring Purell to. You can be assured that you will step in something unsavory, the petting zoo is a cat wearing a sweater with tiger stripes painted on it, and you probably don't want to go on the Ferris wheel. You can't be quite sure that anyone is really "running" the carnival, but you wouldn't want to meet that guy or gal anyway.
That is what my favorite sport has become. A sideshow of a sport, relegated to the ranks of boxing and extreme curling in the sports lexicon. The saddest part of all is that the product is so good. I want the sport as badly as the next hockey junkie, I just no longer need it.