Detroit Lions vs Jacksonville Jaguars: 10 Keys to the Game for Detroit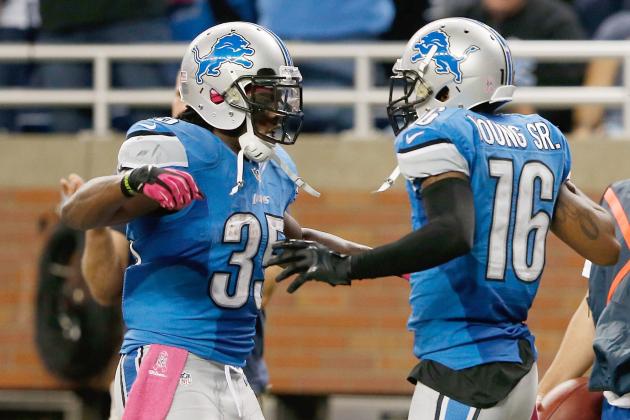 Leon Halip/Getty Images

On paper the Detroit Lions should have an easy time defeating the Jacksonville Jaguars at EverBank Field this Sunday. Fortunately for the Jags, NFL games aren't played on paper. Their record is bad, but they can be a dangerous team. Just ask the Green Bay Packers.
The Jaguars ultimately lost, but they gave the Packers all they could handle for three quarters. The Lions will try and take them out of the game much earlier.
They've struggled to do that thus far. Detroit has been outscored by their opponents in the first half of every game this season. They might be hitting their stride though.
The Lions are coming off an impressive victory over the Seattle Seahawks. Their offense was clicking as quarterback Matthew Stafford completed two or more passes to seven different receivers and was 12-16 on third down.
One win doesn't make up for seven weeks of disappointment though. The Lions will need to string together several good performances to get their season back on track.
It all starts in Jacksonville. Here are 10 keys for the Lions to get the victory on Sunday.
* All stats courtesy of ESPN
Begin Slideshow

»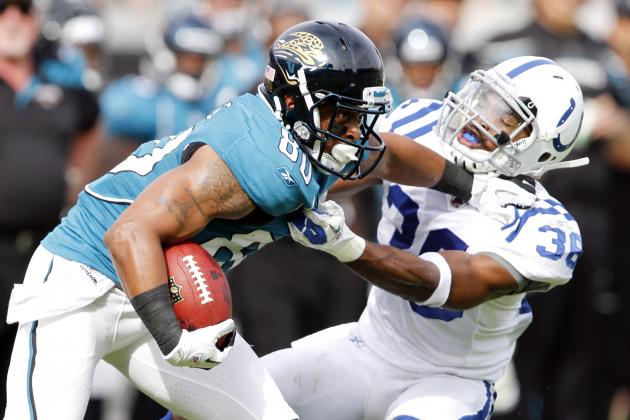 Matt Stamey-US PRESSWIRE

On the surface, signing a third-string wideout from a last-place team seems insignificant. Especially when you consider the offensive weaponry the Lions have at the position.
It's not like Mike Thomas is going to unseat Calvin Johnson or Titus Young for the starting job.
However, the deal that brought Mike Thomas to the Lions is very intriguing. How many times has a player been traded, only to face his former team the very next game? Actually I'm not sure how many times, but it can't be that many.
Can Thomas drop some first-hand knowledge on the Lions to give them an edge? Jaguars coach Mike Mularkey doesn't think so (MLive), but what else is he going to say?
There's also the possibility that Thomas could take over for Detroit's return specialist Stefan Logan. Logan has been disappointing and isn't the dynamic threat he was two years ago. Thomas hasn't exactly lit up the return game for Jacksonville, but maybe a change of scenery will do him good.
He couldn't do much worse than Logan.
Thomas might have his biggest impact used out of the backfield in the role reserved for Jahvid Best. Lions GM Martin Mayhew already alluded to Thomas as an "offensive utility player" and that he could be used out of the backfield, slot or outside (MLive).
He might not see a lot of playing time against his former team, but used correctly, Thomas could still have a big impact.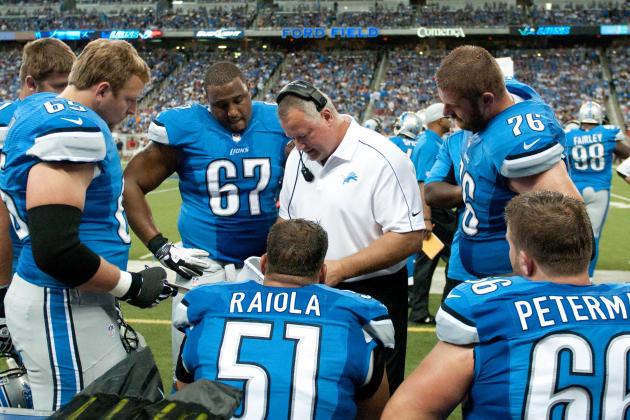 Tim Fuller-US PRESSWIRE

The Lions offensive line is one of the best in football at protecting the quarterback and the numbers prove it. The Lions pass the football more than any team in the NFL (326 attempts), yet Matthew Stafford has only been sacked 14 times.
By comparison, other teams with similar passing attempts such as Arizona, New England and Green Bay have given up 39, 28 and 25 sacks respectively.
It's clear that the Lions have a strong O-line when it comes to pass protection. That's why they should dominate in Jacksonville.
The Jaguars pass rush is the worst in the league. They've only tallied seven sacks on the year, which is probably a big reason why opposing offenses are lighting them up for 250 yards passing per game.
For the Lions, Jeff Backus needs to continue his strong play. As Mlive.com's Justin Rogers pointed out, Backus more than held his own last week against one of the NFL's best pass-rushers, Seattle's Chris Clemons.
Backus won't be facing anyone of Clemons' stature against the Jaguars, but he can't afford to have an off game or play down to his competition. Neither can any of his linemates.
Protecting Stafford is priority No. 1, and the key to success in every matchup, regardless of who they're playing.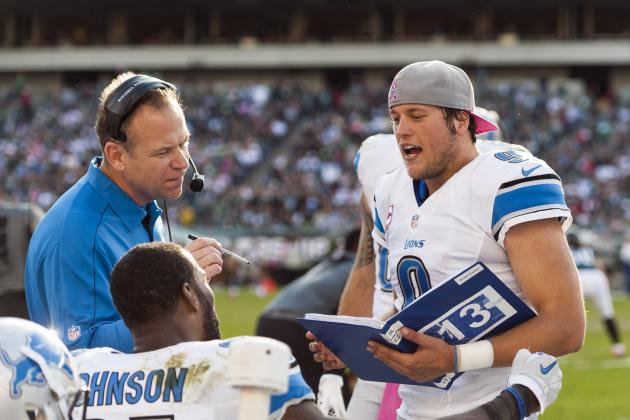 Howard Smith-US PRESSWIRE

The fact that Matthew Stafford and Calvin Johnson haven't connected in the end zone this season is a widely known fact. Johnson's lone touchdown was courtesy of Shaun Hill in the waning seconds of regulation of the Tennessee Titans game.
The Lions' record is disappointing, but three of their losses were by a touchdown or less. A much more disturbing trend is their inability to get their two best players on the same page.
Last season Stafford-to-Johnson was nearly unstoppable—accounting for a touchdown per game. This season, they can't even complete a pass in the end zone. Johnson's dropped two and Stafford has thrown bad balls on at least that many.
Stafford has come around recently, but Megatron doesn't look like himself. Perhaps a trip to Jacksonville is the cure for what ails him.
The Jaguars are ranked 23rd in the NFL in pass defense and receivers of Johnson's ilk have had big days against them. The Bengals' A.J. Green lit them up for 117 yards and a touchdown and the Bears' Brandon Marshall added 144 yards and a score.
If Johnson can't do it against the Jaguars, then maybe something is seriously wrong. They're the perfect opponent for him to have a monster game and to finally get on the same page with Stafford.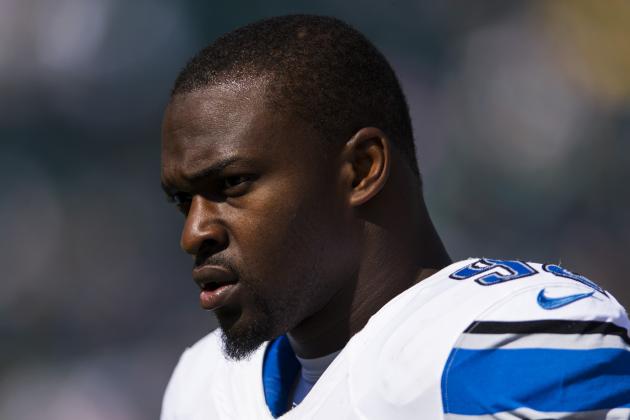 Howard Smith-US PRESSWIRE

As Josh Katzenstein of the Detroit News reported, this will be the first time in his five-year career that the Lions' Cliff Avril will return to play in his hometown of Jacksonville, Florida.
There's no statistical evidence that players play better in this type of situation, but it certainly couldn't hurt. Avril will have the stands full of family and friends, and he'll want to have a good performance.
Regardless of the source of motivation, the Lions will need Avril to continue his solid play. They've had a decent year pressuring the quarterback. They rank 15th in the NFL in sacks, and Avril leads the team with 4.5.
The Jaguars, on the other hand, are giving up the sixth most sacks in the NFL this season. Sounds like a recipe for success and a great homecoming for Avril.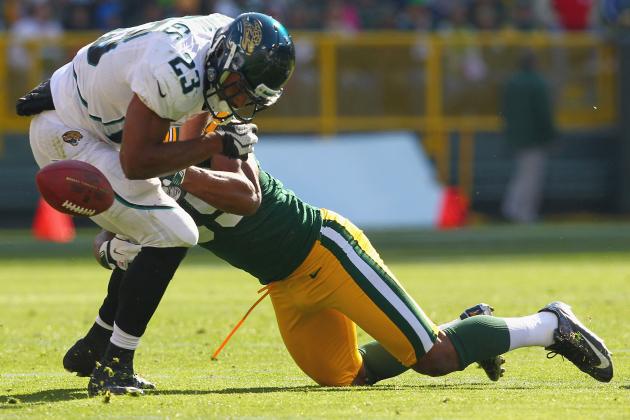 Dilip Vishwanat/Getty Images
Jennings committed his first fumble of the year in Week 8
The injury to Maurice Jones-Drew gave the Jaguars the opportunity to unleash Rashad Jennings on the rest of the NFL.
Unfortunately for Jennings, his time in the spotlight has been unspectacular.
He had been an effective backup to MJD. He missed all of 2011 with a knee injury, but in 2010 he gained over 500 yards, averaged 5.5 yards per carry and added four touchdowns.
This season Jennings struggled. He's averaged under three yards a carry and only hit paydirt once. He's gotten better each week though. Last week he averaged 3.5 yards per carry.
Although it can be run on, the Lions' defense will do its best to prevent him from improving any further.
The defense will need to give a better effort though. It's giving up 112 rushing yards per game and has been vulnerable to the big play during the last two games.
Against the Bears, it gave up a 39-yarder to Matt Forte and last week allowed Seattle's Marshawn Lynch to scamper 77 yards for a score.
It was the longest run of Lynch's career.
The Lions didn't allow any big rushing plays prior to Week 7, and they'll need to recapture their run-stuffing ways in Jacksonville.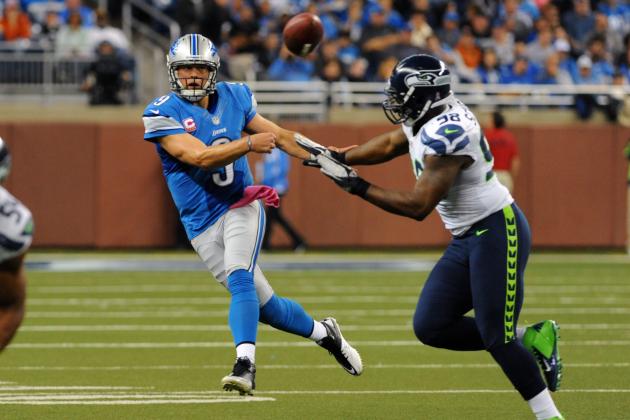 Al Messerschmidt/Getty Images

According to ESPN's Kevin Seifert, Matthew Stafford converted an amazing 12-of-16 third-down opportunities (75 percent efficiency) last week and was 14-of-15 passing on third down.
That's clutch, and that's a big reason the Lions' offense was able to sustain long drives and dominate time of possession in the second half—nearly 20 minutes.
It's no surprise the Lions won that game, but when you look at their third-down efficiency the rest of the year, it's no surprise that they've struggled. They've only converted 40 percent of third-down opportunities in their first six games.
Stafford and the Lions offense should have more success on third down against Jacksonville. It will certainly help them get the win and build momentum for the second half of the season.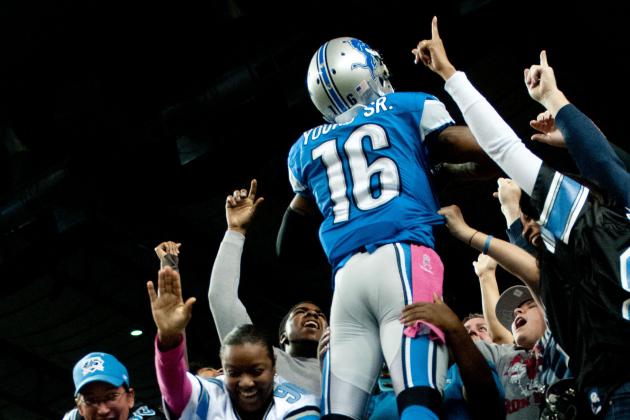 Tim Fuller-US PRESSWIRE

'Secondary receivers' refers to anyone other than Calvin Johnson. Johnson is numero uno in Detroit, but he can't do it alone. Everyone thought he was unstoppable, but that's been proven false.
The Lions need other receivers to step up. Last week they got that kind of effort from multiple receivers— most notably Titus Young and Ryan Broyles. Brandon Pettigrew, Tony Scheffler and Joique Bell also had productive days receiving.
The Lions offense should dominate the Jaguars. That means that multiple players should have big days.
Johnson doesn't have to have a huge game to help the Lions win. His impact is felt regardless of his yards and touchdowns.
His presence on the field should make it easier for Detroit's other receivers to get open and make plays. Until last week, they failed to do so.
Young, Broyles and company should have a repeat performance against one of the worst defenses in the NFL.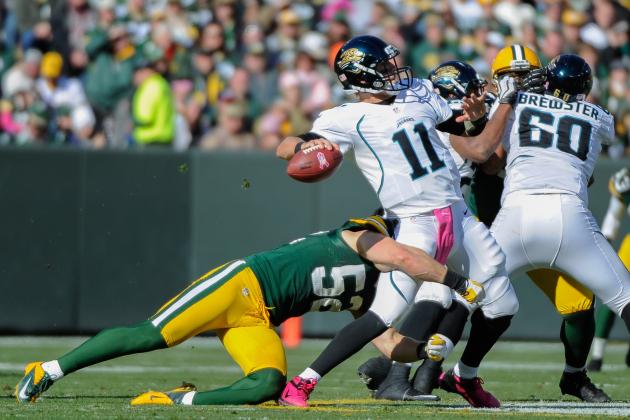 Benny Sieu-US PRESSWIRE

The Lions secondary is beat up. So daring any quarterback to pass may seem like a dangerous proposition.
Especially since Blaine Gabbert has improved his abilities in the passing game and is coming off his best game of the year against the Green Bay Packers. He threw for over 300 yards, completed over 50 percent of his passes and added a touchdown.
He's improving, but he's not there yet. In addition, he doesn't have the weapons around him to make the Jaguars passing offense truly dangerous.
He did attempt 49 passes against the Packers so maybe the Jaguars have decided to turn him lose. That could play into the hands of Detroit who intercepted Seattle's Russell Wilson and could do the same to Gabbert—another young quarterback.
The Lions have struggled to force turnovers this year—they only have three interceptions—but could add to that against Jacksonville.
Especially if Gabbert attempts over 40 passes again.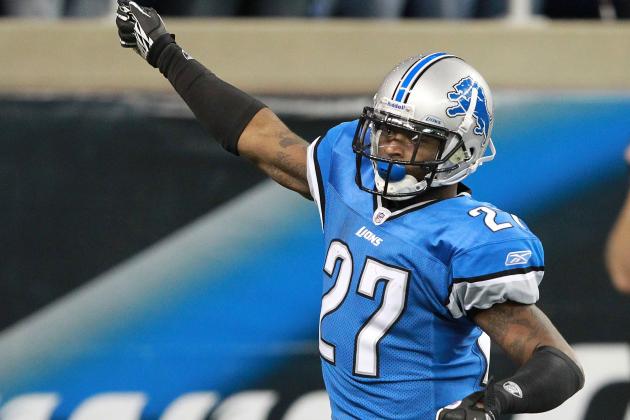 Leon Halip/Getty Images

The Lions are looking to build on last week's win, but mounting injuries are threatening to derail their chance of success.
Thursday it was announced that rookie cornerback Bill Bentley was placed on IR with a shoulder injury, effectively ending his season (Mlive).
Louis Delmas and his gimpy left knee are still day-to-day. It's not clear if he'll play Sunday, but the fact that there is no structural damage was encouraging (Mlive).
Amari Spievey has also been out the last two weeks with a concussion.
In other words the Lions secondary is in shambles.
Fear not, fans of the Honolulu Blue. The Lions have capable role players to fill the void. Fans should keep their fingers crossed just to be safe though.
Jacob Lacey and scrap-heap signee Alphonso Smith will likely fill the void left by Bentley.
According to DetroitLions.com, the Lions re-signed Don Carey as well. He was waived during final cuts prior to the start of the regular season, but can play either safety or cornerback position. He was on the Lions roster in 2011—appearing in five games while recording 11 tackles—so he's familiar with their scheme.
Carey will add depth, but Erik Coleman and Ricardo Silva will likely get the starting nod. They've already filled in nicely this year.
The secondary has been an injury headache all year, yet the Lions managed to plug the holes effectively. Despite the injuries, they're one of the top teams in the NFL in terms of passing defense—ninth overall.
The Jaguars are the lowest-rated passing offense in the NFL, so there's no reason the Lions' subs can't continue their strong play against them. If not, the Lions could see another second-year quarterback have a career day against them.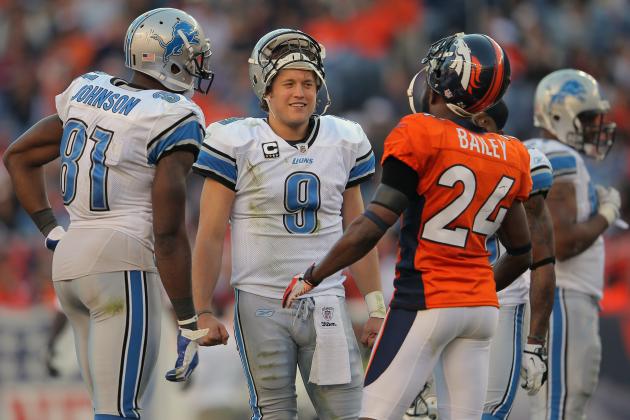 Doug Pensinger/Getty Images
Stafford and Johnson were all smiles against Denver in 2011
The Lions have failed to get first-half leads in all but one of their games this season. In fact they've been outscored 44-91 before halftime.
In those games they've only scored three touchdowns before the half and only one in the first quarter. Needless to say Jason Hanson has been a busy man in the first half of games this season.
The Lions scored two of those first-half touchdowns last week against Seattle, and in doing so, they finally resembled the quick-strike offense that put up big numbers last year. Against Jacksonville, they need to continue that trend
They can't afford to let another team get ahead early. Especially a team like the Jags. Despite Matthew Stafford's ability to stage fourth-quarter comebacks, they can't rely on that each and every game.
Elite teams can come from behind, but they can dominate from start to finish too.
The Jaguars are a team that Detroit should be able to dominate. They've got a shaky defense and an inefficient offense. Their record speaks for itself.
The Lions should dominate the Jaguars like they did the Denver Broncos last year. At Mile High Stadium, the Lions scored early and often and took a 24-3 lead into halftime. That early momentum carried into the second half as they cruised to victory.
The Jaguars aren't even as good as that Broncos team. It's time for the Lions to put it all together and dominate an inferior team.