West Virginia Football: Freshmen Who Must Step Up for Mountaineers to Rebound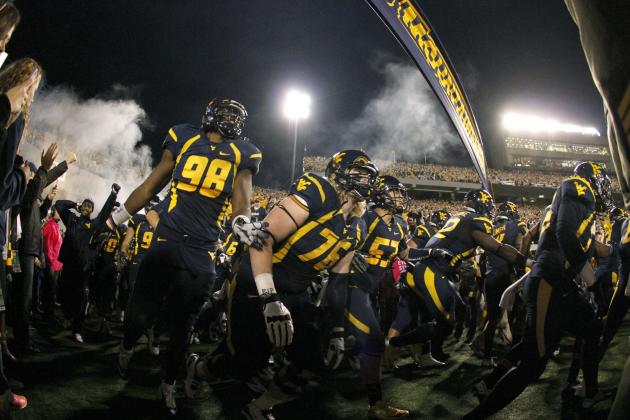 Justin K. Aller/Getty Images

The West Virginia coaching staff has called out its team after its recent struggles.
Head coach Dana Holgorsen and defensive coordinator Joe DeForest have both pointed to immaturity and youth after recent blowout losses, while also sharing the blame for the mental downfalls of the team.
Following a 55-14 drubbing at the hands of No. 2 Kansas State, Holgorsen simply said his team needs to grow up via (WVUSports.com):
Aside from the fact that we would like our 20 freshmen to be seniors, we need to, from a mentality standpoint, grow up. We can't use the excuse of not having enough snaps. We have to grow and play older than we are. We need the older guys to act older. We need the older guys to bring along the younger kids. We need them to be tough when adversity hits. We played a team (Kansas State) that has that mastered. They are the most mature team in college football. They are very old, and they have played a lot of football. They are mentally tough, and their technique is not lost during the heat of the battle. We can learn a lot from playing a team like that.
Thanks to some injury and otherwise poor play, WVU has been forced to start numerous freshmen, which has shown on the field in the last two weeks and ultimately been reflected in the team's overall record.
However, as Holgorsen has often pointed out, the Mountaineers can't dip into the free agency pool, call players up from Triple-A or make a midseason trade—they have to play with who they have.
As a result, West Virginia will need some of those freshmen to step in and step up in order to bounce back from its recent skid.
Begin Slideshow

»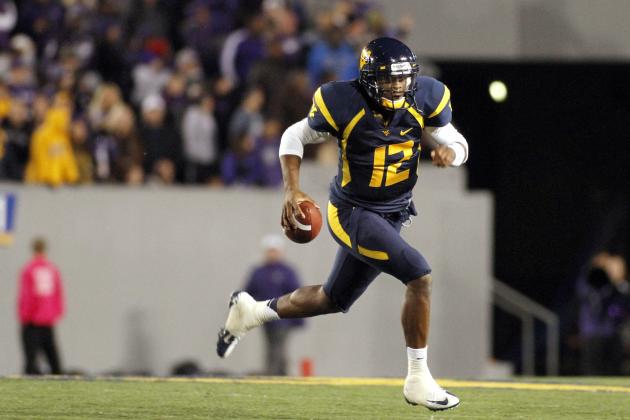 Justin K. Aller/Getty Images

Geno Smith's two favorite targets, Tavon Austin and Stedman Bailey, are great receivers. This is a concept that almost everyone accepts, including the opposition.
As a result, opposing defenses have been able to key on these two to slow down the West Virginia offense.
Bailey hasn't been 100 percent and has been held under 100 yards receiving for three straight weeks, as the Mountaineers have fallen far below their previous scoring average in their last two games.
Senior J.D. Woods and freshman Jordan Thompson were expected to be the answers in the WVU receiving corps but have proven to be inconsistent.
Enter Travares Copeland and Devonte Robinson. The two true freshmen have each had their redshirts pulled in the last two games and will now assume an expanded role in the offense.
In his press conference this Tuesday, Holgorsen expressed the fact that he is now all in with these two youngsters after rescinding their redshirts (via WVUSports.com):
When you make the decision to play them, you probably have to play them more. Before, we would have them with us half the time and with scout team half the time. Since we made the decision to play them, they will be 100 percent with us. With that said, yes, their reps went up. Their playing time will be determined by how they do in practice.
Copeland and Robinson need to continue to practice well and earn their game reps.
They don't need to be 100-yard receivers in this offense, but they need to focus on blocking well and proving to be enough of a threat to keep pressure off of Austin and Bailey.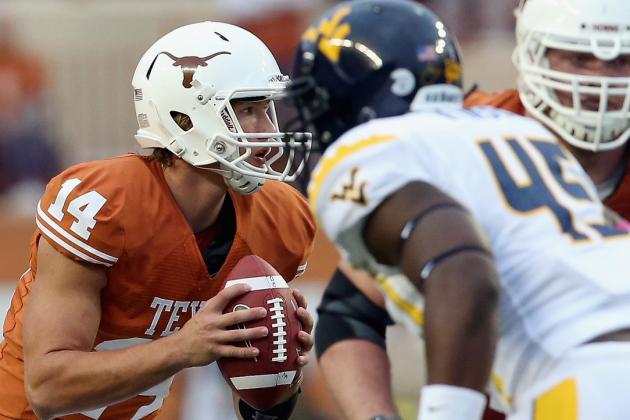 Ronald Martinez/Getty Images

True freshman Eric Kinsey has proven to be quite an effective part of the West Virginia defensive line.
At 6'2", 248 pounds, he is undersized in comparison to the rest of the WVU line, but he has shown that he has the natural instinct to compete at this level.
He has already notched two pass breakups, as many as any other Mountaineer defensive lineman, despite assuming a backup role.
Though he has recorded just three tackles on the season, now may be the time for Kinsey's role to expand.
With his speed, he could provide a boost to the West Virginia pass rush—an area where this team has not been productive recently.
This boost could even take some pressure off of the ailing Mountaineer secondary as well.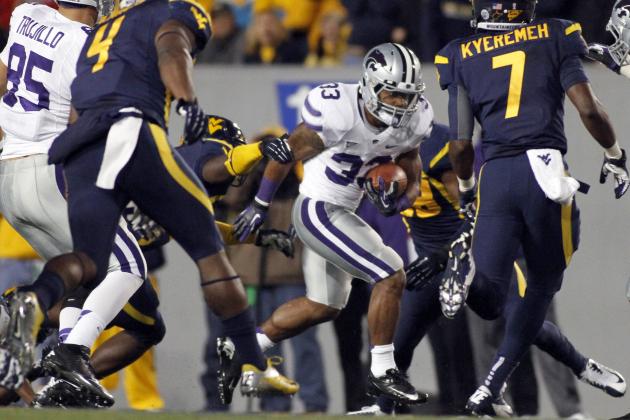 Justin K. Aller/Getty Images

The struggles in the West Virginia secondary have been obvious.
I want to be clear, however, that I'm not selling out senior Pat Miller who, despite the critics, has made as many plays as any other player on this defense.
He has spent the entire season as the scapegoat of WVU's defensive struggles, all while leading the team in pass breakups.
Could he be better? Sure, but he is far from being the only or even biggest downfall of this defense.
Having said that, WVU needs to tighten up its secondary. The answer here may lie in a pair of freshmen, Nana Kyeremeh and Ricky Rumph.
Junior Brodrick Jenkins has been injured lately, but he has been back practicing in preparation for TCU, as Holgorsen said in his press conference on Tuesday (via WVUSports.com).
Still, Kyeremeh and Rumph need to continue to see the field on a rotational basis.
This may be like putting a Band-Aid on a bullet wound, but every little bit will help at this point for statistically the worst pass defense in the nation.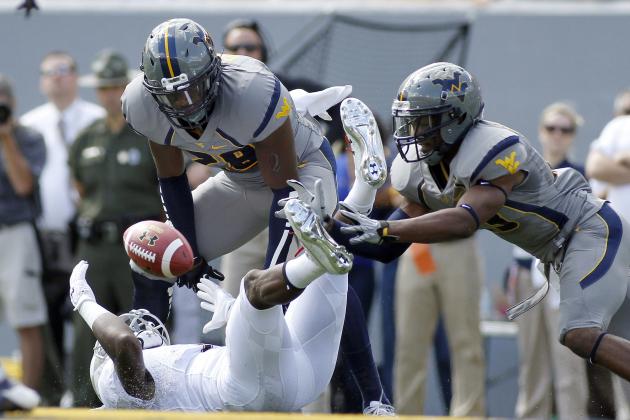 Justin K. Aller/Getty Images

Along with Kyeremeh and Rumph, another freshman, K.J. Dillon, can add some gauze to that wound.
It is ridiculous to expect a group of corners to withstand bombardment from the opposition without safety help.
In order for the WVU corners to succeed, they will need some help over the top or some added pressure up front. Neither has really been there on a consistent basis for the Mountaineers this season.
As a result, the corners have been torched by opposing receivers on the field and then torched by their own fans off the field.
Dillon may be the one that could help them out.
At 6'1", 202 pounds, the Apopka, Florida native is the biggest safety on the WVU depth chart.
Fellow freshman safety Karl Joseph has been one of West Virginia's most consistent players already this year, and Dillon's range and size could put him on par with Joseph.
Again, there is no single player that can come in and stop the bleeding for WVU—it will take a team-wide effort.