Gary Bettman isn't exactly a fan favorite around the NHL, even when hockey is being played and labor disputes aren't on the minds of most fans around the league.
During a lockout however, Bettman is vilified more than anyone in the hockey world.
While the media tends to be anti-Bettman to a certain extent, most fans are ruthless with their mockery and hatred for the NHL's most successful commissioner.
This may not be the most popular stance to take, but folks, Gary Bettman is not the primary culprit in this situation. I'd go as far as saying that he shares less than 25% of the blame for this mess.
Remember, he is the face of the owners. Just as Donald Fehr is the face of the players.
It is the hard-line owners who hold up these negotiations, more so than Bettman does.
The second reason that Bettman isn't to blame when it comes to this lockout is that he's helping people run businesses.
In the business world, owners assume all the risk and absorb all the losses, while the employees take home their salary and whatever benefits they are afforded.
Problem is, the owners only take home 43% of the revenues. This is absurd. They run the team, assume the costs, and without them, the players wouldn't have a team to play for or a job.
When some owners start losing massive amounts of money, something is wrong with the business model. This is when cuts to employee's salaries occur in the real world.
Which side has been more reasonable so far during the labor dispute?
The NHL is one of the only places where the players continually refuse to take pay cuts, despite the fact that teams like New Jersey may not be able to stay solvent under the current model.
Now remember, no one is saying current contracts shouldn't be honored. The NHL's last proposal included a deferred payment "make-whole provision". For players making hundreds of thousands of dollars to millions of dollars a year, waiting for a part of their salaries shouldn't be a big deal. If it is, it's time to seek out some help in terms of how you manage your finances.
It's time for players to wake up and smell the coffee and join the rest of us in the real world.
The NFL players did, as did the NBA players.
They both took a 50-50 split, which is what Bettman was offering (again, the idea of "rollbacks" is all rhetoric as contracts would still be made whole).
Why can't the NHL players get their acts together and do the same? Heck, the NFL and NBA both make more money than the NHL, yet their players were still willing to give up a piece of the proverbial pie.
Logic defies the players at every turn, yet they refuse to acknowledge their faults.
The NHL's last proposal or something very similar needs to be adopted. Owners are forced to sign these front-loaded $98 million contracts in order to stay competitive.
It's one of the least valid arguments the players and their supporters enjoy throwing around.
"Why give out the contracts if you didn't plan on honoring them?" they say.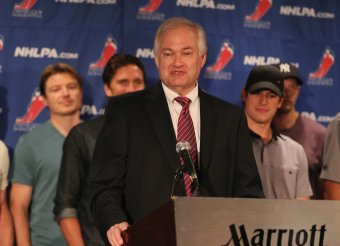 Bruce Bennett/Getty Images
Again, owners want to win, but in today's NHL, with the exception of a few teams, winning means losing a ton of money. That is not sustainable.
It's also astonishing that Bettman takes so much heat, while Donald Fehr continues to skate by.
Sure, Bettman has overseen lockouts, but Fehr is just as much of a hard-line bargainer. He led the 1994 strike of the MLBPA and didn't back down during negotiations. So how can people lionize the players, yet demonize Bettman and the owners?
It just doesn't make sense.
The other area where I must tip my hat to Mr. Bettman is with regards to professionalism.
It's amazing how he's managed to stay calm and composed when addressing the media, while the players and their representative Donald Fehr can run their mouths without reproach.
Take, for instance, John-Michael Liles of the Toronto Maple Leafs.
Here is what he had to say via twitter on the first day of the lockout:
Just wanted to send out big congrats to gray bettman on his 3rd consecutive work stoppage. Impressive stats for someone w no athletic skill
That personal swipe garnered over 9,000 retweets and 1,500 favorites.
Next up is disgruntled pest, Brandon Prust who took to twitter with the following statement on Halloween morning:
Are you confident a season will be played in 2012-13?

And bettman rt "@NatGeo: Vampire bats are the only mammals that live solely on blood: http://on.natgeo.com/SsGNod "
Even the NHLPA director himself got in on the action on October 25 after another series of failed negotiations, having this to say (tweeted by RDS' Renaud Lavoie):
Don Fehr: "It takes two to negotiate. They seem to be really good at imposing deadlines and issuing ultimatums and having lockouts...It seems to be something they're well-practiced at."
Yet through all the mud-slinging by the players, Gary Bettman has remained professional and to-the-point, even putting forward what is widely considered the most reasonable proposal we've seen to date, and had fans and media personalities alike believing a deal would be reached.
If this seems a tad bit harsh on the players, it should.
Unfortunately, most fans back the players, which is understandable since they are the ones that people fall in love with on the ice.
Bettman and the owners aren't exactly visible for fans to adore. They, however, are the reason that teams can lose money and still treat their fans to deep playoff runs. They need to be applauded as well. Not just the players who we see on a daily basis.