The Top 10 Longest Drivers on Tour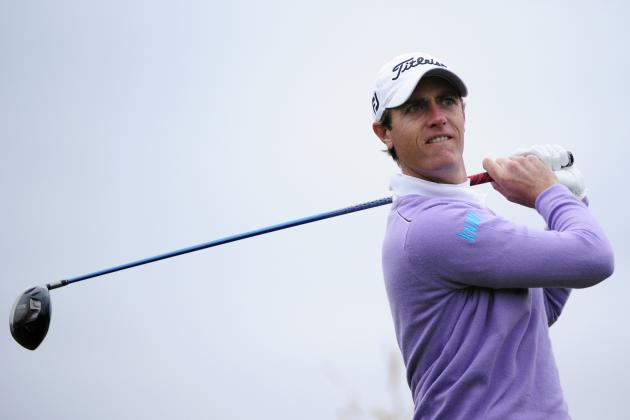 Robert Laberge/Getty Images

Admit it. Even though you are cognizant of the old golfing credo "drive for show, putt for dough," it's more fun to bomb it than it is to sink ten footers all day.
After all, when you go to the links and you aren't worrying about the scorecard, don't you feel a bit more exhilarated standing up on the tee box with the big stick in your hands?
On the world's professional circuits, there are plenty of guys that feel that same way, and they aren't half bad at the other facets of the game either.
Let's take a peek at some of the brawniest bombers on the PGA, European and Asian Tours these days. It's not just the Americans that pack muscle; in fact, the number one player on this list might surprise you.
Begin Slideshow

»
When Jason Day bombs a drive down the fairway, he chants "Aussie Aussie Aussie, Oi Oi Oi" to himself. Or at least that's what we suspect, given his smash mouth talents, and penchant for the Gold Coast.
The Australian had a banner year in 2011, finishing second in both the Masters and the U.S. Open. He rose as high as number seven in the World Golf Rankings that summer.
In 2012, Day's play is down slightly, as he is hitting greens with less consistency, but there's one thing that hasn't changed—his ability to absolutely mash the ball.
Day is currently averaging over 308 yards off the tee this season, and when getting a look at his swing we can see why.
After the 2010 season, the Aussie made an effort to shallow out his backswing, bringing his lead arm more in line with his shoulder plane. Essentially, these tweaks have allowed him to maintain more leverage through contact, as a flatter swing allows Day to utilize his primary strength: lower body rotation.
J.B. Holmes burst onto the PGA scene in 2006, becoming the fastest golfer in history to win $1,000,000 in earnings.
Tragically, the Kentucky native was diagnosed with Chiari malformations of the brain in the fall of last year, forcing Holmes to undergo surgery. While J.B.'s scoring average is up this season, as he's shown an inability to control his approach game, his driving ability hasn't suffered one bit.
Holmes is currently sixth on tour in average driving distance, roping the ball 309.7 yards a pop.
Similar to John Daly's "Grip it and Rip it" style, Holmes steps up to the tee with ferocity, though his backswing isn't nearly as long as his bomber predecessor. Looking at his backswing, we can see that Holmes's most obvious strength is his ability to coil his back to a near-45 degree angle.
Unusually, Holmes allows his head to begin swiveling toward the target before impact, clearing way for his shoulders to make their natural turn; this is a natural byproduct of the massive torque generated during the golfer's swing.
A classic two-planer, Holmes's true power lies in his ability to elongate the distance between his hands and his head at the top of his backswing; this is a characteristic that's consistent with many of his bombing brethren.
Many golf pundits describe Rory McIlroy's swing as the best in the game, due to its fluidity and simplicity. While many of the guys mentioned on this list look like they are trying to mash the ball, McIlroy's approach looks much more...carefree.
At 5'9" and 160 pounds, McIlroy is able to use a classic one-plane swing to maximum efficiency, and is currently averaging over 310 yards off the tee on Tour this season.
Instead of loading his body up to the right like Holmes, John Daly or even Tiger Woods in his early days, McIlroy generates top-notch power by having perfect posture, superior hip flexibility, and a quick lower body shift before impact.
While many golfers think that hip turn generates driving distance, it's actually the weight shift, and never is this more evident than with Rory's swing. At the top of his backswing, we can see that his hips don't actually turn away from the address position that far to the right. Just look at his belt buckle; it faces the ball throughout the entirety of his swing.
And Rory's finish...wow. It's fit to be featured on the PGA logo itself.
Dustin Johnson may be best known for his failure to recognize a fairway bunker at the 2010 PGA Championship, casting him out of a three-way tie for first on Whistling Straight's 72nd hole.
Johnson has finished in the Tour's top five in driving distance in each of the past four years, and is averaging just over 311 yards a pop over this time.
We're not the first to point out that the golfer's swing shares some interesting similarities with Lee Trevino, but the comparison is important to make.
Like Trevino, Dustin Johnson keeps his left wrist bowed up until the moment of impact, but unlike the Hall of Famer, Johnson keeps his shoulders quite closed throughout the entire process. It's this massive differential that gives the golfer his distance.
Notice that before the shaft even gets parallel with the ground on the takeaway, Johnson is already bending that wrist, as evident by the driver head turning outwards. This move is extremely odd, and requires a good amount of timing to perfect, but is lethal in the hands of someone with Johnson's height.
Another peculiarity about Dustin Johnson is his lengthy backswing, in which the club head goes far past his left shoulder at the top, and once again, it's his wrist action that makes this work. As Johnson begins to bow his left wrist, his right wrist remains locked in a typical right-angle position for most of the takeaway.
It's this odd positioning that allows Johnson to "preset" his right elbow early, allowing it to clear his hips through impact. This is evident by the fact that the golfer stays extremely extended through the ball, a natural result of his rather unique wrist action.
Robert Garrigus is a former Nationwide Tour member turned PGA professional, and is a big boy off the tee. The man led the Tour in driving distance in 2010, and sits in third place this year, hitting it further than Dustin Johnson, Rory and J.B. Holmes.
To consistently average 312 yards drives over the past three years is no small feat, and like Holmes, Garrigus does it with width and leg turn, opting for a massive shoulder coil at the top of his backswing. Known as an "X-Factor" by many pundits, Garrigus's nickname should be Triple-X, though that probably wouldn't sit well with the networks.
All joking aside, it's truly amazing that Garrigus can generate such torque on his downswing, as his shaft fails to reach the parallel mark that's so typical of most of his peers.
Looking at the moment of impact, Garrigus's upper body positioning is quite rare, as his shoulders are already elevated above the 45-degree mark (in relation to flat shoulders being zero degrees).
But don't take our word for it, check out the video for yourself.
Here's a guy you many not have heard of, but we promise you that you'll be looking him the next tournament you watch. Tiger Woods has even called him "stupid long." That's quite the compliment.
Alvaro Quiros is a three-time European Tour driving distance champion, and is currently averaging 311.3 yards a pop across the pond this year. Quiros's length starts with his perfect setup which, like McIlroy's, has zero movement.
Though it's tempting to call the Spaniard's swing a classic one-planer, the slow motion video above shows that this simply isn't the case. At the takeaway, posture and arm position points to a one-plane swing like Rory's, but Quiros does something curious when he comes down toward the ball.
Quiros's swing actually flattens on the downswing, as this allows for even greater lower body turn, coming more inside the ball than anyone else on this list. Naturally, this produces a draw, which is always desirable for a bomber like Quiros.
Charlie Beljan is a fresh face on the PGA Tour, as the New Mexico graduate earnings his card by finishing 13th at Q School last year.
In his first season in the big leagues, Beljan has impressed just about everybody off the tee, averaging nearly 312 yards per drive. As seen in the video here, Beljan's most striking characteristic is his hands, which are nearly even with his kneecaps. While we could only find footage of his iron swing, photo evidence show that his driver setup is identical.
Essentially, Beljan's low hand positioning at address allows him to take the club back at a powerful, low-angle shaft position, which gives him the ability to "preset" his wrists earlier than would normally be possible.
As seen with Dustin Johnson's swing, cocking one's wrist at an earlier than natural moment allows is a unique way to generate power, as it doesn't rely on a massive shoulder coil, or even superior hip action. While most may think this is more difficult to do than these two styles, the results are the same, and that's really all that matters.
Like Jason Day, Scott Hend is a professional golfer from Australia, originally joining the PGA Tour of Australasia before moving over to the Asian Tour in 2007. In his time since joining the pros of the Far East, Hend has two fourth place finishes on the Order of Merit under his belt.
This year, Hend is averaging a mammoth 313.2 yards off the tee, a feat that he achieves with his quick, rhythmic swing. Producing a natural draw, Hend relies on timing to pull off his move to the ball. In a takeaway that reminds us of a flatter version of J.B. Holmes's, Hend's hand position at the top of the backswing is superb, reaching as far away from his head as possible.
After taking the club slightly past parallel at the top, Hend's move through the impact zone is led by his hips, followed by a moderate shoulder turn. Unlike many of the golfers on this, Hend's head actually stays still through the entirety of the swing, which boosts consistency.
When looking at his swing in full speed, one wouldn't expect Hend to be a bomber, but his power is generated by his open wrist position immediately following takeaway, which allows him to get further insider the ball than would be originally possible.
Check out the slow-mo video above to get a better look at this powerful move.
Bubba Watson currently leads the PGA Tour in driving distance, averaging over 315 yards off the tee. As seen in the video we've provided, Bubba utilized his ability to bomb the ball en route to a Masters championship earlier this year.
"Bubba Golf," as it is known to his fans was created entirely in the comfort of Watson's own home; he's never had a swing coach in his life. Unsurprisingly, then, we can understand that a self-taught swing has a few things that are unique to it, but rarely do they ever prove so effective.
The lefty's main strength is his hand action. Bubba is able to produce hooks, draws, fades and slices at the literal flick of a wrist. At takeaway, Watson's arc is one of the longest in the game, with his hands fully outstretched by the time his hands make their first move past parallel.
Like a few of his peers mentioned earlier, Watson's hands are extremely high at the top of the backswing, which is made possible because of his generally upright posture.
Aside from having top-notch shoulder turn while the hips begin to uncoil, Watson is able to get a bit more "juice" out of the ball because of his front leg "snap" immediately before impact.
Now, this move worked for early 2000s Tiger, but eventually had to be modified to prevent injury. Despite his youthful image, Bubba is actually just three years younger than Woods, so this is something we'll have to watch over the next few seasons.
Aside from these descriptions, the best historical comparison to Bubba's swing is John Daly. We know how long he was.
Chances are you've never heard of Nicolas Colsaerts before reading this article. Playing in the European Tour this season, the Belgian finished first in driving distance, averaging a ridiculous 317.6 yards off the tee.
This fall, Colsaerts is playing in a few PGA Tour events as he's received special exemption as a Temporary Member. With a long game like his, though, we bet that the Tour would love to have Colsaerts full-time.
Unlike his European counterpart Quiros, Colsaerts is able to generate what we call "smooth power," by having a slow, measured tempo throughout the course of his golf swing.
One particular oddity about Colsaerts's swing is his move into an inside clubhead position despite having the hands rather high at address. By the top of his swing, though, Colsaerts moves into the typical two-plane position, before uncorking his lower and upper body in near-perfect synchronicity through the ball.
Unlike some of the smaller guys on this list, Colsaerts uses his height—he is 6'2"—to his advantage, keeping his hands high enough at the top to generate significant lag.
Like Dustin Johnson, Colsaerts's swing is especially notable once the ball is hit, as his move through the ball is extended much further than most of his peers.