How Undefeated Kansas State and Unbeaten Alabama Match Up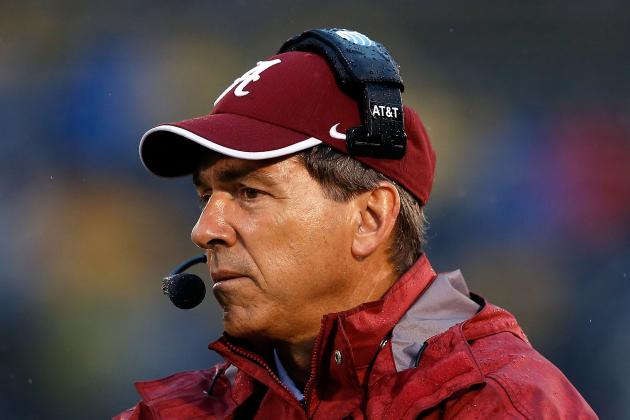 Jamie Squire/Getty Images

It would be a dream matchup, in terms of a clash between two of college football's top active coaches: Nick Saban's Alabama Crimson Tide versus Bill Snyder's Kansas State Wildcats.
While we drool over this BCS Championship game possibility, let's go ahead and pit the teams' various units against each other and see how well they match up.
Begin Slideshow

»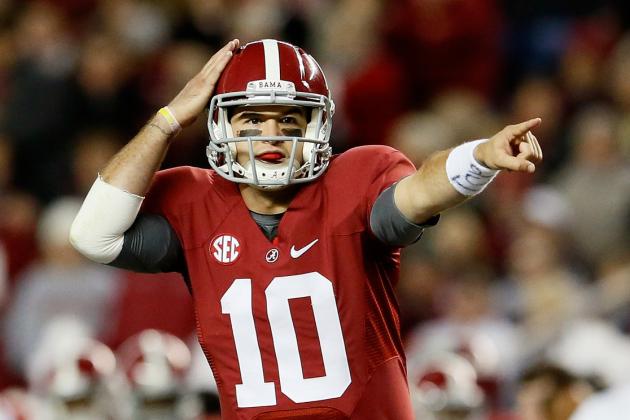 Kevin C. Cox/Getty Images

Alabama's offense is a balanced rushing and passing attack averaging around 436 yards per game, led by Heisman candidate and quarterback AJ McCarron.
Alabama wears down opposing defenses, rushing for over 200 yards per game behind a massive offensive line. As the game wears on, attrition sets in, and the holes for running backs become bigger as the war in the trenches is won by the Tide's Big Uglies.
Kansas State has a stout rush defense yielding an average 101 yards per game, but that number may be deceiving—most of the offenses the Wildcats have faced have been pass-oriented.
Still, all of the Tide's offensive linemen weigh over 300 pounds, while only one of the Wildcats' defensive linemen sniffs 300 pounds: defensive end Javonta Boyd.
Alabama should win the line battle, and that usually is an automatic victory for an offense. Kansas State and Alabama both have an excellent turnover margin—the Wildcats have a plus-16 and the Crimson Tide have a plus-17.
The Tide's offense has to be perfect, because the Wildcats are very opportunistic.
While I like the Wildcats' defense, Alabama wins this upfront.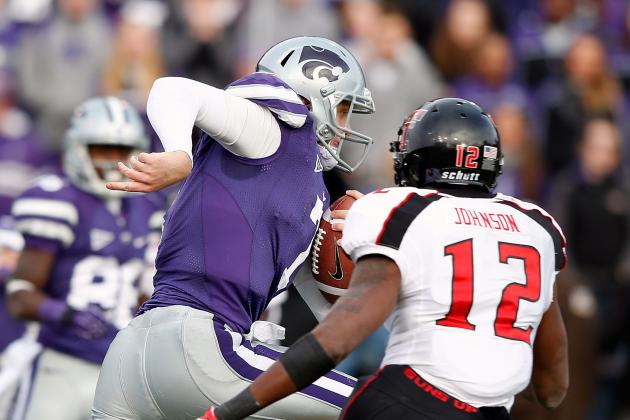 Jamie Squire/Getty Images

There's no doubt Collin Klein is the heart of the Wildcats' offense, but he's not the only playmaker on the team. Running back John Hubert is not a big, bruising back, but he still averages around 91 rushing yards per game.
Alabama has an excellent rush defense—it's ranked No. 1 in the FBS—but how many top-25 rushing offenses has it faced? None.
In fact, Michigan is the highest-ranked (No. 27) rushing offense it has faced, so while the Tide's rush defense is ranked No. 1, that number may be inflated.
What we have is an Alabama-type offense with a quarterback who can get out of trouble when the pocket collapses. Running up the middle will be difficult, but the play-action pass will keep the Tide linebackers honest.
Kansas State will score points on Alabama. They won't hit their average of 44.4 points, but they'll score touchdowns against a defense that hasn't been challenged much thus far.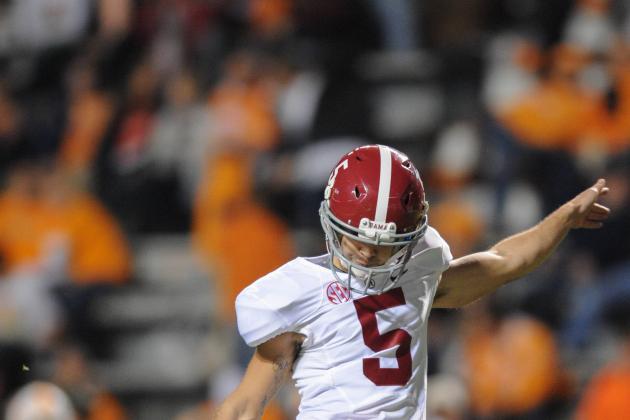 Randy Sartin-US PRESSWIRE

Remember when the Tide had a kicking problem? They don't anymore.
Placekicker Jeremy Shelley has been perfect, hitting 9-of-9 field goals.
But Kansas State also has a solid weapon in Anthony Cantele—the consistent kicker has gone 11-of-12 and is tied for third-most-accurate kicker in the FBS.
On kickoff returns, Kansas State has the edge, with Tyler Lockett averaging almost 30 yards per return. Alabama doesn't have a returner among the top 100, but that's probably due to very few teams scoring on the Tide, and thus few opportunities to return a kick.
Cade Foster has a 50-percent touchback-accuracy rate, while Anthony Cantele kicks it into the end zone 42.42 percent of the time. Foster's touchback percentage somewhat diminishes Lockett's opportunities to return the kick.
Both teams don't have enough punts under their belts to qualify for a ranking among FBS teams.
We're going to call it a tie between these two teams' special teams units.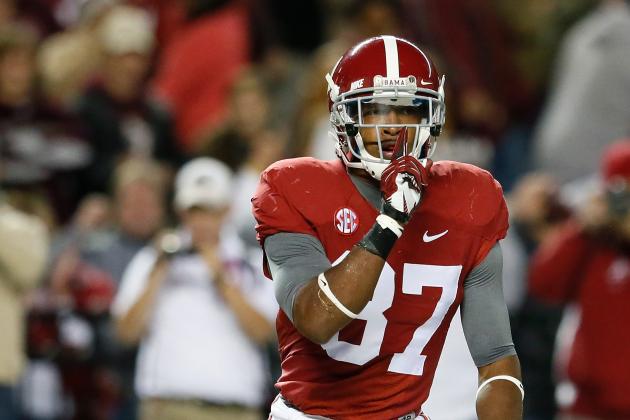 Kevin C. Cox/Getty Images

Alabama's pass defense is ranked very high, but sometimes numbers don't tell the whole story.
Of the top four SEC pass offenses the Tide have faced so far—Arkansas, Tennessee, Mississippi and Mississippi State—only Ole Miss has a top-50 rushing offense.
This matters because if you are facing a one-dimensional team, it's easier to shut down its primary offense (the pass) and force that team to try and move out of its comfort zone. The Tide forced 13 turnovers in those four games—eight were interceptions—as a result of forcing a team to pass the ball.
Kansas State is a very balanced team, so if the Tide shuts down the rushing game, Collin Klein still has a strong passing game to try and take advantage of a Tide secondary that's very good, but also has some inexperienced players.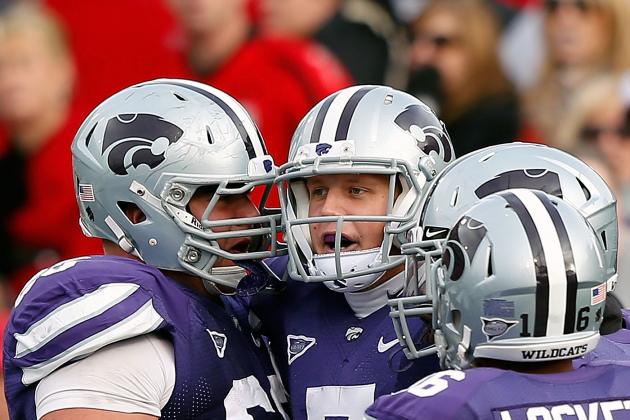 Jamie Squire/Getty Images

Kansas State has shut down three of the FBS' top-20 offenses: Texas Tech, West Virginia and Oklahoma. But both Texas Tech and West Virginia also have offenses that average under 150 rushing yards per game.
Like Alabama, Kansas State really hasn't faced a balanced offense yet—Kansas has been the most balanced, with a 186.88 rushing-yards average and a 169 passing-yards average.
Kansas State struggled against Kansas in the first half, going into halftime with a 21-14 lead. The keys to that close first-half score were a combination of fake-outs and time-of-possession.
While I won't count on Alabama head coach Nick Saban to fake a punt or field goal, I will count on his team to chew up the clock with time-consuming drives.
The longer the Tide offense is on the field, the more tired the Wildcats' defensive line will get.
They haven't been taxed by a strong rushing game for four whole quarters, which gives the Tide an opportunity to wear those linemen down.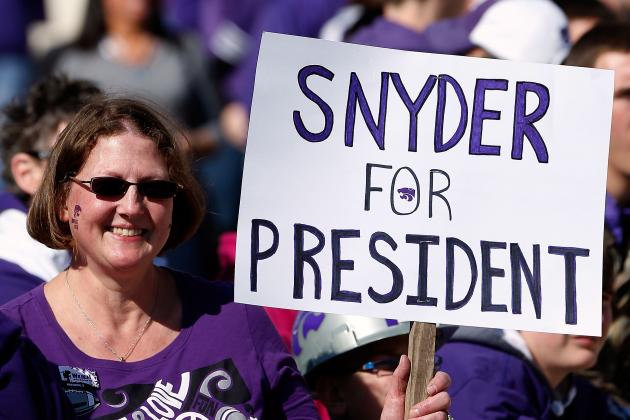 Jamie Squire/Getty Images

Both Nick Saban and Bill Snyder are two of college football's finest coaches.
Saban has won three BCS Championships, while Snyder has won none. But Saban has also won those crystal balls with some of the most-elite talent in the country.
Bill Snyder probably recognizes and develops talent better than Nick Saban, because Snyder's recruiting classes rarely are ranked in the Top 40.
No disrespect to Saban, but Snyder does more with (perceived) less.
Saban has a lot more championship game experience than Snyder, but that shouldn't be a huge factor, because Snyder's players really like their coach. They trust him.
And you have to acknowledge that there will be a sense of calmness in a big game situation when they completely trust their coach.
So 21 years of college football head-coaching experience or 16 years of college football experience?
It's a wash. Both are great, and let's just leave it at that.
Al Messerschmidt/Getty Images

It's around 1,600 miles between Manhattan, Kansas and Miami Gardens, Florida. The distance between Tuscaloosa, Alabama and Miami Gardens is around 800 miles.
The Wildcats have a longer journey, but in the end, both teams will be traveling on a jet from the same time zone, so there is no real advantage for either team.
If you're a gambler, you'll probably bet against the Tide, because the odds of winning a back-to-back championship are very low.
One intangible to consider is the cooling-off period for both teams. Alabama will have had to play on December 1 in its SEC Championship game in Atlanta, but Kansas State has a game scheduled that same day against Texas.
Neither team will be at a disadvantage when it comes to having more time to rust before the BCS Championship game on January 7: They'll each have 36 days off.
The only advantage the Tide may have is a larger fan presence. Technically, each school is allotted the same amount of tickets for the game, but Alabama's fan base is a travel-happy bunch.
We'll probably see a lot more red than purple at Sun Life Stadium.
Alabama's Big Uglies wear down opponents, but Kansas State is so balanced that this contest will feel like Alabama is playing itself.
Both teams are opportunistic, and both teams are among the least penalized teams in the FBS. They both are time-of-possession heavyweights as well: Alabama has about a minute-and-a-half edge.
Both have excellent kickers, excellent defense and excellent coaches. Both have Heisman candidates in AJ McCarron and Collin Klein.
I'm going to give the nod to Kansas State for one reason, and one reason only: It's been impossible to win back-to-back BCS championships.
Alabama is brimming with confidence. Kansas State is still not being taken seriously by a lot of SEC fans, and while that doesn't mean much, Nick Saban has taken the media to task for dismissing the Tide's opponents.
Maybe that loss to Utah in the Sugar Bowl still weighs on his mind.
His concern over the media hyping Alabama and disrespecting its opponents could mean he is having difficulty keeping his players fired up for perceived lesser opponents.
So far, the Tide haven't lost their focus, but overconfidence can be a game-changer.