Dallas Cowboys Football: Grading Each Cowboys Rookie at the Midseason Mark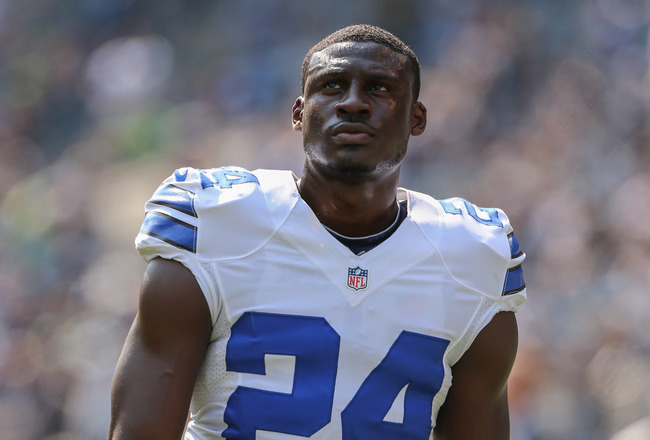 Otto Greule Jr/Getty Images
At the midseason mark, the Dallas Cowboys are coming off a heartbreaking loss to the New York Giants and searching for answers.
The team needs to be evaluated, and the rookies are not exempt.
Just like many college students will be receiving the grades of their first midterm in the coming days, let's take a look at how these seven Cowboy rookies measure up at the halfway point.
Cole Beasley (WR)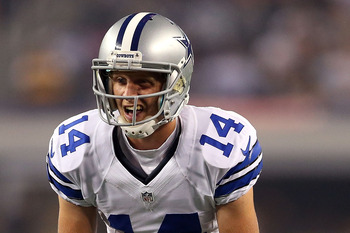 Ronald Martinez/Getty Images
PROGRESS REPORT
Beasley, the 5'8" product out of Southern Methodist has caught passes in just one game this season—totaling two receptions for 14 yards against the Chicago Bears. Sunday against the Giants, he was used to replace Dez Bryant as a punt returner after Bryant fumbled twice on the same return. If Kevin Ogletree continues to struggle offensively, look for Beasley to get more chances in the passing game as well.
OVERALL GRADE: B-
Not exactly lighting the world on fire, but respectable enough for his first few weeks in the league.

Morris Claiborne (CB)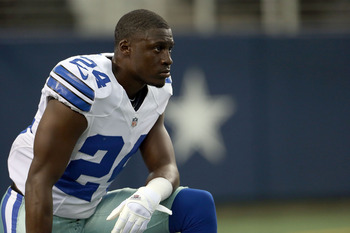 Ronald Martinez/Getty Images
PROGRESS REPORT
Claiborne, the Cowboys' most recognizable rookie, has so far proved to be worth everything the Cowboys paid to get him. He's been an ever-steady presence in the Cowboys' defensive backfield since Week 1, and even recorded his first interception of the season against Cam Newton and the Carolina Panthers.
OVERALL GRADE: A
The only expectations he hasn't met have been his own.
Tyrone Crawford (DE)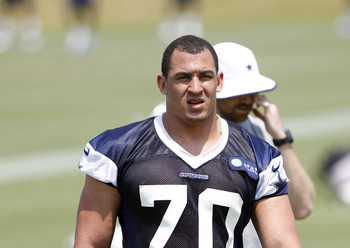 Layne Murdoch/Getty Images
PROGRESS REPORT
Tyrone Crawford, the Cowboys' third-round pick from Boise State has recorded five tackles in seven games this season. Instead of being the situational pass-rusher that Cowboys front office had hoped for, his role has mostly been limited to special teams.
OVERALL GRADE: C-
Boring. Hope for future growth.
Lance Dunbar (RB)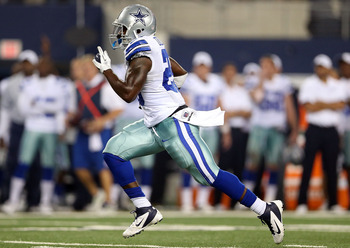 Ronald Martinez/Getty Images
PROGRESS REPORT
Dunbar, the undrafted rookie out of North Texas, was promoted from the practice squad three weeks ago and has remained on the team since. His only carry on the season went for 11 yards against the Baltimore Ravens, and he's flashed exciting speed while handling return duties.
OVERALL GRADE: B
Not too shabby for an undrafted rookie. There's potential here.
James Hanna (TE)
Ronald Martinez/Getty Images
PROGRESS REPORT
Hanna, the 6'5", 250-pound target from Oklahoma has been anything but a big target in the Cowboys' offense this season, recording just one catch on a mere two targets. These things happen when you are behind Jason Witten and John Phillips on the depth chart.
OVERALL GRADE: C
What to give him? He hasn't failed, but has he really passed?
Matt Johnson (S)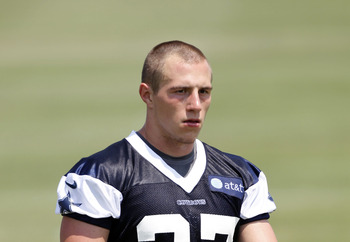 Layne Murdoch/Getty Images
PROGRESS REPORT
Despite his best efforts, Johnson as been unable to see the field as a Cowboy this season, thanks to ongoing hamstring issues. Recent reports from Todd Archer (ESPN.com) even have the Cowboys considering whether or not to shut him down for the season.
OVERALL GRADE: N/A
No attendance means no grade.
Kyle Wilber (LB)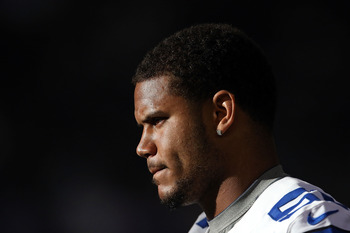 Ronald Martinez/Getty Images
PROGRESS REPORT
Wilber broke his thumb in the preseason and has only appeared in three games to this point. He hasn't recorded a single tackle. If he manages to become active on a weekly basis, he will most likely be nothing more than a special teams guy. Just what you want from your fourth-round draft pick, right?
OVERALL GRADE: F
Although this grade is more directed at the Cowboys' front office than Wilber himself.
Keep Reading

Dallas Cowboys: Like this team?