Tennessee Volunteers Football: 5 Candidates That Aren't as Good as Derek Dooley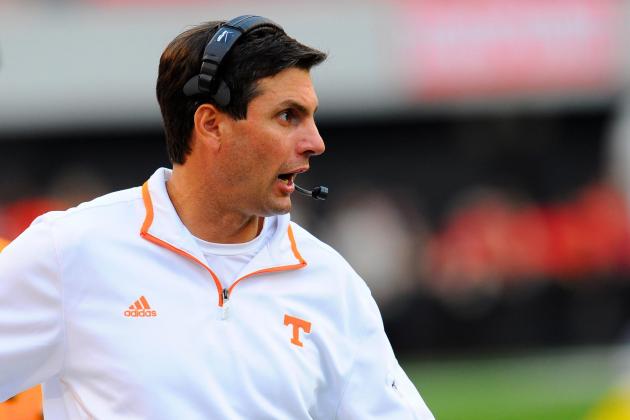 Dale Zanine-US PRESSWIRE

The buzz about the Tennessee Volunteers revolves around the prospects of an easier November schedule and what effect it will have on the future of Derek Dooley as the head coach. But the much-maligned Dooley is still in better position for winning with the Big Orange than many potential candidates.
My position on Dooley is well-documented, but I wanted to take a different take on him: Are there no coaches out there that would prove less successful in the future than Dooley?
Some of the language flying around the fanbase may have you believing the answer is yes, but it's certainly not. As frustrating as the team has been since 2010, Dooley remains a better coach for the Vols than at least five candidates out there.
Here are those five coaches...
Begin Slideshow

»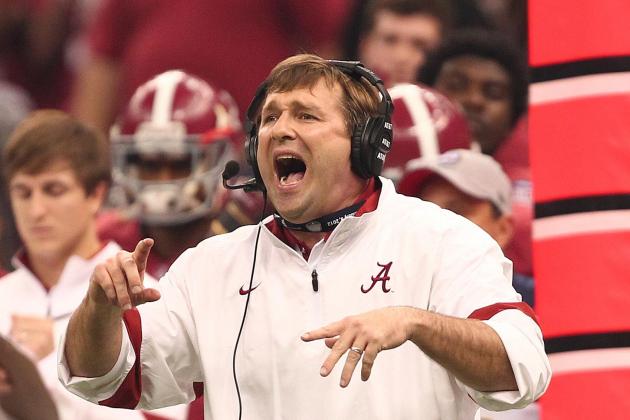 Marvin Gentry-US PRESSWIRE

The main reason I'd rather keep Derek Dooley than shift to Alabama defensive coordinator Kirby Smart is that Smart provides all the same benefits that Dooley did when Tennessee hired him in January of 2010 minus the experience.
Besides the fact that Alabama has had tremendous success over the past five years, it seems that some are clamoring for Smart only because athletic director Dave Hart once worked in Tuscaloosa.
My response? Who cares!
Smart, like Dooley, has a strong football pedigree, having coached for Bobby Bowden and Nick Saban for several years. He has been the defensive coordinator of Alabama since 2007 but has absolutely no head coaching experience.
Plus, you have to ask yourself who's really running the defense after seeing Sal Sunseri, don't you think?
Smart will probably be a very good college football coach one day. But at age 36, he's still early in his coaching career, and we shouldn't make Tennessee a experimental laboratory for his head coaching philosophies.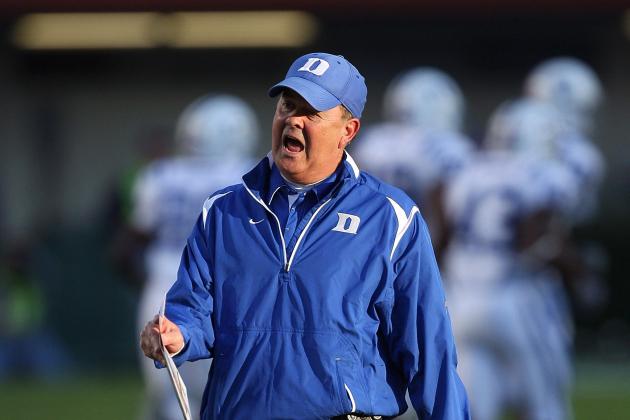 Streeter Lecka/Getty Images

The 1990s were the glory years for the Tennessee Volunteers.
With one more national championship, Phillip Fulmer would've made a strong case as the best coach in school history, but I'm sure he's fine with an extremely strong second to General Neyland.
His top two lieutenants during the vast majority of that golden age were offensive coordinator David Cutcliffe and defensive coordinator John Chavis.
Cutcliffe has shown not only an interest in head coaching but a propensity for it.
He earned a 44-29 record at Ole Miss and is currently building a competitive program at Duke, where he has taken the Blue Devils to a 6-3 start this year after years of losing.
Chavis, on the other hand, has never shown an interest in head coaching. He has been a defensive coordinator since 1984 and at 56 years old, is highly unlikely to move into a new stage of coaching.
So why would I prefer keeping Dooley to Cutcliffe and Chavis?
Simply, it's time to move forward.
There's no sense in squeezing four or five years out of a former UT coach in hopes of fleeting glory. The Fulmer era is over, like it or not, and the Vols should recognize that.
If there's any objection to my claim that fleeting glory isn't worth it, just ask Auburn how long the 2011 BCS National Championship kept their program afloat.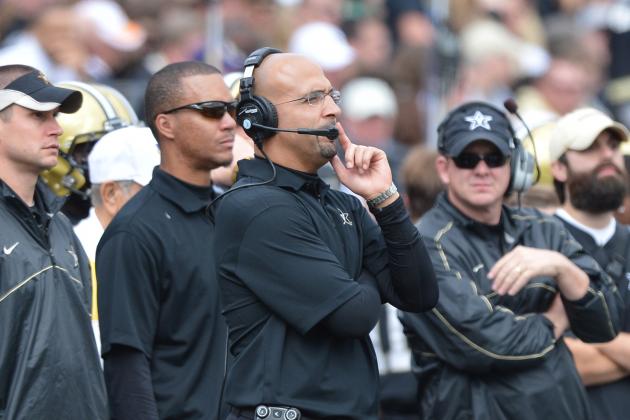 Don McPeak-US PRESSWIRE

If James Franklin has done anything in his one and a half years at Vanderbilt, he's injected life into the program. He talks a big game and has delivered for the most part.
In the two years prior to his arrival in Nashville, the Commodores went 4-20 and were by far the worst team in the SEC.
Since then, Franklin--by virtue of his supreme confidence (bordering on cockiness)--has made Vandy the eighth or ninth best team in the 14-team conference.
He has gotten the most out of his players and begun recruiting more talented ones. This has led to a 10-11 record over the past year and a half.
Franklin also has the 15th-ranked recruiting class for 2013, according to Rivals.
So why would I stick with Derek Dooley?
Franklin's style is best-suited for a perennial underdog and takes a Rocky-type approach to motivating, coaching and recruiting.
It reminds me of former Volunteer men's basketball coach Bruce Pearl, whose greatest and most consistent success was when he was coming from behind.
At Tennessee, the expectation is to be an annual contender in the SEC East, which isn't an underdog role.
I feel that Dooley's background as a winning assistant signals that he's more comfortable with this role than Franklin.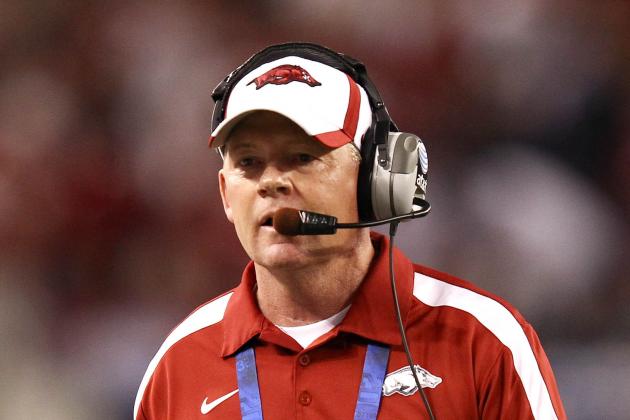 Kevin Jairaj-US PRESSWIRE

Most Tennessee fans are steering clear of Bobby Petrino, and I can only hope that more adopt this viewpoint. I would much rather keep Derek Dooley.
Petrino is a winner, at least on the college level. There's no denying it. In four years at Louisville, Petrino went 41-9, and in four years at Arkansas, he went 34-17. His college record is 75-26.
But he has a track record of abandoning programs in the middle of the night. If you thought Lane Kiffin left the Volunteers in a bad situation, just watch Petrino if he were to ever don the orange.
Six months after signing a 10-year extension in July of 2006, Petrino left Louisville for the Atlanta Falcons.
Then, with three games left in the 2007 NFL season, he ditched the Falcons for Arkansas out of nowhere, leaving only a brief note in the players' lockers explaining his resignation.
His time at Arkansas finally ended after a motorcycle accident revealed an inappropriate relationship with an athletic department employee.
Suffice it to say that Petrino's potential tenure with Tennessee would predictably bring a lot of wins, followed by an abrupt ending.