Michael Vick: Why Andy Reid Should Bench Philadelphia Eagles QB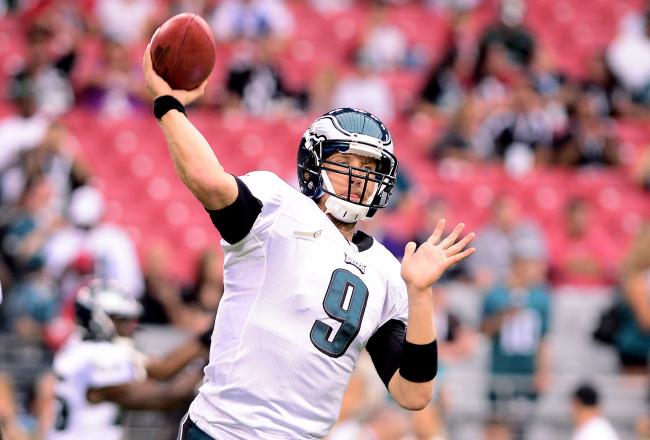 Jennifer Stewart-US PRESSWIRE
After tossing his defensive coordinator under the bus and firing the offensive line coach he put in charge of his defense well after it became clear he was completely ill-suited for the position, Andy Reid emerged from the bye week ready to lead the Philadelphia Eagles through a second-half surge in 2012. Reid's record coming out of a bye week is well-documented, and it felt as though the Eagles would come out with a new-look defense, an us-against-the-world mentality and begin by surprising the NFL and taking down the undefeated Atlanta Falcons.
So much for that.
The Eagles served up a smorgasbord of bad football on Sunday, from an inept offensive performance to an appalling display on the defensive side of the ball. Little looked well on a team that has seemed to be ill all season long, unable to break out and become the dynamic force so many expected it to be heading into the season.
The defensive issues didn't seem to dissipate with someone else calling the defensive plays. In fact they seemed 10 times worse. You would have thought it an impossible task to make Eagles fans long for Juan Castillo's near-incompetence as defensive coordinator over the course of the last season and a half, but Todd Bowles pulled it off.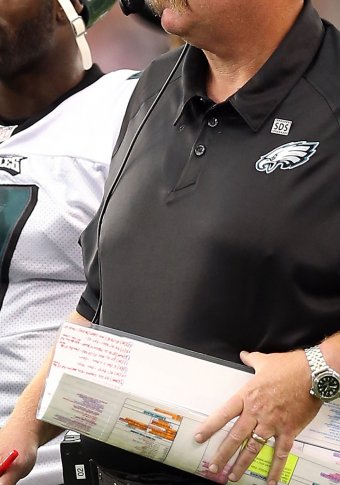 Christian Petersen/Getty Images
As for the offense, the rumblings continue to grow that Reid is close to making a switch at quarterback, though the AP reports that as of late Monday night, Michael Vick is still the starter.
This comes after a report from Howard Eskin, the sideline reporter for the Eagles' radio broadcasts, that Reid was discussing making a change at quarterback with his staff late Sunday after the game and then again on Monday morning, with Eskin saying a switch to Foles was "likely."
Reid should make the switch and not look back.
No, Michael Vick was not a major problem in the game against the Falcons, though he did throw two more passes that should have been picked off. He has been a big problem for Reid and the Eagles throughout not only the 2012 season but going back as far as the playoff loss to the Packers in January of 2011. Since that point, Vick has been less than the dynamic playmaker that burst back onto the NFL scene when he took over for an injured Kevin Kolb during the first game of the 2010 season.
Since that Wild Card loss to the Packers, the Eagles are 11-15 in games started by Vick. The offense has been a shadow of the high-octane scoring machine Eagles fans had grown accustomed to.
Should Andy Reid bench Mike Vick for Nick Foles?
The common refrain among those who advocate for keeping Vick in the lineup is that he "gives the Eagles the best chance to win." How can anyone possibly know that that is the case until Nick Foles is given a chance under center in an actual NFL game? The Eagles are leaning toward starting the kid because of how promising he looked in the preseason, but as we all know preseason and regular season action are two majorly different things.
Obviously, putting your job security in the hands of a rookie quarterback is a dicey proposition, but the last few years have shown that rookies are more capable than ever of stepping onto the NFL stage and being successful right away.
Yes, the offensive line is a concern. One look at the Falcons tape shows an offense trying to protect its quarterback by featuring a bevy of short to intermediate throws and a bunch of three-step drops. There's no question that Reid and offensive coordinator Marty Mornhinweg will have to take similar steps to protect their rookie quarterback. They may even be forced to feed the ball to LeSean McCoy, which wouldn't be the world's worst development for the Eagles' struggling offense.
I know there are those like Sports Illustrated's Peter King who believe it is necessary to give Vick "one more week," to allow him to start against a New Orleans Saints defense that is on pace to be one of the worst ever to step on an NFL field.
Any success Vick would see next week would simply be fool's gold. All the issues it might help mask, the turnovers, the inability to read heavy pressure in the pre-snap phase of the game, would still be there. A big game against the Saints would simply be a reprieve of having to continually mask these deficiencies, as Reid and company have been doing for the better part of the last two years.
Starting Foles against the Saints, however, would be a good chance to break in a rookie starter. Start simple against a bad defense and then grow from there. Foles showed himself to be more than capable in the preseason, doing a good job of avoiding pressure and keeping his eyes downfield when things broke down. He also did an excellent job of keeping the offense in manageable down and distances and knowing when to take his shot when he saw one-on-one coverage.
Sure there will be growing pains. There could very well be an offensive resurgence as well. Reid knows what he has in Vick. It's time for him to roll the dice and find out what he has in Foles. It's the right call and, sadly, his best chance at saving his job.
This article is
What is the duplicate article?
Why is this article offensive?
Where is this article plagiarized from?
Why is this article poorly edited?