Ranking the 10 Most Anticipated Matchups in the History of the WWE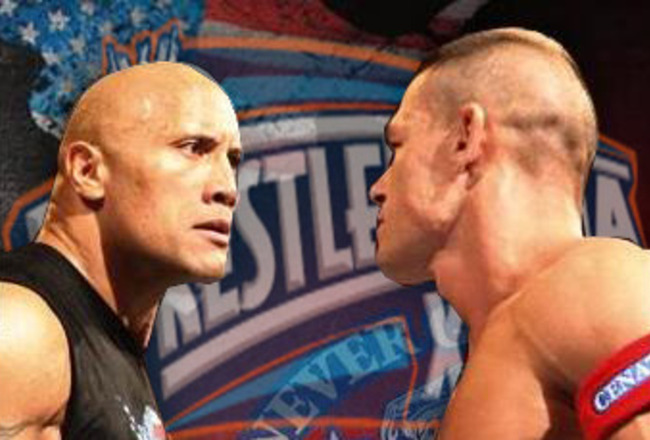 Photo courtesy of WWE.com

The WWE has had countless memorable matches throughout its history.
Some matches will never be forgotten because they were technical classics. Some matches will be talked about 50 years from now because of whom they involved.
Others will go down in history because the anticipation level for them was off the charts.
You know those matches I'm talking about—the ones where you're damn near giddy waiting for them to happen, the ones where you know the crowd is gonna go crazy, the ones where the buildup was can't-miss.
There have been a ton of these matches in the WWE, but some will always stick out above all others.
Here are the 10 most-anticipated matchups in the history of the WWE.
10. WrestleMania 24: Shawn Michaels vs. Ric Flair (Career-Threatining Match)
In November 2007, Mr. McMahon told Ric Flair that he would be forced to retire after his next loss.
Of course, this made things a bit predictable, as we knew that Flair's loss would come in a major match at a major pay-per-view, likely at WrestleMania. And that's exactly what happened.
Flair's longtime friend Shawn Michaels laid down the challenge to Flair for a Career-Threatening match at WrestleMania 24. If Flair lost, it would be his last match in the WWE. Forever.
Although some feel that this rivalry was hurt by its predictability, I, for one, didn't mind it. Here we had two of the greatest professional wrestlers to ever set foot into the ring, and they were set to face off in a match that, in all likelihood, was going to be the last time we ever saw Flair wrestle in the WWE.
In hindsight, this epic match has been somewhat tarnished by Flair's time in TNA, but the rivalry itself was built around two fantastic superstars who had an immense amount of respect for each other.
I couldn't wait to see this match, not just because I expected it to be pretty damn good, but because it was going to be the end of Flair's storied WWE career.
9. WrestleMania XII: Shawn Michaels vs. Bret Hart in First-Ever Iron Man Match
One of the biggest rivalries of all time (both on TV and off it) was between Shawn Michaels and Bret Hart, two men who are often considered to be among the very best wrestlers we've ever seen.
While the thing that most will remember about this lengthy rivalry is the infamous "Montreal Screwjob," a monumental moment in this feud take place at WrestleMania XII.
Michaels had won the 1996 Royal Rumble (and kept his WrestleMania title shot by beating Owen Hart at an In Your House show), and it led to the main event of WrestleMania XII: HBK vs. The Hitman for the WWF Championship.
But this wasn't just any match. It was the first-ever Iron Man match, with Michaels and Hart being the first two men in WWE history to wrestle a 60-minute match in which the man who gets the most pinfalls wins.
As if a match between arguably the WWE's two biggest stars at the time wasn't biggest enough, the introduction of one of the rarest match types in WWE history made this bout even bigger.
8. Money in the Bank 2011: John Cena vs. CM Punk
As Money in the Bank 2011 approached, a cloud of uncertainty hung over CM Punk.
There were rumors circulating that Punk was legitimately going to leave the WWE when his contract expired at the Money in the Bank PPV, and the WWE turned this into a storyline, with Punk guaranteeing that he would beat John Cena at the PPV and then bolt the company with the WWE Championship in hand.
At the time, Punk was fresh off his epic worked shoot promo in which he ripped the WWE a new one, so no one really seemed to know if Punk's match against Cena was legitimately going to be his last one or if Punk would ever wrestle for the company again.
The storyline itself was great enough, but what made this angle even better was that Money in the Bank was taking place in the increasingly popular Punk's hometown of Chicago—a city that's known for showing undying supporting for Punk and being incredibly anti-Cena.
When Punk entered the arena at Money in the Bank, all the "what ifs?" in the back of the fans' minds and the absolutely electric Chicago crowd resulted in an atmosphere that was almost indescribable.
No one knew what was going to happen that night, and they couldn't have been more interested in finding out just what would go down on the most historic night of Punk's WWE career.
7. SummerSlam 2002: Triple H vs. Shawn Michaels in an Unsantioned Street Fight
Shawn Michaels and Triple H will always be remembered for their time together as DX, but for some, they were better when they were apart.
Several different times throughout their careers, Triple H and HBK wound up at odds with each other, and there was no more anticipated or hate-filled feud between the two than when they clashed at SummerSlam in 2002.
The rivalry kicked off with what looked like a DX reunion, but resulted in Triple H nailing his former tag team partner with a massive Pedigree that would ultimately lead these two to an Unsanctioned Street Fight at SummerSlan.
A feud between two former friends who just so happen to be two of the biggest stars in the business was a huge selling point for this match. But interest for it was at an all-time high in large part because it would be Michaels' first match in roughly four years.
A devastating injury sent HBK into early retirement in 1998, and his SummerSlam match against Triple H marked the start of a magical comeback that many thought would never happen.
6. WrestleMania VI: Hulk Hogan vs. Ultimate Warrior
It doesn't get much bigger than the main event of WrestleMania VI.
Way back in 1990, Hulk Hogan was the unchallenged face of pro wrestling, the biggest star in the WWF and the WWF Champion. He had been the WWE's top babyface for years, but he was finally getting a challenge to his throne.
That challenge came in the form of The Ultimate Warrior, who entered WrestleMania VI as one of the most popular babyfaces in pro wrestling, the No. 1 contender for the WWF Championship and the Intercontinental Champion.
Hogan had a firm grasp on the WWF title, but Ultimate Warrior was looking to do what no one had ever done before: become a dual champion by holding both the Intercontinental and WWF Championships.
As we all know by now, Warrior did just that by defeating Hogan in the main event of WrestleMania VI, which ranks among the most-anticipated matches ever because of the sheer popularity of Hogan and Warrior and the fact that no other WrestleMania main event ever has featured both the Intercontinental and World champions going one on one.
5. WrestleMania XVII: The Rock vs. "Stone Cold" Steve Austin
The Rock and "Stone Cold" Steve Austin were the WWE's two biggest stars of its most successful period, the Attitude Era, so it's no surprise that these two have clashed at WrestleMania more times than any other duo.
"The People's Champ" faced "The Texas Rattlesnake" at WrestleMania XV in 1999, two years later at WrestleMania XVII and then one more time two years after that at WrestleMania XIX.
Arguably two of the top three names in wrestling history, there was—as you might imagine—a ton of anticipation surrounding all three of their WrestleMania bouts, with each match resulting from a different storyline but also being a battle to see who the top star in the company really was.
For some, the WrestleMania XV match was the most-anticipated one because it was the first time that The Rock and Austin would meet one on one on the grandest stage of them all. Others really wanted to see the second match at WrestleMania XVII, and some anticipated the last one at WrestleMania XIX more than the others.
As for me, I couldn't wait to see them all, but I'd have to go with WrestleMania XVII as the one I was most excited for. The Limp Bizkit promo alone was enough to make me say, "Holy crap. I've gotta see this match."
4. WrestleMania 26: The Undertaker vs. Shawn Michaels (Career vs. Streak)
At WrestleMania 25, The Undertaker and Shawn Michaels delivered arguably the greatest wrestling match, not only in WrestleMania history, but of all time.
Undertaker, of course, wound up winning that match and extending "The Streak" to 17-0, while HBK fell short of doing the unthinkable and ending Taker's undefeated WrestleMania streak.
As a result, the story on the road to WrestleMania 26 became a simple, yet very affective one: Michaels wanted to prove that he could beat The Undertaker and end "The Streak," and in order to do so, he was willing to put his career on the line.
What came next was a back-and-forth promo fest between two of the most accomplished and respected legends in wrestling history, one that led to HBK indeed risking his career in a Career vs. Streak match at WrestleMania 26.
We all know how that match played out, but going into the bout, the anticipation level was outrageously high because of how good their previous match at WrestleMania 25 was and the overwhelming realization that this was probably going to be the very last match for the best wrestler in history.
3. WrestleMania 28: The Rock vs. John Cena
During his storied career, The Rock beat both "Stone Cold" Steve Austin and Hulk Hogan on the grand stage of WrestleMania.
At WrestleMania 28, he added another notch to his belt by defeating yet another face of the WWE, John Cena, in a match that was more than a year in the making.
After The Rock got involved in Cena's WWE Championship Match with The Miz at WrestleMania 27, it was announced almost a year in advance that it would be Cena vs. The Rock at WrestleMania 28 in a match that fans previously could have only dreamt of seeing.
We talk about potential dream matches all the time, and The Rock vs. Cena was truly that. It's rare to see a clash of two different household names from two different generations, but it's even rarer to see it happen when both men are in prime physical condition.
Yet, that's exactly what happened with The Rock and Cena and precisely what made the match so intriguing.
The Rock and Cena developed an intense rivalry over the course of the year with very little physical involvement between the two. So when they were set to meet at WrestleMania, it was definitely an unimaginable and highly anticipated match between two of the biggest draws in wrestling history.
We wanted to see these two major stars finally get their hands on each other clearly, and clearly, the Miami crowd wanted to see it, too.
2. WrestleMania X-8: The Rock vs. Hulk Hogan
Billed as "Icon vs. Icon," The Rock vs. Hulk Hogan is, even to this day, arguably the biggest match in the history of pro wrestling.
For many, Hogan is synonymous with pro wrestling, but back in 2002 when he and The Rock met on the grand stage of WrestleMania X-8, The Rock was making a case for himself as the top name in all of pro wrestling.
Hogan, however, had just returned to the WWE (after WWE bought out WCW in 2001) for the first time since 1994, and as the leader of the NWO, he instantly targeted "The People's Champ" and eventually accepted his challenge for a match at WrestleMania X-8, which is now considered by many to be the best wrestling pay-per-view of all time.
A big reason why many consider WrestleMania X-8 to be so special was because of the great build toward Rock vs. Hogan, with the fans drooling over the thought of two of the top names in wrestling history stepping into the ring with each other on the grandest stage of them all.
What made this match even more anticipated, however, was the ridiculously hot crowd at the SkyDome that day. Even if you had no interest in seeing this match before that night, the raucous fans would have had you on the edge of your seat by the time the match started.
Best pre-match hype ever? Without a doubt.
1. WrestleMania III: Hulk Hogan vs. Andre the Giant
One of the most iconic moments in wrestling history took place at WrestleMania III when Hulk Hogan body-slammed Andre the Giant to retain the WWF Championship.
But what is often overlooked is what happened before this match even took place.
Prior to the match, Andre and Hogan had been long-term allies, but a jealous Andre aligned himself with longtime Hogan nemesis Bobby "The Brain" Heenan, turned on his former friend and challenged him to a match for the WWF Championship at WrestleMania III.
Hogan had held the WWF title for more than three years at the time, but Andre had supposedly been undefeated for 15 years, which meant that at WrestleMania III, either Hogan would lose the belt he'd held for well over a thousand days or Andre's undefeated streak would come to an end.
As you can imagine, the fans couldn't wait to see what was going to happen in the biggest match ever, and even though this bout will always be remembered for the "body slam heard 'round the world," that slam wouldn't have meant so much had the build to it not been so good.
Drake Oz is a WWE Featured Columnist for Bleacher Report. Follow him on Twitter!
Keep Reading